South Africa is Africa's most popular and best-developed travel destination, famed for its sun-soaked beaches and vast wildlife-filled game reserves. It also provides exceptional opportunities to combine safari trips with wineland tours, hiking and museum-hopping.
A recent ecological survey ranked it as the third-most important country in the world in terms of biodiversity. The Big Five are present, namely the lion, leopard, buffalo, elephant and rhino and roam freely through Kruger National Park, the country's premier safari destination amongst a host of other mammals.
South Africa offers multiple worlds all rolled into one. Expect stunning coastlines, dramatic mountain-scapes, huge areas of untamed bushveld, beautiful semi-deserts, lakes, waterfalls, canyons, forests and of course Cape Town, one of the most beautiful cities in the world.
Consistently voted as one of the top tourist destinations around the world, South Africa is also home to the best luxury safari lodges and camps with something for everyone is this stunning destination.
Why South Africa for a safari
The country is one of the world's finest Big 5 safari destinations thanks to its outstanding conservation areas and national parks such as: Kruger National Park and its private reserves like Sabi Sands, Thornybush, Londolozi, Mala Mala, Lion Sands and Dulini.
With nearly one million annual visitors, Kruger National Park is the country's biggest attraction for wildlife lovers, and it's easy to see why. All of Africa's iconic safari species – thrive here with over 12,000 elephants, 27,000 African Buffalo, 2,000 leopards and 2,800 lions.
80% of the world's rhinos live in South Africa, leopards are found in abundance as well as thousands of elephants, springbok and kudu dominating the plains, a joy to behold for visitors, washed down with a sundowner cocktail, local wine or stunning views of Table Mountain in the iconic Cape Town.
A South African safari can last for three hours or three weeks, depending on your appetite, budget and timeframe. High-end safari lodges with incredible African designs and detail have visitors flocking back to this stunning wildlife destination every year.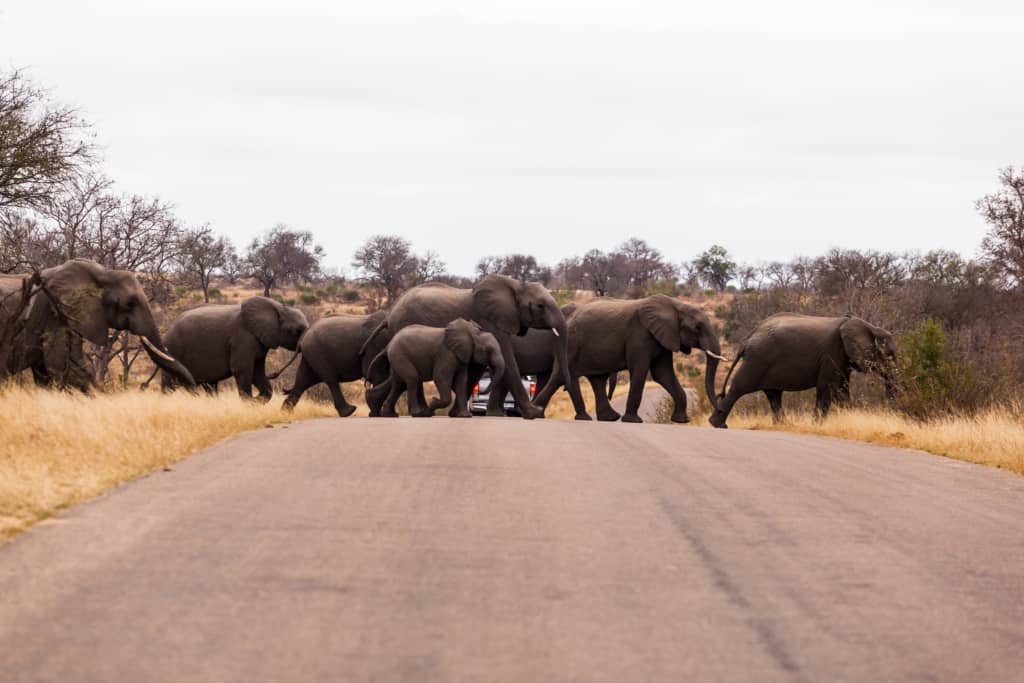 Top attractions visitors can expect from a South Africa safari include:
Animals
South Africa is a prime wildlife destination with the big five (lion, leopard, rhino, elephant and the African buffalo) easily seen.
Kruger National Park offers excellent wildlife viewing in general and the scenic KwaZulu-Natal parks are best to see rhinos. In Sabi Sand, the main focus is on seeing the Big Five and it is famous for its habituated leopards.
Other animals to be viewed on a South African safari include hyenas, giraffes, hippos, zebras, African wild dogs, crocodiles, wildebeest, kudu, warthogs, springbok and cheetahs.
Marine life is equally spectacular with visitors treated to sightings of the African Penguin, the Cape Fur seal, dolphins, dolphins, southern right whales and the great white shark among many others.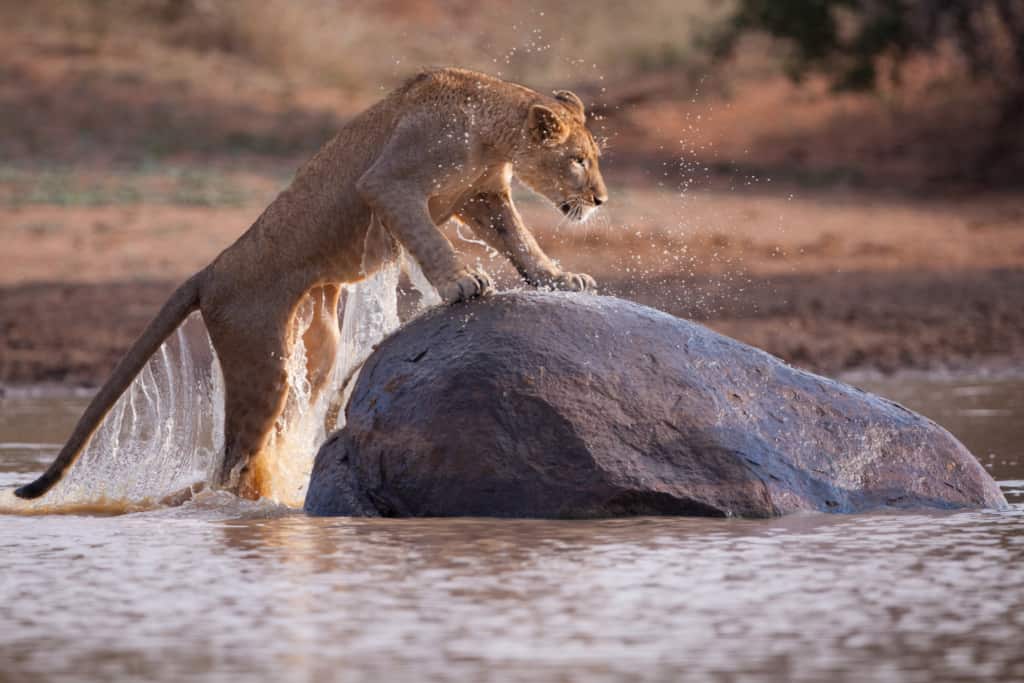 Birds
South Africa has over 840 species listed. It has the highest number of endemic (occurring in South Africa only) and near-endemic (occurring in South Africa and its neighboring countries only) birds in Africa with more than 140 birds in this category.
Most of these species are confined to South Africa's unique biomes (large, naturally occurring communities of flora and fauna): grassland, fynbos and Karoo. The migratory birds are present from November to April.
Notable birds include the African penguin, Blue crane, Crested guineafowl and the Pel's fishing-owl.
Best Parks & Reserves
South Africa has a diverse range of wildlife parks and reserves. Aside from lush forest parks, South Africa also has distinct savannah and riverine parks and reserves.
Visitors can go on game drives and bush walks to view the plains game animals and on river boating safaris to view birdlife and aquatic fauna.
These national parks can be explored on foot, by 4×4 or by air and make for a truly unique experience with South Africa's hidden secrets opening up to those that invest the time and effort to dig beneath the surface.
South Africa's most populous city is Johannesburg, a top tourist destination in its own right with O.R. Tambo International Airport (JNB) airport acts as one of the main points of entry for visitors wondering how to get to South Africa.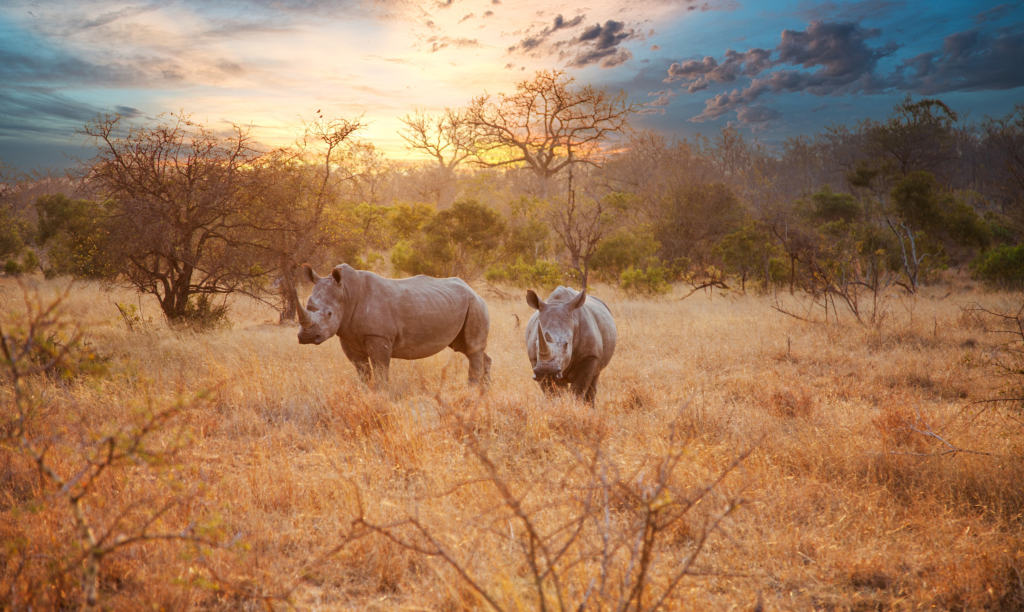 Of particular note amongst all of the incredible parks and game reserves are Kruger National Park, Phinda Game Reserve, MalaMala GR and Hluhluwe-iMfolozi GR.
Other wildlife parks and reserves of interest include:
Sabi Sabi Private Game Reserve – An authentic wildlife experience is assured at Sabi Sabi, one of the private luxury reserves located within the greater Sabi Sand Game Reserve. Big 5 viewings tend to be superb.
Balule Private Nature Reserve – All major safari animals are present, and game drives are conducted in open safari-vehicles, which can go off-road.
Thornybush Game Reserve – A small private game reserve sharing an open boundary with Timbavati NR. Wildlife viewing is generally very good, but the thick bush makes off-road driving more limited than in the neighboring private reserves.
Dulini Private Game Reserve – A private reserve and part of a vast ecosystem, Dulini offers an authentic experience with Big Five viewing. All big cats can easily be seen.
Idube Game Reserve – Located within greater Sabi Sand Game Reserve, there is an emphasis on seeing the Big Five, and wildlife viewing is excellent.
Inyati Private Game Reserve – The wonderful wildlife viewing is focused on seeing the Big Five with all big cats easily spotted. Even the shy leopard is habituated here and easily seen.
Kapama Private Game Reserve – A private game reserve with several high-end safari lodges offering a range of activities, including day and night drives, bush walks, balloon safaris and elephant interaction.
Kwandwe Private Game Reserve – Amongst the most exclusive private game reserves in the Eastern Cape, a superb Big Five wildlife experience is complemented by luxury accommodation and word-class food.
Ulusaba Private Game Reserve – A private nature reserve with open borders to the famous Kruger NP. All of the Big Five animals are easily spotted including the elusive leopard. The park is famed for its rare white lion.
Londolozi Private Game Reserve – Londolozi offers a genuine wilderness experience and excellent wildlife viewing. Emphasis is given to sightings of the Big Five and other high-profile species such as cheetahs.
Makalali Private Game Reserve – Makalali is a fenced, private game reserve with two luxury lodges. All of the Big Five and other safari animals are easily spotted.
Manyeleti Game Reserve – A privately owned reserve, situated between Kruger National Park and Timbavati Game Reserve, with open borders to both. The reserve is owned and managed by the local Mnisi people.
Mountain Zebra National Park – The best place to see the endangered Cape mountain zebra. The game drive circuit takes you through stunning mountain scenery with several viewpoints. Black rhino, lion, buffalo and cheetah are also present.
Singita Sabi Sand Private Game Reserve – One of the private reserves located in the greater Sabi Sand Game Reserve and all of the Big Five are easily spotted.
Timbavati Private Nature Reserve – A private nature reserve with open borders to the famous Kruger National Park. All of the Big Five animals are easily spotted including the elusive leopard. The park is famed for its rare white lion.
Weenen Game Reserve – A small, off-the-beaten-track game reserve, home to both white and black rhino and several antelope species. A wildlife shelter overlooking a small waterhole and a vulture-feeding site are some of the attractions.
Zulu Nyala Private Game Reserve – There are no lions in the park, but it is easy to get up close to all the other Big Five animals. Because of the limited size of the park, game drives can become repetitive.
Scenic parks and reserves include:
Camdeboo National Park – The main attraction is the semi-arid Karoo environment and scenic highpoints such as the spectacular Valley of Desolation, where erosion has left dolerite pillars of more than 100m high.
Ithala Game Reserve – The park's scenic beauty is a large part of its attraction. Rolling hills and rugged cliffs create a dramatic backdrop and good viewing of white rhinos can be expected.
|Ai-|Ais/Richtersveld TP – Spanning both South Africa and Namibia and with some of the most spectacular desert mountain scenery in Africa. The park is mainly a scenic wilderness destination. In Namibia, it features the extraordinary Fish River Canyon, the world's second largest canyon.
Golden Gate Highlands National Park – Its name comes from the golden glow on its sandstone rocks in the late afternoon. The park is home to a variety of animals adapted to highland grassland habitat, including several unusual antelope species.
Kgalagadi Transfrontier National Park: Straddling the border with Botswana, this extensive park covers a total area of about 14,670 sq miles of which about 25% is within South Africa.
Augrabies Falls National Park – The Orange River thunders down the 56m-high Augrabies waterfall before it continues its path through an 18km gorge.
uMkhuze Game Reserve – Seldom visited by overseas visitors, but popular with local birders and photographers. Several photographic shelters give close-up viewing opportunities of a wide variety of animals coming to drink in the dry winter months. Although not a typical Big Five reserve, all of these sought-after animals are present.
Marakele National Park – At the heart of the Waterberg Mountains, the park is home to the Big Five, but sightings are hit-and-miss. A highlight is the vulture viewpoint where Cape vultures can be spotted.
Mokala National Park – Mokala is a recently established national park, protecting sandy plains dotted with impressive camel thorn trees. The small park isn't a prime wildlife-viewing destination but offers a range of activities.
Pilanesberg Game Reserve – The Pilanesberg has a beautiful setting and plenty of wildlife. Set in the eroded remnants of an ancient volcano, the Pilanesberg is a very scenic Big Five destination. A three-hour drive from Johannesburg.
Spioenkop Game Reserve – A small, but very scenic, game reserve at the base of the Drakensberg Mountains. Central to the reserve is a large dam open to the public for fishing and water sports. White rhino, giraffe and zebra are usually seen.
Waterberg Biosphere Reserve – Home to the ambitious UNESCO conservation project. For tourists, the Biosphere encompasses the highly regarded Lapalapa wilderness area, Marakele National Park and the upmarket Welgevonden private game reserve.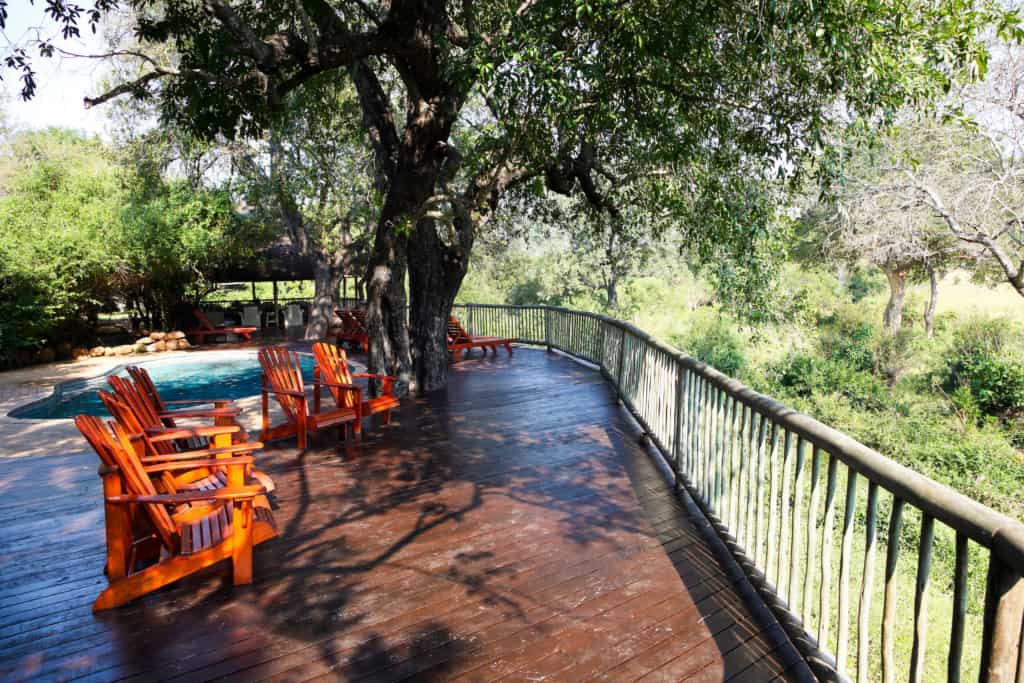 Safari tours
A safari tour package in South Africa is typically organized by a tour operator, safari tour company or via a self drive Africa safari trip.
Spread across the country, including various tour packages, South Africa's parks and reserves can take several hours/flights to connect to each other.
Victoria Falls in Zambia is positioned at the heart of the Southern Africa safari experience and the incredible Okavango Delta in Botswana can be easily combined with incredible wildlife destinations such as Kruger NP in South Africa.
It is therefore important to take many elements into account when visitors plan their South Africa tour including:
Which animals you would like to see
Budget for the trip
Travel party (solo, with friends or a larger family group)
Things to do in South Africa (hot air balloon, hiking)
Guided tour
A guided safari package brings the benefit of:
Transfer via South Africa fly in safari/4×4 to the safari camps and lodges
Luxury lodge packages
Meals/drinks all catered for
Safari guides and transport
Facilities prepared including showers, wifi, cocktails and all requests
Combined trips to neighboring countries and beach trips
Tailored trips including chimp trekking tours
Self drive safari
For self-drive African safaris, visitors can hire their own 4×4, whilst accommodation can be secured in park campsites or in the vehicle itself if a campervan option is selected.
Part of the fun of a self drive safari is spotting the abundant wildlife on your own and taking the time to spend viewing your favorite animals.
A normal 2 wheel drive car may be sufficient, and of course cheaper, for some parks however other parks have deeper sand and a 4*4 will be required.
Best time to go to South Africa
The best time to visit South Africa is from May to September, as the cooler winter months in the northern regions bring superb conditions for viewing big game.
It can be rainy from November to February, but this is the best time to travel for birding, and temperatures remain warm at 22°C to 33°C.
Certain periods are more favorable for a safari in the best conditions. To know when to travel to South Africa, visitors should take into consideration the following key criteria:
Budget
Regions visited
Weather conditions
South Africa safari cost
South Africa is marketed as a wildlife haven where visitors will be amazed by the range and number of wildlife on offer as well as the high quality of unique accommodation. These tend to be the most expensive elements of any safari.
High tourist numbers are attracted to South Africa however visitors will be pleasantly surprised that prices for activities and food are very reasonable compared to other African safari destinations.
There are multiple factors that can impact the cost of a safari in South Africa including accommodation selected, trip duration, safari costs, tours, flights, transfers, meal options and additional activities visitors may request.
Travelers on a budget can reduce costs by booking their own flights, accommodation and activities as well as hiring a 4*4 to travel between the parks and reserves.
Organizing your safari
There are a number of different options available for organizing your safari in South Africa including:
DIY safari
Organizing your own safari is possible but only recommended for more experienced travelers and visitors on a strict budget. This option requires time and know-how to plan for all flights, transport, meals, accommodation and safari tours.
Without the knowledge of specific safari destinations and logistics in navigating an African country, this may be a challenging option for many travelers.
Tour operators
The biggest tour operators will offer safaris in South Africa where visitors can book a package that will cover their flight, transport, accommodation, activities and food, an ideal option for those with no previous safari experience in preparing for such a trip.
Safari travel agencies
Visitors will often find dedicated safari travel agencies to be the best option in booking their dream safari. These agencies have many years experience in booking safaris as well as multiple partnerships with local tourism networks and lodges/game reserves.
Travel agencies typically offer:
Tailor-made tours
Local tour guides
Trips to must-see wildlife areas and parks
All transportation
High quality accommodation at reduced prices
The cost of the service of these specialized agencies can be a bit higher compared to other options, a cost worth bearing given the quality and ease of services provided.
Accommodation
Visitors typically will have the choice between lodges, chalets and campsites as well as African tent camps, suites and bedrooms.
Luxurious facilities are common including swimming pools, restaurants, bars, spas and terraces. Game viewings and plane transfers are organized by the accommodation providers.
Trip preparation
Entry
U.S, U.K, Canadian and many EU citizens can travel visa free to South Africa for up to 90 days for tourists going on a South Africa safari. Citizens of other countries may require a South Africa visa.
USA
U.S. citizens (U.S. passport holders) visiting the Republic of South Africa for ninety (90) days or less for tourism purposes do not need visas.
UK
If you're visiting South Africa for tourism or business purposes for a period of up to 90 days, you don't need a visa. You should check the expiry date of your visa or entry stamp and make sure you do not overstay.
EU & Switzerland
Most EU countries can enter South Africa and stay for a period of up to 90 days without a visa, including citizens of France and Germany.
Health
The CDC and WHO recommend the following South Africa vaccines: Covid-19, Hepatitis A, hepatitis B, typhoid, rabies, meningitis, polio, measles, mumps and rubella (MMR), Tdap (tetanus, diphtheria and pertussis), chickenpox, shingles, pneumonia and influenza.
Yellow fever may be required if traveling from a yellow fever endemic country.
The CDC recommends that travelers going to certain areas of South Africa take prescription medicine to prevent malaria.
The assured malaria-free safari areas are the Eastern Cape, the Pilanesberg National Park and the Madikwe Game Reserve, the Waterberg (just 3 hours north of Johannesburg), and last but not least the Nambiti Private Game Reserve in KwaZulu-Natal.
Depending on the medicine you take, you will need to start taking this medicine multiple days before your trip, as well as during and after your trip. Talk to your doctor about which malaria medication you should take.
Malaria is a risk in South Africa. Consider taking anti-malarial medication if you're traveling to this area. Other insect-borne diseases include leishmaniasis. Ensure your accommodation is insect-proof.
Malaria is transmitted by the bite of an infected mosquito and so the first line of defense is to protect yourself against mosquito bites. Malaria Prophylaxis may be prescribed to you during your consultation depending on your itinerary.
Check with a travel medicine specialist to see if antimalarials should be considered to help prevent malaria contraction.
Covid-19
At the point of entry into South Africa, you are not need to provide a PCR test or immunization certificate any more. However, additional conditions for entrance are still in effect. To reiterate however, all limitations in South Africa that were associated with COVID-19 have been abolished.
For further details, see our South Africa vaccine requirements resource.
What to pack
The essential items to pack for your South Africa safari include:
Neutral coloured clothes
Long-sleeved shirts protecting against the sun and mosquitoes
Sunscreen, sunglasses, a hat and insect repellent
Jackets and sweaters for early morning game drives
Comfortable shoes for walking safaris
Currency
The currency of South Africa is the South Africa Rand (ZAR).
USD $1/GBP £0.80 = Approximately 15.80 South African Rand.
Driving in South Africa
South Africans drive on the left-hand side of the road and visitors driving through parks may require a 4×4, whilst carrying a map & GPS is recommended.
Insurance
Visitors should consider travel insurance when planning their trip to help protect and cover the costs of hospitalization or repatriation if required.
Some credit cards may already include travel insurance. Online travel insurance comparators are also useful in finding suitable offers.
FAQs
How much does a safari in South Africa cost?
A South Africa safari can cost USD $1,200 per person for a simple 3 day safari.
When to go on a safari in South Africa?
The best time to visit South Africa is from May to September, as the cooler winter months in the northern regions bring superb conditions for viewing big game.
Is South Africa a good destination for a safari?
South Africa is a superb safari destination due to its variety of incredible parks and wildlife, high quality lodges combined with incredible scenery and winelands regions.