Kwandwe GR is a malaria free private game reserve, northeast of Grahamstown, Eastern Cape, South Africa. The reserve covers an area of 22,000 ha, almost divided in half by the Great Fish River. The name Kwandwe means Place of the Blue Crane in the local language.
Kwandwe ranks among the best and most exclusive private game reserves in the Eastern Cape or for that matter anywhere in South Africa. The sense of exclusivity here is linked to a very low guest to land ratio, with the two lodges and three villas that cover its 220km²/85mi².
A superb Big Five wildlife experience is complemented by luxury accommodation and world-class food.
Why visit Kwandwe Private Game Reserve?
Kwandwe Private Game Reserve safari
Renowned for quality guiding, authentic and diverse experiences, and the thousands of animals and wildlife that call the reserve home, Kwandwe offers a range of outdoor activities and accommodation options to cater for all safari-goers.
The reserve comprises five distinct habitats which are host to a remarkable array of wildlife. Professional rangers and trackers guide travelers through the bushveld where wildlife can be observed from a close distance.
From game drives to rhino conservation, walking safaris to fishing expeditions, Kwandwe do their utmost to delight guests at every turn.
After a long day in the wild, guests can look forward to relaxing at one of the 26 rooms spread across the euphorbia-studded landscape, with Kwandwe having one of the highest land-to-guest ratios in South Africa.
With both intimate, tranquil lodges and exclusive-use villas, there's an option to suit families, couples, groups of friends and solo travellers.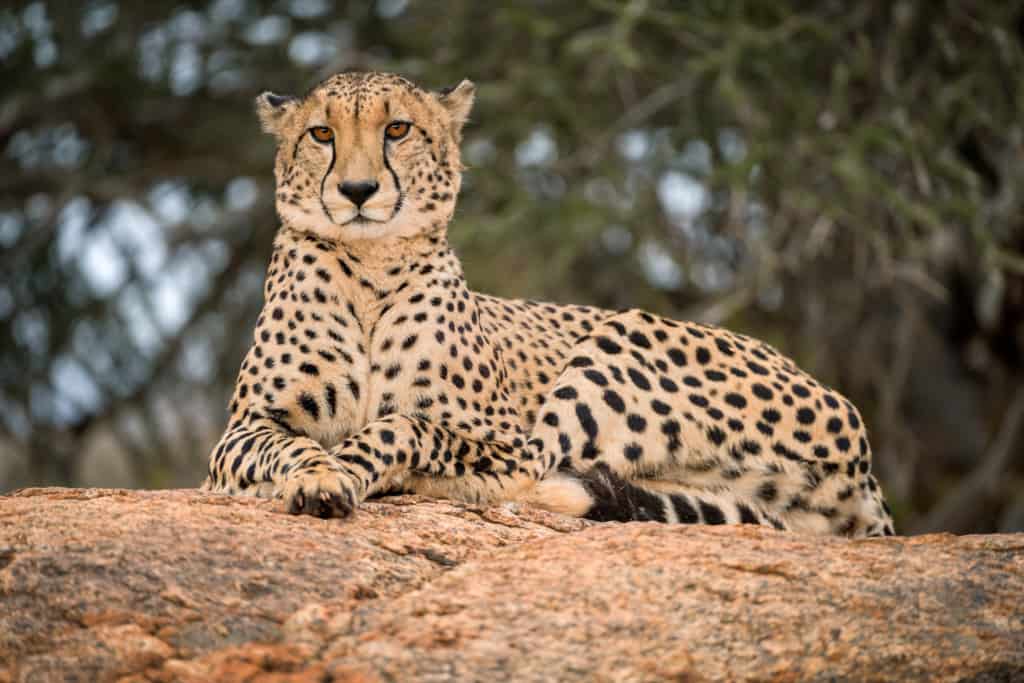 Animals
As South African safari experiences go, visitors to the park will be delighted to find the Big Five present here. Wildlife isn't as prolific as in some other private reserves, but there is plenty of it about, and the drama of the setting makes up for this.
Black rhino and cheetah are some of the flagship species you can expect to see. Interesting antelope often encountered are eland, red hartebeest and gemsbok.
The endemic black wildebeest, rare and localised cousin of the blue wildebeest, is one of the special animals common in Kwandwe. The white rhino is also very common, and Kwandwe is one of the best places in South Africa to see the relatively scarce black rhino.
Night drives are excellent and offer a chance to see the nocturnal aardwolf, porcupine and aardvark as well as the elusive and much sought-after pangolin.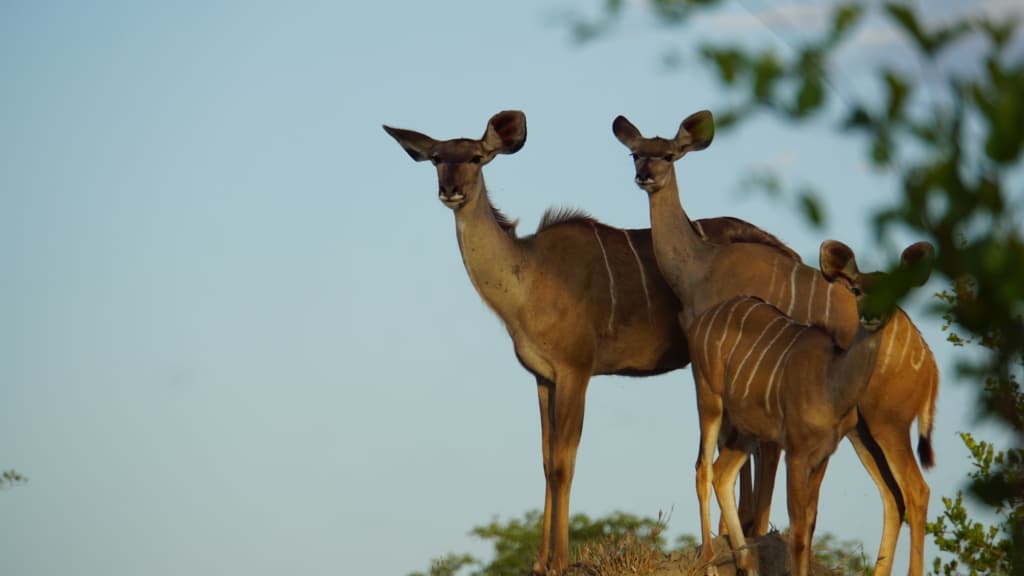 Birds
The varied thicket vegetation of the Great Fish River Valley supports a considerable diversity of bird species. As a result, the bird checklist of over 300 species is still growing. Kwandwe is an isiXhosa name that translates as 'Place of the Blue Crane', which is one of several endangered species likely to be seen here.
Kwandwe is home to a number of threatened bird species such as Knysna woodpecker, Cape grysbok, black wildebeest, crowned eagle and black-footed cat.
Other prominent birds include the rainbow-coloured white-fronted bee-eater and Africa's heaviest flying bird, the Kori bustard. Migratory birds are present from November to April.
Vegetation
Rehabilitated from farmland in the 1990s, Kwandwe Private Game Reserve covers a huge 220km² of near-pristine, indigenous vegetation. The undulating, Karoo-like landscape is an arid, slow-growing ecosystem.
Although devoid of many tall trees, its vegetation is highly diverse and supports incredible game and bird life. For the most part, the land is dotted with resilient spekboom succulents, termite mounds, low-growing shrubs and dense thickets.
These are interspersed with dramatic views of the deeply incised Great Fish River, which meanders for 18miles through the reserve, and wide-open plains, the backdrop for grazing antelope and spectacular predator hunting.
Other activities at Kwandwe Private Game Reserve
Other South African activities that visitors to Kwandwe Private Game Reserve can look forward to on their trip:
Game drive: Explore the incredible Kwandwe Private Game Reserve wildlife with spectacular views of large concentrations of wildlife and watch out for the Big Five in the open wild.
Bush walks: Walk with professional guides at a peaceful, relaxed pace through the extraordinary Kwandwe Private Game Reserve where you can see birds, wildlife and beautiful tree species.
Visitors can also go on fishing expeditions, historic tours and birding tours around this conservation wonder.
How to get to Kwandwe Private Game Reserve?
By Plane
To get to South Africa and indeed to the park, visitors can fly to one of two airports: Cape Town International (CPT) or O.R. Tambo International Airport (JNB) in Johannesburg.
You can fly from Port Elizabeth to the park. From Port Elizabeth Airport (PLZ) you fly directly to Kwandwe Airstrip, which takes about 30 minutes. These flights are scheduled to arrive in time for the afternoon game drive.
A road transfer from Port Elizabeth is also possible. The distance is about 160km/100mi and takes about 1¾ hours. There are several options for booking domestic flights to Port Elizabeth. Most charter flights are arranged by your tour operator as part of your safari package.
A South Africa visa will likely also be required per the latest entry requirements.
By Road
The Garden Route is an attractive way to travel from Cape Town and it may take a week or two before arriving at Kwandwe if visitors choose a leisurely self drive package.
Carrying a small amount of South Africa currency, the rand (ZAR) is advised for smaller purchases.
Regulations
If you keep to park rules, you can stay with the animals as long as they are not disturbed by your presence.
Accommodation at Kwandwe Private Game Reserve
Tourists at Kwandwe Private Game Reserve can choose from a number of different options when deciding where to sleep with accommodation ranging from luxury safari lodges to lower budget camping.
Manors
Melton manor is a contemporary frontier farmhouse with modern touches. The house is booked on a private basis and is perfect for family holidays or parties of friends. Four en-suite bedrooms are designed around the central courtyard with its large, inviting swimming pool.
A private safari vehicle, which can be booked exclusively on request, comes complete with a tracker and ranger.
Another great option is Upland Kwandwe, a gracious homestead in a beautifully restored country house comprising three spacious en-suite bedrooms with private terraces. This villa is available for sole use by guests.
The Homestead features a swimming pool and gazebo, and guests enjoy their ranger, tracker, chef and open 4×4 safari vehicle.
Camps
Fish River Camp is along the aloe-studded banks of the river; the suites at the River Lodge feature private pools and large decks with magnificent views of the wild yet gentle landscape. Beautiful thatched guest areas and extensive viewing decks overlook the river.
A fine alternative is Ecca lodge camp, an innovative, stylish and intimate lodge that features just a few private suites with spacious living areas and en-suite bathrooms. The central guest areas include a spacious sitting room, dining room and bar area, communal kitchen, sparkling rim-flow lap pool and unique interpretive centre.
Campervan
Guests on a self-drive safari with a campervan can make significant savings by sleeping in their vehicle.
Bars/restaurants/amenities
Lodges will typically have all meals and drinks included in the lodge package.
Useful information
Geography
Kwandwe Private Game Reserve is located northeast of Grahamstown, Eastern Cape, South Africa. The reserve covers an area of 22,000 ha, almost divided in half by the Great Fish River.
Safaris here can be combined with trips to Addo National Park, Lion Sands River Lodge or Phinda GR.
Weather
Kwandwe Game Reserve enjoys a temperate climate. Daytime temperatures are quite comfortable throughout the year, but it does get cold at night in the winter months (May to September).
Winter and summer are at the opposite time as compared to Europe and North America. A little rain falls throughout the year, but slightly more in the summer months, from October to March.
Best time to go
Understanding the best time to visit South Africa is important as this will impact accommodation, flight prices, availability and the weather that visitors can expect on their safari vacation. A South Africa visa for entry may also be required.
Kwandwe's wildlife viewing is favorable all year, but is marginally best in the driest months of the year (June through September). This is during the winter season, and it can become very cold at times.
It is important to prepare for this with warm clothing, which is particularly important for evening and morning game drives in open vehicles. The warmer summer months (October to April) are more pleasant.
Health
It isn't necessary to take antimalarials if you are visiting Kwandwe since it is located outside of the areas where malaria is present. However, antimalarials are advisable if you intend to visit the Kruger Park area during the wet summer months from November to April.
Antimalarials and other vaccines for South Africa are advised, as well as covering up in the evening and using mosquito repellent (those containing DEET are most effective).
It is recommended to visit a travel clinic before coming to South Africa. Several South Africa vaccinations are recommended and usually administered before your departure.
FAQs
Where is Kwandwe Private Game Reserve located?
Kwandwe Private Game Reserve is located northeast of Grahamstown, Eastern Cape, South Africa. The reserve covers an area of 22,000 ha, almost divided in half by the Great Fish River.
What animals will visitors see at Kwandwe Private Game Reserve?
Visitors to Kwandwe Private Game Reserve will see the Lion, Leopard, Elephant, Buffalo and Rhino as well as Wild Dog and Cheetah as well as zebras, giraffes, impalas, oryx, aardwolf, caracal, warthogs, porcupine and jackals.