Thornybush is a small private game reserve sharing an open boundary with Timbavati NR which has open boundaries with the world-famous Kruger Park. Animals can freely move in and out of the reserve, which is part of a very large ecosystem.
Thornybush is managed as an eco-tourism destination, thus the Reserve is funded by means of a number of up-market private commercial game lodges located within the Reserve.
They are involved in different kinds of projects such as supporting the local community through contributions to surrounding schools and sustainable farming.
Wildlife viewing is generally very good, but the thick bush makes off-road driving more limited than in the neighboring private reserves.
Why visit Thornybush Game Reserve?
Thornybush Game Reserve safari
Thornybush Game Reserve truly is renowned for extraordinary game sightings. It is possible to see the Big Five, as well as packs of African wild dogs on a morning game drive.
Lions are also easily seen, and the very rare white lion, from neighboring Timbavati, has also been spotted on several occasions. The 14,000-hectare Thornybush nature reserve is private, ensuring guests enjoy intimate, uncrowded encounters with the wildlife as well as extended time on sightings.
The game density is exceptional and we can take you as close to the action as possible. Once darkness falls, you'll be treated to thrilling spotlight-lit night drives in search of rare nocturnal animals and big cats on the move.
After an exciting game drive, guests can look forward to sitting back and relaxing with a soothing spa treatment at the Amani Spa whilst sipping on your favorite cocktail while relaxing at the refreshing pool.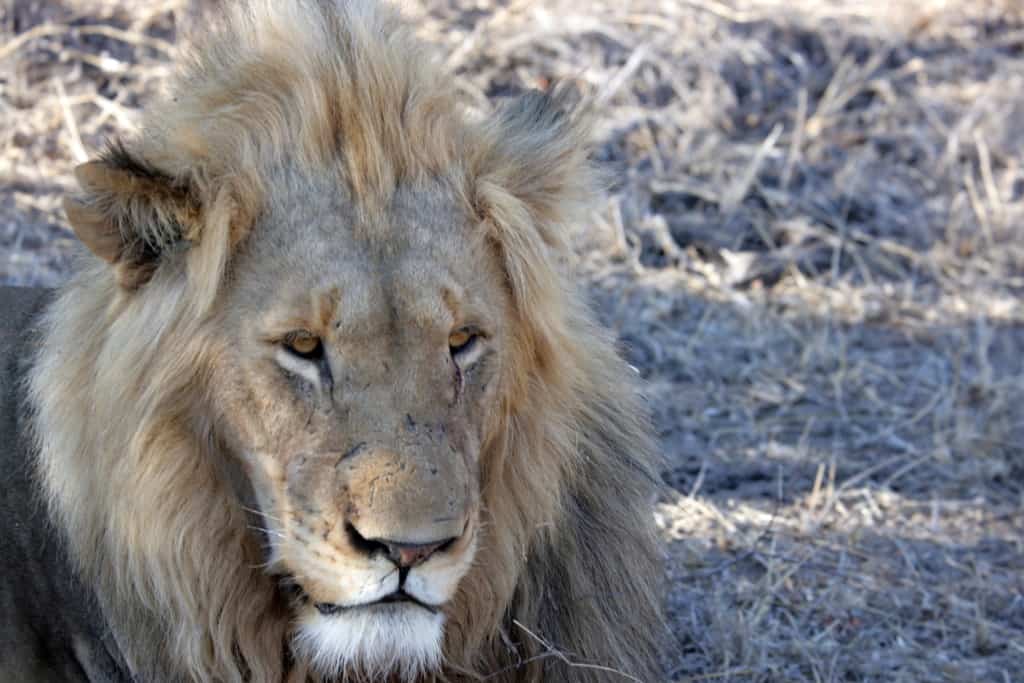 Animals
As South African safaris go, visitors to the park will find all of the Big Five are regularly spotted at Thornybush, but wildlife is less abundant than in nearby Timbavati and Sabi Sand Game Reserve.
All of the Big Five are regularly seen as well as spotted hyena, cheetah and hippo. Wild dogs sometimes pass through and viewing opportunities are especially good when they choose to den in the reserve.
There is a good chance of seeing white rhino and cheetah as well. Lions are regularly seen, and wild dogs move in and out of the property. Giraffes and a good variety of antelope are present as well.
The usually very shy and secretive black rhino is spotted and tracked in Thornybush quite regularly. Night drives are excellent with possible sightings of genet, civet and caracal, as well as porcupine.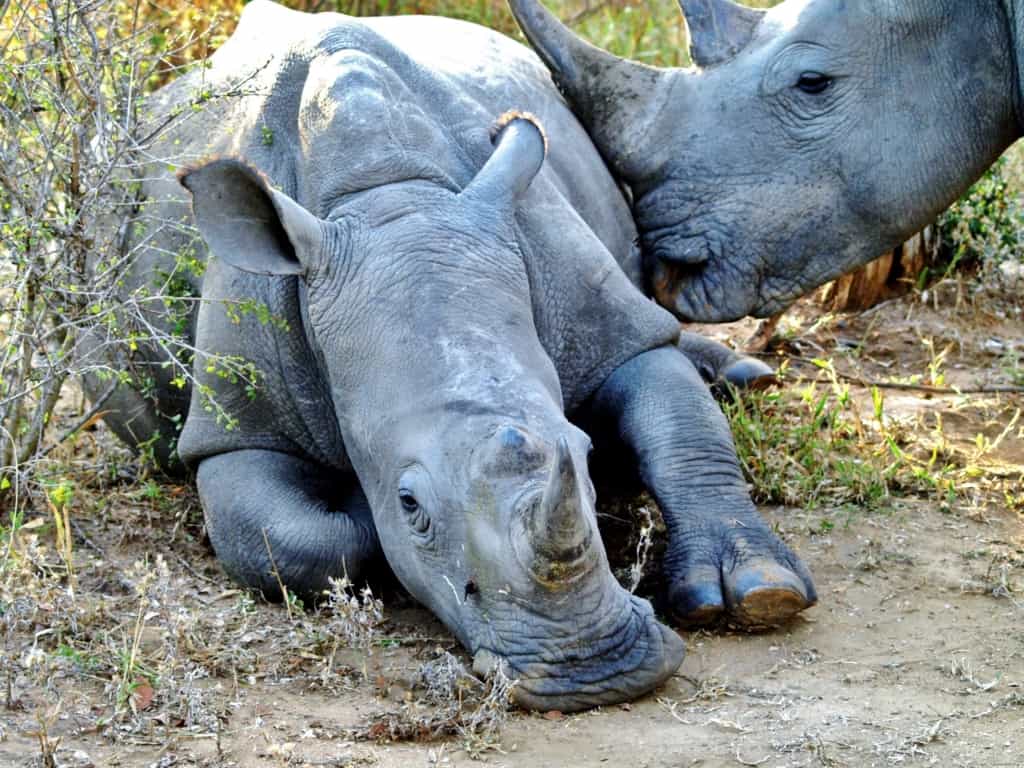 Birds
Thornybush has more than 280 bird species recorded. Although the focus tends to be more on mammals, Thornybush is a good birding destination. If you are a serious birder, sharing a vehicle with other guests might be frustrating.
Therefore, it would be advisable to book private drives. Walking safaris and night drives both add to the bird-watching experience and increase the chances of seeing a variety of species. Migratory birds are present from November to April.
Other birds known in the area include the Fork-tailed drongo, Groundscraper thrush, the Blacksmith lapwing and the Martial eagle.
Trees
Many of the most exquisite and luxurious lodges at Thornybush can be found adjacent to the lush grasses, idyllic trees including the Jackalberry and indigenous plants within the reserve.
Suspended wooden walkways link treetop hides to the luxurious suites situated along the Monwana tributary and the accommodation is second to none.
Inside and outdoor showers have views of the waterhole and of the nearby Weeping boerbean trees, a spectacular and beautiful tree to behold.
Young leopards can often be found hiding in the Marula trees on the reserve. These cats also choose Marula tree to house their captured food pickings for the days, whilst watching their surroundings from above.
Other activities at Thornybush Game Reserve
Other South African activities that visitors to Thornybush Game Reserve can look forward to on their trip:
Game drive: Explore the incredible Thornybush Game Reserve wildlife with spectacular views of large concentrations of wildlife and watch out for the mammals prowling in the open wild.
Bush walks: Walk with professional guides at a peaceful, relaxed pace through the extraordinary Thornybush Game Reserve where you can see birds, wildlife and beautiful tree species.
Children's activities: Children have a special programme prepared for them prior to their arrival that includes allocated rangers who interact with the kids, complimentary children's packs on arrival, Rat Packs (cool drinks/cookies) and activities.
How to get to Thornybush Game Reserve?
By Plane
To get to South Africa and indeed to the park, visitors can fly to one of two airports: Cape Town International (CPT) or O.R. Tambo International Airport (JNB) in Johannesburg.
From here, Federal Air flies twice daily to Thornybush. Alternatively, you can take a connecting flight from Johannesburg to Hoedspruit Airport (HDS). This airport is close to the reserve, and a transfer can easily be arranged. A South Africa visa will likely also be required per the latest entry requirements.
By Road
Another possibility is to hire a car in Johannesburg and drive to the park. Thornybush is situated on the R40 near Hoedspruit, to the west of Kruger National Park. The 450km/280mi drive will take about 5 hours.
Carrying a small amount of South Africa currency, the rand (ZAR) is advised for smaller purchases.
Tariffs & Regulations
Entrance fee
Thornybush Game Reserve fees include 250 Rand per person per day and the fee covers the following levies:
Community levy
Conservation levy
TOMSA levy
Regulations
If you keep to park rules, you can stay with the animals as long as they are not disturbed by your presence.
Accommodation at Thornybush Game Reserve
Tourists at Thornybush Game Reserve can choose from a number of different options when deciding where to sleep with accommodation ranging from luxury safari lodges to decadent tented camps.
There are in total 12 different places to stay in Thornybush Game Reserve:
Premium Collection camps
Saseka Tented Camp: 9 tents with capacity for 20 people
The River Lodge: 6 suites with a capacity of 12 people
The Game Lodge: 18 suites with a capacity of 40 people
Shumbalala Game Lodge: 5 suites with a capacity of 10 people
Classic Collection lodges
Waterside Lodge: 20 suites with a capacity of 40 people
N'kaya Lodge: 4 suites with a capacity of 8 people
Waterbuck Lodge: 4 suites with a capacity of 8 people
Serondella Lodge: 3 suites and a family suite with a capacity of 8 people
Monwana Lodge: 2 family suites, 1 king size suite and 1 honeymoon suite
Jackalberry Lodge: 8 suites with a capacity of 16 people
Chapungu Tented Bush Camp: 8 tents with a capacity of 16 people
Set on riverbeds or overlooking waterholes, the Thornybush lodges are luxurious oases where guests can savor the joys of the wilderness in comfort.
The lodges vary in size and stature, with both inclusive and sole use options which include self-catering with every available amenity in luxurious surroundings.
Bars/restaurants/amenities
Lodges will typically have all meals and drinks included in the lodge package.
Useful information
Geography
Thornybush Game Reserve can be found near Hoedspruit, in the Limpopo province of South Africa. It borders the Kapama Game Reserve and is located close to the Timbavati Game Reserve and Kruger National Park.
Weather
Thornybush Game Reserve experiences its winter and summer at opposite times to those seasons in Europe and North America. Winter (May to September) is dry with mild temperatures, while summer (October to April) is wet, hot and humid.
Be sure to pack warm clothing for morning and evening game drives. Thundershowers are typical during the Wet season, although rain rarely lasts long.
Rainfall is scarce during the entire winter, and there is little humidity. Permanent water sources become a gathering place for animals as water becomes hard to find elsewhere.
May – May marks the end of the summer season. Average temperatures cool to around 12°C/54°F in the morning, while afternoons average 26°C/79°F.
Best time to go
Understanding the best time to visit South Africa is important as this will impact accommodation, flight prices, availability and the weather that visitors can expect on their safari vacation. A South Africa visa for entry may also be required.
May to September is the best time for wildlife viewing at Thornybush. These are the winter months, and they coincide with the Dry season.
At this time wildlife gathers around permanent water sources and foliage recedes, making animals easier to spot. September is a particularly good time.
Health
There is a very minimal risk of contracting malaria during the wet summer months (October-April) in Thornybush.
Antimalarials and other vaccines for South Africa are advised, as well as covering up in the evening and using mosquito repellent (those containing DEET are most effective).
It is recommended to visit a travel clinic before coming to South Africa. Several South Africa vaccinations are recommended and usually administered before your departure.
FAQs
Where is Thornybush in South Africa?
Thornybush Game Reserve can be found near Hoedspruit, in the Limpopo province of South Africa. It borders the Kapama Game Reserve and is located close to the Timbavati Game Reserve and Kruger National Park.
What animals will visitors see at Thornybush Game Reserve?
Visitors to Thornybush Game Reserve will see the Big Five are including the black and white rhino, cheetahs, lions, wild dogs, giraffes, antelopes, spotted hyena, cheetahs and hippos.
How much is the Thornybush Game Reserve entrance fee?
The entrance fee for international visitors to Thornybush Game Reserve is 250 Rand per person per day.