A big 5 safari destination and a reputation for low density tourism, eco-friendly lodges and political stability, Botswana certainly stands out from other safaris in Southern Africa.
Similar in size to Texas at 224,000 sq. miles and nestled in between Namibia, South Africa, Zimbabwe and Zambia, this beautiful landlocked country makes the most of its land, 40% of which is under conservation to protect the country's wildlife and habitats.
March to May and June to September during the dry season are the most popular times for arriving visitors.
Why Botswana for a safari
Botswana is renowned as a leading destination for big 5 wildlife viewing, luxury lodges, premium service and eco safari tours with international visitors flocking from the U.S, U.K. and beyond.
The country also plays host to one of the Seven Natural Wonders of Africa, the stunning Okavango Delta as well as the biologically diverse area along the Chobe river and park.
Top attractions visitors can expect from a Botswana safari include:
Animals
Visitors are in for a real treat as Botswana is famous for its wildlife with the big 5 present as well as giraffes, hippos, antelopes, African wild dogs, hyenas, zebras, crocodiles, buffaloes, springboks, wildebeest, oryxes, hyenas and many more.
All big 5 game animals can be found roaming including the African bush elephant, the lion, black rhino and white rhino, leopard and the African buffalo.
The humid regions of the country and the ancient lakes are an ideal habitat for more than 500 species of birds including the Kori bustard, ostriches, storks, flamingos, vultures, herons and cranes.
The riverine environments of the Okavango Delta and Chobe National Park tend to attract the biggest number and widest range of wildlife, with one of the largest populations of the highly endangered African wild dog.
Wild dog packs roam over large territories and spotting them can be 'hit-or-miss' except when they are denning.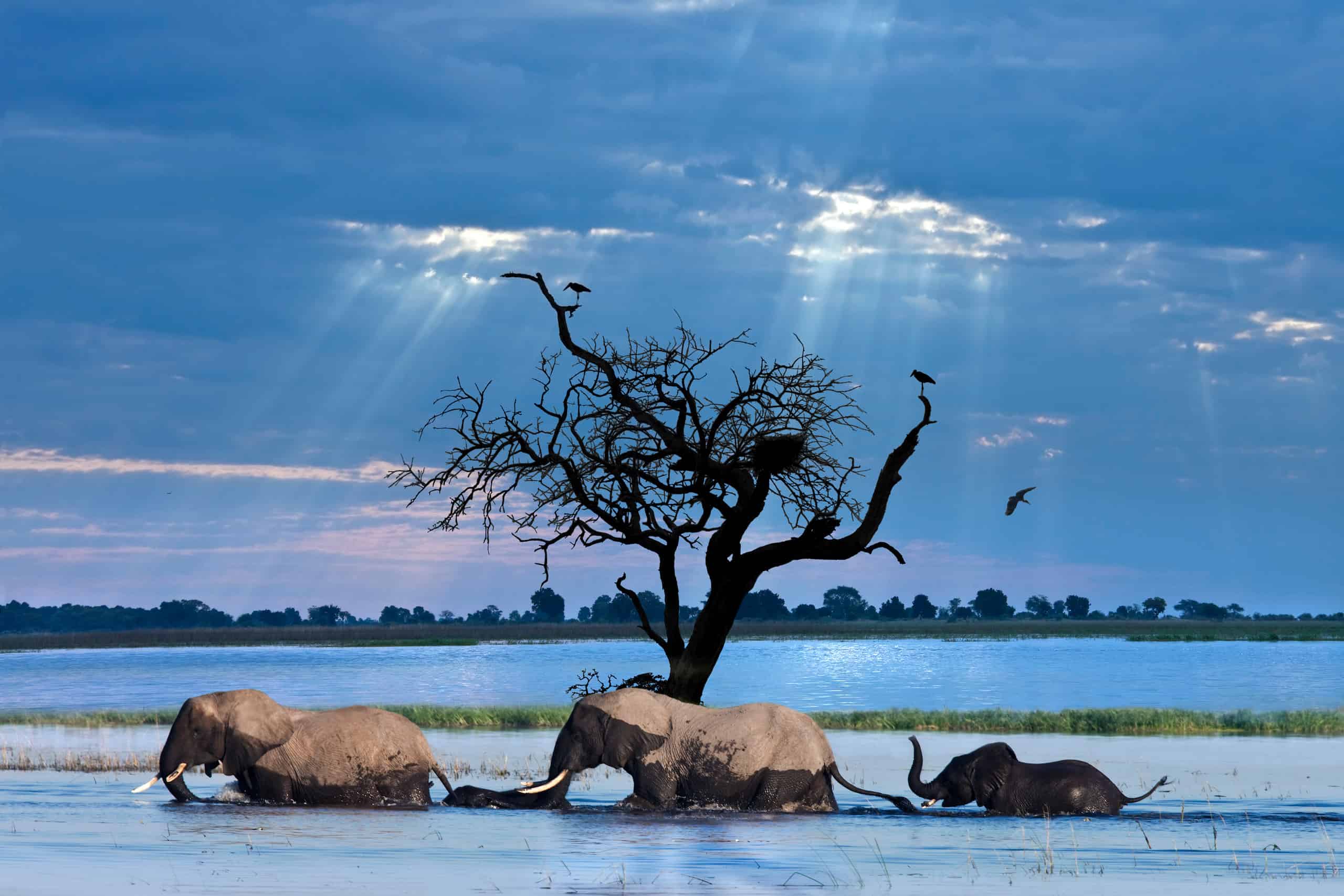 Parks & Reserves
Botswana has numerous parks, reserves and sanctuaries, all of which have their own charm, lodging and wildlife attractions.
The country has four national parks: Chobe, Kgalagadi Transfrontier Park (Gemsbok), Makgadikgadi Pans & the Nxai Pans and many smaller parks which are national parks in all but name.
Of particular note amongst parks are the Okavango Delta, a truly spectacular experience, as well as Moremi & Chobe.
Okavango Delta: Botswana's greatest natural feature and the world's largest inland delta.
Chobe National Park: Famous for its large animal concentrations, big cats, lion prides and Africa's largest elephant population at 50,000, visits to Chobe are often combined with day trips to the incredible Victoria Falls in neighbouring Zambia.
Moremi Game Reserve: A well-run area of about 1,930 sq miles divided into vast private concessions. The reserve is close to Maun on the eastern side of the Okavango with great wildlife.
Kgalagadi Transfrontier National Park: Straddling the border with South Africa, this extensive park covers a total area of about 14,670 sq miles of which about 75% is within Botswana and was originally known as Gemsbok National Park.
Makgadikgadi Pans National Park: A large salt pan in north-east Botswana and unique due to its landscape rather than its wildlife.
Nxai Pan National Park: A large salt pan linked to Makgadikgadi Pan National Park.
Central Kalahari Game Reserve: Set in the Kalahari desert and the world's second-largest protected area of its kind.
Linyanti Swamp: At about 350 sq. miles, this area shares a border with the Selinda Reserve. Its two rivers, the Linyanti and the Kwado, help create the marshy landscape.
Khutse Game Reserve: Popular with visitors due to the close proximity to Gaborone.
Mashatu Game Reserve: Located in the Northern Tuli Game Reserve bordering South Africa.
Mokolodi Nature Reserve: A privately administered reserve close to Gaborone and covering an area of just 12 sq. miles, the reserve is well stocked with animals, including white rhino.
Savuti Channel/Savute Marsh: The Savuti Channel is an erratic water course that feeds the Savuti Marsh.
Khama Rhino Sanctuary: Established in 1992, this is a community based wildlife project that helps save and protect both white and black rhinos.
Covering approximately 8,585 hectares of the Kalahari Sandveld, the sanctuary helps provide economic benefits to the local Botswana community through tourism and through the sustainable use of natural resources.
For more parks information visit: Parks and reserves in Botswana.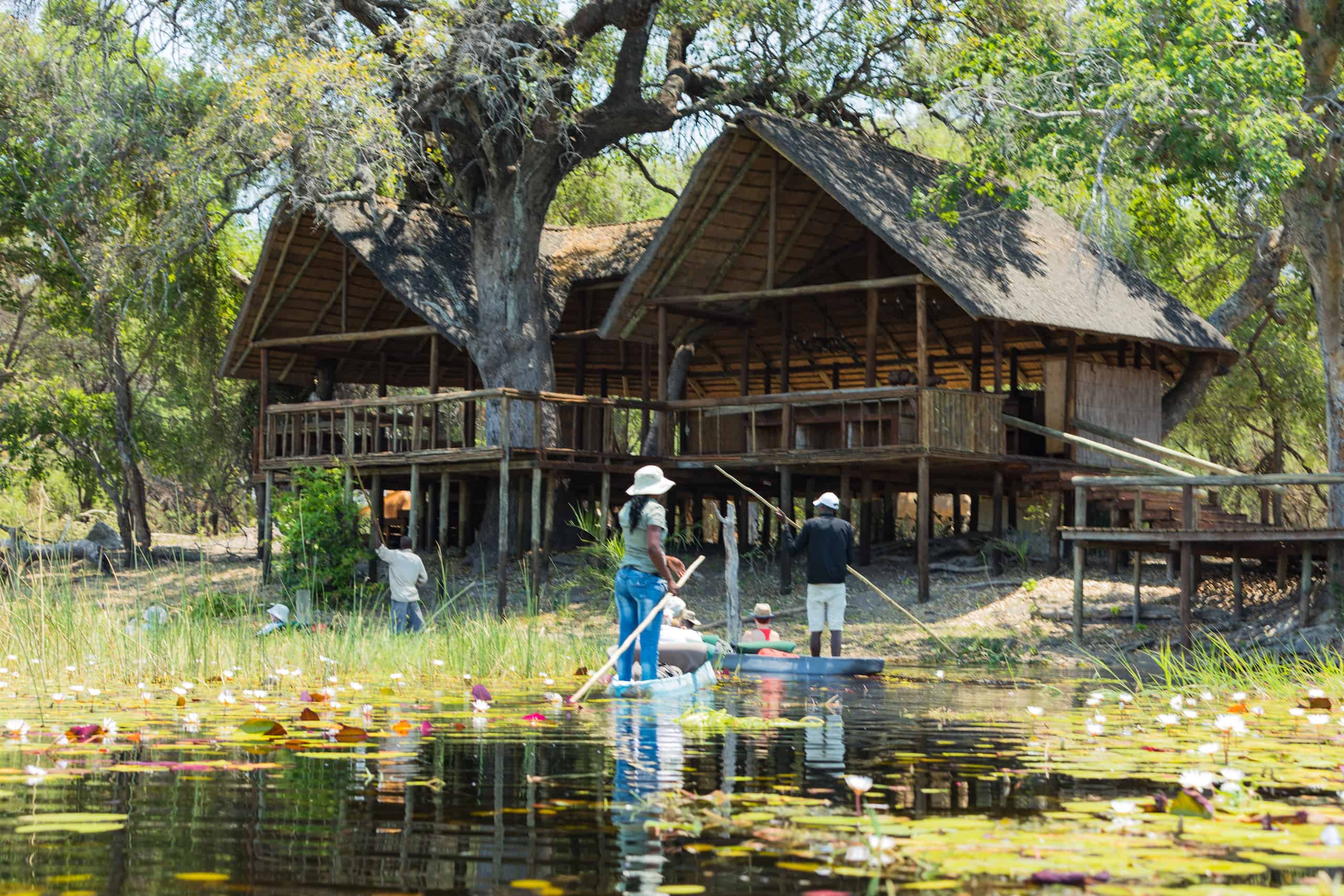 Safari tours
A tour in Botswana is typically organized by a tour operator, safari tour company or via a self drive safari.
Spread across the country, Botswana's parks and reserves can take several hours/flight to one another.
It is therefore important to take many elements into account when visitors plan their Botswana tour including:
Which animals you would like to see
Budget for the trip
Travel party (solo, with friends or a larger family group)
Activities you would like to include (hot air balloon, hiking)
Guided tour
A popular destination with newlyweds going on safari tours, the country offers all the pampering and comforts one would expect on a Botswana honeymoon safari with similar premium service and pampering on a luxury safari.
Travellers can fly to Botswana via Maun (MAU), Gaborone (GAB) or Kasane (BBK) airports for visitors wondering how to get to Botswana.
A guided safari experience brings the benefit of:
Transfer via plane or on a Botswana fly in safari/4×4 to the safari camps and lodges
Luxury accommodation packages
Meals/drinks all catered for
Safari guides and transport
Facilities prepared including showers, wifi, cocktails and all requests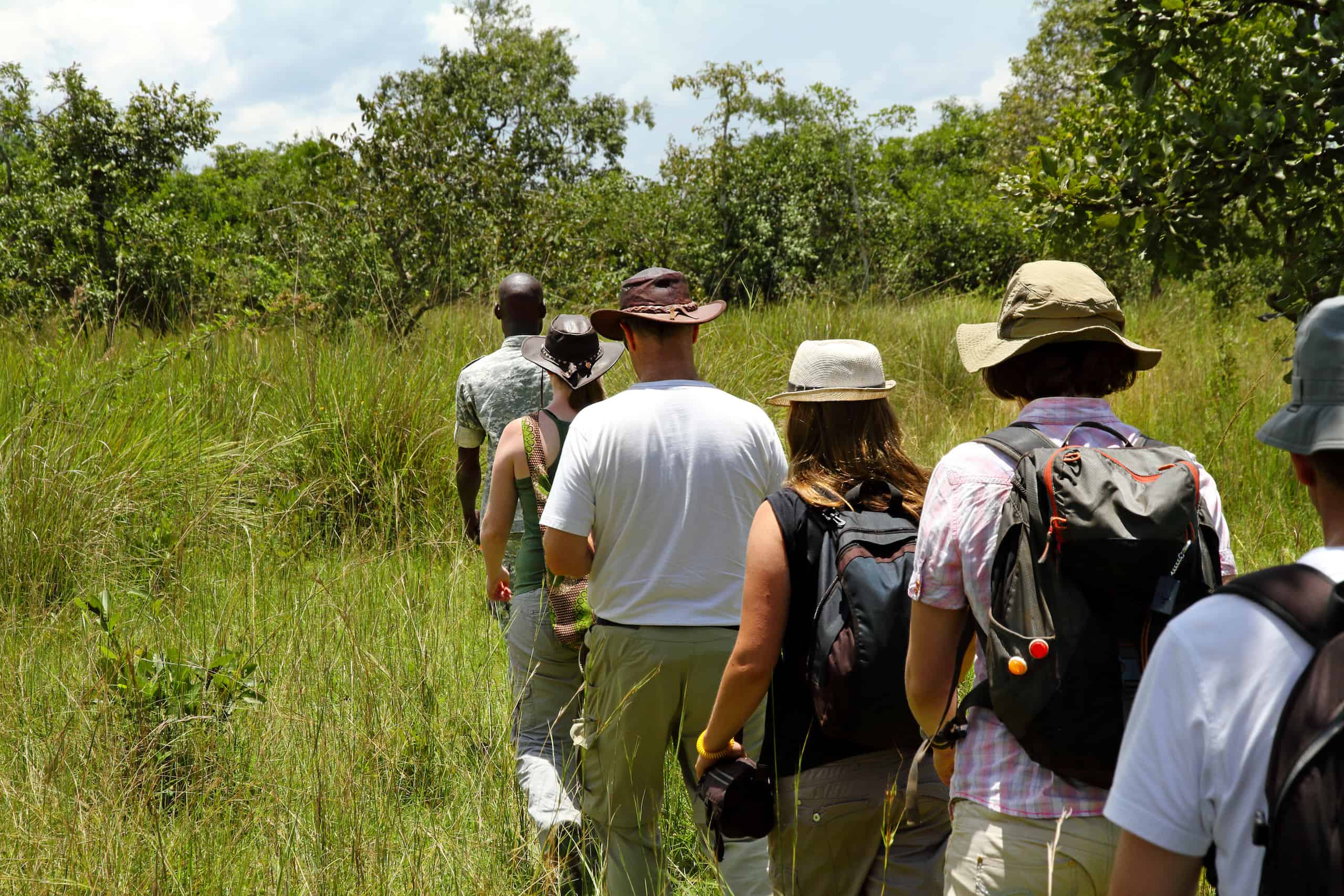 Botswana self drive safari
For self-drive African safaris, visitors can hire their own 4×4, whilst accommodation can be secured in park campsites or in the vehicle itself if a campervan option is selected.
Part of the fun of a self drive safari is spotting the abundant wildlife on your own and taking the time to spend viewing your favourite animals.
A normal 2 wheel drive car may be sufficient, and of course cheaper, for some parks however other parks such as the Khama Rhino Sanctuary have deeper sand and a 4*4 will be required.
What to do in Botswana besides a safari
Botswana offers a range of different activities besides safari including:
Mokoro (traditional canoe) ride through the Okavango
Walk with bushmen discovering nature
Botswana horse safari across fence-less landscapes in the Okavango, Makgadikgadi Pans or Mashatu Reserve
Mountain Biking in Mashatu
Tour a HBO TV set around Gaborone, a series based upon a young Botswana woman who opens the country's first female-owned detective agency in 'The No. 1 Ladies Detective Agency'
Visit the beautiful Kubu Island
Enjoy peace and tranquility at Lake Ngami
For more activities visit: Botswana things to do here including an eco safari walk with local bushmen.
Best time to go on a safari in Botswana
Botswana is a beautiful country to visit, regardless of the season.
Certain periods are more favorable for a safari in the best conditions. To know when to travel to Botswana, visitors should take into consideration the following key criteria:
Budget
Regions visited
Weather conditions
Overall, May to September is the best time to visit during the dry season.
Botswana safari cost
Botswana is one of the more expensive safari destinations in Africa.
There are multiple factors that can impact the cost of a safari in Botswana including accommodation selected, trip duration, safari costs, tours, flights, transfers, meal options and additional activities visitors may request.
Travellers on a budget can reduce costs by booking their own flights, accommodation and activities as well as hiring a 4*4 to travel between the parks and reserves.
Detailed safari price information can be found here.
Organizing your safari
There are a number of different options available for organizing your safari in Botswana including:
DIY safari
Organizing your own safari is possible but only recommended for more experienced travelers and visitors on a strict budget. This option requires time and know-how to plan for all flights, transport, meals, accommodation and safari tours.
Without the knowledge of specific safari destinations and logistics in navigating an African country, this may be a challenging option for many travelers.
Tour operators
The biggest tour operators will offer safaris in Botswana where visitors can book a package that will cover their flight, transport, accommodation, activities and food, an ideal option for those with no previous safari experience in preparing for such a trip.
Safari travel agencies
Visitors will often find dedicated safari travel agencies to be the best option in booking their dream safari or honeymoon safari. These agencies have many years experience in booking safaris as well as multiple partnerships with local tourism networks and lodges/game reserves.
Travel agencies typically offer:
Tailor-made tours
Local tour guides
Trips to must-see wildlife areas and parks
All transportation
High quality accommodation at reduced prices
The cost of the service of these specialized agencies can be a bit higher compared to other options, a cost worth bearing given the quality and ease of services provided.
Accommodation
Visitors typically will have the choice between lodges, chalets and campsites as well as African tents, suites and bedrooms.
Luxurious facilities are common including swimming pools, restaurants, bars, spas and terraces. Game viewings and plane transfers are organized by the accommodation providers.
Visitors can find our selection of the best luxury lodges and camps in Botswana.
Trip preparation
Entry
Visitors from multiple countries may enter Botswana visa-free for up to 90 days within a 12-month period including nationals of all EU member states as well as the U.S. and U.K.
A visitor's passport must be valid for at least 6 months and visitors traveling with a minor will require stricter supporting documentation and an individual passport as well as certain vaccinations which may be required.
Health
The CDC and WHO recommend the following vaccinations for Botswana: Hepatitis A, hepatitis B, typhoid, yellow fever, rabies, meningitis, polio, measles, mumps and rubella (MMR), Tdap (tetanus, diphtheria and pertussis), chickenpox, shingles, pneumonia and influenza.
The risk of contracting malaria is considered low. But, it is prevalent in some areas of Botswana, the northern regions in particular where malaria elimination has not yet ensued.
Check with a travel medicine specialist to see if antimalarials should be considered to help prevent malaria contraction.
Covid-19
To enter Botswana, you are not required to take a coronavirus test if you are completely vaccinated. You must provide your immunization certificate both during travel and upon arrival. For further information, see our Botswana vaccine info here.
What to pack
The essential items to pack for your Botswana safari include:
Neutral coloured clothes
Long-sleeved shirts protecting against the sun and mosquitoes
Sunscreen, sunglasses, a hat and insect repellent
Jackets and sweaters for early morning game drives
Comfortable walking shoes
To make sure you don't forget anything, follow our safari packing list guide.
Currency
The currency of Botswana is the Pula (BWP) and is divided into 100 Thebes.
100 Pula (BWP) = Approximately USD $8.57, GBP £6.43 and EUR €7.57.
Carrying a small amount of Botswana currency, the Pula (BWP) is useful when paying for smaller food or ticket items.
Driving in Botswana
Driving is conducted on the left hand side of the road in Botswana and driving generally considered to be safe.
Visitors driving through parks may require a 4×4, whilst carrying a map & GPS is recommended. The highways in Botswana are paved but not always in the best conditions.
Insurance
Visitors should consider travel insurance when planning their trip to help protect and cover the costs of hospitalization or repatriation if required.
Some credit cards may already include travel insurance. Online travel insurance comparators are also useful in finding suitable offers.
FAQs
How much does a safari in Botswana cost? 
Visitors can expect to pay between $750 to $1,000 per person per day. 
When to go on a safari in Botswana? 
Between May and September is the best time to go on a safari in Botswana, during the dry season.