Camdeboo National Park is located in the Karoo region of South Africa and almost completely surrounds the Eastern Cape town of Graaff-Reinet. Previously known as Karoo Nature Reserve, the park was proclaimed as South Africa's 22nd National Park in 2005.
The park provides visitors with insights into the unique landscape and ecosystem of the Karoo, as well as incredible scenic beauty and a number of game animals.
Located in the foothills of the Sneeuberge, or Snow Mountains, the area has an elevation of between 740 and 1480-metres above sea level. The beautifully situated Nqweba Dam, which services the water requirements of Graaff-Reinet, covers approximately 1,000 hectares within the Park's boundary.
Why visit Camdeboo National Park?
Camdeboo National Park safari
Camdeboo National Park's main attraction is the semi-arid Karoo environment and scenic highpoints such as the spectacular Valley of Desolation, where erosion has left dolerite pillars of more than 100m high.
Visitors can learn about how the jointed dolerite pillars of the Valley of Desolation were formed when the softer sedimentary bedrock eroded away leaving these stark dolerite pillars.
These same pillars frame the southern slopes of the escarpment which rise in jagged profusion to heights of between ninety and one hundred and twenty metres.
A separate section of the park has a very small wildlife-viewing circuit where some herbivores have been stocked. Of the Big 5, only buffalo is present. Red hartebeest and gemsbok are frequently observed in the transitional vegetation types.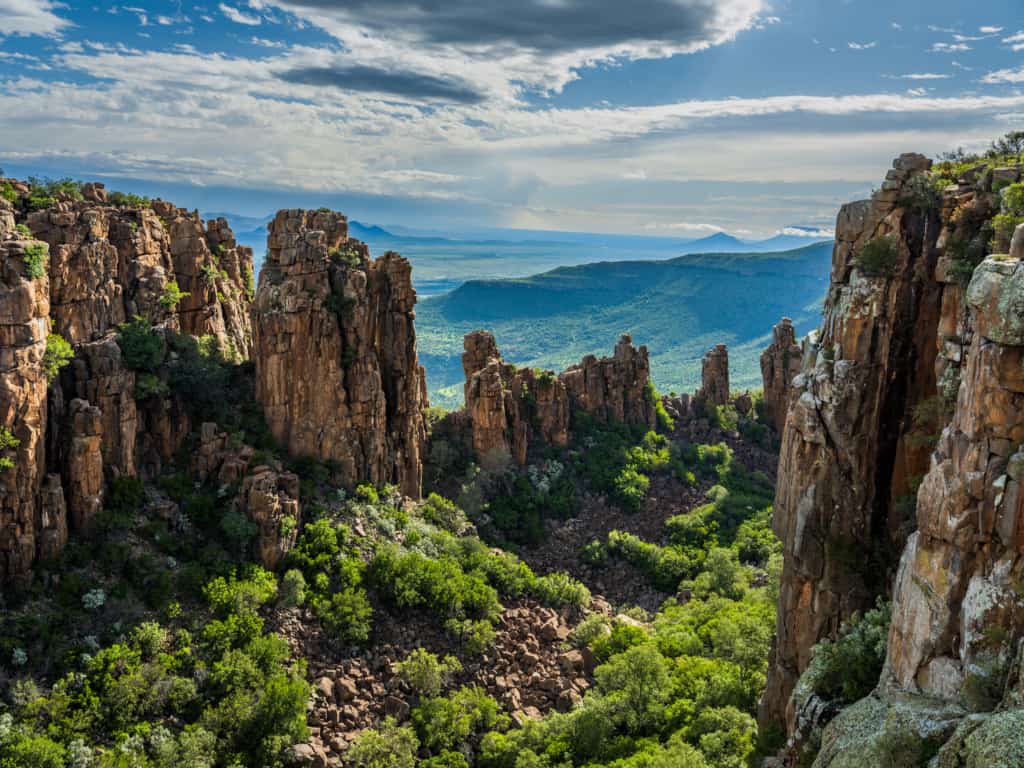 Animals
As South African safaris go, visitors to the park will find the area is not a primary safari destination.
The wildlife here is mostly comprised of herbivores and small predators. Many of the animals are well-adapted to the arid environment. A typical example of this is the dainty springbok, which doesn't need drinking water. Instead, it derives its liquid from food only.
Nonetheless, Game animals regularly sighted by visitors include steenbok, springbok, blesbok, yellow mongoose and black wildebeest in open areas. Thicket inhabitants include the kudu and grey duiker which are common as well as the less often seen Cape buffalo. There are no big cats.
Other animals include the endemic Cape mountain zebra and red hartebeest. Meerkats and bat-eared foxes are some of the small predators common in the Karoo habitat.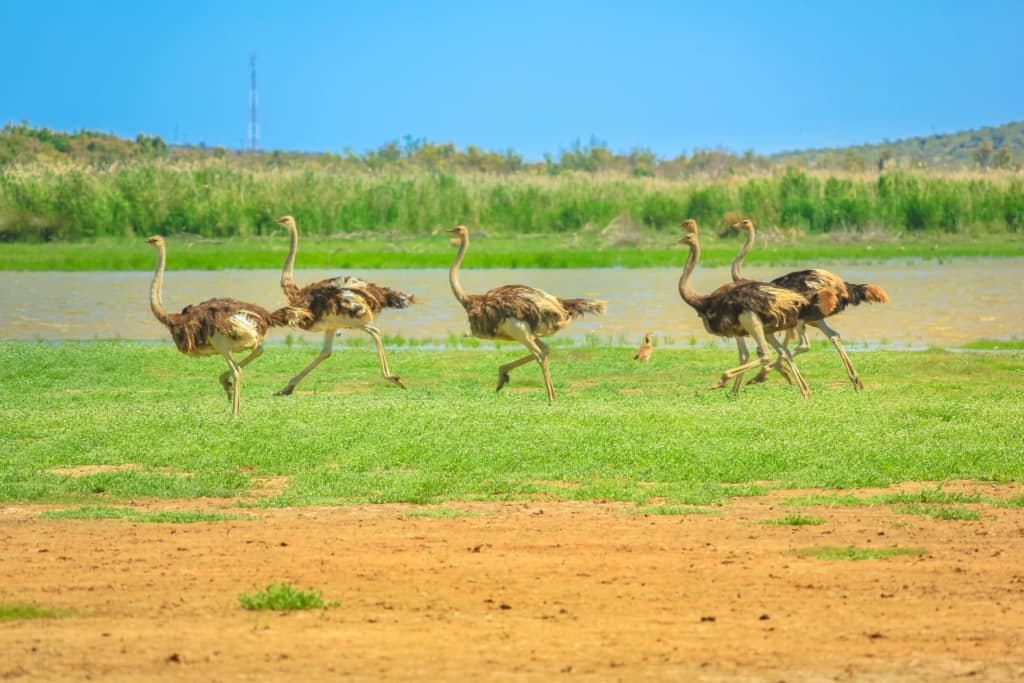 Birds
Camdeboo has more than 225 birds on its checklist. A good mix of typical Karoo and Eastern Region species has been recorded as well as important populations of threatened species such as the elegant blue crane.
Nqweba Dam is a great place for waterbirds, while the wildlife-viewing area will offer some grassland species. The rugged mountain area of Desolation Valley is excellent for raptors. Migratory birds are present from November to April.
Notable birds include the black-shouldered kite, double-banded courser and the golden-breasted bunting.
Trees
The diverse landscape of the Park in relation to altitude, aspect and soil type has led to the development of three distinct classes of vegetation, shrubland, succulent thicket and dwarf shrubland. To date, 336 plant species have been identified, among which 71 families of flowering plants.
The most important of these are daisies (55 species), grasses (36 species), lilies (25 species) and succulent Crassula (16 species). A wetland plant community occurs primarily within the water fluctuation area of the dam.
Other activities at Camdeboo National Park
Other South African activities that visitors to Camdeboo National Park can look forward to on their trip:
Game drive: With 19km of gravel roads, visitors have the opportunity to view the entire range of the Parks' indigenous species in their preferred habitats.
Braai: Leisure facilities have been built on the edges of the Park to cater for the more general needs of visitors. The Impunzi picnic area has four sites suitable for family outings. Each site is provided with a "braai" (barbecue) stand, picnic table and refuse drum. Water is available and the picnic area is provided with a toilet
Walking trails: The Park offers walking trails that range from an hour to overnight hikes, as well as picnic sites for those who simply want to gawp at the majestic rock formations.
Camdeboo Environmental Education Centre: The Centre offers programmes to any formal group to promote awareness of and sensitivity towards the natural environment. Courses are tailored to meet visitors' needs.
How to get to Camdeboo National Park?
By Plane
To get to South Africa and indeed to the park, visitors can fly to one of two airports: Cape Town International (CPT) or O.R. Tambo International Airport (JNB) in Johannesburg.
From here, a journey by car will be required, taking 7 hours by road from Cape Town. A South Africa will likely also be required per the latest entry requirements.
By Road
Cape Town and Johannesburg are the two most common entry points for visitors to Camdeboo National Park. You may choose to begin your tour here in the form of an organized safari or drive on your own.
Some people will drive from Cape Town via the Garden Route over a week or two to Graaff Reinet, the entrance gate to the park.
Carrying a small amount of South Africa currency, the rand (ZAR) is advised for smaller purchases.
Tariffs & Regulations
Entrance fee
All Camdeboo National Park fees are payable at the gate at time of entrance. Park fees are valid for 24 hours.
Foreign Visitors: R150 per adult, per day (USD $9) & R50 per child, per day (USD $3)
SADC Nationals (with passport): R100 per adult, per day & R50 per child, per day
South African Citizens and Residents (with ID): R50 per adult, per day & R25 per child, per day
Regulations
If you keep to park rules, you can stay with the animals as long as they are not disturbed by your presence.
Accommodation at Camdeboo National Park
Tourists at Camdeboo National Park can choose from a number of different options when deciding where to sleep with accommodation ranging from luxury safari lodges to lower budget camping.
Hotels and guesthouses
Accommodation facilities run by the park are limited to a single hut used on one of the hiking trails and the Camdeboo Environmental Education Centre for school groups which can accommodate up to 40 children or can also be used for conference purposes.
The town of Graaff-Reinet, lying in the heart of the Camdeboo National Park is the perfect place to look for accommodation. There are many great hotels and guest houses in Graaff-Reinet as well as a beautiful campground directly at the Sunday River.
Drostdy Hotel Graaff Reinet is a superb guesthouse offering an outdoor pool, spa, on-site restaurant, comfortable rooms and superb service right in the middle of the beautiful town of Graaff-Reinet.
Each room here will provide you with a flat-screen satellite TV, free WiFi and air conditioning. Guests will also benefit from a Nespresso coffee maker, 24-hour room service and a writing desk.
Another great alternative is Cypress Cottage Guest House, an 18th century guesthouse, circa 1796 offering stylish and individually decorated bedrooms, lush gardens with century old Oak trees and a wooden sun terrace with sparkling pool.
Camping
Camdeboo National Park campsites available at Nqweba Camp Site (CK6P) and Lakeview Tent (CTT2) with various facilities to cater for visitors. Fifteen caravan or tent sites are situated beneath thorn trees on a gravel substrate and each site has a braai unit and powerpoint.
A communal kitchen provides deep freeze, stove top and microwave facilities while the communal ablutions have showers, toilets and a universally accessible unit.
Campervan
Guests on a self-drive safari with a campervan can make significant savings by sleeping in their vehicle.
Bars/restaurants/amenities
Lodges will typically have all meals and drinks included in the lodge package.
Useful information
Geography
The Camdeboo National Park is located in the Karoo and almost completely surrounds the Eastern Cape town of Graaff-Reinet.
Safaris here can be combined with trips to Mountain Zebra National Park, Phinda Game Reserve or Kruger National Park.
Weather
Classified as semi-arid to arid, Camdeboo National Park receives an average rainfall of less than 350mm/13.8in per year. Most of the rain falls between October and April. Mid-winter brings temperatures down to freezing.
The park's altitude ranges from 751-1,447m/2,464-4,747ft, so even within the park, there are climatic variations. However, the upper reaches are on the inaccessible mountain peaks.
The winter months (May to September) experience very low temperatures at night and in the early mornings. It is advisable to bring winter clothes. There is little to no rain, and the skies tend to be clear. Snow can fall, but mainly on the mountain peaks.
Best time to go
Understanding the best time to visit South Africa is important as this will impact accommodation, flight prices, availability and the weather that visitors can expect on their safari vacation. A South Africa visa for entry may also be required.
Wildlife viewing in Camdeboo National Park is good the whole year through, but it gets very cold in winter, and the mountains might get covered in snow. The park is mostly about its scenery and antelope species, not about seeing Big 5 animals.
Therefore, warmer summer months from October to March are more pleasant and the scenery is greener.
Health
Antimalarials aren't necessary to visit Camdeboo as malaria isn't present here. There is a very small risk, however, when visiting the eastern part of the country during the wet summer months, so please plan accordingly.
Antimalarials and other vaccines for South Africa are advised, as well as covering up in the evening and using mosquito repellent (those containing DEET are most effective).
It is recommended to visit a travel clinic before coming to South Africa. Several South Africa vaccinations are recommended and usually administered before your departure.
FAQs
Where is Camdeboo National Park located?
The Camdeboo National Park is located in the Karoo and almost completely surrounds the Eastern Cape town of Graaff-Reinet, accessible by a 7-hour car journey from Cape Town. 
What animals will visitors see at Camdeboo National Park?
Visitors to Camdeboo National Park will see steenbok, springbok, blesbok, yellow mongoose, black wildebeest, kudu, grey duiker, Cape buffalo, Cape mountain zebra and red hartebeest. 
How much is the Camdeboo National Park entrance fee?
The entrance fee for Camdeboo National Park for international visitors is R150 per adult, per day (USD $9) & R50 per child, per day (USD $3).