Dulini is a private reserve within the greater Sabi Sand Game Reserve and shares open borders with the world-renowned Kruger National Park. Being part of such a vast ecosystem, Dulini offers an authentic wilderness experience and superb wildlife viewing.
The emphasis is on observing the Big Five, and all big cats are easily seen – including the leopard, which is normally difficult to find.
Known for having some of the best quality lodges in South Africa, visitors will also enjoy having a very private safari experience in a reserve particularly well known for its leopard population.
This means that every game drive is potentially the game drive of a lifetime, especially when led by the world class and expertly trained game rangers.
Why visit Dulini Private Game Reserve?
Dulini safari
The vegetation is quite thick across Dulini's woodland savannah, but this rarely interferes with wildlife sightings, due to skilled guides and trackers and the ability to drive off-road.
The camps are situated on a narrow strip of territory but, like all the smaller sections of the Sabi Sand Reserve, it's unfenced, with animals and vehicles alike free to explore further afield.
This means sharing Big Five sightings with guests from other lodges when you're out on a game drive with a local Shangaan tracker, however other vehicles are not a problem and don't spoil this amazing experience for safari goers.
After an afternoon game drive, guests can look forward to spending some quality downtime in any of the exclusive, luxury lodges the reserve has to offer with extensive facilities including plunge pools, viewing decks and even a gym.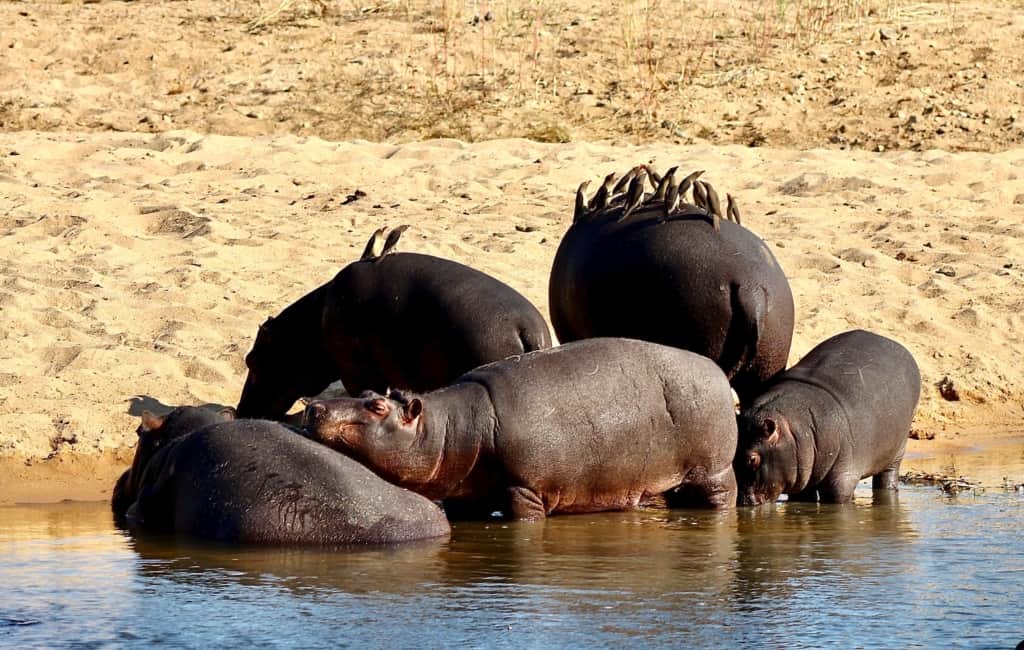 Animals
As South African safaris go, visitors to the park are in for a treat with all of the Big Five present including the lion, leopard, elephant, rhino and African buffalo.
It is easy to see all of the Big Five and cheetahs on a Dulini safari. Although usually difficult to see, leopard sightings are common as they tend to be very relaxed throughout Sabi Sands.
Various antelope species are plentiful, although they are sometimes ignored in favor of focusing on more high-profile safari animals. Night drives offer a great opportunity to see some nocturnal creatures such as large-spotted genet and civet.
The quantity and quality of sightings is superb. This is a place where you can see leopard behavior such as males marking and patrolling their territory or females interacting with their cubs.
Wild dog sightings are less common, but if they are denning in the area, it is often possible to spend time with these social pack animals. Other species roaming the reserve include wildebeest, zebras, giraffes, hyenas, and Cape wild dogs.
Birds
Over 350 bird species can be found in the area. Studying the resident birdlife adds a special dimension to any safari and skilled rangers will provide insight into their fascinating world.
Guides tend to be very knowledgeable about birds and everything else. The combination of walking and driving safaris in the private reserves is also very suitable for birding.
Birds known in the area include the Bateleur, Comb duck and the Black-bellied bustard.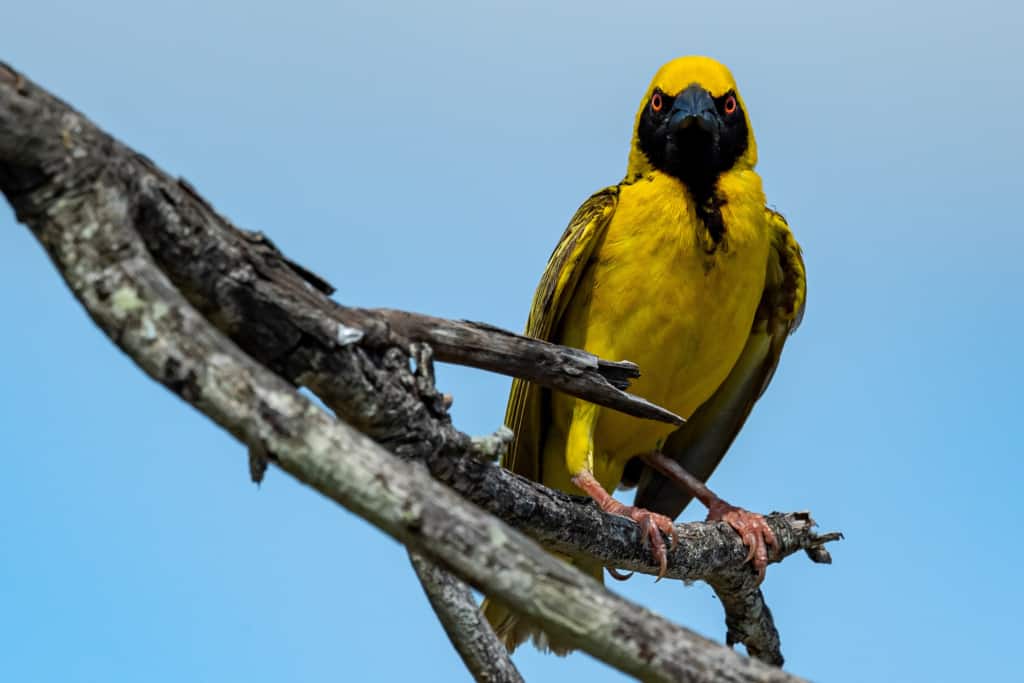 Trees
Many lodges are located under a leafy, evergreen thicket of ebony trees on the banks of the Sand River, offering unforgettable sightings of the Big Five by the waters edge. Visitors can also look forward to seeing the unique and rather large sausage trees.
In the connected Sabi Sands Game Reserve, there are thousands of varieties of plants. All of these plants, whether grasses or others, vary in their attraction as food depending on how tasty they are, or how high the actual food value is. There are two types of plants that offer food to the animals. Grasses and non-grasses.
Wooded bush areas cannot feed as many animals as the same size grassland. Trees on view at Sabi Sands include the Scented Thorn, the Delagoa Thorn, the Fever Tree and the Brack Thorn.
Other activities at Dulini Private Game Reserve
Other South African activities that visitors to Dulini Private Game Reserve can look forward to on their trip:
Game drive: Explore the depths of a Dulini safari with spectacular views of large concentrations of wildlife and watching the Big Five in the open wild.
Bush walks: Walk with professional guides at a peaceful, relaxed pace through the extraordinary Dulini Private Game Reserve where you can see birds, wildlife and beautiful tree species.
Bush dinners: Dine under ancient jackalberry trees with incredible fine dining and wine options, enhanced by the culinary tradition of African flavors, complements the luxurious accommodation available, designed to wow guests.
Bird watching: Enjoy bird watching from the lounge patio or the magnificent deck overlooking the Mabrak river. Watch out for bird species including Pied Kingfisher, White-crested Helmetshrike, Saddle-billed Stork and the Red-chested Cuckoo.
Plunge pool: Cool off in your own private plunge pool during the warm afternoons or take a dip in Dulini Moya's pool, before embarking on a sunset game drive.
How to get to Dulini Private Game Reserve?
By Plane
To get to South Africa and indeed to the park, visitors can fly to one of two airports: Cape Town International (CPT) or O.R. Tambo International Airport (JNB) in Johannesburg. A South Africa visa will likely also be required per the latest entry requirements.
After that, you can take the twice-daily scheduled flight to Sabi Sand, run by Federal Air.
Alternatively, you can take a connecting flight to Kruger Mpumalanga International Airport (MQP) near Mbombela or to Skukuza Airport (SZK) in Kruger National Park. A transfer from Nelspruit or Skukuza to your Sabi Sands safari accommodation can be arranged and takes about two hours.
By Road
It is possible to hire a car in Johannesburg and drive to the park via the N4 to Nelspruit. The park has three entrance gates for access to different lodges within the reserve. The distance is about 500km/310mi, and the drive takes about 5.5 hours.
Carrying a small amount of South Africa currency, the rand (ZAR) is advised for smaller purchases.
Tariffs & Regulations
Entrance fee
All reserve fees are payable at the gate at time of entrance. Park fees are valid for 24 hours. Fees include:
Entrance fees R340 ($USD 20) per vehicle per stay
R160 (USD $10) per person per stay
Guest Conservation Contribution of R151
Regulations
If you keep to park rules, you can stay with the animals as long as they are not disturbed by your presence.
Accommodation at Dulini Private Game Reserve
Tourists at Dulini Private Game Reserve can choose from a number of different options when deciding where to sleep with accommodation ranging from luxury safari lodges to lower budget camping.
Lodges
Dulini has three luxury lodges on the property: Dulini, Leadwood and River Lodge (all overlooking the river). The service, décor and food are of the highest quality.
Dulini is one of six smaller properties in the west of Sabi Sands which have traversing rights between one another. Since only three vehicles at a time are allowed per sighting, this can create congestion and time pressure.
Small and relatively unknown, Dulini's luxury camps have a genuinely exclusive and personal feel. River Lodge is small and peaceful, on a lovely stretch of the Sand River.
Dulini Lodge is a gem, a modern lodging stuffed with comfortable furniture and oddments to add a homely feel; Leadwood Lodge is even smaller and more luxurious, with elegant contemporary styling.
Bars/restaurants/amenities
Lodges will typically have all meals and drinks included in the lodge package.
Useful information
Geography
Dulini Private Game Reserve in the Sabi Sand Game Reserve, South Africa is located on the banks of the seasonal Mabrak River and is easily accessible from Johannesburg by road or air.
Safaris here can be combined with trips to Kruger National Park, Golden Gate National Park or Phinda Game Reserve.
Weather
Dulini GR experiences winter and summer at opposite times to those seasons in Europe and North America. October to April are the hot, wet summer months while the mild, dry winter occurs from May to September.
Although winter days are pleasant, it is cold in the mornings, so warm clothes are advisable for game drives. In the Dry Season from May to September, it mostly doesn't rain during this winter period and humidity is low. Permanent water sources become a place for animals to gather, making them easier to spot.
Best time to go
Understanding the best time to visit South Africa is important as this will impact accommodation, flight prices, availability and the weather that visitors can expect on their safari vacation. A South Africa visa for entry may also be required.
The best time to visit Duli is during winter, which is also considered the 'low season'. This is the Dry season which lasts from May to September.
Animals are easy to spot during the dry months as foliage becomes less abundant and they gather around rivers and waterholes. September is a lovely month to visit. It is also the least cold of the winter months.
Health
As malaria is present in Sabi Sand, the wet summer months pose a very slight risk of catching malaria.
Antimalarials and other vaccines for South Africa are advised, as well as covering up in the evening and using mosquito repellent (those containing DEET are most effective).
It is recommended to visit a travel clinic before coming to South Africa. Several South Africa vaccinations are recommended and usually administered before your departure.
FAQs
Where is Dulini Private Game Reserve located?
Dulini Private Game Reserve in the Sabi Sand Game Reserve, South Africa is located on the banks of the seasonal Mabrak River and is easily accessible from Johannesburg by road or air. 
What animals will visitors see at Dulini Private Game Reserve?
Visitors to Dulini Private Game Reserve will see the Big Five including lions, leopards, elephants, rhino, African buffaloes as well large-spotted genets, civets, wildebeest, zebras, giraffes, hyenas, and Cape wild dogs.