In the 75,000 hectares Madikwe Private Game Reserve, north-west of Johannesburg along the Botswana border, you will find a rare taste of natural beauty, rich biodiversity and of course, the "Big Five" wildlife.
Closed to outside visitors, the Reserve opens up exclusively for you guests in any of the exquisite 4-star and 5-star rated lodges. By day, field rangers cover a broad mix of habitats while out on thrilling game drives and leisurely bush walks.
For others, guests can simply choose to retreat into the decadent safari-style spa treatments and enjoy the sumptuous cuisine and world-class wines under the African stars after a day of wildlife viewing.
Why visit Madikwe Game Reserve?
Madikwe Game Reserve safari
Madikwe operates as a private game reserve. No self-drive visitors are allowed, and all drives are conducted by the private lodges dotted around the reserve.
This makes for a very exclusive experience; even more so if staying in one of the lodges that has a private concession within the reserve. Madikwe Safari Lodge has a unique take on what a safari lodge should be. While luxury safari is at the core, the emphasis is on family and a sense of home.
Guests also particularly enjoy rhino grazing around a waterhole as well as wild leopard and their adolescent cubs on a rocky kopje or the localised 'Kalahari specials' birds such as pied babbler, violet-eared waxbill and crimson-breasted shrike.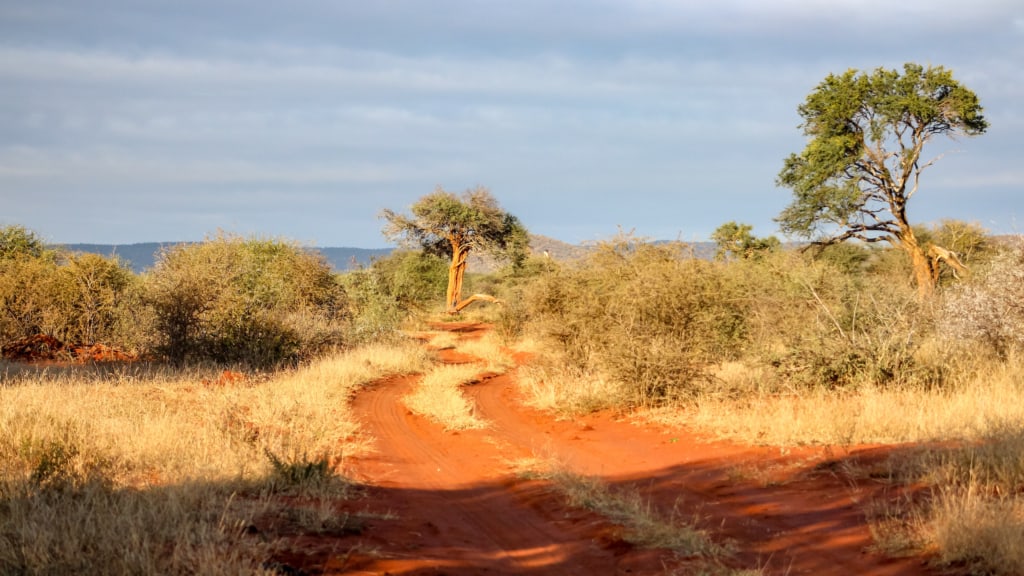 Animals
As South African safaris go, visitors to the park are in for a treat with all of the Big Five present. Lions are plentiful, but sightings of cheetahs and leopards are more hit-and-miss.
This is compensated, however, by good sightings of wild dogs. In general, wildlife viewing might be slightly less easy than in the Greater Kruger private reserves, including Sabi Sands, but there are fewer vehicles around resulting in high-quality wildlife experiences.
The dry country habitat is home to the spotted hyena as well as the rare and interesting brown hyena, not often seen in other parts of the country.
Other dry country species you might encounter here include the gemsbok and eland. Aardvark, serval and caracal tend to be elusive, but are sometimes spotted on night drives.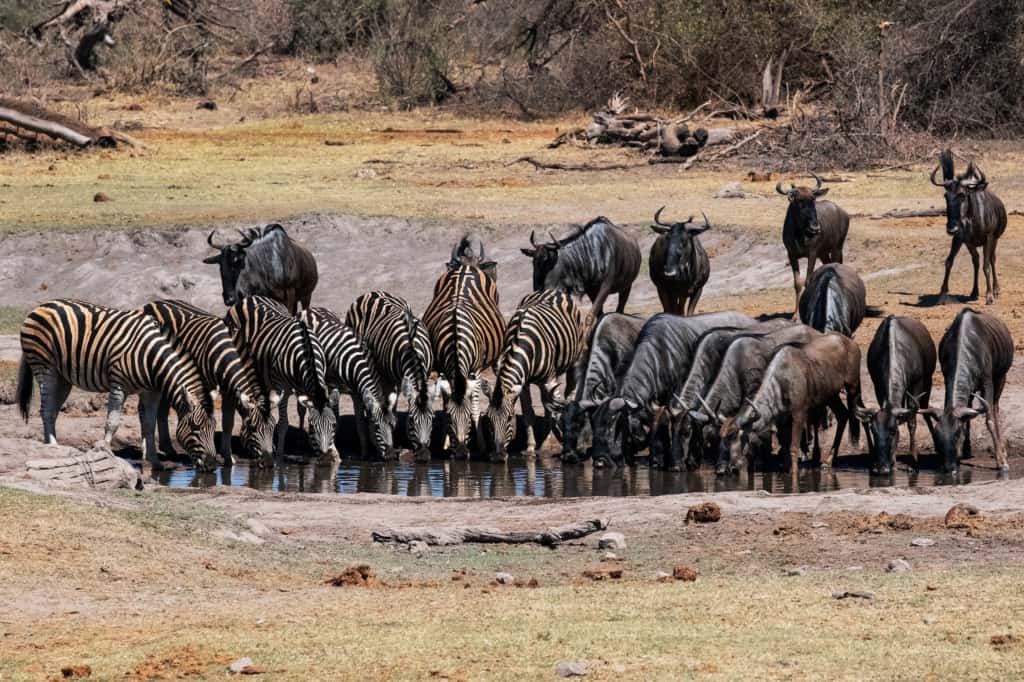 Birds
With over 300 species recorded, Madikwe is a great birding destination. Walking safaris and night drives tend to add to the birding opportunities.
Some of the more conspicuous specials to look out for include the yellow-throated sandgrouse, which occur in large flocks on the plains, as well as southern pied babbler, which are easily spotted due to their characteristic babbling sounds. Migratory birds are present from November to April.
Other notable birds include the Golden-breasted bunting, the Crested francolin, the Double-banded courser and the Southern yellow-billed hornbill.
Trees
The most prominent tree species on the Madikwe Game Reserve plains is the Dichrostachys cinerea, Sickle Bush, more commonly referred to by its Afrikaans name, Sekelbos.
The Sekelbos is often confused with being part of the Acacia family, however, it can be differentiated by having spines rather than thorns. Spines are specially adapted small branches, whereas thorns are specially adapted leaves.
Leaves of this plant are similar to Acacia in that they are soft and feathery. These leaves are traditionally used to treat aches and pains by making tea and inhaling the steam.
The rich nutrients in this tree also attract many animal species, specifically elephants which feed on the leaves, and strip the tree to feed on the inner back and roots. When in bloom around December time, these trees have beautiful violet and yellow flowers.
Other activities at Madikwe Game Reserve
Other South African activities that visitors to Madikwe Game Reserve can look forward to on their trip:
Game drive: Explore the incredible Madikwe Game Reserve wildlife with spectacular views of large concentrations of wildlife and watch out for the Big Five in the open wild.
Bush walks: Walk with professional guides at a peaceful, relaxed pace through the extraordinary Madikwe Game Reserve where you can see birds, wildlife and beautiful tree species.
Drumming lessons: Join us in this cultural exploration where you will learn to navigate this beautifully handcrafted instrument and find your rhythm within an instrument used to send messages to warn tribes of approaching dangers.
Massage treatments: Enjoy a massage treatment in the comfort and privacy of your suite or on the Sundeck with a gentle breeze blowing over your shoulders while you relinquish your mind to the tranquil wilderness and surroundings.
How to get to Madikwe Game Reserve?
By Plane
To get to South Africa and indeed to the park, visitors can fly to one of two airports: Cape Town International (CPT) or O.R. Tambo International Airport (JNB) in Johannesburg. The easiest way to get to Madikwe is to fly from Johannesburg. The flight takes about 1 hour.
A South Africa visa will likely also be required per the latest entry requirements.
By Road
It is also possible to rent a car and drive to the reserve, which is situated adjacent to the Botswana border about 360km/223mi from Johannesburg. The trip takes about 4.5 hours.
Carrying a small amount of South Africa currency, the rand (ZAR) is advised for smaller purchases.
Tariffs & Regulations
Entrance fee
Flight entrance fees are applicable at 240 Rand per person per stay and 150 Rand per child per stay. This is also payable at the lodge when checking out using a credit card in South African Rand when paying in cash.
Regulations
If you keep to park rules, you can stay with the animals as long as they are not disturbed by your presence.
Accommodation at Madikwe Game Reserve
Madikwe is made up of Lelapa Lodge, Kopano Lodge and Dithaba Lodge. While connected by walking paths in between, each lodge operates independently.
Although, there remains a common theme, a strong ethos of being at home. On arrival you will not merely be welcomed, you are welcomed "home". And as you make yourself at home, you are welcomed into the Madikwe family.
Kopano Lodge
Kopano means 'small gathering'. With only four suites, Kopano Lodge is well suited to couples. The four suites are more aligned to mini lodges than merely a suite. Like a breath of fresh air, each suite gives a feeling of infinite space, the vast landscape an extension of the room.
With the ideal retreat from the world in mind, a beautifully appointed common area boasts numerous lounges and alcoves. Intimate spaces to steal some quiet time and enjoy the sweeping landscape beyond the lodge.
Spacious ensuite bathrooms, lounge and private deck, give couples space enough to enjoy nature from the comfort of their private retreat. Each suite even has a wood burning fireplace for a romantic touch on cooler evenings.
Lelapa Lodge
Lelapa translates to "family". Lelapa Lodge is about making African safaris for families not only possible but luxurious. Whether it be young families with small children or multi-generational families, Lelapa has thought of your every need, without compromising on luxury.
Lelapa offers the same spacious suites with private plunge pools as well as a communal guest pool. Ideal for larger family groups, the perfect spot to take lunch on a hot day.
Bars/restaurants/amenities
Lodges will typically have all meals and drinks included in the lodge package.
Useful information
Geography
Madikwe GR is located about 90 kilometres north of the town of Zeerust, against the Botswana border close to the Kalahari desert. It is roughly 4.5 hours in a car from Johannesburg/ Pretoria. Safari lodges are mostly located around the eastern and western gate.
Safaris here can be combined with trips to Kruger National Park, Phinda Game Reserve or Makalali Private Game Reserve.
Weather
In South Africa, summer and winter occur at opposing times to those seasons in Europe and North America. Madikwe Game Reserve experiences summer rainfall.
Therefore, summer in Madikwe corresponds with the Wet season (October to April), and winter with the Dry season (May to September). High temperatures and thunderstorms are usual in the summertime. Winters are temperate and sunny, but cool at night.
In the Dry season, water becomes hard to find, so animals are forced to gather at reliable water sources. This, coupled with thinning vegetation makes wildlife easier to spot.
Temperatures of 7°C/45°F in the morning and 24°C/75°F in the afternoon mark the end of summer.
Best time to go
Understanding the best time to visit South Africa is important as this will impact accommodation, flight prices, availability and the weather that visitors can expect on their safari vacation. A South Africa visa for entry may also be required.
The winter months of May to September are best for wildlife viewing. During this dry time, the vegetation gets thinner and animals gather around water sources, making them easier to spot.
Health
There is no malaria in Madikwe, so antimalarials aren't a requirement when visiting here. Your doctor can also provide you with assistance in preventing malaria, which may be a concern if visiting other parks, especially in the wet months from October to April.
Antimalarials and other vaccines for South Africa are advised, as well as covering up in the evening and using mosquito repellent (those containing DEET are most effective).
It is recommended to visit a travel clinic before coming to South Africa. Several South Africa vaccinations are recommended and usually administered before your departure.
FAQs
Where is Madikwe Game Reserve located?
Madikwe Game Reserve is located in the north of South Africa, near the Botswana border, some 4.5 hours drive from Johannesburg. Visitors can access Madikwe from O.R. Tambo International Airport (JNB) in Johannesburg.
What animals will visitors see at Madikwe Game Reserve?
Visitors to Madikwe Game Reserve will find the Big Five including lions, leopards, wild dogs, spotted hyenas, brown hyenas, gemsbok, eland. Aardvark, serval and caracal.
How much is the Madikwe Game Reserve entrance fee?
The flight entrance fee to Madikwe Game Reserve is 240 Rand per person per stay and 150 Rand per child per stay.