Mountain Zebra National Park, national park in Eastern Cape province, South Africa. It is situated in the semiarid Great Karoo region, west of Cradock.
The park is the best place to see the endangered endemic Cape mountain zebra with sightings guaranteed on a daily visit. Invigorating crystal clear air, beautiful scenery, tranquil ambience and an abundance of wildlife offer you a special and personal African wilderness experience at Mountain Zebra National Park.
The game drive circuit takes you through stunning mountain scenery with several viewpoints. Black rhino, lion, buffalo and cheetah are also present, but sightings are hit-and-miss.
Why visit Mountain Zebra National Park?
Mountain Zebra National Park safari
A safari here will bring lovers of the zebra to dreamland as over 1,000 Cape mountain zebras can easily be spotted in the open grassland.
The surrounding Bankberg Mountains make for a magnificent backdrop to the park with the circuit taking in several viewpoints overlooking the rugged landscape of mountains, grassy plains, bushy hillsides and rocky gorges, bisected by the densely wooded banks of the Wilgerboom River.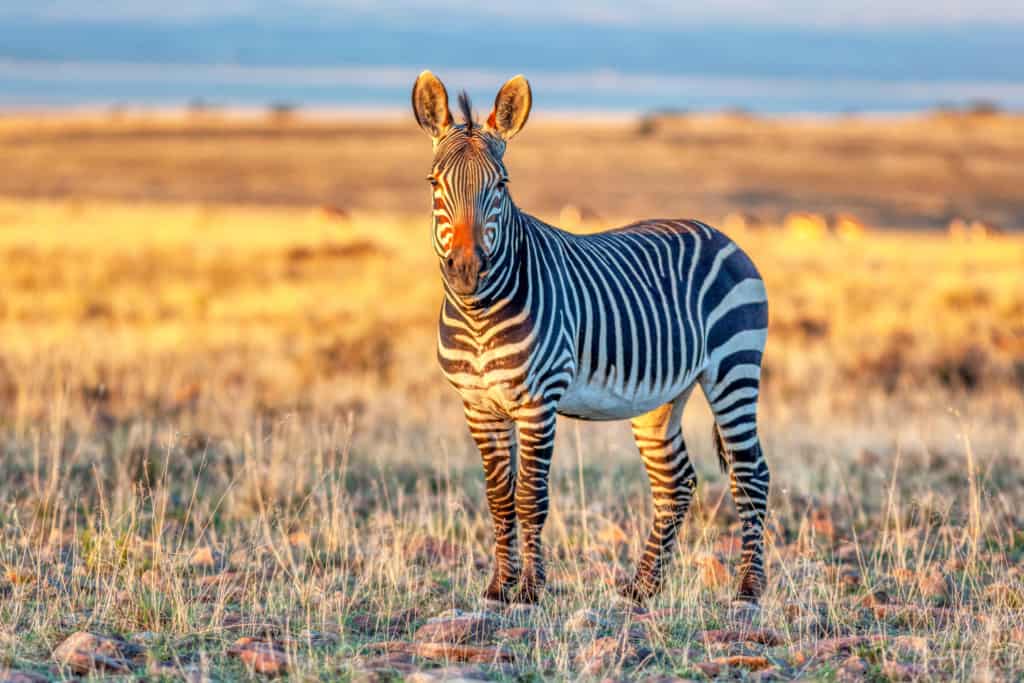 Other animals that can also be encountered include typical Karoo ungulates such as red hartebeest, black wildebeest, eland and springbok.
Black rhino, lion and buffalo have been reintroduced whilst cheetah tracking by car and on foot is offered as a guided activity, if the adrenaline of a game drive isn't enough for you!
Animals
As South African safaris go, visitors will of course find plenty of zebras as well as ostriches, red hartebeest, eland, blesbok and springbok.
Chacma baboons and vervet monkeys are common primates in the park. Black rhino, lion, cheetah and buffalo have been reintroduced, but sightings are hit and miss. There are four adult Lions as well as leopards, brown hyena and cheetahs.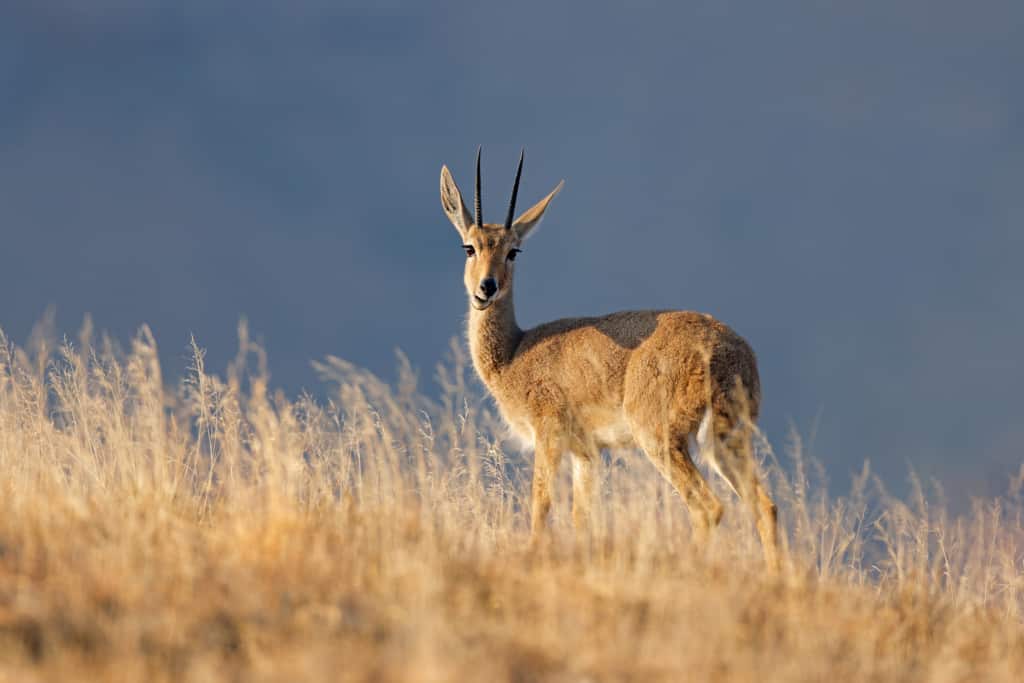 The rare black wildebeest, a real grassland special, is quite common in the park and can often be seen together with zebras. Two delightful small sociable mammals, the ground squirrel and meerkat, are commonly seen near their burrows in sandy soil.
There is also a reasonable chance of seeing bat-eared foxes and caracals when on an early morning game drive.
Birds
Of 277 bird species recorded in Mountain Zebra NP, as many as 20 are endemic to southern Africa and don't occur outside the region. It is quite possible to check off 100 species, many of them of special interest, in a three-day stay.
The impressive Verreaux's eagle and jackal buzzard can often be seen soaring over the mountains, while the martial eagle is more likely to be seen perched on a tall tree. Interesting grassland species include blue crane and Ludwig's bustard.
Other birds known in the area include the Blue crane, Martial eagle, Jackal buzzard and the Secretary bird.
Trees
The vegetation consists of a mixture of dwarf shrubs and grasses with Acacia karroo trees in the lower-lying areas and river beds.
The park has three vegetation types: the Eastern Upper Karoo, Karoo Escarpment Grassland and Eastern Cape Escarpment Thicket making up 37%, 53% and 10%, respectively of the park. The park thus incorporates elements of three biomes: the Nama-Karoo, Grassland and Thicket.
The Karoo Escarpment Grassland is dominated by the grass species Merxmuellera disticha, with shrubs such as Euryops annuus, and Elytropappus rhinocerotis.
The Eastern Upper Karoo is a mix of grass and shrub dominated vegetation types that are subject to dynamic changes in species composition depending upon rainfall. Shrubs such as Pentzia incana, Eriocephalus ericoides dominate, while grasses such as Aristida spp. Eragrostis spp. and Themeda triandra are common.
Other activities at Mountain Zebra National Park
Other South African activities that visitors to Mountain Zebra National Park can look forward to on their trip:
Game drive: Explore the incredible Mountain Zebra National Park wildlife with spectacular views of large concentrations of wildlife and watch out for the Big Five in the open wild.
Bush walks: Walk with professional guides at a peaceful, relaxed pace through the extraordinary Mountain Zebra National Park where you can see birds, wildlife and beautiful tree species.
Cheetah tracking: An opportunity to track the elusive Mountain Zebra National Park cheetahs on foot. When a signal from a collared cheetah is found, you will have the opportunity to get closer on foot making this an unforgettable experience.
Admire Rock Art: Embark on one of the dedicated rock art tours to view these ancient paintings and engravings left behind by the ancestors of the San people.
Egg Rock: Visit Queenstown Road and make a point to visit the iconic Egg Rock. This 10-meter dolerite structure balances precariously on a seemingly unstable surface, and closely resembles, you guessed it, an egg!
How to get to Mountain Zebra National Park?
By Plane
To get to South Africa and indeed to the park, visitors can fly to one of two airports: Cape Town International (CPT) or O.R. Tambo International Airport (JNB) in Johannesburg.
An organized safari could be started here, or you may elect to drive yourself. Some people will drive from Cape Town via the Winelands and Garden Route and take a relaxing week or two before arriving at the park.
A South Africa visa will likely also be required per the latest entry requirements.
By Road
From Cape Town, the drive will take at least 8 hours over a 800km route to arrive at Mountain Zebra National Park whilst from Johannesburg, the drive time south and distance are approximately the same.
Carrying a small amount of South Africa currency, the rand (ZAR) is advised for smaller purchases.
Tariffs & Regulations
Entrance fee
All Mountain Zebra National Park fees are payable at the gate at time of entrance. Park fees are valid for 24 hours.
Standard Conservation Fee (International Visitors): R240 per adult, per day & R120 per child, per day
SADC Nationals (with passport): R120 per adult, per day & R60 per child, per day
South African Citizens and Residents (with ID): R60 per adult, per day & R30 per child, per day
Regulations
If you keep to park rules, you can stay with the animals as long as they are not disturbed by your presence.
Accommodation at Mountain Zebra National Park
Tourists at Mountain Zebra National Park can choose from a number of different options when deciding where to sleep with accommodation ranging from luxury safari lodges to lower budget camping.
Cottages
Mountain Zebra National Park's Rest Camp is located about 12 kilometres from the entrance gate and offers comfortable family cottages, a campsite with communal facilities, a restaurant and a shop. The Guesthouse and two Mountain Cottages are located further into the Park.
All accommodation is serviced daily and provided with bedding, towels and soap. Accommodation is self-catering and a braai unit is provided at all units and campsites.
Family Cottages
Family cottages (FA4) have a lounge with fireplace and two bedrooms, one with a queen bed and the other with two single beds. The bathroom has a bath and shower. The open-plan kitchen is fully equipped. Cottages are furnished with an air conditioner and television. Two units are universally accessible (FA4Z).
Mountain Cottages
Two mountain cottages (4×2 MC) provided a secluded rustic experience for visitors with high clearance vehicles. Umthombo (meaning "Fountain") is located near the Weltevrede picnic site and Bakana (meaning: "Beacon") in Berghofkloof. These huts can only be accessed with 4×4 or 2×4 (with diff lock) vehicles.
Each hut has two bedrooms with bedding and towels provided (one with double bed and one with two single beds) and a third "hikers bedroom" with six bunk beds (own bedding required).
The kitchen is equipped with a gas stove, solar-powered fridge/freezer and cutlery, crockery & cooking utensils. There is no electricity. A hot water shower (gas-powered) and toilet are located outside the hut. There is an outside braai area as well as indoor braai area / fireplace.
Camping
The Camping ground is located close to the Reception, with 20 sites. All sites are equipped with 220V power points and a braai unit. Campsites are allocated on a first-come, first-served basis and cannot be pre-booked.
The Rest Camp at the Mountain Zebra Park is situated on the slopes of a rocky mountainous outcrop and it's well worth taking a stroll up past the shop, office and restaurant building on the paved drive to the new mountain chalets. From here you have an excellent view over the whole camp.
There is one swimming pool for camp guests only, and another large swimming pool in the picnic site for day visitors. The picnic sites are enclosed with electric fences and have braai facilities and super clean toilets.
The shop next door to the reception has a lot of tourist stuff but does carry all the basics needed for camping like bread, milk, cooldrinks, ice, braai wood, chakra and firelighters. There is a large restaurant with a huge glass window looking out to the surrounding veld.
Campervan
Guests on a self-drive safari with a campervan can make significant savings by sleeping in their vehicle.
Bars/restaurants/amenities
Lodges will typically have all meals and drinks included in the lodge package.
Useful information
Geography
Mountain Zebra National Park, national park in Eastern Cape province, South Africa. It is situated in the semiarid Great Karoo region, west of the town of Cradock.
Safaris here can be combined with trips to Lion Sands Game Reserve, Pilanesberg National Park or Phinda Game Reserve.
Weather
Mountain Zebra National Park's climate is categorized as semi-arid to arid. Most rain falls between October and April. Winter and summer occur at opposite times to Europe and North America. Freezing temperatures are common during mid-winter.
In winter, from May to September, the months are very cold early in the morning and stay relatively cold during the day. Bringing winter clothes is strongly recommended. Skies are clear, and there is very little rain. Snow can fall, but mainly on the mountain peaks.
In May, temperatures cool down to a brisk 4°C/39°F in the morning and 18°C/64°F in the afternoon, signifying the start of winter.
Best time to go
Understanding the best time to visit South Africa is important as this will impact accommodation, flight prices, availability and the weather that visitors can expect on their safari vacation. A South Africa visa for entry may also be required.
The park is primarily focused on mountain zebra and is not mainly about seeing the Big 5 animals. Since mountain zebras can be spotted throughout the year, the warmer summer months from October to March are more comfortable.
Due to the high altitude, the winter months are very cold. The park is very scenic, and the landscape is more beautiful during the summer months.
Health
If you will not be visiting the Kruger National Park part of the country, where malaria is present during summer, there is no need to take antimalarials. Mountain Zebra National Park is in a malaria-free zone.
Antimalarials and other vaccines for South Africa are advised, as well as covering up in the evening and using mosquito repellent (those containing DEET are most effective).
It is recommended to visit a travel clinic before coming to South Africa. Several South Africa vaccinations are recommended and usually administered before your departure.
FAQs
What animals are in Mountain Zebra National Park?
Animals you'll see in Mountain Zebra National Park include zebras, ostriches, red hartebeest, eland, blesbok, springbok, Chacma baboons, vervet monkeys, black rhino, lions, cheetahs, buffalo as well as leopards, brown hyena and wildebeest.
How big is Mountain Zebra National Park?
Mountain Zebra National Park has an area of 25 square miles (65 square km) and was founded in 1937 primarily to protect the diminishing mountain zebra, which differ from common (or Burchell's) zebra in having a short, stocky build and a distinctive stripe pattern on the rump.
How many lions are in Mountain Zebra National Park?
There are four lions in Mountain Zebra National Park. Two females were introduced to join the males in late 2015 and lion cubs can now be seen in the area for  the first time in 130 years.