During a stay in South Africa on the east African continent, guests will have to pay for accommodation, food, park entrance fees, activities and more upon arrival in Cape Town or Johannesburg.
Below, we detail the essentials of the South African currency and what is and isn't accepted.
What is the official currency of South Africa?
Many tourists arriving into the country to go on a South Africa safari will be interested in the currency denominations they should plan for.
The South African Rand (ZAR) is the official national currency of South Africa and is subdivided into 100 cents.
The South African rand is also legal tender in the Common Monetary Area member states of Namibia, Lesotho and Eswatini, with these three countries also having their own national currency.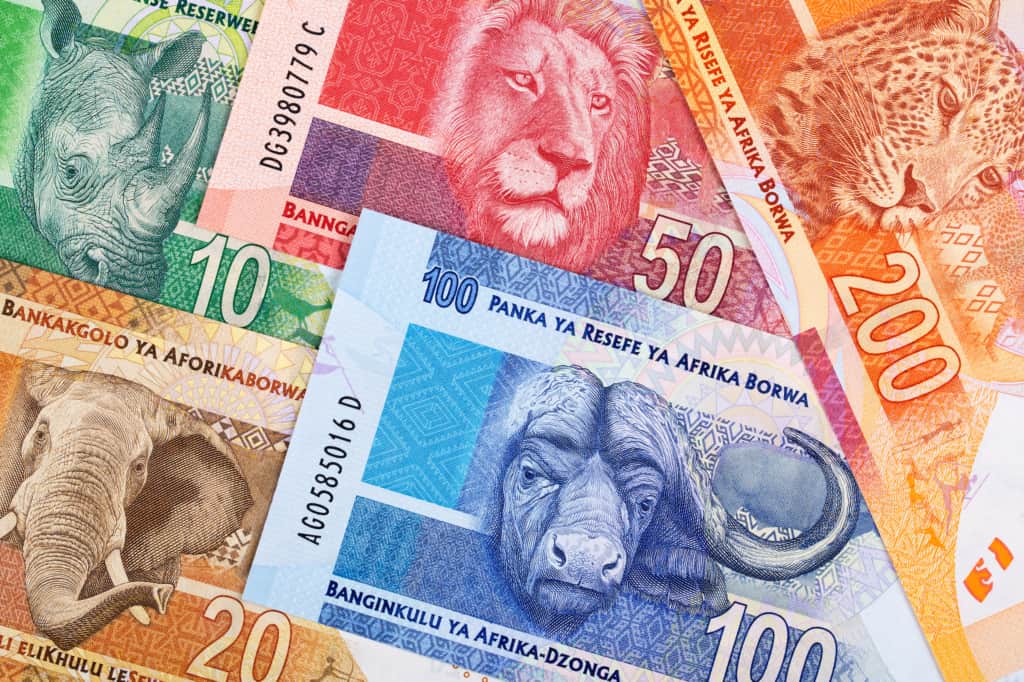 South African Dollar currency
The rand was introduced in the Union of South Africa in 1961, three months before the country declared itself a republic. It takes its name from the Witwatersrand – the ridge on which Johannesburg is built and where most of South Africa's gold deposits were found.
A Decimal Coinage Commission had been set up in 1956 to consider a move away from the denominations of pounds, shillings, and pence; it submitted its recommendations on 8 August 1958.
It replaced the South African pound as legal tender, at the rate of 2 rand to 1 pound, or 10 shillings to the rand. The government introduced a mascot, Decimal Dan, "the rand-cent man" (known in Afrikaans as Daan Desimaal).
This was accompanied by a radio jingle, to inform the public about the new currency. Although pronounced in the Afrikaans style as /rʌnt/ in the jingles when introduced, the contemporary pronunciation in South African English is /rænd/.
There are five denominations of South African banknotes in circulation: R10, R20, R50, R100 and R200.
There are six denominations of South African coins in circulation: 10c, 20c, 50c, R1, R2 and R5. The minting of the 1c, 2c and 5c having been discontinued.
Visitors should also be aware of the latest South African vaccine mandates, Covid-19 restrictions and South Africa visa requirements prior to booking their trip.
Denominations
Bills: R10, R20, R50, R100, R200
Coins: 10c, 20c, 50c, R1, R2 & R5
Symbols
What is the South Africa currency exchange rate?
| | |
| --- | --- |
| Currency | Conversion rate |
| 1 GBP | 19.38 South African Rand |
| 1 USD | 15.80 South African Rand |
| 1 EUR | 16.69 South African Rand |
| 1 INR | 0.20 South African Rand |
Where do visitors exchange their money?
Money can be exchanged in banks, exchange offices and at the airport.
O.R. Tambo International Airport (JNB) near Johannesburg and Cape Town International (CPT) are two of the main entry points for visitors coming to South Africa to parks including Kruger National Park and Phinda Private Game Reserve.
ATMs at all the main bank branches throughout South Africa.
ATM's
Unlike banks in the US, South African banks do not charge you to use their ATMs. So you can save on ATM withdrawal fees altogether by choosing a card that doesn't charge for international ATM withdrawals.
Global ATM Alliances with South African banks
Bank of America has a partnership with South African bank ABSA, one of South Africa's big four banks and are common around the region. If you hold a Bank of America bank card, you won't be charged an ATM fee.
ATM withdrawal limits
The maximum amount you can withdraw from an ATM in South Africa is 3,000 rand or about $200 at a time. To get more money visit a bank branch and show an ID.
Getting your money changed in South Africa
You may be approached to get your money changed by a street vendor in South Africa. Although the rates tend to be better than banks, this is dangerous and illegal.
There's a chance you could be robbed or cheated. It's best to exchange your currency at banks or ATM's or you can always send your money to South Africa ahead of time with a money transfer service and have it waiting to be picked up when you arrive.
Which product gives you the best rate?
You won't find a big difference in foreign exchange rates between credit, debit and travel cards. The real savings come by avoiding international and local ATM fees.
Since South African banks don't charge ATM fees, try to get a card that waives foreign exchange and international ATM fees to save money on your withdrawals.
Paying with cash in South Africa
Cash is the preferred way of payment throughout the country, and due to a large number of scams, most international banks will block transactions made by credit card in South Africa, unless you have informed your bank that you will travel to South Africa.
Currently, there is a limit of 25,000 Rand (ZAR) that you're allowed to bring into South Africa. It's generally recommended to bring Euros or US dollars to exchange in South Africa instead of buying currency in your home country.
Credit & Debit Card payments in South Africa
VISA and Mastercard are widely accepted in South Africa in the major cities, however, it's best to avoid card payments unless you can trust the vendor 100%. Your debit or credit card can get stolen thus it's always best to carry cash in South Africa.
Most South African ATM's don't charge a local fee, but your own bank is likely to do so, usually around $5 per withdrawal + 1-3% in foreign transaction fees. This can easily be avoided by using a travel card without ATM fees.
Useful tips:
Always use ATMs connected to a bank office
Check the ATM for suspicious objects or look
Always choose to be charged in the local currency without conversion
Understanding the best time to arrive into South Africa can be helpful when budgeting costs for the trip, planning the time of year to travel as well as knowing what the best things to do in South Africa beyond safari wildlife tours.
Travelers Cheques
Security is the main advantage of using traveler's checks. Each check has a unique serial number and can only be cashed with photo identification.
Fees are the main disadvantage. You need to visit a South African bank to cash traveler's checks — and pay a commission. Visitors may be better off using a debit or travel card which lets you make cheap or free ATM withdrawals to get South African rand.
Tip: Traveler's checks are good for locking in a good exchange rate. So if you watch the forex market, get them while the getting's good.
FAQs
What currency does South Africa use?
The South Africa Rand is the main currency and $1 USD = 15.80 South African Rand (ZAR).
Do South African hotels accept credit and debit cards?
Most hotels, restaurants and shops in Cape Town, Johannesburg or any other major city in South Africa, accept credit cards. It is however always a good idea to also carry cash for smaller establishments.