Namibia is an ideal destination for travellers seeking an unforgettable African experience in a uniquely beautiful untamed wilderness.
Very different to anywhere else in Africa, Namibia's main attraction is its incredible dry-country landscapes and liberating sense of space.
At various times Germany, Great Britain and South Africa governed the territory, but it was with the eventual independence of Namibia in 1990 that the country was able to develop its multicultural character and reinvent itself.
There is a distinctive Namibian character that freely blends African styles with European influences on architecture, food, customs and art.
Why Namibia for a safari
Wildlife safaris in Namibia are outstanding with Africa's highest cheetah population, good numbers of leopards, plenty of black rhino and many endemic species. The stunning scenery makes a fantastic backdrop for wildlife safaris and as travel is easy in Namibia/
Some would say the best wildlife safaris in Namibia are in Etosha National Park. It is undoubtedly one of the best wildlife safari destinations in Africa, especially for big game.
Around the numerous waterholes huge herds of lion, elephant, zebra and antelope as well as leopard, cheetah and black and white rhino can be seen amidst some of Africa's most startling and photogenic safari scenery.
Others might recommend the vast wilderness areas in the northwest for the best wildlife safaris in Namibia. Tracking desert-adapted wildlife like the rare black rhino or desert elephants is among the highlights of wildlife safaris here.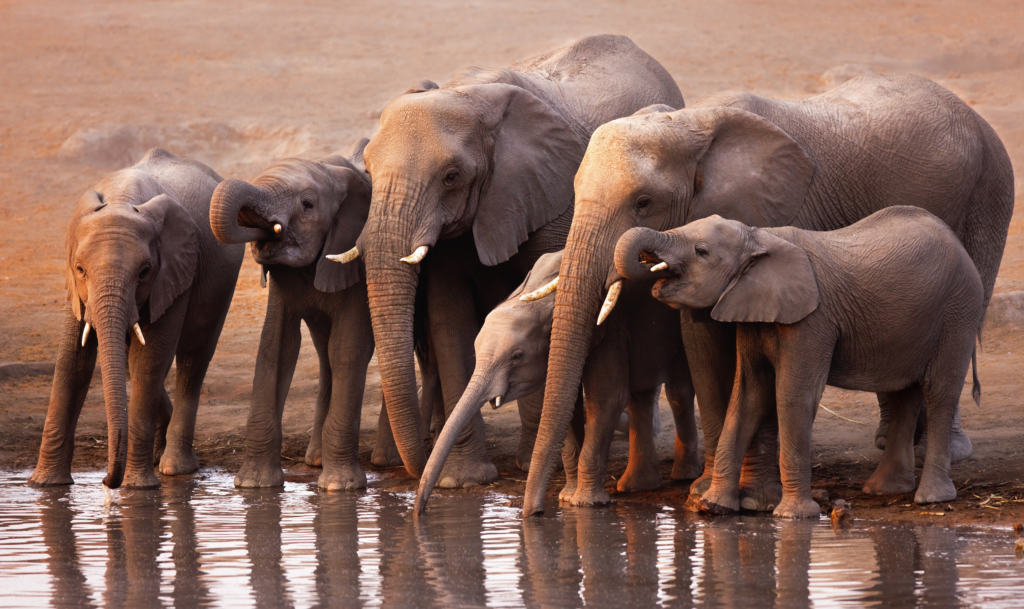 Top attractions visitors can expect from a Namibia safari include:
Animals
Because of the arid environment, wildlife numbers are comparatively lower in Namibia, but animals are easy to spot.
All of the big predators are present and cheetahs are especially common throughout. Huge herds of animals, elephants in particular, can be seen in the Dry season at Etosha pan.
Damaraland is home to a healthy population of desert-adapted elephants and a smaller population of black rhino can be tracked in a similar environment.
The secretive brown hyena is sometimes seen lurking around seal colonies on the coast. Other marine wildlife includes the rare heaviside's dolphin and migrating southern right whale.
It is the only place in Namibia where you can see Hippopotamus and Nile Crocodile. Birdlife here is prolific.
Other wildlife found in Namibia includes the African Buffalo, Common Impala, Roan antelope, Red Lechwe, Puku, Tsessebe, Puku and Reedbuck.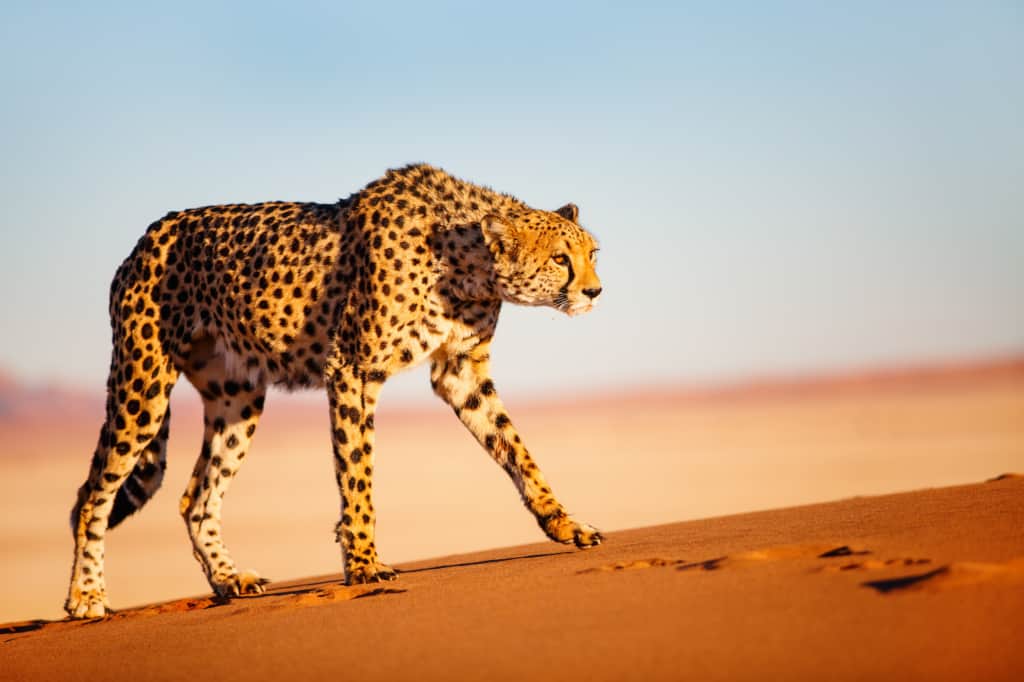 Birds
Around the waterways and woodlands you can find over hundreds of species of bird.With just over 700 species recorded, many of them are seasonal.
Although dune lark is the only endemic species in Namibia (occurring in Namibia only), there are many near-endemics, which are easier to see here than in neighbouring countries. The intra-African and Palearctic migrants are present from September to April.
Notable birds include the Great white pelican, Greater kestrel, Monteiro's hornbill, Pale chanting goshawk and the Shaft-tailed whydah.
Best Parks & Reserves
Namibia's National Parks offer some of the greatest diversity on the continent. Vast sand dunes, never-ending deserts, canyons, salt pans, and more.
These national parks can be explored on foot, by 4×4 or by air and make for a truly unique experience with Namibia's hidden secrets opening up to those that invest the time and effort to dig beneath the surface.
Namibia's most populous city and capital is Windhoek, a top tourist destination in its own right with WDH airport the main point of entry for visitors wondering how to get to Namibia.
Some of our favourite experiences in Namibia are not luxury-focused, but instead, are motoring around under your own steam, pitching camp, or flying the dramatic coastlines of this incredible country.
Of particular note amongst all of the incredible parks and game reserves are Etosha, Namib-Naukluft National Park and Skeleton Coast National Park.
Etosha National Park – One of Namibia's national park highlights and the epicentre of Nambia's wildlife experience. Here you'll find big cats, elephants, giraffes, rhino and more make this a truly unique place to visit. Stay at one of the surrounding private concessions on the edge of the park.
Namib-Naukluft National Park – One of Africa's largest reserves, the Namib-Naukluft afford jaw-dropping scenery with gravel plains, mountains, canyons and of course the dramatic red dunes of Sossusvlei itself.
Skeleton Coast – The wild ravaged coastline, winds whipping up sand dunes, seal colonies galore, and of course the eerily broken shipwrecks that dot the shoreline. A must-visit, but to truly appreciate the scale and drama of this coastal chaos, take to the skies with a private air safari.
Caprivi Strip – Similar to neighbouring Botswana, the Caprivi Strip is a completely different Namibia where wide tropical rivers flow & vegetation thrives in the northeast. There are a total of five national parks here: Mahango, Popa Falls Reserve, Bwabwata, Mudumu and Mamili.
Fish River Canyon – The southern hemisphere's largest canyon is slightly off the beaten track in the southern half of Namibia in the Karas Region. The canyon was formed by the erosion of the Fish River, which started 500 millions years ago with nearby antelope found and zebras, kudu and baboons.
Damaraland – A place of barren plains, petrified forests, flat-topped mountains, ancient valleys and rocky outcrops and the main attraction is tracking the rare desert-adapted elephant. Black rhino have also survived on communal land without any conservation status.
Kaokoland – A pristine and untouched region nestled in the northwest. Sparsely populated, serene and largely empty, you will find scattered settlements of semi-nomadic Himba tribes, desert elephants and mountain ranges.
Africat Foundation – Set on Okonjima Farm, Africat is a one of a kind conservation project that is dedicated to protecting the big cats of Namibia in particular cheetah and leopard as you relax in comfortable nearby lodges.
Ongava Reserve – Adjoining Etosha National Park, Ongava is a private reserve consisting of 3 properties offering different standards of lodging. Ongava Lodge, Little Ongava and Ongava tented Camp, a private and exclusive experience
Safari tours
A safari tour package in Namibia is typically organized by a tour operator, safari tour company or via a self drive Africa safari trip.
Spread across the country including beach holidays and tour packages, Namibia's parks and reserves can take several hours/flight to one another.
It is therefore important to take many elements into account when visitors plan their Namibia tour including:
Which animals you would like to see
Budget for the trip
Travel party (solo, with friends or a larger family group)
Things to do in Namibia (hot air balloon, hiking)
Guided tour
A guided safari package brings the benefit of:
Transfer via plane/4×4 to the safari camps and lodges
Luxury lodge packages
Meals/drinks all catered for
Safari guides and transport
Facilities prepared including showers, wifi, cocktails and all requests
Combined trips to neighbouring Tanzania and beach trips
Tailored trips including chimp trekking tours
Self drive safari
For self-drive African safaris, visitors can hire their own 4×4, whilst accommodation can be secured in park campsites or in the vehicle itself if a campervan option is selected.
Part of the fun of a self drive safari is spotting the abundant wildlife on your own and taking the time to spend viewing your favourite animals.
A normal 2 wheel drive car may be sufficient, and of course cheaper, for some parks however other parks have deeper sand and a 4*4 will be required.
Best time to go to Namibia
Namibia is a true year-round destination with less extreme seasonal changes than other parts of southern Africa.
The cold Benguela Current dictates the weather along the coastal strip, with coastal towns such as Swakopmund, Walvis Bay and Lüderitz often enveloped in fog in the early mornings. Namibia is as much about the scenic grandeur of its immense landscapes as it is about the wildlife.
Certain periods are more favorable for a safari in the best conditions. To know when to travel to Namibia, visitors should take into consideration the following key criteria:
Budget
Regions visited
Weather conditions
The best time to visit Namibia for a safari is during the dry winter from June to October. Temperatures are comfortably around 20°C, vegetation is thinner and wildlife congregates around waterholes, where predators hungrily await.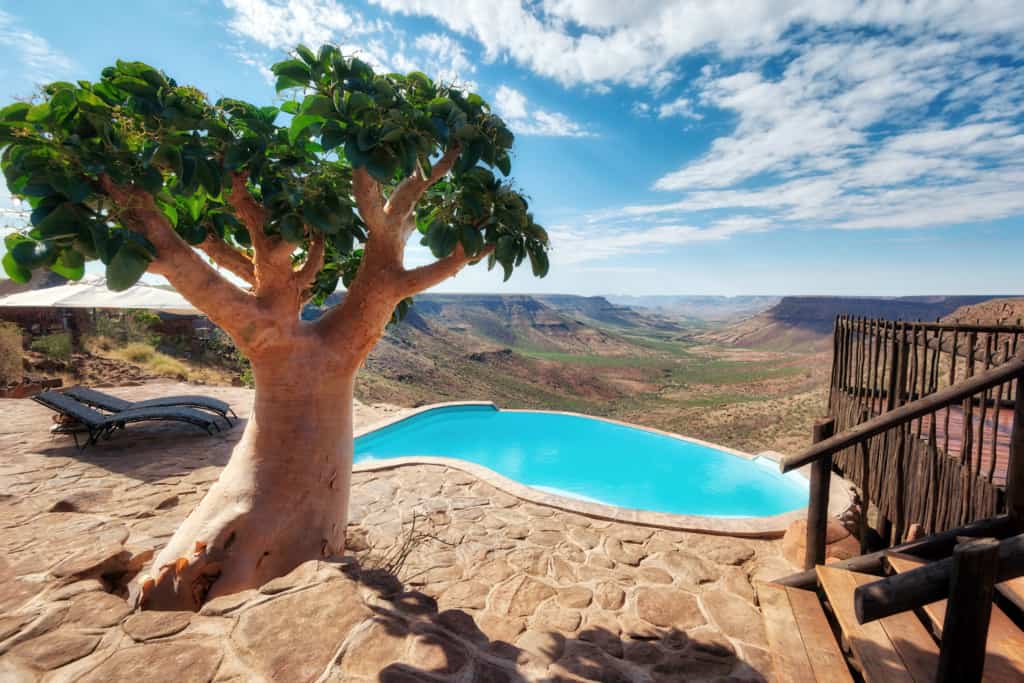 Namibia safari cost
Namibia is a premier safari destination in Africa, thus incurring the more expensive costs associated with this.
There are multiple factors that can impact the cost of a safari in Namibia including accommodation selected, trip duration, safari costs, tours, flights, transfers, meal options and additional activities visitors may request.
Travellers on a budget can reduce costs by booking their own flights, accommodation and activities as well as hiring a 4*4 to travel between the parks and reserves.
Organizing your safari
There are a number of different options available for organizing your safari in Namibia including:
DIY safari
Organizing your own safari is possible but only recommended for more experienced travelers and visitors on a strict budget. This option requires time and know-how to plan for all flights, transport, meals, accommodation and safari tours.
Without the knowledge of specific safari destinations and logistics in navigating an African country, this may be a challenging option for many travelers.
Tour operators
The biggest tour operators will offer safaris in Namibia where visitors can book a package that will cover their flight, transport, accommodation, activities and food, an ideal option for those with no previous safari experience in preparing for such a trip.
Safari travel agencies
Visitors will often find dedicated safari travel agencies to be the best option in booking their dream safari. These agencies have many years experience in booking safaris as well as multiple partnerships with local tourism networks and lodges/game reserves.
Travel agencies typically offer:
Tailor-made tours
Local tour guides
Trips to must-see wildlife areas and parks
All transportation
High quality accommodation at reduced prices
The cost of the service of these specialized agencies can be a bit higher compared to other options, a cost worth bearing given the quality and ease of services provided.
Accommodation
Visitors typically will have the choice between lodges, chalets and campsites as well as African tent camps, suites and bedrooms.
Luxurious facilities are common including swimming pools, restaurants, bars, spas and terraces. Game viewings and plane transfers are organized by the accommodation providers.
Trip preparation
Entry
Tourists can visit for up to 3 months without a Namibia visa and passports must have at least six months of validity remaining beyond their exit date when deciding the best time to visit Namibia.
USA
Per the U.S. Embassy in Namibia, U.S. passport holders who plan to visit Namibia for tourism or informal business meetings for less than 90 days may obtain visas at the port of entry free of charge.
UK
British nationals can enter Namibia for a holiday or private visit of up to 90 days without a visa.
EU & Switzerland
Namibia allows nationals from 53 countries and territories to enter without a visa for the purpose of tourism for up to 90 days including Germany, Austria, Italy, Switzerland, Ireland and Spain.
Note: Not all EU nationals are exempted from visa requirements when travelling to Namibia, specifically Bulgaria, Croatia, Cyprus, Czech Republic, Estonia, Greece, Hungary, Latvia, Lithuania, Malta, Poland, Romania, Slovakia and Slovenia require a visa to visit Namibia.
Health
The CDC and WHO recommend the following Namibia vaccines: Covid-19, Hepatitis A, hepatitis B, typhoid, rabies, meningitis, polio, measles, mumps and rubella (MMR), Tdap (tetanus, diphtheria and pertussis), chickenpox, shingles, pneumonia and influenza.
Yellow fever may be required if traveling from a yellow fever endemic country.
The CDC recommends that travelers going to certain areas of Namibia take prescription medicine to prevent malaria.
Depending on the medicine you take, you will need to start taking this medicine multiple days before your trip, as well as during and after your trip. Talk to your doctor about which malaria medication you should take.
Malaria is common in northern Namibia. Consider taking anti-malarial medication if you're travelling to this area. Other insect-borne diseases include leishmaniasis. Ensure your accommodation is insect-proof.
Malaria is transmitted by the bite of an infected mosquito and so the first line of defence is to protect yourself against mosquito bites. Malaria Prophylaxis may be prescribed to you during your consultation depending on your itinerary.
Check with a travel medicine specialist to see if antimalarials should be considered to help prevent malaria contraction.
Covid-19
Visitors should be aware that COVID-19 entrance restrictions have been lifted in Namibia, and that they no longer need to present evidence of vaccination or a COVID-19 test results in order to enter the country.
It's also advised to listen to the guidance provided by the local authorities and to be aware that Namibia can at any point impose new travel restrictions or institute brand new laws with little to no advanced warning, as a result of a new COVID-19 variation.
What to pack
The essential items to pack for your Namibia safari include:
Neutral coloured clothes
Long-sleeved shirts protecting against the sun and mosquitoes
Sunscreen, sunglasses, a hat and insect repellent
Jackets and sweaters for early morning game drives
Comfortable walking shoes
Currency
The currency of Namibia is the Namibia Dollar (NAD).
USD $1/GBP £0.77 = Approximately 15.40 NAD.
Driving in Namibia
Namibians drive on the left-hand side of the road and visitors driving through parks may require a 4×4, whilst carrying a map & GPS is recommended.
Insurance
Visitors should consider travel insurance when planning their trip to help protect and cover the costs of hospitalization or repatriation if required.
Some credit cards may already include travel insurance. Online travel insurance comparators are also useful in finding suitable offers.
FAQs
How much does a safari in Namibia cost? 
Visitors can expect to pay between $800 to $1,100 per person per day. 
When to go on a safari in Namibia? 
The best time to visit Namibia for a safari is during the dry winter from June to October.