Shamwari Game Reserve is located 75 km outside Port Elizabeth, Eastern Cape, South Africa and has been voted the World's Leading Safari and Game Reserve and Conservation Company for several consecutive years.
The reserve is certainly the best-known of the Eastern Cape's private reserves and offers excellent wildlife viewing with a good variety of animals including all of the Big Five namely the lion, leopard, rhino, elephant and the African buffalo.
The very exclusive experience includes open-vehicle game drives with high-quality guiding and luxury accommodation with first-rate food and service. Some lodges in Shamwari are family-friendly and run a 'Kids on Safari' program.
Why visit Shamwari Private Game Reserve?
Shamwari Private Game Reserve safari
Shamwari's main feature is the Bushman's River, which flows through the reserve. It has a very diverse ecosystem, with five of South Africa's eight biomes (main vegetation regions) represented: subtropical thicket, fynbos (fine-leaved plants), grassland, Nama Karoo (low rainfall area of shrubland) and savanna).
The area is also rich with endemic plant species, loved by the incredible wildlife in the vicinity. Safari-goers will be able to see all of the Big Five as well as numerous other larger mammals including watching cheetahs feed and pride of lions congregating.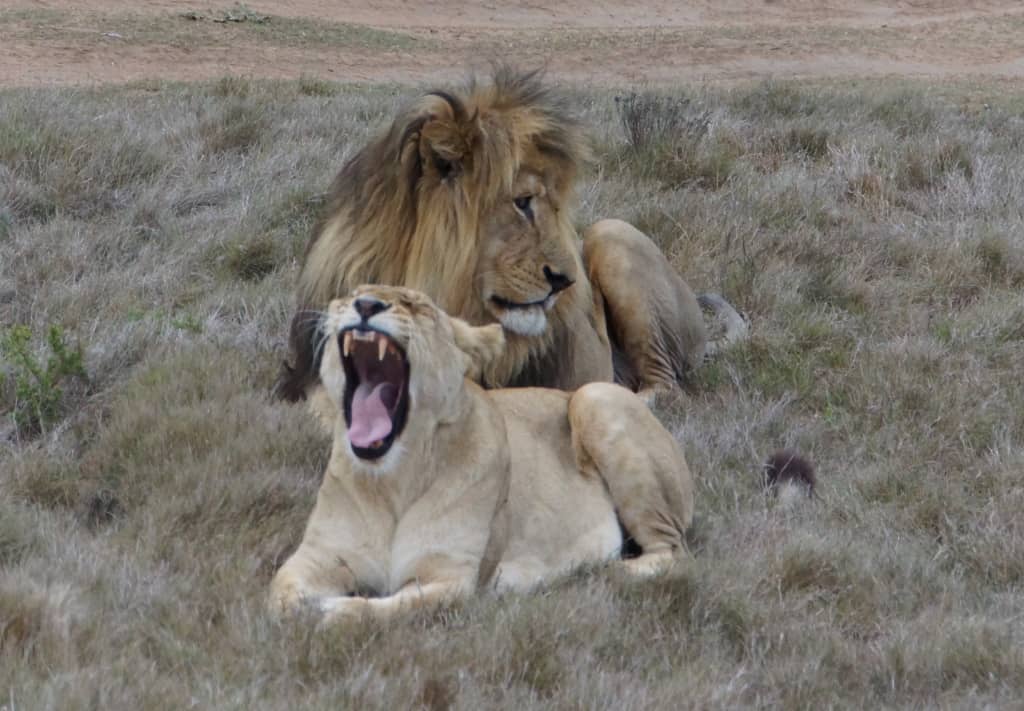 Families will be delighted with the two animal education and rescue centres, the Julie Ward Centre and Jean Byrn Born Free Centre, both caring for rescued animals and providing wildlife education for local children.
After a long day's safari, guests can return to Shamwari by the Bushman's River and enjoy some quality downtime with spa treatments and superior service.
Animals
As South African safaris go, visitors to the park are in for a treat with sightings of four of the Big Five (lion, elephant, buffalo, rhino) are almost as certain as in the private wildlife reserves in the Greater Kruger area.
Leopard sightings are more unusual. The white rhino is common in the grassier southern half of the reserve, while shy black rhino is quite often spotted in the more thicketed and sloping north.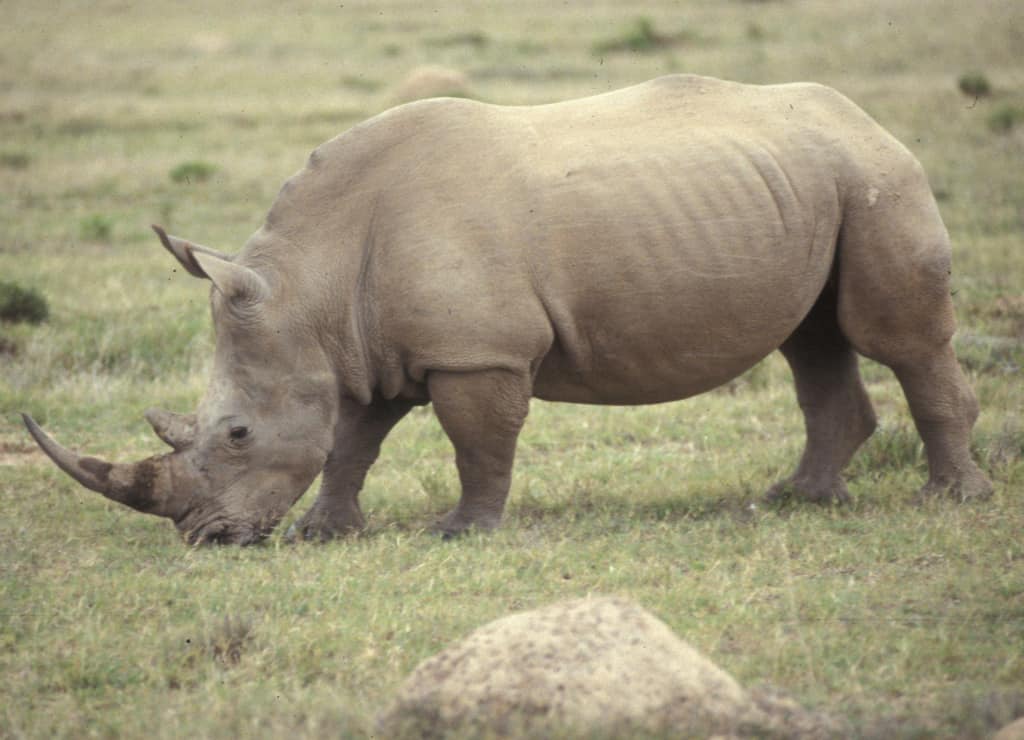 A good variety of antelope has been re-introduced, including red-hartebeest and springbok and the unusual black morph of the springbok is a rare sighting.
The northern half of Shamwari ranks among the best places in South Africa to see the endangered black rhino and a visit to the Wildlife Rehabilitation Centre can get you up close to some orphaned or sick animals, which are nursed here to be released back into the wild when ready.
Birds
With over 250 species recorded, Shamwari is an excellent birding destination. However, as in many private reserves, birding tends to be overlooked with checking off flagship species like the Big Five being the main emphasis.
Sharing game drives with other people that might not share a birding interest could be frustrating. In that case, it is advisable to book private wildlife drives. Migratory birds are present from November to April.
Other birds known in the area include the Crowned lapwing, the Pied kingfisher, the Lesser striped swallow and the Martial eagle.
Other activities at Shamwari Private Game Reserve
Other South African excursions that visitors to Shamwari Private Game Reserve can look forward to on their trip:
Game drive: Explore the incredible Shamwari Private Game Reserve wildlife with spectacular views of large concentrations of wildlife and watch out for the Big Five in the open wild.
Bush walks: Walk with professional guides at a peaceful, relaxed pace through the extraordinary Shamwari Private Game Reserve where you can see birds, wildlife and beautiful tree species.
Sundowners: At dusk, the game drive stops at some panoramic spot for a sundowner and snacks. Then, as the light fades, your Shamwari Private Game Reserve ranger will plug in a powerful hand-held light. With its help, you can sweep the veld, seeing first the eyes and then the forms of a variety of nocturnal animals.
Braai: By 8pm, you are back at your Shamwari safari lodge where a drink in the bar with your ranger, amid cheerful recollections of the day's discoveries is followed either by another great meal expertly prepared by your chefs, or a braai (barbecue) next to a roaring fire.
How to get to Shamwari Private Game Reserve?
By Plane
To get to South Africa and indeed to the park, visitors can fly to one of two airports: Cape Town International (CPT) or O.R. Tambo International Airport (JNB) in Johannesburg.
Your tour package will normally include charter flights between park and lodge destinations. You could also take a connecting flight to Port Elizabeth Airport (PLZ) and rent a car there. A South Africa visa will likely also be required per the latest entry requirements.
By Road
The distance to the reserve is just over 70km/43mi from Port Elizabeth. A tour can also be started from Cape Town or Johannesburg for those opting for a self-drive package.
Many people will take a week or two to drive east from Cape Town to Shamwari via the Winelands and Garden Route.
Carrying a small amount of South Africa currency, the rand (ZAR) is advised for smaller purchases.
Tariffs & Regulations
Entrance fee
Shamwari Private Game Reserve fees are typically included in the cost of the safari and accommodation package.
Regulations
If you keep to park rules, you can stay with the animals as long as they are not disturbed by your presence.
Accommodation at Shamwari Private Game Reserve
Tourists at Shamwari Private Game Reserve can choose from a number of different options when deciding where to sleep with accommodation ranging from luxury safari lodges to lower budget camping.
Lodges
Shamwari Game Reserve incorporates 6 luxury lodges, all of which are 5 star graded. Each one has its own unique energy and essence, designed in harmony with their surroundings, where guests can experience nature in supreme comfort.
Ranging from the colonial and bush style Sarili Lodge to the exclusive and serene Eagles Crag Lodge and the luxury tented Bayethe Lodge, this reserve offers a great variety of different safari accommodation.
Shamwari Eagles Crag comes complete with indoor and outdoor showers, as well as individual plunge pools. The spacious suites include stone and glass thus allowing guests magnificent vistas of the rock faces.
This lodge offers a library, a bar & cigar lounge with fireplace and big-screen television, an upstairs lounge, a relaxation retreat with two therapy rooms, hydro bath, steam room and sauna as well as a gift boutique and a desk with internet access.
Villa Lobengula offers six suites which consist of the King bed Chief Suite which features a private plunge pool, a lounge and fireplace, the two Twin & King bed Junior Suites, each of which has a separate plunge pool and the three Twin & King bedded Junior Suites.
Amenities at the lodge include an outdoor swimming pool, the reflection deck, a yoga studio, a gym, a sanctuary with steam room and sauna, a library collection, a wine cellar, a small gift boutique and a central lounge with a central media centre. WiFi is available here, and an electric perimeter fence surrounds the lodge.
Campervan
Guests on a self-drive safari with a campervan can make significant savings by sleeping in their vehicle.
Bars/restaurants/amenities
Lodges will typically have all meals and drinks included in the lodge package.
Useful information
Geography
Shamwari Game Reserve is located 75 km outside Port Elizabeth (now Gqeberha), Eastern Cape, South Africa. It has been voted the World's Leading Safari and Game Reserve and Conservation Company for several consecutive years.
Safaris here can be combined with trips to Kruger National Park, Madikwe GR or Phinda Game Reserve.
Weather
Shamwari Game Reserve has a classification of semi-arid to arid and receives an average annual rainfall of less than 450mm/17.7in. Here, the winter and summer seasons occur opposite to their Europe and North American counterparts.
Rain is fairly evenly distributed all year long. However, it peaks at two times during the year: February-March and October-November. During the mid-winter, temperatures can reach freezing point.
In winter, from May to September, the months consist of cold nights and mornings. Winter clothes are essential, especially for game drives in open vehicles at night and in the morning. There is less rain than in the summer, and the skies are generally clear.
In May, when winter is beginning, temperatures cool to 8°C/46°F in the morning with an average temperature of 22°C/72°F in the afternoon.
Best time to go
Understanding the best time to go to South Africa is important as this will impact accommodation, flight prices, availability and the weather that visitors can expect on their safari vacation. A South Africa visa for entry may also be required.
Wildlife viewing in Shamwari is good throughout the year, as its arid to semi-arid climate draws animals to water sources at any time. The best wildlife viewing is during the driest winter months of June to September.
Health
Before travelling to South Africa, there are several vaccinations you might need to get. Your doctor can advise you. However, there is no malaria in Shamwari, and antimalarials aren't necessary if you don't visit the north-eastern part of the country where malaria is a small risk.
Antimalarials and other vaccines for South Africa are advised, as well as covering up in the evening and using mosquito repellent (those containing DEET are most effective).
It is recommended to visit a travel clinic before coming to South Africa. Several South Africa vaccinations are recommended and usually administered before your departure.
FAQs
Where is Shamwari situated?
Shamwari Private Game Reserve is in the Eastern Cape of South Africa and readily available from Port Elizabeth. Many people will take a week or two to drive east from Cape Town to Shamwari via the Winelands and Garden Route.
What animals are at Shamwari Game Reserve?
Visitors to Shamwari Private Game Reserve will see the Big Five including lions, leopards, rhinos, elephants and African buffalo.
Which is the best game reserve in South Africa?
Shamwari Game Reserve is often regarded as one of the best game reserves in South Africa due to its abundant wildlife, fauna and flora exclusive to the area and unforgettable encounters with nature.