Singita Sabi Sand is one of the best private reserves located in the greater Sabi Sand Game Reserve. It shares open borders with the world-famous Kruger National Park and offers a true wilderness experience.
The reserve has a reputation for fantastic wildlife viewing, and all of the Big Five are easily spotted including leopards.
Part of the Singita group, Singita Sabi Sand also has some of the most beautiful lodges in Africa and there are three different luxury Singita lodges. Singita is one of the bigger properties in Sabi Sands and offers limited traveling rights through its grounds, resulting in lower visitors numbers during wildlife game drives.
Why visit Singita Sabi Sand Private Game Reserve?
Singita Sabi Sand Private Game Reserve safari
Daily game drives with professional guides and trackers provide the perfect opportunity to get up close to Africa's incredible animals, while evening drives reveal the elusive magic of nocturnal Africa.
Singita Sabi Sand Game Reserve game drives are all conducted in state-of-the-art Land Rovers, each accommodating a maximum of six guests, perfect for viewing the beautiful Sand River from a comfortable perch, an area that is a magnet for animals coming to drink.
If a Land Rover safari isn't for you, then walking safaris at Singita are an incredible way to experience the bush up close and personal. Your expert guide and tracker will accompany you as you track animals on foot through the wilderness and explore the magnificent plants and landscapes around you.
For the adventurous guest, a mountain bike ride through the reserve just can't be beat. Your guide and tracker will accompany you as you explore the vast beauty of this rugged landscape.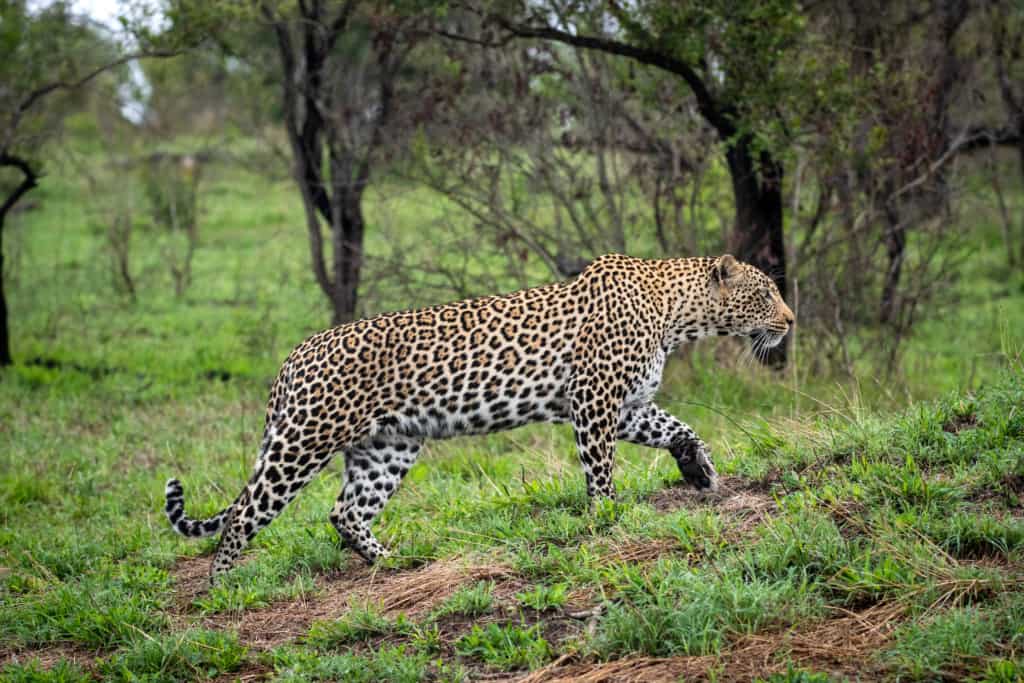 Animals
As South African safaris go, visitors to the park are for a treat with all high-profile safari animals present.
During your stay at Singita Sabi Sands, you are likely to spot a great variety of wildlife, including species such as leopard, lion, rhino, large herds of buffalo, elephant, reedbuck, hyena, hippopotamus, nyala, cheetah, wild dogs and many types of birds.
Sightings of all of the Big Five are relatively easy. This includes the notoriously secretive leopard, which is highly habituated in the area. Cheetah, zebra, giraffe and many species of antelope all roam around the vast area as well.
Night drives are great to see some more unusual animals, such as honey badger and porcupine.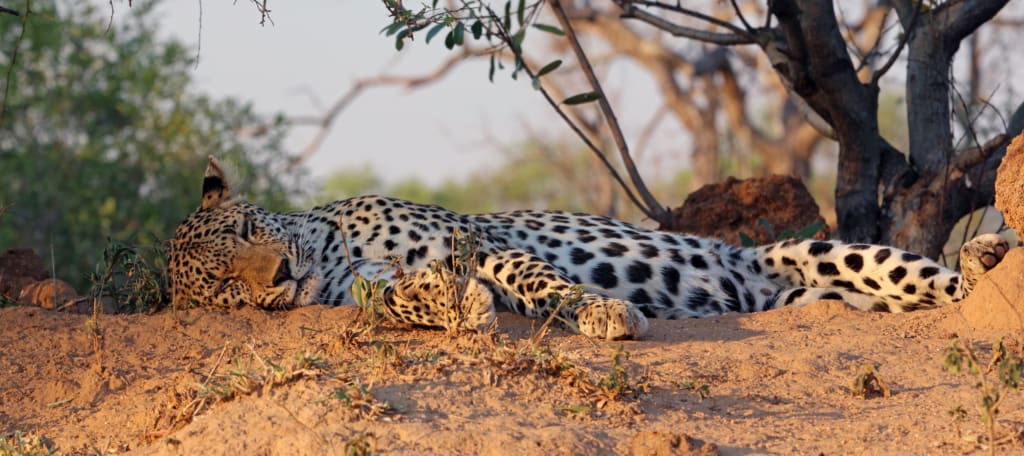 Birds
With more than 300 bird species on its list, Singita Sabi Sands is a great birding destination. Guides tend to be very knowledgeable about birds and everything else. The combination of walking and driving safaris in the private reserves is also very suitable for birding.
The emphasis in Singita Sabi Sands is, however, on mammals and the Big Five. It would be advisable to book private game drives if you are a birder. Migratory birds are present from November to April.
Other birds known in the area include the Bateleur, Comb duck and the Black-bellied bustard.
Trees
The vegetation across Singita Sabi Sand's woodland savannah tends to be thick, but it seldom interferes with wildlife-viewing activities. The skilled rangers are great in tracking wildlife, and they are allowed to drive off-road.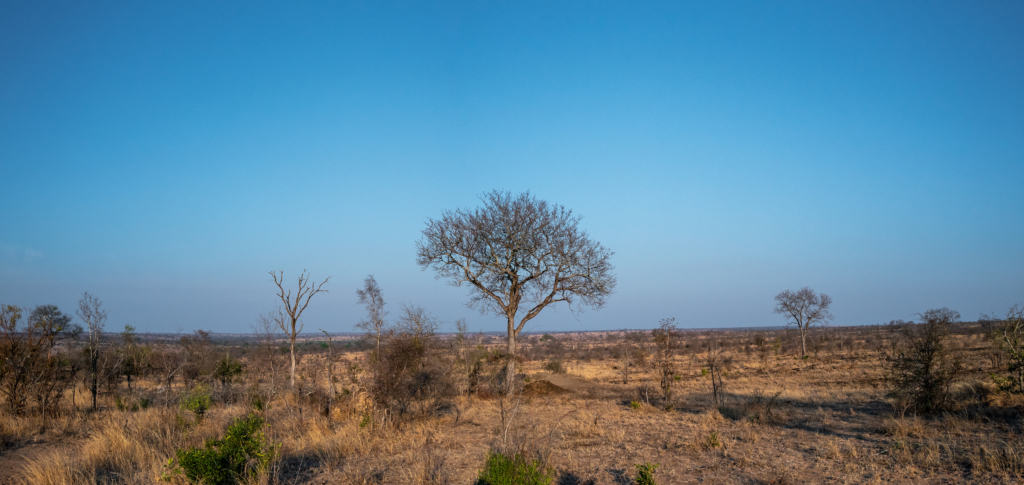 Other activities at Singita Sabi Sand Private Game Reserve
Other South African activities that visitors to Singita Sabi Sand Private Game Reserve can look forward to on their trip:
Game drive: Exploring Singita Sabi Sand Private Game Reserve's wildlife with spectacular views of large concentrations of wildlife and incredible landscapes.
Bush walks: Walk with professional guides at a peaceful, relaxed pace through the extraordinary Singita Sabi Sand Private Game Reserve NP where you can see birds wildlife and beautiful tree species
Stargazing: There is perhaps no more transcendent experience than looking up at a full sky of sparkling stars, your view of the heavens here will be crystal clear, nothing between you and the vast African sky above.
Mountain biking: For the adventurous guest, your guide and tracker will accompany you as you explore the vast beauty of this rugged landscape. Mountain bikes and helmets are provided.
How to get to Singita Sabi Sand Private Game Reserve?
By Plane
To get to South Africa and indeed to the park, visitors can fly to one of two airports: Cape Town International (CPT) or O.R. Tambo International Airport (JNB) in Johannesburg. A South African visa will likely also be required per the latest entry requirements.
After that, you can take the twice-daily scheduled flight to Sabi Sand, run by Federal Air.
Alternatively, you can take a connecting flight to Kruger Mpumalanga International Airport (MQP) near Mbombela or to Skukuza Airport (SZK) in Kruger National Park. A transfer from Nelspruit or Skukuza to your Sabi Sands safari accommodation can be arranged and takes about two hours.
By Road
It is possible to hire a car in Johannesburg and drive to the park via the N4 to Nelspruit. The park has three entrance gates for access to different lodges within the reserve. The distance is about 500km/310mi, and the drive takes about 5.5 hours.
Carrying a small amount of South Africa currency, the rand (ZAR) is advised for smaller purchases.
Tariffs & Regulations
Entrance fee
All Sabi Sand Game Reserve fees are payable at the gate at time of entrance. Park fees are valid for 24 hours. Fees include:
Entrance fees R340 ($USD 20) per vehicle per stay
R160 (USD $10) per person per stay
Guest Conservation Contribution of R151
Regulations
If you keep to park rules, you can stay with the animals as long as they are not disturbed by your presence.
Accommodation at Singita Sabi Sand Private Game Reserve
Tourists at Singita Sabi Sand Private Game Reserve can choose from a number of different options when deciding where to sleep with accommodation ranging from luxury safari lodges to lower budget camping.
Lodges
Singita Ebony Lodge provides a fresh & contemporary safari world class experience. Surrounded by the vivid colors, captivating sounds and soothing rhythms of the bush, it awakens a spirit of discovery while restoring the senses.
Inspired by the adventurous charm, the lodge embodies the thrill of the African bushveld. 12 luxurious suites featuring glass and canvas walls open onto expansive private decks with plunge pools – and uninterrupted river views ensure continuous connections with the wilderness.
Located in Singita Sabi Sand in South Africa, Ebony Lodge gives guests access to 45,000 acres within a breathtaking wildlife sanctuary that's renowned for its high concentrations of big game viewing and frequent leopard sightings.
Also on offer is the Singita Boulders Lodge which seamlessly blends the beautiful light, colors and textures of its surrounds into vast interiors that spill onto expansive wooden decks. Simplifying the essence of comfort, it welcomes complete unwinding.
Designed to embody the soothing shapes of ancient boulders scattered along the riverbank and completely immersed in the wild, Boulders Lodge allows you to find yourself in nature.
Each of this contemporary retreat's 12 glass-fronted suites offers the utmost privacy, ultra-spacious interiors and heated pools, outdoor showers with handmade furnishings and soft, natural fabrics mirroring the breathtaking scenery outside.
Bars/restaurants/amenities
Lodges will typically have all meals and drinks included in the lodge package.
Useful information
Geography
Singita Sabi Sand Private Game Reserve is located adjacent to the Kruger National Park in the Lowveld of Mpumalanga.
A Singita safari experience can be combined with trips to Kruger National Park, Addo Elephant National Park or Kgalagadi Transfrontier Park.
Weather
Sabi Sand Game Reserve experiences winter and summer at opposite times to those seasons in Europe and North America. October to April are the hot, wet summer months while the mild, dry winter occurs from May to September.
Although winter days are pleasant, it is cold in the mornings, so warm clothes are advisable for game drives. In the Dry Season from May to September, it mostly doesn't rain during this winter period and humidity is low.
Permanent water sources become a place for animals to gather, making them easier to spot.
Best time to go
Understanding the best time to visit South Africa is important as this will impact accommodation, flight prices, availability and the weather that visitors can expect on their Singita safari vacation. A South Africa visa for entry may also be required.
The best time to visit Singita Sabi Sands is during winter, which is also considered the 'low season'. This is the Dry season which lasts from May to September.
Animals are easy to spot during the dry months as foliage becomes less abundant and they gather around rivers and waterholes. September is a lovely month to visit. It is also the least cold of the winter months.
Health
As malaria is present in Sabi Sand, the wet summer months pose a very slight risk of catching malaria. If you are visiting at this time, measures you can take to protect yourself include using mosquito repellent containing DEET and taking antimalarials.
Antimalarials and other vaccines for South Africa are advised, as well as covering up in the evening and using mosquito repellent (those containing DEET are most effective).
It is recommended to visit a travel clinic before coming to South Africa. Several South Africa vaccinations are recommended and usually administered before your departure.
FAQs
Where is Singita Sabi Sand Game Reserve located?
Singita Sabi Sand Game Reserve is located adjacent to the Kruger National Park in the Lowveld of Mpumalanga, South Africa and can be accessed via twice-daily scheduled flights by Federal Air.
What animals will visitors see at Singita Sabi Sand Game Reserve?
Visitors to Singita Sabi Sand Game Reserve will see big cats, the Big Five including the lion, leopard, rhino, elephant and African buffalo as well as wild dogs.
How much is the Singita Sabi Sand Game Reserve entrance fee?
The entrance fee for Sabi Sand Game Reserve is R340 ($USD 20) per vehicle per stay, R160 (USD $10) per person per stay and guest conservation contributions of R151 (USD $8.78).