Mokala National Park is a reserve established in the Plooysburg area south-west of Kimberley in the Northern Cape, South Africa.
The park is known for its breeding projects of a variety of endangered antelope species such as Red Hartebeest, Sable Antelope, Black Wildebeest and Roan Antelope and houses one of the largest breeding herds of Roan Antelope in South Africa.
Other endangered animal species to be found in the park are Black and White Rhino. Mokala is always interesting due to its diversity, from open grasslands and thickets to Kalahari thornveld and dolerite koppies as well as a riverine section in the north.
Why visit Mokala National Park?
Mokala National Park safari
Mokala National Park is the place to go in search of endangered animals like tsessebe, roan and sable antelope as well as aardwolf and aardvark. Safari trails drive along the new 4×4 trails in the Lilydale section where visitors will find eland, tsessebe and red hartebeest, ostriches and springbok stretching their legs.
The park is especially attractive in the soft light of early morning or late afternoon where guests can listen to the chirp of birds in the thorn trees, the visually striking yellow pansy butterflies, the hum of insects and the swish of grass as it sways gently in the breeze.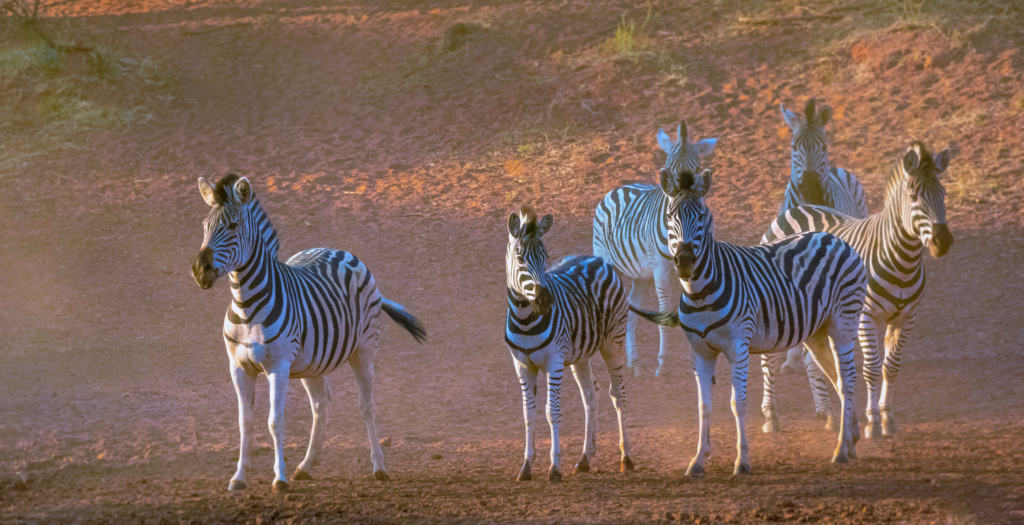 After a long day's wildlife viewing, kick back on the stoep of Mosu Lodge's restaurant or at a picnic table under a tree to enjoy your sundowners while looking out over the camp's waterhole.
Guided game drives can also be conducted at night-time where the night skies are crammed with stars and a Milky Way brighter than you'll ever see in any big city.
Animals
As South African safaris go, visitors to the park are for a treat with so many animals here including the Cape buffalo, giraffe, warthog, black wildebeest, Burchell's zebra, gemsbok, kudu, eland, African wild cat and meerkat.
Mokala is however not a prime wildlife destination. There is a good variety of animals, but numbers are still increasing, and wildlife is still settling into the new environment since they have been relocated from Vaalbos National Park.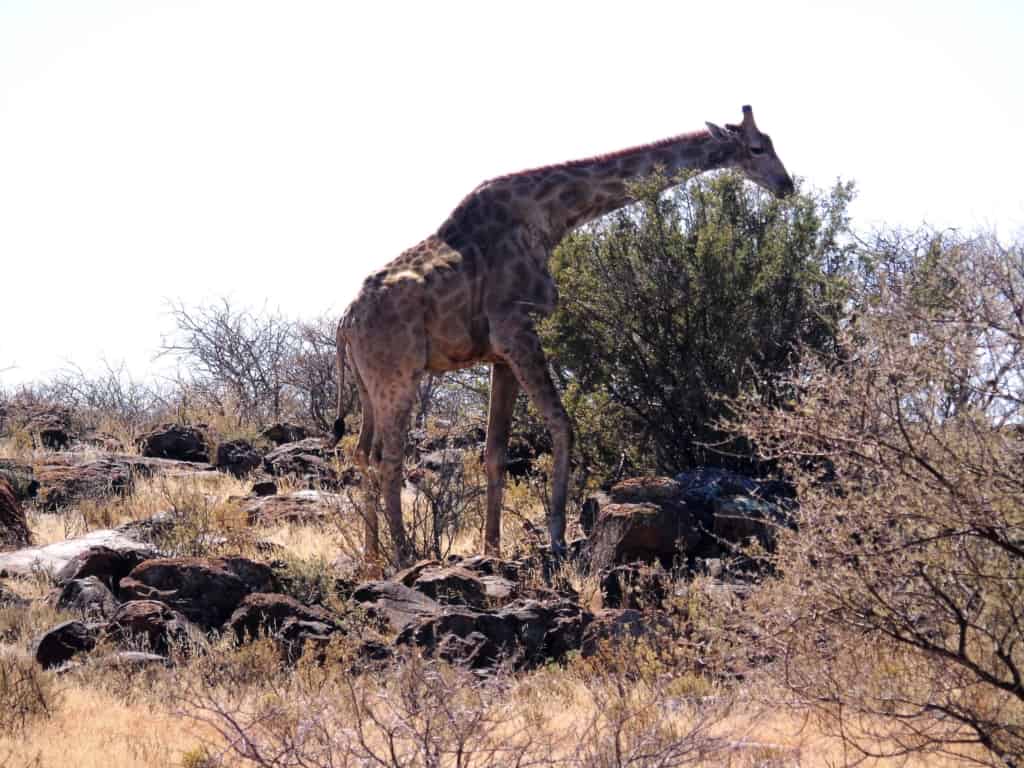 Some of the animals you might also encounter are some of South Africa's most unusual antelope species, such as tsessebe, sable and roan antelope.
The sandy environment is prime habitat for brown hyena, suricate, bat-eared fox, aardwolf and the very elusive aardvark.
Birds
Located in a transition zone, the park hosts an interesting mix of Kalahari and Karoo species. Some of the arid savannah specials to look out for include the desert cisticola, Kalahari scrub-robin and pied barbet.
The distinctive, repetitive call of the freckled nightjar can be heard at night. Migratory birds are present from November to April.
Other notable birds include the Golden-breasted bunting, the Goliath heron, the White-quilled bustard and the Kori bustard.
Trees
Mokala lies across two biomes, Savanna and Nama-Karoo, so it conserves a diversity of plant life from umbrella thorn (haak-en-steek), black thorn (swarthaak), sweet thorn, camel thorn, shepherd's tree (witgat) and love grass to hoodia and the endangered devil's claw.
Guests can even stay in a treehouse! The Kameeldoring tree house roosts in the branches of – you guessed it – a camel thorn tree. Best of all, it's 14km away from your nearest human neighbors and overlooks a private waterhole.
Here you might get a visit from buffalo, eland, giraffe, warthog, kudu, gemsbok, wildebeest, red hartebeest, springbok, steenbok and meerkat and watch the sunset through the branches, braai on the deck and fall asleep to the sounds of nature all around.
Other activities at Mokala National Park
Other South African activities that visitors to Mokala National Park can look forward to on their trip:
Game drive: Explore the incredible Mokala National Park wildlife with spectacular views of large concentrations of wildlife and watch out for the Big Five in the open wild.
Bush walks: Walk with professional guides at a peaceful, relaxed pace through the extraordinary Mokala National Park where you can see birds, wildlife and beautiful tree species.
Interpretation center: Posters and displays tell of the geological and climate background of the area and depict the lives of the Khoi, San, Griqua and Tswana in the old days. Learn how the arrival of trekboers, farmers and missionaries as well as the discovery of diamonds changed things and led to conflicts.
See San rock engravings: Get a guide to take you to see San rock art in the park. It's unusual because the San are usually associated with rock paintings and these are engravings, more usually made by the Khoi. But they match the style and subject matter of the San – i.e. animals – rather than the geometric designs of the Khoi.
How to get to Mokala National Park?
By Plane
To get to South Africa and indeed to the park, visitors can fly to one of two airports: Cape Town International (CPT) or O.R. Tambo International Airport (JNB) in Johannesburg.
From there, you can hire a car and drive from there or take a connecting flight to Kimberley Airport (KIM).
A South Africa visa will likely also be required per the latest entry requirements.
By Road
Mokala NP is located 84km/7mi outside the town of Kimberley. The park is a convenient stopover en route between Johannesburg and Cape Town.
The distance from Johannesburg is approximately 500km/310mi and from Cape Town 1,000km/620mi. Visitors to Mokala generally drive there on their own, and the park is accessible with an ordinary 2WD car. However, a 4WD might be best if you plan on visiting during the rainy season.
Carrying a small amount of South Africa currency, the rand (ZAR) is advised for smaller purchases.
Tariffs & Regulations
Entrance fee
All Mokala National Park fees are payable at the gate at time of entrance. Park fees are valid for 24 hours.
Standard Conservation Fee (International Visitors): R208 per adult, per day & R104 per child, per day
SADC Nationals (with passport): R104 per adult, per day & R52 per child, per day
South African Citizens and Residents (with ID): R52 per adult, per day & R26 per child, per day
Regulations
If you keep to park rules, you can stay with the animals as long as they are not disturbed by your presence.
Accommodation at Mokala National Park
Tourists at Mokala National Park can choose from a number of different options when deciding where to sleep with accommodation ranging from luxury safari lodges to lower budget camping.
Cottages
Kameeldoring Treehouse and, like the name suggests, it is perched in amongst the branches of a few camelthorn trees just like something out of a storybook.
Completely unfenced and away from the main Mosu Camp in the south and Lillydale in the north-east, the accommodation is basic but has all the essentials.
Inside the wooden and thatched-roofed cabin there is a double bed, small shower room and kitchenette with a gas burner. A large fridge-freezer and braai are outside and, as to be expected, there is no electricity.
Its position overlooking Kameeldoring Pan is enviable and for a few moments, as you sit and wait for the animals to come, you can forget that you have to share Africa's wilderness with any other tourists.
Hours can be spent on the expansive wooden deck as the constant stream of visitors that we had throughout the afternoon meant there was almost no need to get in your car.
Another great alternative is the Mosu Lodge with 15 air conditioned, fully equipped self-catering units. All units have en-suite bathrooms and an outside braai facility.
Camping
The Motswedi Camping site is a one of a kind camping experience in the park and each camping site boasts its own ablution and cooking facilities and outside braai areas under shaded trees.
All camping sites are in a semi circle around the nearby watering hole. For your safety it has an electrified fence surrounding the perimeter. Another great alternative is the Stofdam Bird Hide, a much sought after and very rustic option that sleeps up to four people.
The Lilydale rest camp offers an excellent alternative with similar facilities.
Campervan
Guests on a self-drive safari with a campervan can make significant savings by sleeping in their vehicle.
Bars/restaurants/amenities
Lodges will typically have all meals and drinks included in the lodge package.
Useful information
Geography
Mokala is SANParks newest park. It is situated approximately 70km south-southwest of Kimberley, and west of the N12 freeway to Cape Town. Nestled in the hills, Mokala's landscape boasts a variety of koppieveld (hills) and large open plains.
Safaris here can be combined with trips to Kruger National Park, Mountain Zebra National Park or Phinda Game Reserve.
Weather
As with most semi-arid regions, Mokala National Park's climate is characterized by extreme variations in temperature and little rainfall. The Wet season occurs from October to April, but rainfall is low and droughts are common. Rain usually comes in stormy conditions.
Due to its locale in the southern hemisphere, the seasons are experienced at opposite times in comparison to North America and Europe.
Frost typically occurs during the nights, as it is very cold and warm winter clothing is a necessity whilst rainfall is extremely low during the winter season. Days aren't very warm, but pleasant in the sun.
In May, it is cold in the morning with average temperatures of around 4°C/39°F, but afternoons are mild at around 21°C/70°F.
Best time to go
Understanding the best time to visit South Africa is important as this will impact accommodation, flight prices, availability and the weather that visitors can expect on their safari vacation. A South Africa visa for entry may also be required.
Although wildlife viewing is good throughout the year, the dry winter months of May to September are best. During this time animals gather at waterholes and rivers, making them easier to spot.
Health
Unless you are visiting other places in the country where malaria is a concern, there is no need for malaria medication, since Mokala National Park is located in a malaria-free area.
Antimalarials and other vaccines for South Africa are advised, as well as covering up in the evening and using mosquito repellent (those containing DEET are most effective).
It is recommended to visit a travel clinic before coming to South Africa. Several South Africa vaccinations are recommended and usually administered before your departure.
FAQs
How big is Mokala National Park?
Mokala National Park is 26,485 hectares, in an area famous for its magnificent camel thorn, a tree species typical of the arid western interior of South Africa.
What animals are in Mokala?
Visitors to Mokala National Park will find Cape buffalo, giraffe, warthog, black wildebeest, Burchell's zebra, gemsbok, kudu, eland, African wild cat, meerkat, tsessebe, sable and roan antelope as well as the brown hyena, suricate, bat-eared fox and aardwolf.
Which province is Mokala National Park?
Mokala National Park can be found in the Northern Cape. It is a reserve established in the Plooysburg area south-west of Kimberley.