Uganda is an ideal destination for travelers seeking an unforgettable African experience in a uniquely beautiful untamed wilderness.
A fascinating country, with breathtaking landscapes, flora, and fauna. Winston Churchill named Uganda 'the pearl of Africa' in 1908, due to its vast scale, profusion of birds, insects & reptiles making it one of the top destinations for an African Safari.
Queen Elizabeth National Park is one of the most popular tourist destinations in Africa as well as the most visited national parks in Uganda. The park which is commonly known as "medley of wonders" is an ideal habitat for big game, 10 primate species and over 600 birds' species.
A fertile land with volcanic soil and many lakes and rivers, the country is mostly located on a plateau. There are also high mountains in the east and west of the country.
Why Uganda for a safari
As a safari destination, Uganda is famous for being home to rare mountain gorillas. Per the current mountain gorilla census, Uganda has a record highest number of mountain gorillas in the whole world.
Only three countries offer gorilla trekking safaris, of which Uganda is one. The country's gorilla trekking stands out because of the huge number of gorillas visitors will see, a magnificent sight to behold these intelligent creatures.
The country is also one of the best settings for an adventurous spirit seeking first-hand wildlife experience. Visitors will see the Big Five (African Cape Buffalo, African tree climbing Lions, African Leopards, Southern White Rhino, African Bush Elephants) in the country.
From the mountain gorillas in the Bwindi, chimpanzees in Kibale Forest National Park and Budongo, Snow-capped mountains of the Rwenzori to the source of the Nile, Uganda is absolutely an outstanding safari destination to visit.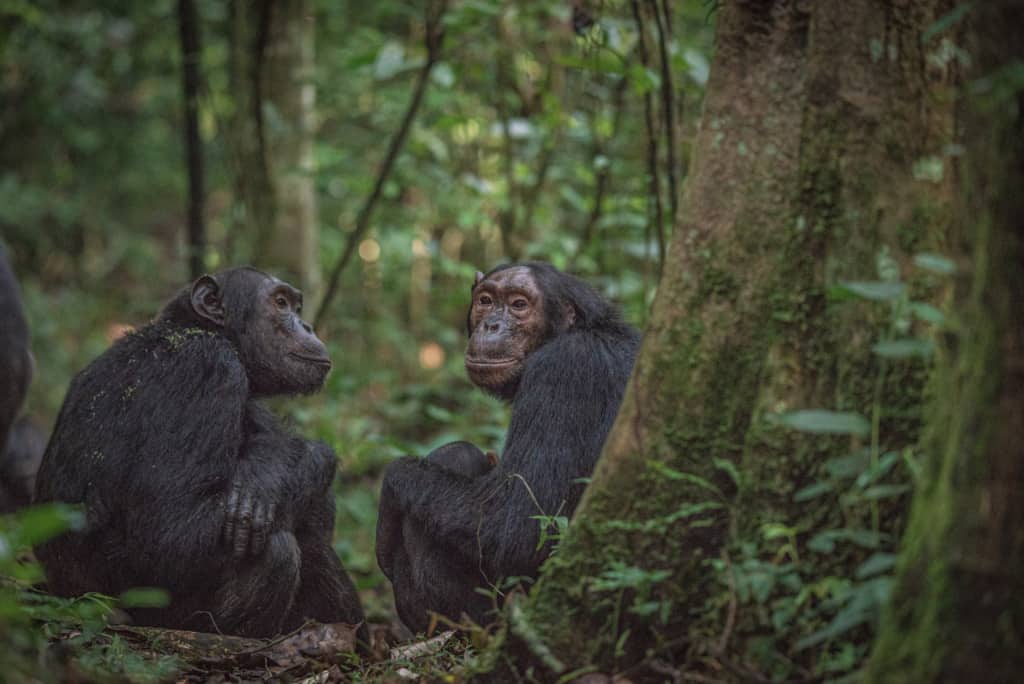 Top attractions visitors can expect from a Uganda safari include:
Animals
Uganda is a unique destination offering a wonderful mix of savannah and forest parks. Gorilla safaris and chimp trekking are highlights, but many smaller primates can be seen as well.
Uganda also offers great savannah safaris, and all of the Big Five are present.
Primates are especially well represented in Uganda. Patas monkey, red-tailed monkey, l'Hoest's monkey, golden monkey, Ugandan red colobus and Uganda mangabe are some of the special species, many found near Lake Bunyonyi in south-western Uganda.
Uganda is also home to a wide variety of antelope species. The Uganda kob, the national antelope, is locally common, while the rare sitatunga antelope is found in six national parks in the country but rarely seen.
Lions are quite common and can be found hunting Uganda kob whilst African bush elephants live in both the grassland and woodland areas whilst Cape buffalo live in dense forests.
In the rivers, lakes and swampy areas, hippos can be seen near the Ntungwe River in Queen Elizabeth NP whilst crocodiles inhabit Murchison Falls National Park and leopards in the savannas and forest areas of Lake Mburo National Park.
Giraffes can also be found living on the savannas where they can find plenty of leaves and grass to eat. They are found in Murchison National Park as well as Kidepo National Park in Uganda.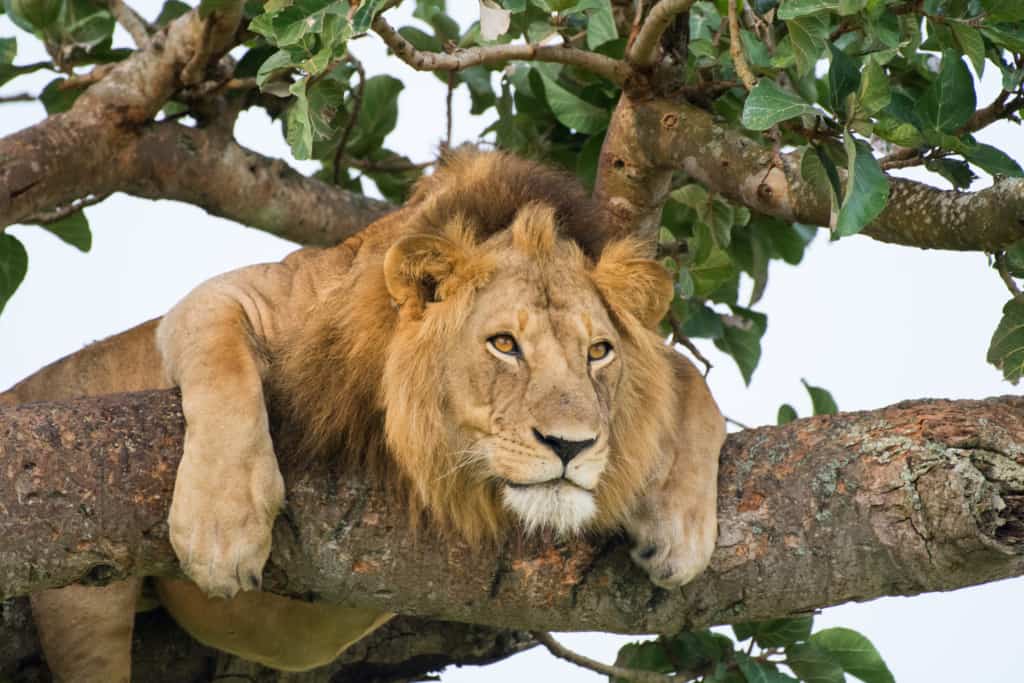 Birds
Uganda's remarkable avian diversity (more than 1,000 species within an area similar in size to Great Britain) can be attributed to its location between the East African savannah, West African rainforests and the semi-desert of the north.
The country has only two endemic species that only occur in the country, but if you only take East Africa into consideration, there are 150 species to be found only in Uganda. Migrant birds are present from November to April.
Notable birds include the shoebill, Albertine Rift endemic, Guinea-Congo regional species and the crowned hornbill.
Best Parks & Reserves
Uganda has a diverse range of wildlife parks and reserves. Aside from lush forest parks and their fascinating primate denizens, Uganda also has distinct savannah and riverine parks and reserves.
Visitors can go on game drives and bush walks to view the plains game animals and on boating safaris to view birdlife and aquatic fauna.
These national parks can be explored on foot, by 4×4 or by air and make for a truly unique experience with Uganda's hidden secrets opening up to those that invest the time and effort to dig beneath the surface.
Of particular note amongst all of the incredible parks and game reserves are Bwindi Impenetrable Forest NP, Murchison Falls National Park, Kibale NP and Queen Elizabeth NP.
Bwindi Impenetrable National Park – A UNESCO World Heritage Site and the best place in Uganda to track mountain gorillas. The park protects 40% of the world's mountain gorilla population and has an incredible 350 species of birds.
Murchison Falls National Park – Excellent wildlife viewing with four of the big five seen here. Huge herds of elephant and buffalo are common, as are lions. The Victoria Nile bisects the park and boat trips to Murchison Falls are spectacular.
Kibale National Park – Formerly Kibale Forest NP, this is the best place for chimpanzee trekking in Uganda. Thirteen species of primates have been recorded, the highest number of any Ugandan park.
Queen Elizabeth National Park – Uganda's most popular savannah reserve and has the widest variety of wildlife of any Ugandan park across grassland savannah, forests, wetlands and lakes. Four of the Big Five are present and chimp tracking is available.
Mgahinga Gorilla National Park – The park protects the Ugandan slopes of the majestic Virungas, a range of freestanding volcanoes. Mountain gorilla trekking is popular as well as hiking to the summit of three of the park's volcanic peaks.
Budongo Forest – The forest contains two ecotourism sites: Kaniyo Pabidi and Busingiro offering excellent chimpanzee trekking and the Royal Mile, one of the top bird-watching tracks in Uganda.
Katonga Wildlife Reserve – A low-key wildlife reserve about five hours drive west of the city of Kampala. Several antelope species are easily seen, including the Uganda kob and the marsh-dwelling sitatunga antelope.
Kidepo Valley National Park – In the remote northeast corner of the country, the park has a true wilderness feel and is a great destination for the adventurous traveler.
Lake Mburo National Park – This scenic little park, close to Kampala, is home to several wildlife species including Burchell's zebra, impala, Rothschild's giraffe, buffalo and defassa waterbuck.
Toro-Semliki Wildlife Reserve – Mainly of interest to bird-watchers, the reserve has attractions including hot springs, a Pygmy village and wildlife such as Buffalo, elephants, leopards and chimpanzees.
Ziwa Rhino Sanctuary – A private, non-profit, animal sanctuary established in 2005 to reintroduce Southern White Rhinos in the wild, the only place in Uganda where one can observe these endangered creatures in the wild.
Semuliki National Park – Famous for being home to the largest population of Uganda kobs and birds. The park is a rich wildlife destination with a variety of attractions.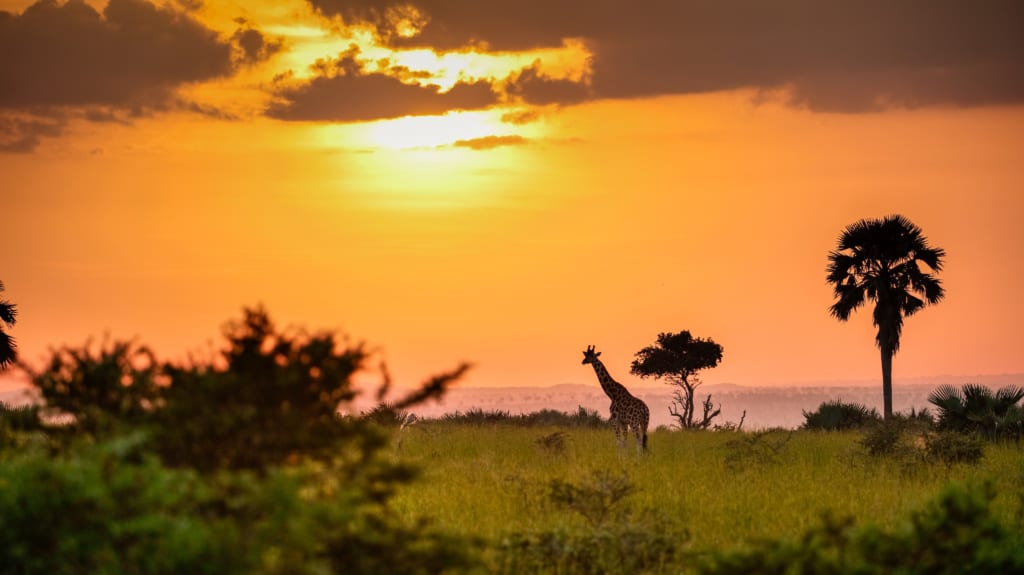 Safari tours
A safari tour package in Uganda is typically organized by a tour operator, safari tour company or via a self drive Africa safari trip.
Spread across the country, including various tour packages, Uganda's parks and reserves can take several hours/flights to connect to each other.
It is therefore important to take many elements into account when visitors plan their Uganda tour including:
Which animals you would like to see
Budget for the trip
Travel party (solo, with friends or a larger family group)
Things to do in Uganda (hot air balloon, hiking)
Guided tour
A guided safari package brings the benefit of:
Transfer via a Uganda fly in safari/4×4 to the safari camps and lodges
Luxury lodge packages
Meals/drinks all catered for
Safari guides and transport
Facilities prepared including showers, wifi, cocktails and all requests
Combined trips to neighboring countries and beach trips
Tailored trips including chimp trekking tours
Self drive safari
For self-drive African safaris, visitors can hire their own 4×4, whilst accommodation can be secured in park campsites or in the vehicle itself if a campervan option is selected.
Part of the fun of a self drive safari is spotting the abundant wildlife on your own and taking the time to spend viewing your favourite animals.
A normal 2 wheel drive car may be sufficient, and of course cheaper, for some parks however other parks have deeper sand and a 4*4 will be required.
Best time to go to Uganda
The best time to visit Uganda is during its two dry seasons: between December and February, and between June and August, when conditions are particularly good for trekking to see mountain gorillas and chimpanzees.
Game spotting in national parks is also good at this time, as well as between February and March.
Certain periods are more favorable for a safari in the best conditions. To know when to travel to Uganda, visitors should take into consideration the following key criteria:
Budget
Regions visited
Weather conditions
Uganda safari cost
Uganda is marketed as an ecotourism destination unlike other African countries which have broader tourist markets. This results in lower tourist numbers and prices can be higher due to tourist restrictions on group trek sizes and the cost of permits required for gorilla trekking.
There are multiple factors that can impact the cost of a safari in Uganda including accommodation selected, duration such as week long or 9 day tours, safari costs, tours, flights, transfers, meal options and additional activities visitors may request.
Travelers on a budget can reduce costs by booking their own flights, accommodation and activities as well as hiring a 4*4 to travel between the parks and reserves.
Organizing your safari
There are a number of different options available for organizing your safari in Uganda including:
DIY safari
Organizing your own safari is possible but only recommended for more experienced travelers and visitors on a strict budget. This option requires time and know-how to plan for all flights, transport, meals, accommodation and safari tours.
Without the knowledge of specific safari destinations and logistics in navigating an African country, this may be a challenging option for many travelers.
Tour operators
The biggest tour operators will offer safaris in Uganda where visitors can book a package that will cover their flight, transport, accommodation, activities and food, an ideal option for those with no previous safari experience in preparing for such a trip.
Safari travel agencies
Visitors will often find dedicated safari travel agencies to be the best option in booking their dream safari. These agencies have many years experience in booking safaris as well as multiple partnerships with local tourism networks and lodges/game reserves.
Travel agencies typically offer:
Tailor-made tours
Local tour guides
Trips to must-see wildlife areas and parks
All transportation
High quality accommodation at reduced prices
The cost of the service of these specialized agencies can be a bit higher compared to other options, a cost worth bearing given the quality and ease of services provided.
Accommodation
Visitors typically will have the choice between lodges, chalets and campsites as well as African tent camps, suites and bedrooms.
Luxurious facilities are common including swimming pools, restaurants, bars, spas and terraces. Game viewings and plane transfers are organized by the accommodation providers.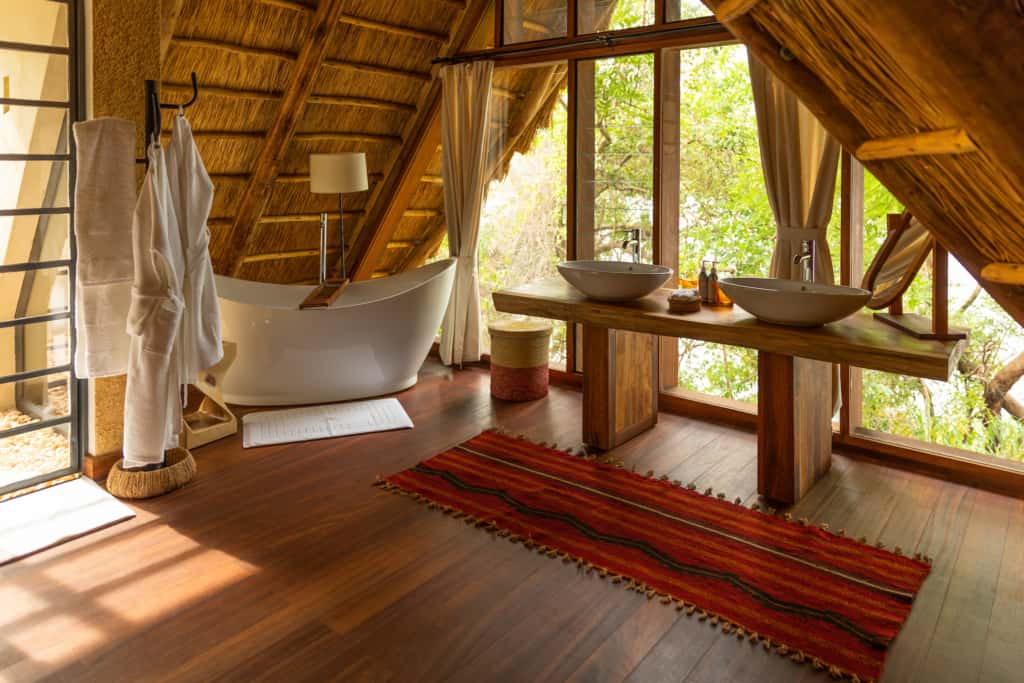 Trip preparation
Entry
Tourists can visit for up to 3 months with a visa and passports must have at least six months of validity remaining beyond their exit date when deciding the best time to visit Uganda.
USA
Visas are required for citizens of the United States travelling to Uganda. You can apply for a visa at the Ugandan High Commission or apply online for an 'e-visa'.
UK
All British passport holders need a tourist visa to enter Uganda. You can apply for a visa at the Ugandan High Commission in London or apply online through this 'e-visa external link'.
EU & Switzerland
EU & Swiss passport holders will need a tourist visa to enter Uganda. You can apply for a visa at the Ugandan High Commission in London or apply online for an 'e-visa'.
Health
The CDC and WHO recommend the following Uganda vaccines: Covid-19, Hepatitis A, hepatitis B, typhoid, rabies, meningitis, polio, measles, mumps and rubella (MMR), Tdap (tetanus, diphtheria and pertussis), chickenpox, shingles, pneumonia and influenza.
Yellow fever may be required if traveling from a yellow fever endemic country.
Malaria
The CDC recommends that travelers going to certain areas of Uganda take prescription medicine to prevent malaria.
Depending on the medicine you take, you will need to start taking this medicine multiple days before your trip, as well as during and after your trip. Talk to your doctor about which malaria medication you should take.
Malaria is a risk in Uganda. Consider taking anti-malarial medication if you're travelling to this area. Other insect-borne diseases include leishmaniasis. Ensure your accommodation is insect-proof.
Malaria is transmitted by the bite of an infected mosquito and so the first line of defence is to protect yourself against mosquito bites. Malaria Prophylaxis may be prescribed to you during your consultation depending on your itinerary.
Check with a travel medicine specialist to see if antimalarials should be considered to help prevent malaria contraction.
Covid-19
For travelers who have been completely immunized against COVID-19, a negative PCR test certificate is no longer necessary to enter or leave the country.
Regardless of whether they have had vaccinations or not, parents of children less than 6 years old do not have to provide proof that their child has a negative COVID-19 PCR test certificate.
What to pack
The essential items to pack for your Uganda safari include:
Neutral coloured clothes
Long-sleeved shirts protecting against the sun and mosquitoes
Plenty of sunscreen, sunglasses, a hat and insect repellent to cover longer trips
Jackets and sweaters for early morning game drives
Comfortable walking shoes
Currency
The currency of Uganda is the Uganda Shilling (UGX).
USD $1/GBP £0.80 = Approximately Ugandan Shillings.
Driving in Uganda
Ugandans drive on the left-hand side of the road and visitors driving through parks may require a 4×4, whilst carrying a map & GPS is recommended.
There has been a rise in the number of automatic transmission vehicles in the country which are slowly overtaking manual transmission vehicles.
Insurance
Visitors should consider travel insurance when planning their trip to help protect and cover the costs of hospitalization or repatriation if required.
Some credit cards may already include travel insurance. Online travel insurance comparators are also useful in finding suitable offers.
FAQs
How much does a safari in Uganda cost?
A Uganda safari can cost USD $1,200 per person for a simple 3 day safari.
When to go on a safari in Uganda?
The best time to visit Uganda for a safari is during its two dry seasons: between December and February, and between June and August, when conditions are particularly good for trekking to see mountain gorillas and chimpanzees.
Is Uganda a good destination for a safari?
Uganda is a good safari destination due to its variety of incredible chimpanzees and mountain trekking adventures combined with a savannah game viewing experience and incredible birding adventures.