Kruger National Park in northeastern South Africa, is one of Africa's largest game reserves and one of the country's most popular tourist destinations.
With nearly 2 million hectares of unrivaled habitats, Kruger offers a wildlife experience that ranks with the very best in Africa. All of the continent's iconic safari species – elephant, lion, leopard, cheetah, rhino, buffalo, giraffe, hippo, zebra and so much more.
Visitors can find over 12,000 elephants, 27,000 African Buffalo, 2,000 leopards and 2,800 lions and it is also regarded as the best place in the world to see a leopard.
Approximately one million people visit Kruger National Park each year and for many, a visit to Kruger has become a kind of spiritual pilgrimage to this incredible wildlife kingdom.
Why visit Kruger National Park?
Kruger National Park safari
Kruger Park really is South Africa's most exciting African safari destination. It has it all. Steeped in legend and history, the iconic park is full of incredibly beautiful vast landscapes and spectacular African wildlife.
The sheer number and quality of big wildlife viewings are unrivaled and with exquisite old-country style luxury lodges and tented camps to relax in after a day's safari, the park has everything on a safari wishlist and more.
Take your pick for the kind of safari you want: relax on a lounger overlooking a waterhole and enjoy fantastic game viewing without any effort or embark on action packed game drives in search of the Big Five.
Or spend 5 days combining the diverse wildlife and traditional culture of the Kruger Park region interacting with African elephants, sharing traditional meals and experiencing the authentic Shangaan culture.
Visitors can also embark on a thrilling open safari vehicle game drive into the bushveld in search of the African Big 5. Whatever you choose, you won't be disappointed and prepare to have your mind blown by the incredible wildlife and wilderness on offer.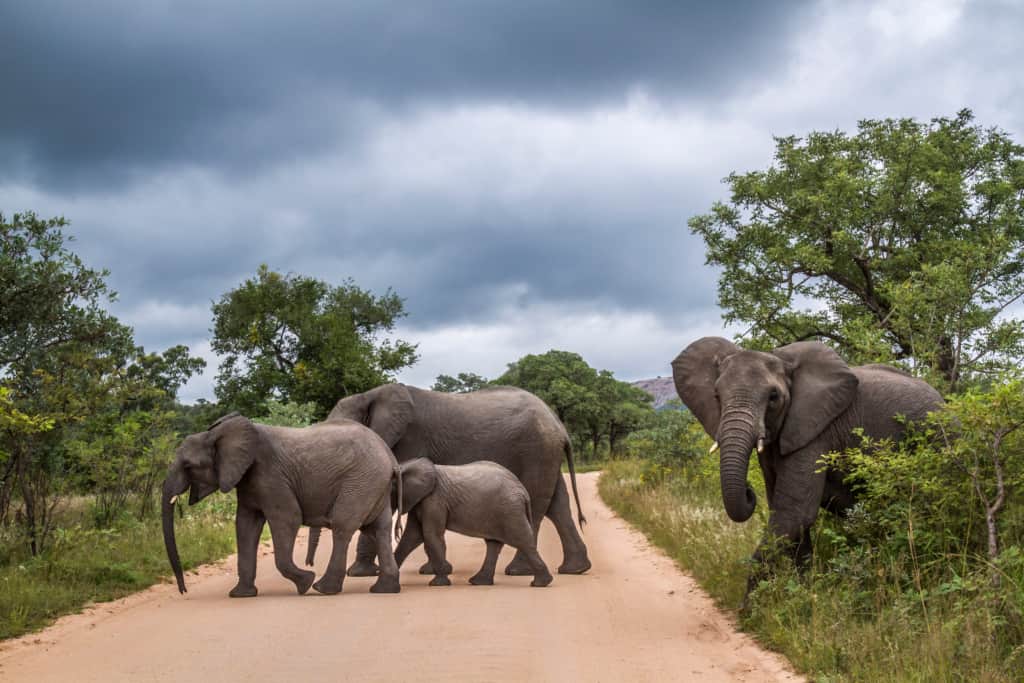 Animals
As South African safaris go, visitors to the park are in for a treat with the Big Five present. Kruger Park has an amazing variety of wildlife with the big cats found and the lion, in particular frequently seen in the south of the park.
White rhino are under threat from a dramatic increase in poaching in recent years, but you still have a reasonable chance of spotting one. Buffalo and elephant are easily seen throughout.
Graceful antelopes are a highlight of Kruger. Impala, greater kudu and waterbuck are common. Two secretive species to look out for are steenbok and common duiker.
Kruger supports the world's largest population of white rhino, estimated at 8,000, despite a recent increase in poaching. Black rhino are rarer and seldom seen. The endangered wild dog lives in large groups that range far and wide, although it is rarely spotted.
A fine selection of different predator species are endemic to Kruger. With the exception of the Cheetah and Wild Dog, many animals are most active from dusk to dawn.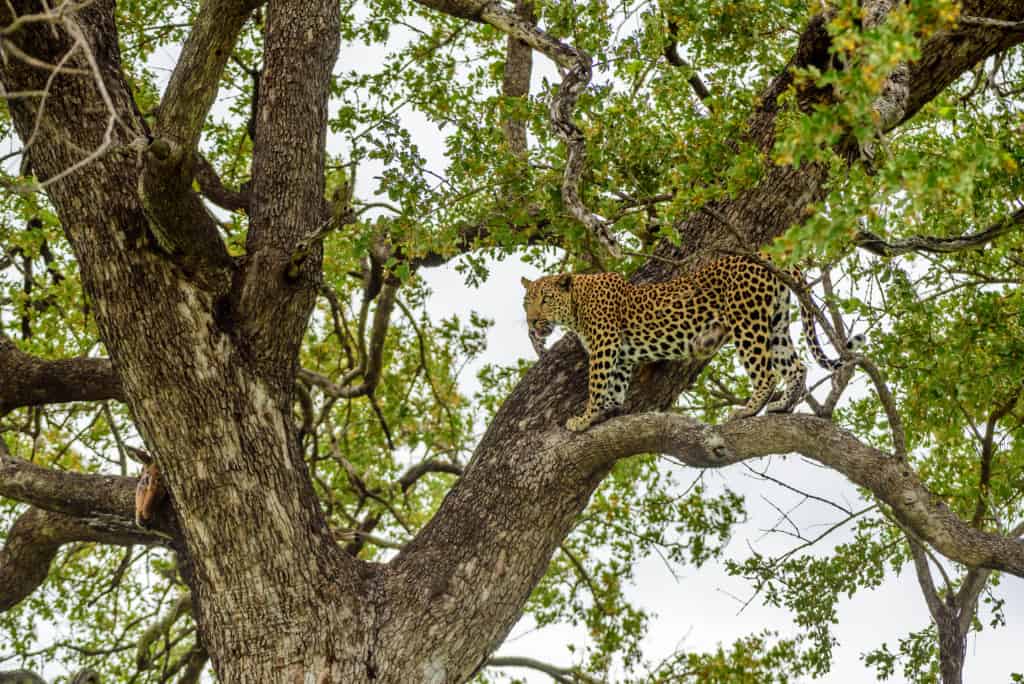 Birds
More than 500 bird species have been recorded in the greater Kruger area, representing roughly 60% of the total for South Africa. This includes more than 50 migratory species, most of which arrive from Eurasia or elsewhere in Africa in November and depart in April.
Kruger is the best place in the country to see birds of prey; around 55 diurnal and 11 nocturnal species have been recorded. The less visited northern part of the park offers the best bird watching.
All the rest camps including the Punda Maria tend to be hotspots because there is a high concentration of trees and shrubs. Notable birds include the Lilac-breasted roller, Bateleur and the Saddle-billed stork.
Trees
The vegetation is mostly mixed woodland with sour grasses such as fine thatching grass (Hyparrhenia filipendula) and yellow thatching grass (Hyparrhenia dissoluta).
404 tree species have been identified in the Kruger. The most notable include the Baobab (Adansonia digitata), Fever Tree (Vachellia xanthophloea), Knob-thorn (Senegalia nigrescens), Marula (Sclerocarya birrea) and the Mopane (Colophospermum mopane).
The Baobab is arguably the most iconic of the Big 5 trees listed and most people are simply amazed at their size and how long they live. The Baobab is part of the genus (Adansonia) of which there are 9 species in the world.
Within Kruger, this species is most commonly found north of the Olifants River where it prefers deep, well-drained soils found in rocky areas and in alluvial plains.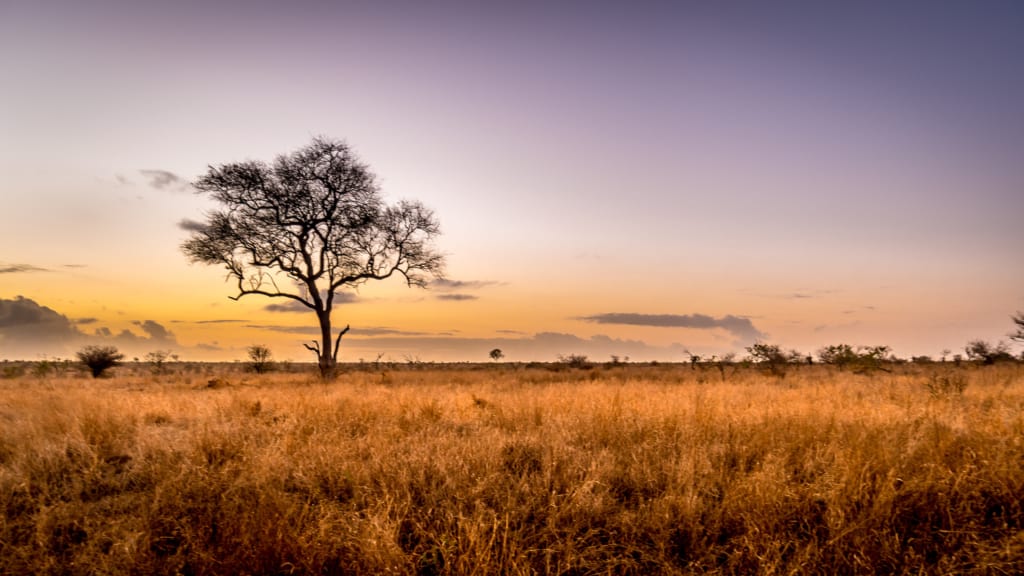 Other activities at Kruger National Park
Other South African activities that visitors to Kruger National Park can look forward to on their trip:
Game drive: Exploring Kruger National Park's wildlife with spectacular views of large concentrations of elephants and buffalo and big five animals.
Fly in safari: Discover the incredible Kruger from the skies above! Up in the air, you'll truly have a birds eye view of the stunning landscape and wildlife below, taking photos that you'll treasure for a lifetime.
Sundowners: On floating pontoons, go game viewing by boat, sunset cruises and canoeing adventures, a great way to relax. From a houseboat, you can watch wildlife at the water's edge at prime times and enjoy wonderful passing scenery whilst cruising along.
Bush walks: Walk with professional guides at a peaceful, relaxed pace through the extraordinary Kruger National Park NP where you can see birds, wildlife and beautiful tree species.
Blyde River Canyon Nature Reserve: The third-largest canyon in the world, which boasts cliffs that rise nearly 2625 feet (800 meters) from the river bed below. Adventurous travelers can explore the canyon's lush green scenery, waterfalls, and wildlife on hikes, boat excursions, and rock climbing adventures.
Moholoholo Wildlife Rehabilitation Center: Home to some of South Africa's fiercest animals—lions, leopards, wild dogs, and even honey badgers. The center helps travelers understand the plight of endangered species in the bush through education programs and guided tours.
Mpumalanga Panorama Route: Includes historic mining towns, beautiful waterfalls, lofty views, a gorgeous canyon, and lots of wildlife. Nearby attractions include the viewpoint called God's Window. From there, you can enjoy the views over Blyde River Canyon and see the collection of dramatic waterfalls near Sabie.
Golfing: Kruger sports four courses for you to try your hand at. The Sabie River golf course, the Leopard Creek golf course, Skukuza and the Hans Merensky golf course. As the Park enjoys a sub-tropical climate, golf is best played in the cooler months of winter.
Mountain biking: Swapping four wheels for two may be a wise choice. The most prestigious wilderness trails can be found at Olifants Camp where you will be supplied with all the equipment you need.
Bird watching: This has become a very popular activity in Kruger, mostly due to the hugely diverse selection of birds. Birds are in abundance throughout the park but the Northern area of the park is particularly favored. Some of the birds that are found here can be seen nowhere else in Southern Africa.
Night Rest Camp Open Vehicle Safari Drive: Experienced guides drive groups to spy on Kruger's nocturnal creatures and their secretive activities. Learn about fauna and flora from our expert guides and return to camp with a spot-lit night drive.
How to get to Kruger National Park?
By Plane
To get to South Africa and indeed Kruger, most visitors fly into O.R. Tambo International Airport (JNB) near Johannesburg. From here a connecting flight goes to Kruger Mpumalanga International Airport (MQP), which lies 40km/25mi from southern Kruger's Numbi Gate. Alternatively, fly to Hoedspruit (for the central and northern sections) or Phalaborwa (for the northern section).
It is also possible to take a scheduled flight to Skukuza Airport inside the park and Federal Airlines (see below) offers scheduled flights to some of the lodges' airstrips.
By Road
Kruger NP is a popular self-drive destination. You could hire a car in Johannesburg and drive to the park. The park has nine entrance gates, the closest of which, Numbi Gate, is 375km/235mi from Johannesburg's O.R. Tambo International Airport. The drive takes at least four hours.
Carrying a small amount of South Africa currency, the rand (ZAR) is advised for smaller purchases.
Tariffs & Regulations
Entrance fee
All Kruger National Park fees are payable at the gate at time of entrance. Park fees are valid for 24 hours.
International Visitors: 440 ZAR (USD 26.50) per adult, per day and 220 ZAR (USD $13.20) per child, per day.
South African Citizens and Residents: R110 per adult per day & R55 per child per day.
SADC Nationals (with passport): R220 per adult, per day & R110 per child, per day.
Regulations
If you keep to park rules, you can stay with the animals as long as they are not disturbed by your presence.
Accommodation at Kruger National Park
Tour visitors at Kruger NP can choose from a number of different options when deciding where to sleep with accommodation ranging from luxury safari lodges to lower budget camping.
Lodges
Jock Safari Lodge offers guests the experience of an old world safari in the southern area of Kruger National Park. Each luxury suite has its own private deck, sala and plunge pool and guests can enjoy Big 5 wildlife sightings from the lodge.
This historic safari lodge was the first private lodge to be built in the heart of Kruger National Park at the confluence of the Mitomeni and Biyamiti rivers. The lodge's two spacious decks offer stunning views over a pool and the river.
There is an ambiance of a bygone era, and decor incorporates elements of the past, as well as indigenous Zulu and Shangaan cultures. The lodge has exclusive traversing rights in an area that is regarded as one of the best in the Kruger National Park for its Big Five wildlife sightings.
A great alternative is the Pondoro Game Lodge, set on the banks of the Olifants River, this luxury lodge occupies 98,840 acres of Balule Private Game Reserve.
Guests can expect an intimate and luxurious safari adventure like no other, a truly bespoke experience while offering guests a wide range of activities ranging from safari drives to romantic picnics at this treehouse hide.
The lodge is the perfect spot to sit back, relax and become one with nature.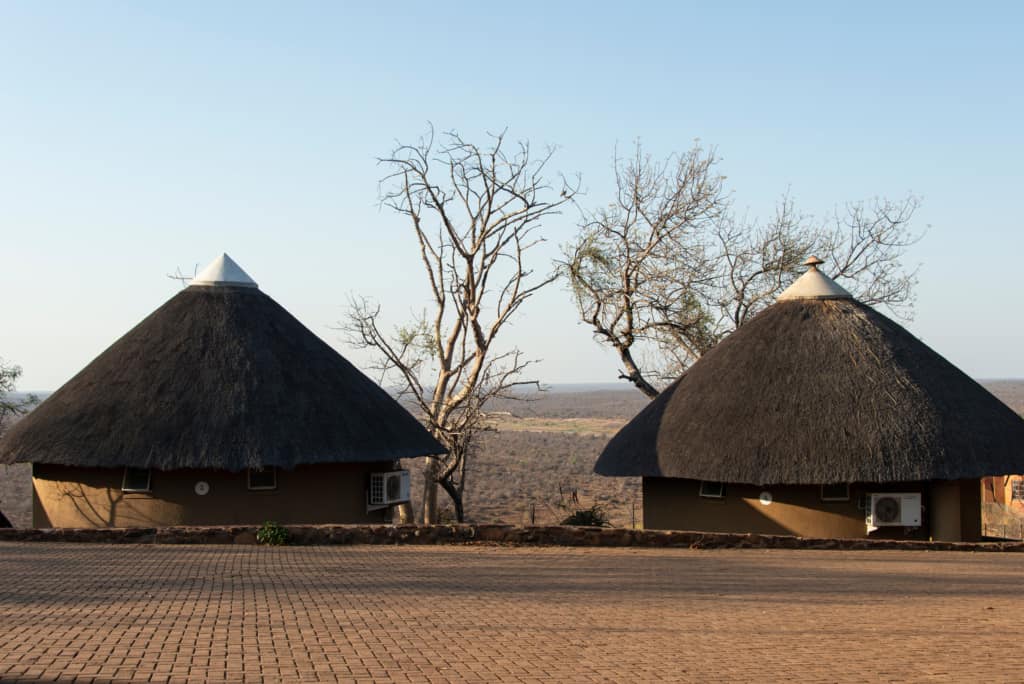 Camping
Campsites are available with or without power points and all have access to clean communal ablution blocks. If you stay at Balule Rest Camp, which only has campsites and basic huts for accommodation, you might see the two local hyenas circling the camp fence in the evening.
Balule is a rustic camping place with no electricity points and only gas lighting in the ablution block. It's a very nice experience nevertheless. In this quieter environment, you feel closer to nature and you can catch a beautiful glimpse of the stars at night.
An alternative is Berg-en-dal rest camp, ringed by lovely natural scenery in a mountainous environment and feels quite chilled out. On the northern and southern sides, dry riverbeds border the camp, with large trees alongside.
The best sites are along the fence with views of big mammals (elephants and rhinos are commonly seen through the wire). It's a simple camping experience with ample ablution blocks, clothes lines, electric urns for hot water and two-plate stoves as an alternative to a braai (barbeque).
Campervan
Guests on a self-drive safari with a campervan can make significant savings by sleeping in their vehicle.
Bars/restaurants/amenities
Lodges will typically have all meals and drinks included in the lodge package.
Useful information
Geography
Kruger National Park occupies a large part of north-eastern South Africa. It is one of the largest national parks in the world, with an area of 19,485 km2 (7,523 sq mi). The park is approximately 360 km (220 mi) long, and has an average width of 65 km (40 mi).
Visits to Kruger are often combined with trips to Sabi Sands, MalaMala Private Game Reserve or Phinda Game Reserve.
Weather
The climate of the national Kruger park is subtropical. There is a rainy and dry season which means summers are very wet, winters extremely dry.
The park experiences winter and summer at the opposite times to Europe and North America. The wet summer months (October to April) are hot and often humid. Dry winters (May to September) are warm and mild although it cools off considerably at night.
It is advisable to take warm clothing for early morning and evening game drives.
There is virtually no rainfall during the whole of winter, and the humidity is very low. Animals are attracted to permanent water sources as water becomes scarce in the bush.
May: This is a transitional month and marks the end of summer. Temperatures are cooling down to typically 12°C/54°F in the morning and 27°C/81°F in the afternoon.
June, July & August: Morning game drives in open vehicles will be cold, so it's recommended to pack warm winter clothing. The average morning temperature is 10°C/50°F. Afternoons will be pleasant with temperatures around 26°C/79°F and cloudless skies.
September: The heat gradually builds to about 29°C/84°F in the afternoon, and the first rains bring relief from very dry conditions. Mornings are less cold with temperatures around 14°C/57°F.
Best time to go
Understanding the best time to visit South Africa is important as this will impact accommodation, flight prices, availability and the weather that visitors can expect on their safari vacation. A South Africa visa for entry may also be required.
Although some visitors might prefer the lush vegetation of the summer months, the best time for observing African wildlife in Kruger National Park is the dry winter season. The bushveld is more open, allowing for better visibility.
Health
Kruger is a high risk malaria area from the months of October to May. It is a well-known fact that malaria is one of the most serious and common tropical diseases in the world.
However, there is no reason why this disease should deter you from coming to the Kruger National Park if the necessary precautions are taken.
Antimalarials and other vaccines for South Africa are advised, as well as covering up in the evening and using mosquito repellent (those containing DEET are most effective).
It is recommended to visit a travel clinic before coming to South Africa. Several South Africa vaccinations are recommended and usually administered before your departure.
FAQs
Where is Kruger National Park located?
Kruger National Park, in northeastern South Africa and typically accessed via chartered flight from Johannesburg or Cape Town.
What animals will visitors see at Kruger National Park?
Visitors to Kruger National Park will see the Big Five including the elephant, buffalo, rhino, giraffe, zebra, wildebeest, kudu, impala, waterbuck, warthog, hippo, crocodile, hyena, lion, leopard, wild dog, cheetah and various smaller antelopes and predators.
How much is the Kruger National Park entrance fee?
The entrance fee for Kruger National Park for international visitors is 440 ZAR (USD 26.50) per adult, per day and 220 ZAR (USD $13.20) per child, per day.