Timbavati is a private nature reserve with open borders to the famous Kruger National Park in the northeast of South Africa. It is part of the Greater Kruger ecosystem, which offers an authentic wildlife experience.
All of the Big Five animals are easily spotted including the elusive leopard and the park is famed for its rare white lion.
As a result of Timbavati being part of the Greater Kruger ecosystem, animals can roam throughout the bordering parks and reserves. This means all main safari animals can be seen and in general, Timbavati is the closest competition to the better-known Sabi Sand Game Reserve.
Why visit Timbavati Private Nature Reserve?
Timbavati Private Nature Reserve safari
Timbavati safaris are famous for the white lions first discovered in the reserve. There are plenty of leopards in Timbavati, but they do tend to be a bit shy.
Buffalos, lions, giraffes, wildebeest, impalas, baboons, cheetahs, and the rare white lion – the list of wildlife in the Timbavati Game Reserve is mind-blowing and goes on and on.
This private reserve has over 40 mammals roaming freely over an area of 75,000 hectares of bush. Safari-goers to the reserve will experience a more intimate and personal affair with wildlife than anywhere else.
Being in a private game reserve, jeeps are allowed to go off-road – in contrast to Kruger Park where vehicles are restricted to paved roads – and get much closer to animals, another massive plus for this incredible part of the world.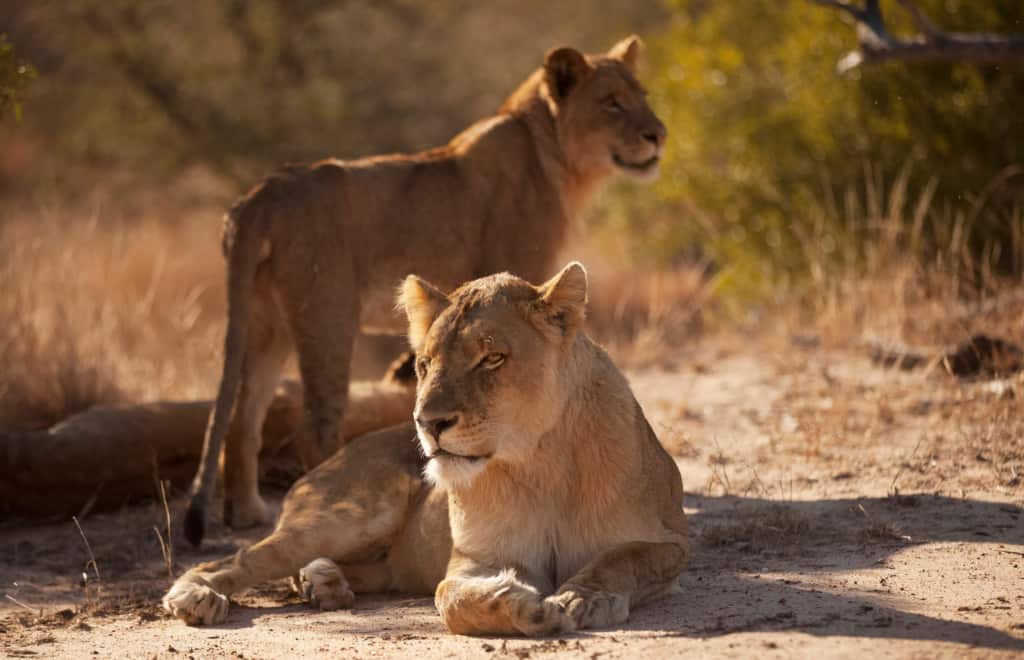 Animals
As South African safaris go, visitors to the park are for a treat as wildlife viewing tends to be very good – Timbavati boasts all the usual large safari animals including elephant, buffalo, kudu, zebra, wildebeest, giraffe, impala, waterbuck and their predators: lion, leopard, cheetah and hyena.
Big cats are easy to spot, but rhino is more hit-and-miss. African wild dogs are regular visitors to the property. The white lions are very rare, but some lighter colored lions carrying the gene might be spotted.
The bright white icing on the cake in Timbavati Game Reserve is the presence of the rare white lion. A crème-coloured coat, ice blue eyes; their beauty is captivating. Although born with a snow-white coat, white lions are not albinos; it is the result of a rare colour mutation.
White lions are indigenous to the Timbavati Game Reserve and the earliest records of sighting them in this region date from 1938. Luckily, their colouration doesn't appear to be of disadvantage when it comes to survival.
The Global White Lion Protection Trust (GWLPT) reintroduced white lions into their natural habitat in 2009, and they have been hunting and breeding successfully ever since.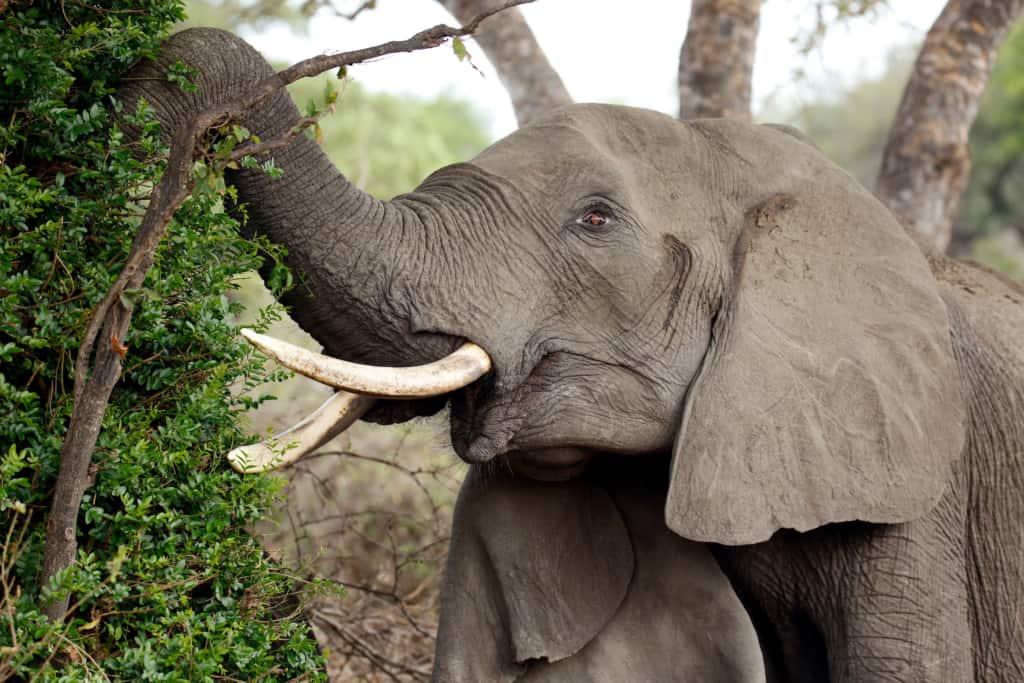 Birds
With more than 350 bird species recorded, Timbavati is a birders paradise. On game drives, the emphasis is mostly on mammals, and birders sharing a vehicle with non-birders might well be in for a disappointing experience. Serious birders should consider booking private activities.
The combination of open vehicle drives and walking safaris is ideal to check off many species, while night drives might offer a few nightjars, coursers and owls. Migratory birds are present from November to April.
Other noted birds in the area include the African spoonbill, the Chinspot batis, the Grey-headed kingfisher and the Southern carmine bee-eater.
Trees
The main habitats in the parks are grassy plains and mixed woodland. In the rainy season, the vegetation tends to be quite thick, but this doesn't interfere much with wildlife viewing because of the off-road driving permits.
The gentle hills and plains of the Timbavati are covered in open savanna bushveld and several types of woodland vegetation from scattered Acacia trees to dense riverine forests with Jackalberry and Fig trees.
There are a few dry riverbeds but no permanent rivers flowing through the reserve and wildlife are often spotted at the watering holes and dams.
Other activities at Timbavati Private Nature Reserve
Other South African activities that visitors to Timbavati Private Nature Reserve can look forward to on their trip:
Game drive: Game drives on a Timbavati safari usually take place in the cooler times of day when animals are more active and there is a better chance of encountering abundant wildlife. There are also thrilling night game drives which go in search of fascinating nocturnal animals.
Bush walks: Walk with professional guides at a peaceful, relaxed pace through the extraordinary Timbavati Private Nature Reserve where you can see birds, wildlife and beautiful tree species.
Armchair safari: There really is nothing quite like sitting quietly watching elephants come down to a waterhole to drink and play from the comfort of your veranda armchair! Spend the afternoon hours between game viewing activities relaxing quietly with a drink in hand watching the animals come down for a drink of their own.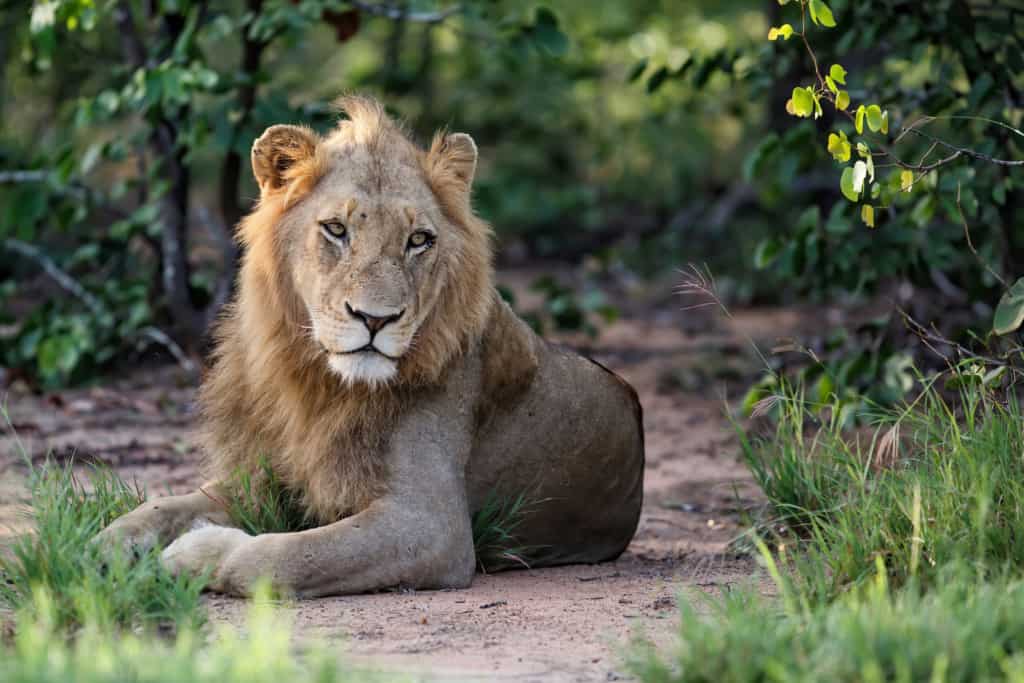 How to get to Timbavati Private Nature Reserve?
By Plane
To get to South Africa and indeed to the park, visitors can fly to one of two airports: Cape Town International (CPT) or O.R. Tambo International Airport (JNB) in Johannesburg. A South Africa visa will likely also be required per the latest entry requirements.
From here, Federal Air flies twice daily to Timbavati. Alternatively, you can take a connecting flight from Johannesburg to Hoedspruit Airport (HDS). The reserve is only about 15km/9mi from the airport, which makes a transfer to the reserve very easy.
By Road
Renting a car in Johannesburg and driving to Timbavati is another option. The reserve can be found on the R40 near Hoedspruit, and west of Kruger National Park. The 450km/280mi drive takes nearly 5 hours.
Carrying a small amount of South Africa currency, the rand (ZAR) is advised for smaller purchases.
Tariffs & Regulations
Entrance fee
The entrance fee for international visitors to Timbavati Private Nature Reserve is 368 Rand per adult per day and 184 Rand per child per day.
Light motor vehicles cost 230 Rand per vehicle entry and Heavy vehicle (over 6.5 tons): are charged 840 Rand per vehicle entry.
Regulations
If you keep to park rules, you can stay with the animals as long as they are not disturbed by your presence.
Accommodation at Timbavati Private Nature Reserve
Tourists at Timbavati Private Nature Reserve can choose from a number of different options when deciding where to sleep with accommodation including luxury safari lodges.
Lodges
Accommodation at Timbavati is offered in colonial style game lodges, traditional thatched bush lodges, and luxury tented safari camps, providing a range of styles to suit your dream South African safari lodge holiday.
Makanyi Private Game Lodge invites safari-goers to an exclusive wilderness experience in the Timbavati Private Game Reserve. Exclusive Timbavati accommodation at Makanyi Private Game Lodge is in one of 7 suites that are well-appointed with modern room amenities.
Activities are also provided for guests including fishing, stargazing, art safaris and optional safaris in the area. Alternatively, leisurely afternoons at Makanyi are spent poolside or at the luxurious spa.
A great alternative is the RockFig Safari Lodge, which offers premier luxury and hospitality, where white lions, leopards and African wild dogs roam.
As a guest at RockFig each day will be an effortless blend of exclusivity, relaxation and indulgence, tailored to meet your every need. From the well-designed indoor and outdoor guest spaces, an open-plan kitchen, to the viewing deck overlooking the waterhole.
Bars/restaurants/amenities
Lodges will typically have all meals and drinks included in the lodge package.
Useful information
Geography
Timbavati is located at the border line between Hoedspruit (in Limpopo) and Acornhoek (in Mpumalanga), north of the Sabi Sand Private Game Reserve on the western edge of Kruger National Park.
Safaris here can be combined with trips to Kruger or Phinda Game Reserve.
Weather
Timbavati Nature Reserve's winter and summer are opposite to the seasons in Europe and North America. The Wet season occurs during the summer months (October to April), while the Dry season occurs during the winter (May to September).
The summer is hot and humid. Winter is dry and mild, with it cooling off substantially during the night. Warm clothing is essential for game drives.
Humidity is low, and there is virtually no precipitation during the winter months. Permanent water sources attract animals as there is little water in the bush.
In May, this marks the end of summer. Temperatures typically cool off to 12°C/54°F in the morning and 27°C/81°F in the afternoon.
Best time to go
Understanding the best time to visit South Africa is important as this will impact accommodation, flight prices, availability and the weather that visitors can expect on their safari vacation. A South Africa visa for entry may also be required.
Timbavati offers impressive wildlife watching in the Dry season, from May to September, when animals share the local waterholes and rivers. The landscape is green and lush in the wetter months (October to April), and this time is best for bird watching.
Health
Malaria is present in Timbavati, but the risk is small and mostly present during the wet summer months (October through April).
Antimalarials and other vaccines for South Africa are advised, as well as covering up in the evening and using mosquito repellent (those containing DEET are most effective).
It is recommended to visit a travel clinic before coming to South Africa. Several South Africa vaccinations are recommended and usually administered before your departure.
FAQs
What is Timbavati famous for?
Timbavati Private Nature Reserve is famous for the white lions first discovered in the reserve and Sabi Sand is famous for its outstanding leopard sightings. There are plenty of leopards in Timbavati too, but they tend to be a bit shyer and are not sighted as often as in the Sabi Sand.
What animals will visitors see at Timbavati Private Nature Reserve?
Visitors to Timbavati Private Nature Reserve will see white lions, elephants, buffaloes, kudu, zebras, wildebeest, giraffes, impala, African wild dogs, waterbuck and their predators including the leopard, cheetah and hyena.
How much is the Timbavati Private Nature Reserve entrance fee?
The entrance fee for international visitors to Timbavati Private Nature Reserve is 368 Rand per adult per day and 184 Rand per child per day.