This Augrabies Falls National Park in the northwest of South Africa is known for its many scenic attractions, including the Augrabies Falls.
Visitors will also get the chance to see some game here as well as birding, particularly along the river as well as the opportunity to spot Springbok, Gemsbok and Black rhino.
In the park, you'll find the Orange River thundering down the 56m-high Augrabies waterfall before it continues its path through an 18km gorge.
An extensive network of boardwalk offer visitors fantastic viewpoints over the waterfall, the focal point of the starkly scenic Augrabies Falls National Park. Away from the falls, you can also explore further by car, mountain bike and even on foot.
Why visit Augrabies Falls National Park?
Augrabies Falls National Park safari
Augrabies Falls is not a prime wildlife destination and its appeal lies mostly in the waterfall and stunning views.
However, when driving around the park, you'll have a good chance of spotting giraffes, greater kudus, gemsbok and springbok. Also keep your eyes peeled for pairs of klipspringers, usually standing motionless like statues on top of a rock.
The lizards are worth observing for also as they perform their acrobatic leaps to catch flies. Visitors can also watch out for vervet monkeys near the rocky areas and swimming pools.
Also of special interest is the near-endemic Hartmann's Mountain Zebra. More compactly built than the widespread plains zebra, they are well adapted to the rocky environment they live in.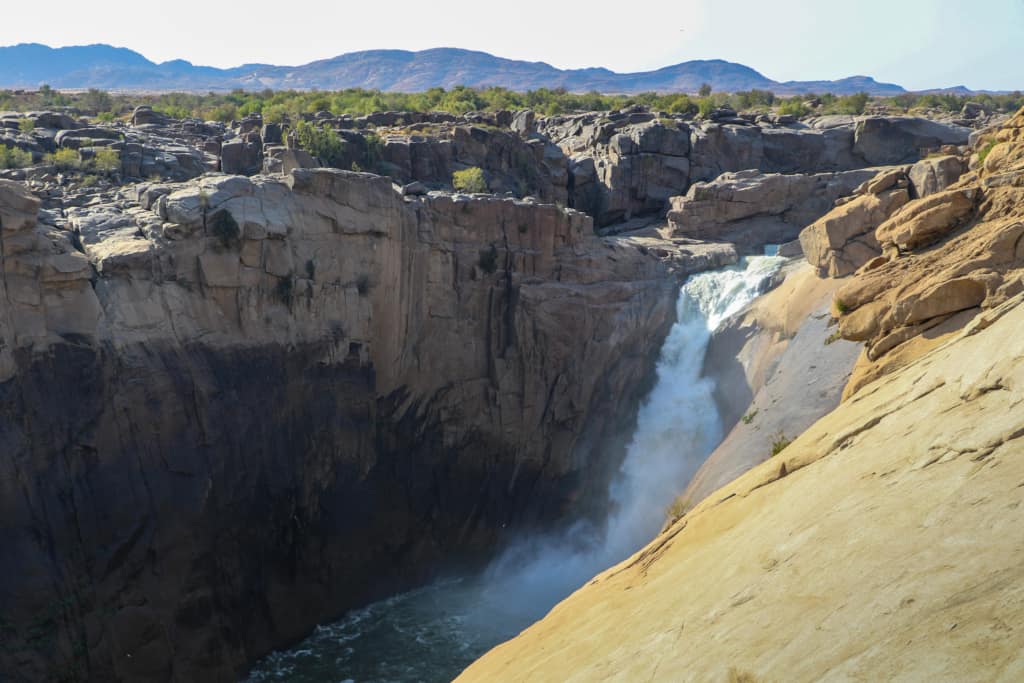 Animals
As South African safaris go, visitors to the park will only find the leopard from the Big Five, which is rarely seen. The park's most famous and interesting animal is a reptile: Broadley's flat lizard, also known as the Augrabies flat lizard.
The lizard is only found within a 100km/62mi radius of the falls, and hundreds of them can be seen basking in the sun on the rocks. The lizard, which is highly localized around the waterfall, hence its nickname: 'Augrabies flat lizard'.
Other animals associated with the rocky habitat are klipspringer and rock hyrax and the zebras found in the park are notably more compactly built than the widespread plains zebra and are well adapted to the rocky environment they live in.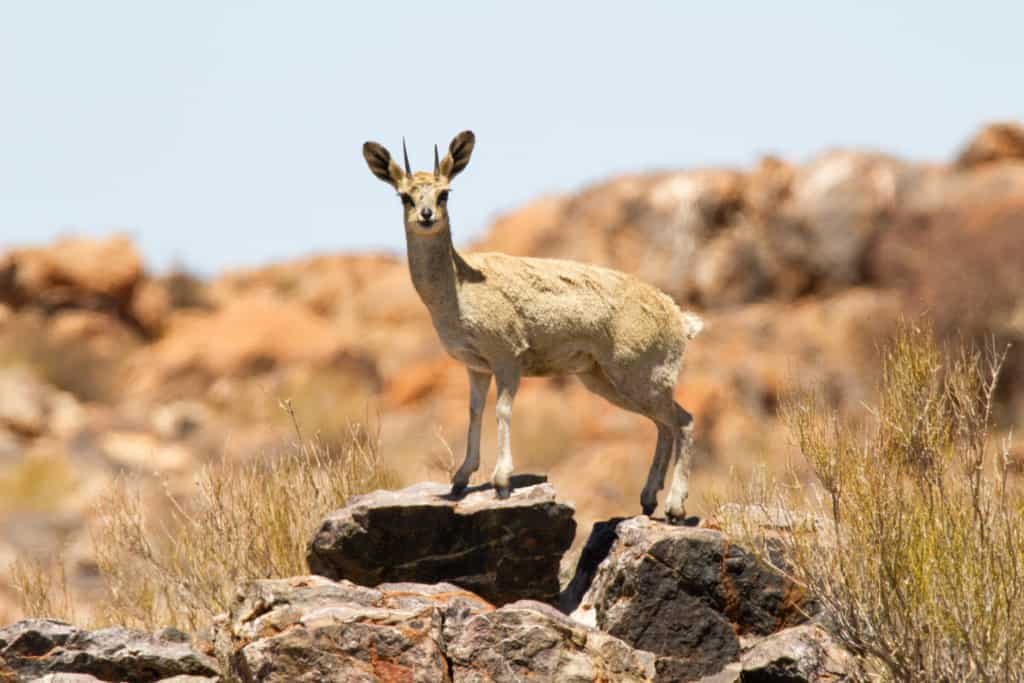 Birds
Augrabies Falls is an excellent birding destination with more than 280 species recorded. It is especially good for raptors, with the Verreaux's eagle being the star attraction as it breeds on the cliffs of the gorge.
Several Karoo specials are resident, including Ludwig's bustard and Karoo long-billed lark. The self-guided Dassie Trail offers great bird watching opportunities. Migratory birds are present from November to April.
Other notable birds include the Dusky sunbird, Kalahari scrub-robin, Pale chanting goshawk and the Kori bustard.
Trees
Nearly 70 different species of grass, shrubs, herbs and trees can be found in Augrabies Falls NP. Perhaps Augrabies' most enduring symbol apart from the Falls themselves is the kokerboom, or quiver tree (Aloe dichotoma).
They're succulents, with fibrous branches and yellow flowers in winter. The San used them for quivers for their arrows, while the big stems were used for coffins and as fridges to keep food cool.
Other trees include the majestic Camel thorn (Acacia erioloba), a dominant tree species in the region, growing to a height of up to 15m with many animals relying on this tree for both food and shade.
When eaten, the grey seed pods exude a strange smell and result in a rank taste in the meat of animals that feed on them. The Camel thorn has a wide variety of medicinal uses: its bark is grinded into a powder and used to ease headaches, the gum is taken with warm water and used against flu and even its roots are used against coughing.
The Sweet thorn tree (Acacia karroo) is the most widely distributed of all thorn trees in South Africa, and occurs mainly along rivers and drainage lines. The growth form is highly variable from region to region, so that different geographical growth forms can be distinguished;
Other activities at Augrabies Falls National Park
Other South African activities that visitors to Augrabies Falls National Park can look forward to on their trip:
Game drive: Explore Augrabies wildlife with spectacular views of large concentrations of wildlife and watch four of the Big Five in the open wild.
Bush walks: Walk with professional guides at a peaceful, relaxed pace through the extraordinary Augrabies Falls NP where you can see birds, wildlife and beautiful tree species.
See the Augrabies Falls: Walk along the boardwalk in main camp to the six viewing decks for different perspectives of the wonders of the 90m high Augrabies Falls, with a freefall of 56m and see the water thunder over the rock lip and rush into the gorge below.
Climb Moon Rock: This massive rounded granite mound or 'whaleback' isn't far from the main camp. Drive to the parking spot and walk up to the summit for a great view of the surrounding landscape including Arrow Point, Twin Falls and Moon Rock.
Mountain biking: There are some stellar mountain bike trails to tackle at Augrabies so don't forget to pack your gear. It's so good here in fact, that there is even an annual Trans Augrabies MTB race.
How to get to Augrabies Falls National Park?
By Plane
To get to South Africa and indeed to the park, visitors can fly to one of two airports: Cape Town International (CPT) or O.R. Tambo International Airport (JNB) in Johannesburg.
Augrabies Falls is mostly visited as a self-drive destination, and you can rent a car at whichever airport you fly into. It is also possible to take a connecting flight into Upington Airport (UTN). This option would leave you with a much shorter driving distance: 250km/124mi.
Most roads in the park are accessible with an ordinary 2WD, but a 4×4 track is available too. A South Africa will likely also be required per the latest entry requirements.
By Road
Augrabies Falls is situated 902km/560mi from Johannesburg (11 hours) and 796km/494mi from Cape Town (10 hours).
Carrying a small amount of South Africa currency, the rand (ZAR) is advised for smaller purchases.
Tariffs & Regulations
Entrance fee
All Augrabies Falls National Park fees are payable at the gate at time of entrance. Park fees are valid for 24 hours.
International Visitors: R240 per adult, per day and R120 per child, per day
South African Citizens and Residents (with ID): R60 per adult, per day and R30 per child, per day
SADC Nationals (with passport): R120 per adult, per day and R60 per child, per day
Regulations
If you keep to park rules, you can stay with the animals as long as they are not disturbed by your presence.
Accommodation at Augrabies Falls National Park
Tourists at Augrabies Falls National Park can choose from a number of different options when deciding where to sleep with accommodation ranging from luxury safari lodges to lower budget camping.
Lodges
Augrabies Falls Lodge & Camp offers stunning accommodation to dine and enjoy award-winning South African wines and Beer; either in the sleek restaurant, bar or alfresco area.
With Augrabies Waterfall reachable in 3.7 miles, Augrabies Falls Lodge & Camp features accommodation, a restaurant, a bar, a shared lounge and a garden.
All units feature air conditioning and a flat-screen TV. There is a fully equipped private bathroom with shower and free toiletries and a barbecue can be found at the lodge, along with a terrace.
Alternative lodge options include Khamkirri with a wide range of accommodation options situated on the bank of the Orange River. Their camping sites and chalets are on the banks of this mighty flowing river.
Khamkirri offers a bush bar and deck area is ideally situated by the riverbank, the perfect venue for Sundowner drinks and dinner, a special destination for families wanting to explore South Africa.
Cottages
Spend a night at Gorge Cottage at Oranjekom, a magnificent cottage underneath a viewing platform with an incredible view.
When other visitors have to leave the viewpoint to return to camp before sunset, you'll have the whole place to yourself in romantic solitude with impressive gorge views through huge sliding glass doors that appear to bring the outside in.
Campervan
Guests on a self-drive safari with a campervan can make significant savings by sleeping in their vehicle.
Bars/restaurants/amenities
Lodges will typically have all meals and drinks included in the lodge package.
Useful information
Geography
Augrabies Falls National Park is located in the far reaches of South Africa in the Northern Cape Province, just west of the town of Uppington.
Safaris here can be combined with trips to Kruger National Park, Balule Game Reserve or Phinda Game Reserve.
Weather
Augrabies Falls National Park is located in a semi-arid region, which implies low annual rainfall and extreme variations of temperature. Occasional thunderstorms occur from October to April.
The park's location in the southern hemisphere dictates that seasons are experienced at opposite times of the year to those in North America and Europe.
The winter season is devoid of rainfall. The nights tend to be very cold, and frost is common. Winter clothing is recommended for evenings and early mornings. Daytime temperatures are pleasant.
In May, average temperatures are 8°C/46°F in the morning and 25°C/77°F in the afternoon.
Best time to go
Understanding the ideal time to visit South Africa is important as this will impact accommodation, flight prices, availability and the weather that visitors can expect on their safari vacation. A South Africa visa for entry may also be required.
The optimal time for a visit to Augrabies Falls National Park is during the cooler winter months from April to September.
This is also when the popular three-day Klipspringer Trail is open. Augrabies has a semi-arid climate and summer months can get incredibly hot. The waterfall is particularly impressive when in flood, usually from February to April.
Health
There is no malaria present in Augrabies, but if you are traveling to the north eastern part of South Africa during summer, you may need to take antimalarial drugs.
Antimalarials and other vaccines for South Africa are advised, as well as covering up in the evening and using mosquito repellent (those containing DEET are most effective).
It is recommended to visit a travel clinic before coming to South Africa. Several South Africa vaccinations are recommended and usually administered before your departure.
FAQs
Where is Augrabies Falls National Park located?
Augrabies Falls National Park is located in the far reaches of South Africa in the Northern Cape Province, just west of the town of Uppington.
What animals will visitors see at Augrabies Falls National Park?
Visitors to Augrabies Falls National Park will see leopards, Broadley's flat lizard, klipspringer, rock hyrax and the Hartmann's Mountain Zebra.
How much is the Augrabies Falls National Park entrance fee?
The entrance fee for Augrabies Falls National Park is R240 per adult, per day and R120 per child, per day for international visitors.