Lion Sands is one of the private reserves within the Sabi Sand Game Reserve, in the southwestern corner of the world-renowned Kruger National Park in South Africa.
Open borders with Kruger make it a prime wildlife viewing destination with an authentic wilderness ambiance. All of the Big Five and cheetah are present, and sightings are common – including of the normally secretive leopard.
Lion Sands has been family owned and managed since the early 1930s and due to this, owns a reasonable chunk of the Sabi Sands property, only offers limited traversing rights, which prevents over-crowding at wildlife sightings.
Why visit Lion Sands Private Game Reserve?
Lion Sands Private Game Reserve safari
Safari visitors to Lion Sands will find numerous opportunities to see leopards as well as all the other Big 5 wildlife in the wild, with plentiful photo opportunities.
The South African rangers are well educated & can tell you everything you need to know from the smallest dung beetle to all about elephants. The native trackers have also grown up on the reserves so they can spot animals or tracks when no one else can.
Visitors will also have the luxury of viewing animals in close proximity without feeling threatened or disturbing the wildlife with up to 15 lions grooming sometimes found prowling close to one another.
After a long day's safari, guests can expect incredible food at the lodge with the chef accommodating any & all special requests along with excellent local wines.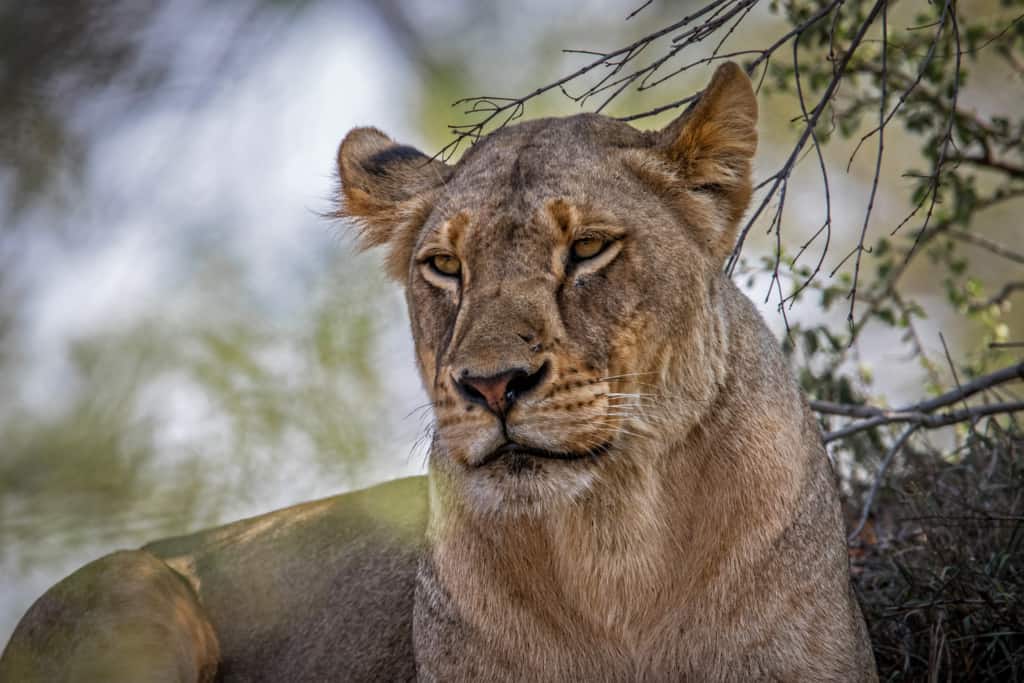 Animals
For a South African safari go, Lion Sands reserve is excellent with incredible wildlife viewing on offer. All high-profile safari animals are present and readily seen.
This includes the leopard, which is usually difficult to find. Leopards are relaxed throughout the area, and you are almost guaranteed a sighting. Visitors will also see lions, rhinos, buffaloes, bush bucks, and cheetahs.
Other wildlife you can expect to see includes giraffe, zebra, wildebeest and several antelope species. Night drives offer a chance to see some nocturnal species such as porcupine.
Lush vegetation meant no lack of wildlife, including seemingly-tame bush bucks grazing around the raised walkways leading to your accommodation. Velvet monkeys, some with young clinging to their fronts, adorned nearly every tree whilst theater seating in the Land Rovers offered the perfect safari vantage point.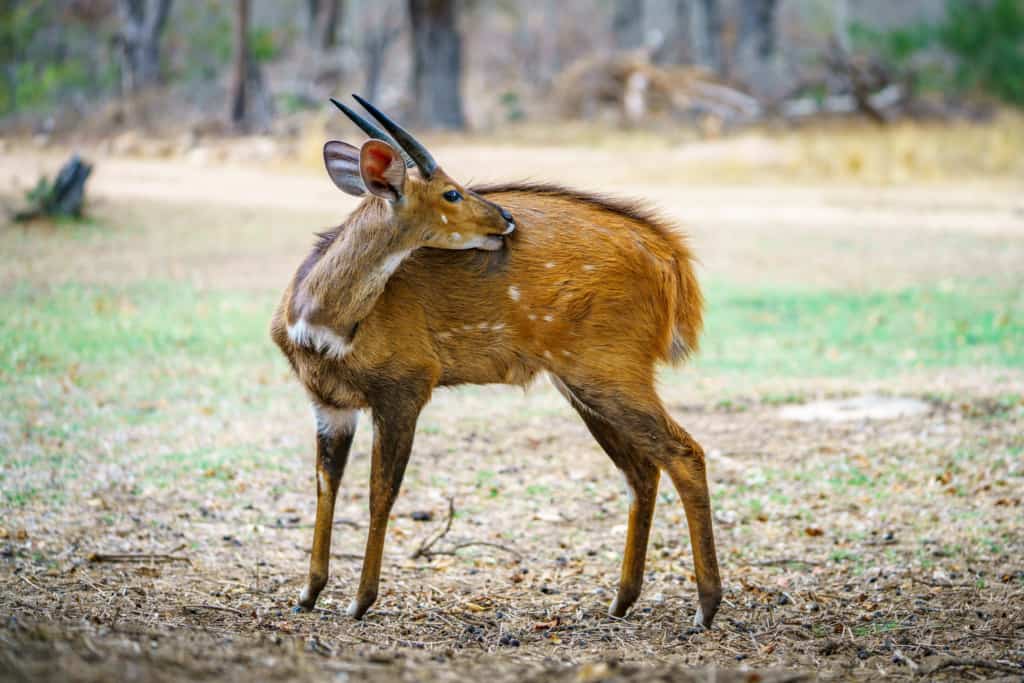 Birds
Lion Sands Private Game Reserve is a bird watcher's paradise with over 350 bird species found in the area. Studying the resident birdlife adds a special dimension to any safari and skilled rangers will provide insight into their fascinating world.
The emphasis is however on mammals and the Big Five. It would be advisable to book private game drives if you are a birder. Migratory birds are present from November to April.
Birds known in the area include the Bateleur, Comb duck and the Black-bellied bustard.
Trees
Lion Sands' terrain is primarily woodland savannah. The vegetation is quite thick, but this rarely affects animal sightings since the highly skilled guides and trackers are allowed to drive off-road.
Other activities at Lion Sands Game Reserve
Other South African activities that visitors to Lion Sands Private Game Reserve can look forward to on their trip:
Game drive: Explore the incredible Lion Sands Private Game Reserve wildlife with spectacular views of large concentrations of wildlife and watch out for the Big Five in the open wild.
Bush walks: Walk with professional guides at a peaceful, relaxed pace through the extraordinary Lion Sands Private Game Reserve where you can see birds, wildlife and beautiful tree species.
Relaxation spa: Two onsite swimming pools are available as well as massage services overlooking the nearby river by Kingston treehouse.
How to get to Lion Sands Private Game Reserve?
By Plane
To get to South Africa and indeed to the park, visitors can fly to one of two airports: Cape Town International (CPT) or O.R. Tambo International Airport (JNB) in Johannesburg.
After that, you can take the twice-daily scheduled flight to Sabi Sand, run by Federal Air.
Alternatively, you can take a connecting flight to Kruger Mpumalanga International Airport (MQP) near Mbombela or to Skukuza Airport (SZK) in Kruger National Park. A transfer from Nelspruit or Skukuza to your Sabi Sands safari accommodation can be arranged and takes about two hours.
A South Africa visa will likely also be required per the latest entry requirements.
By Road
It is possible to hire a car in Johannesburg and drive to the park via the N4 to Nelspruit. The distance is about 500km/310mi, and the drive takes about 5.5 hours.
Carrying a small amount of South Africa currency, the rand (ZAR) is advised for smaller purchases.
Regulations
If you keep to park rules, you can stay with the animals as long as they are not disturbed by your presence.
Accommodation at Lion Sands Private Game Reserve
Tourists at Lion Sands Private Game Reserve can choose from a number of different options when deciding where to sleep with accommodation ranging from luxury safari lodges to lower budget camping.
Lodges
Four 5-star lodges display style and sophistication while excellent food and service are part of a Lions Sands package. River Lodge offers a conventional bush experience while Ivory Lodge comprises nine ultra-luxurious villas, awarded by Tatler magazine as 'Best Hotel in the World'.
Tinga and Narina lodges are the newest additions and offer a different kind of style and luxury.
Lion Sands resort houses have their own individual architecture and a splendid raised wooden pathway leads the way to each well-marked abode. Inside, your eyes are immediately drawn upwards by the high ceilings – really the underside of the grass roofs.
King size beds (complete with ample mosquito net) face sliding glass doors which open toward the river whilst rooms also come with a superbly stocked bar area and attractive bathroom complete with outdoor shower.
Bars/restaurants/amenities
Lodges will typically have all meals and drinks included in the lodge package.
Useful information
Geography
Lion Sands River Lodge is situated on the banks of the Sabie River in the world-renowned Kruger National Park in South Africa, some six hours drive from Johannesburg.
Safaris here can be combined with trips to Sabi Sands Private Game Reserve, Londolozi Private Game Reserve or Kruger National Park.
Weather
Lion Sands experiences winter and summer at opposite times to those seasons in Europe and North America. October to April are the hot, wet summer months while the mild, dry winter occurs from May to September.
Although winter days are pleasant, it is cold in the mornings, so warm clothes are advisable for game drives.
In the Dry Season from May to September, it mostly doesn't rain during this winter period and humidity is low. Permanent water sources become a place for animals to gather, making them easier to spot.
Best time to go
Understanding the best time to visit South Africa is important as this will impact accommodation, flight prices, availability and the weather that visitors can expect on their safari vacation. A South Africa visa for entry may also be required.
The best time to visit Lion Sands is during winter, which is also considered the 'low season'. This is the Dry season which lasts from May to September.
Health
As malaria is present in nearby Sabi Sands, the wet summer months pose a very slight risk of catching malaria. If you are visiting at this time, measures you can take to protect yourself include using mosquito repellent containing DEET and taking antimalarials.
Antimalarials and other vaccines for South Africa are advised, as well as covering up in the evening and using mosquito repellent (those containing DEET are most effective).
It is recommended to visit a travel clinic before coming to South Africa. Several South Africa vaccinations are recommended and usually administered before your departure.
FAQs
Where is Lion Sands Private Game Reserve located?
Lion Sands River Lodge is situated on the banks of the Sabie River in the world-renowned Kruger National Park in South Africa, some six hours drive from Johannesburg.
What animals will visitors see at Lion Sands Private Game Reserve?
Visitors to Lion Sands Private Game Reserve will see leopards, lions, rhinos, buffaloes, giraffes, zebras, wildebeest, antelope species, porcupines, bush bucks, velvet monkeys and cheetahs.