Marakele means "place of sanctuary", and you could not find a better one than this secluded reserve in the heart of the Waterberg Mountains, 250km north of Johannesburg, South Africa.
The park offers diverse landscapes, from the imposing mountains to deep, lush valleys where huge cycads, ferns and cedar trees are found and a huge variety of animals and birds.
Visitors to the park will also appreciate the fact that the rest camps are unfenced, allowing the animals to move around, and Chacma baboons as well as vervet monkeys are regular visitors to the camps.
Why visit Marakele National Park?
Marakele National Park safari
Many visitors to Marakele National Park come specifically for the population of Cape vultures, 800 breeding pairs of them in fact, the largest colony in the world, which can be seen from the Vulture Restaurant.
In addition, the views on offer for a lucky safari-goer at Marakele are unmatched with incredible folding views of the Waterberg Mountains.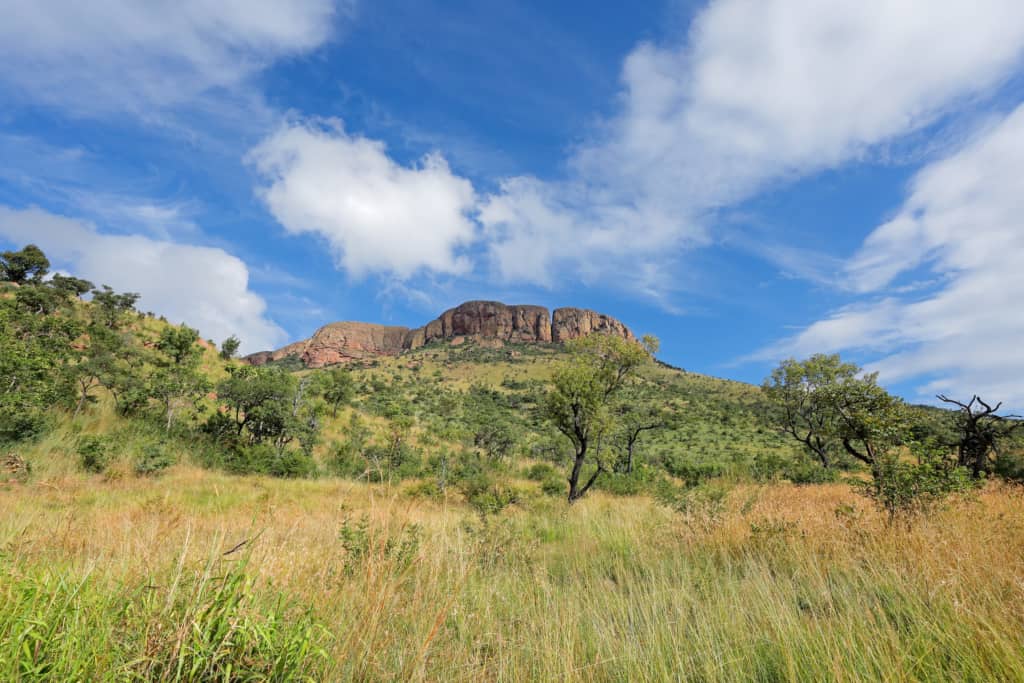 The location offers marvellous views of this mountainous region and guests can observe not only the diverse landscapes such as the valleys and grassy plains, but also the animal inhabitants grazing or making their way to watering holes.
The park is home to the Big Five, but sightings can be hit-and-miss but guests won't be disappointed by the incredible views and upmarket lodges on offer in this exclusive private concession.
Animals
As South African safaris go, visitors will find Marakele is a relatively new national park. Many large animals have been introduced, including lion, cheetah, elephant and buffalo but numbers are still low.
White rhino is spotted regularly, and black rhino is present, but rarely seen and several interesting antelope species can be encountered, including the rare tsessebe.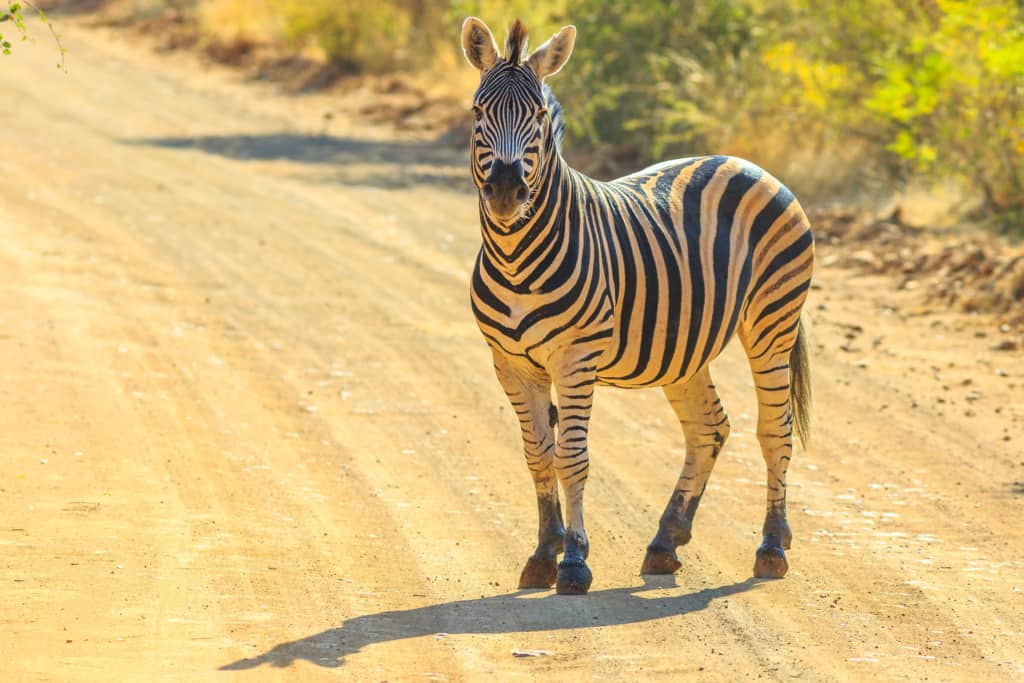 Buffalo have been reintroduced and there is a fair chance of finding white rhino. There are plenty of elephants in the park as well, but they tend to stick to the inaccessible northern area.
Overall, sightings are scarce and Marakele's appeal lies mostly in the rugged scenery and unspoiled wilderness.
Birds
Marakele hosts one of the world's largest colonies of the endangered Cape vulture. More than 800 breeding pairs nest on the mountain cliffs and groups of them may be seen in the air.
Aside from vultures, Marakele is great for checking off many other raptors riding the thermals generated by the Waterberg cliffs. The park has more than 280 bird species and migratory birds are present from November to April.
Other notable birds include the Buff-streaked chat, Cape rock thrush, the Jackal buzzard and the Mocking cliff chat.
Trees
The Marakele National Park has beautiful landscapes covering mountains, hills and valleys. and is home to towering yellowwoods and cedar trees. You will also find giant cycads and tree ferns.
Approximately 55% of the park is characterized by the Waterberg Moist Bushveld vegetation type. This vegetation type occurs in the intermediate to high lying areas in the southern and south-eastern portions of the park.
The area is also characterized by relatively high rainfall (719 mm) and the resultant leaching of the soils results in a low soil nutrient status. This limiting factor in turn results in a fairly low carrying capacity and only ubiquitous species such as kudu and common reedbuck are common in these areas.
Transvaal beechwoods can be found here as well as stem fruit trees. Another major vegetation type is the Mixed Bushveld which covers approximately 42% of the park. This vegetation type is mainly found in the northwestern and isolated southwestern pockets of the park.
Other activities at Marakele National Park
Other South African activities that visitors to Marakele National Park can look forward to on their trip:
Game drive: Explore the incredible Marakele National Park wildlife with spectacular views of large concentrations of wildlife and watch out for the Big Five in the open wild.
Bush walks: Walk with professional guides at a peaceful, relaxed pace through the extraordinary Marakele National Park where you can see birds, wildlife and beautiful tree species.
Bird watching: One of the biggest attractions amongst the Marakele National Park activities. There are around 400 types of birds in this area where two climatic regions intersect. The Waterberg massif vantage point provides spectacular views of scenery and the endangered Cape Vulture colony.
Scenic picnics: The park offers a superb picnic spot with marvelous views and the drive up the pass to see the vulture colony is a must do.
How to get to Marakele National Park?
By Plane
To get to South Africa and indeed to the park, visitors can fly to one of two airports: Cape Town International (CPT) or O.R. Tambo International Airport (JNB) in Johannesburg.
Most visitors to the park enter via O.R. Tambo International Airport (JNB) and rent a 4WD from there. It's also possible to organize a chartered flight to the Marakele airstrip. Charter flights are generally arranged by your tour operator as an inclusion to your safari package.
A South Africa visa will likely also be required per the latest entry requirements.
By Road
The only gate to the public sector of Marakele National Park is located about 280km/175mi north of Johannesburg. This is a place that you would most likely drive to on your own.
After a major rehabilitation project of the road network in the park in 2016, most of the roads are now passable in a 2WD car. If driving to the upmarket Marataba Lodge in the concession area, it is about 30km/18mi further from Johannesburg than the main gate.
Carrying a small amount of South Africa currency, the rand (ZAR) is advised for smaller purchases.
Tariffs & Regulations
Entrance fee
All Marakele National Park fees are payable at the gate at time of entrance. Park fees are valid for 24 hours.
Standard Conservation Fee (International Visitors): R240 per adult, per day & R120 per child, per day
SADC Nationals (with passport): R120 per adult, per day & R60 per child, per day
South African Citizens and Residents (with ID): R60 per adult, per day & R30 per child, per day
Regulations
If you keep to park rules, you can stay with the animals as long as they are not disturbed by your presence.
Accommodation at Marakele National Park
Tourists at Marakele National Park can choose from a number of different options when deciding where to sleep with accommodation ranging from luxury safari lodges to lower budget camping.
Cottages
Motswere Guest Cottage is a farm-house turned guest cottage in a secluded self-catering unit, aa must visit secluded place within the park for a group of friends or families and couples who would like to experience the mountainous area in the comfort of a "home" away from home.
The farm house was converted into a guest cottage in 2012 and was named Motswere (a seTswana name referring to the Leadwood tree), in recognition of this indigenous tree that is found in the area. The wild life roaming around and the roar of lions make everyone's stay in the guest cottage a great and comfortable experience.
The guest cottage boasts four fully furnished bedrooms and two bathrooms, which offers guests the magnificent view of the Waterberg Mountains and the ambiance of the area without feeling they have actually left their home.
It is beautifully furnished and offers TV with selected DSTV channels, a fully-equipped kitchen which has a fridge, microwave, kettle, cutlery and crockery, the only items that guests need to bring are their clothes and food to last them their stay.
Braai facilities and benches around the facility with spectacular views offer a more relaxed and well-rounded experience of Marakele.
Camping
Two safari tent camps are laid on in Marakele, namely Tlopi and Bontle. Tlopi tented camp makes it the ideal setting to enjoy the bush without any interference.
Bontle Rest Camp consists of 36 campsites with power points, arranged into three clusters with one communal ablution block per cluster.
It also has 10 tented units for those who would prefer a permanent structure more than putting up a tent and camp themselves. The tented units consist of four (4) family units and six (6) two sleeper units.
All these units have a private veranda and are self-catering with its own fully equipped kitchen and outdoor braai stand. The rest camp, with its unobstructed views of the unspoiled bush and mountain, is located in close proximity to the Park's main entrance gate.
Campervan
Guests on a self-drive safari with a campervan can make significant savings by sleeping in their vehicle.
Bars/restaurants/amenities
Lodges will typically have all meals and drinks included in the lodge package.
Useful information
Geography
The park is situated in the Waterberg mountain range in the Limpopo Province (formerly Northern Province) near Thabazimbi, approximately 250km north of Johannesburg, in a malaria-free area.
Safaris here can be combined with trips to Kruger National Park, Mokala National Park or Phinda Game Reserve.
Weather
The wet summer months (October to April) are hot in Marakele National Park. Dry winters (May to September) are mild during the day, but cold at night and in the morning, making warm clothing essential.
Altitudes within the park vary (983-1,986m/3,225-6,516ft), and the climate follows suit accordingly.
Even though the upper reaches are inaccessible mountain peaks, temperatures range widely within the park – the temperature lowers approximately 6.5°C per every 1,000m (or 3.5°F per 1,000ft) you ascend.
From May to September, rainfall is scarce throughout the winter season. As a result, water sources dry up and become few, so animals tend to seek out and stay close to those that they do find. Greenery also shrivels, providing optimal conditions for viewing wildlife.
In May, typical temperatures range from 7°C/45°F in the morning to 24°C/75°F in the afternoon during this transitional month, signaling the end of the summer season.
Best time to go
Understanding the best time to visit South Africa is important as this will impact accommodation, flight prices, availability and the weather that visitors can expect on their safari vacation. A South Africa visa for entry may also be required.
The best wildlife viewing in Marakele is during the dry winter months from May to September. At this time animals gather around predictable water sources and are therefore easier to spot.
Health
There is no malaria in Marakele NP, so antimalarials are not required if you aren't planning on visiting other areas in South Africa where malaria is a risk.
Antimalarials and other vaccines for South Africa are advised, as well as covering up in the evening and using mosquito repellent (those containing DEET are most effective).
It is recommended to visit a travel clinic before coming to South Africa. Several South Africa vaccinations are recommended and usually administered before your departure.
FAQs
Is Marakele malaria free?
Marakele is indeed malaria free and antimalarials are not required if you are not planning on visiting other areas in South Africa where malaria is a risk
How big is Marakele National Park?
Marakele National Park is 258.7 sq miles or 165,000 acres of parklands in the Waterberg Biosphere in Limpopo Province, South Africa
What animals are in Marakele National Park?
Visitors to Marakele National Park will find the Big Five including the lion, leopard, rhino, elephant, buffalo as well as antelopes and tsessebe.