Spioenkop Game Reserve on the eastern side of South Africa in KwaZulu Natal is a small, but very scenic, game reserve at the base of the Drakensberg Mountains with a small wildlife-viewing circuit for self-drive visitors.
Central to the reserve is a large dam open to the public for fishing and water sports. White rhino, giraffe and zebra are usually seen in the thorny savannah that contrast magnificently with the restful waters of the Spioenkop Dam.
The abundance and variety of species assures visitors a rewarding game experience in an area located some 21 miles from Ladysmith and 8 miles from Winterton, making it a popular weekend water sport and wildlife destination.
Why visit Spioenkop Game Reserve?
Spioenkop Game Reserve safari
The small size of Spioenkop means it isn't able to sustain populations of some of the bigger animals and predators. The exception is the white rhino, which can be found roaming around the reserve.
A trip to Spioenkop will take visitors to the famous battlefield site, which witnessed one of the most bloody battles to ensue during the Anglo-Boer War in an attempt to lift the Siege of Ladysmith.
On the site, the 360 degree views from the summit of Spioenkop Mountain are breathtaking and visitors will see lush green plains and the beckoning peaks of the Drakensberg, which extend from Giant's Castle to the Sentinel in Royal Natal National Park.
In winter, the slopes are covered with massive flowering aloes and safari enthusiasts can enjoy wildlife viewing along the small circuit, which is great for self-drive visitors, and there are horseback safaris and hiking trails in the reserve.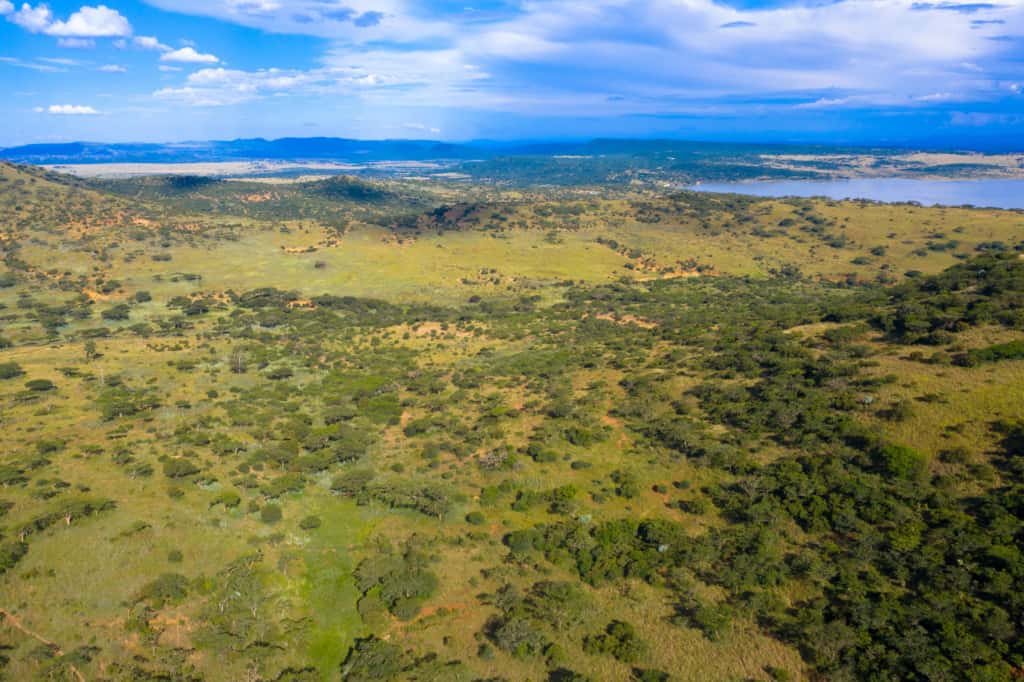 Animals
As South African safaris go, visitors to the park find their choices more limited. Since part of the park is not accessible by car, seeing rhinos is not guaranteed. Other species regularly encountered are kudu, eland, blue wildebeest, zebra, waterbuck and blesbok.
The park is never too busy meaning visitors can view the wildlife with comfort which also includes giraffes, large numbers of buck, warthogs and other small wildlife walking around in close proximity.
Picnic sites litter the shore around the dam and the Discovery Trail, which splits into a 3 kilometer and 6 kilometer loop that wind around the dam's southern shore in an area free of dangerous game to provide superb walking opportunities.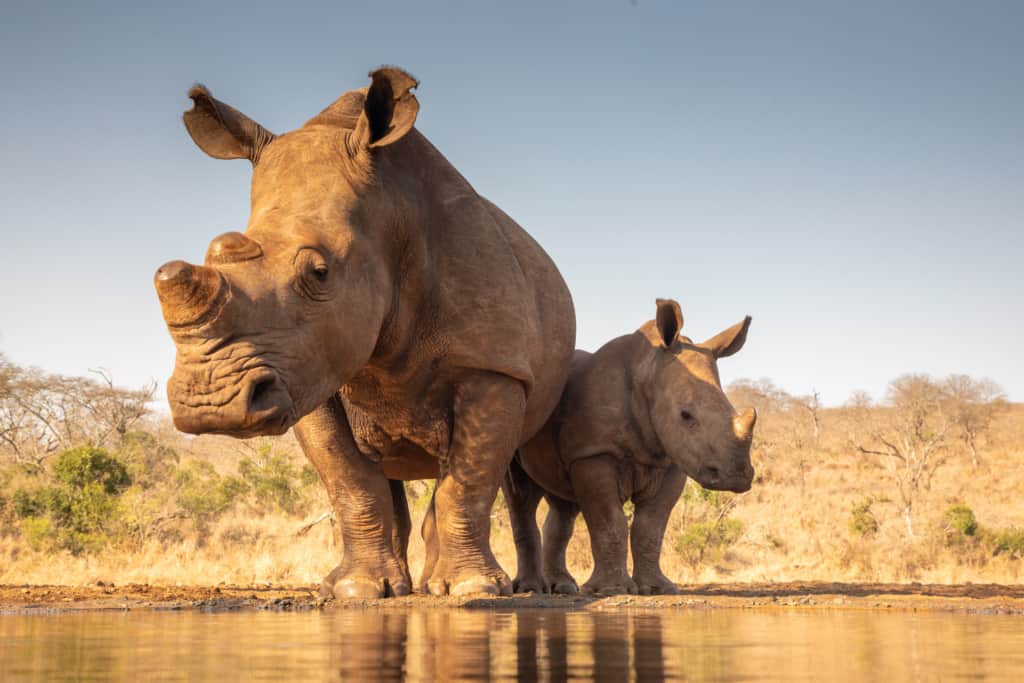 Birds
Birding can be good with some bushveld specials. Summer can be exceptional with the variety of cuckoos a highlight.
The surrounding grassland areas support several breeding species of large terrestrial birds, including Blue Crane, Gray Crowned Crane and the Secretary bird. Visitors can also find the Secretary bird, Denham's Bustard and the White-bellied Bustard.
Other activities at Spioenkop Game Reserve
Other South African activities that visitors to Spioenkop Game Reserve can look forward to on their trip:
Game drive: Explore the incredible Spioenkop Game Reserve wildlife with views of wildlife and large numbers of birds in the open wild.
Bush walks: Walk with guides at a peaceful, relaxed pace through the extraordinary Spioenkop Game Reserve where you can see birds, wildlife and beautiful tree species.
Photography: Visitors can head off to the nearby Drakensberg Mountains and take spectacular photographs and enjoy the vast scenic mountain range scenery.
Cultural village: The local cultural village near Phuthaditjhaba is very informative in terms of the cultural lives of the early San People who used to inhabit the region.
How to get to Spioenkop Game Reserve?
By Plane
To get to South Africa, visitors can fly to one of two airports: Cape Town International (CPT) or O.R. Tambo International Airport (JNB) in Johannesburg.
From Johannesburg, visitors will have to drive 4 hours south. A visa for South Africa will likely also be required per the latest entry requirements.
By Road
The reserve is northeast of Bergville, but the entrance is on the eastern side, 13km from Winterton off R600.
If you're coming from the south on the N3, take exit 194 for R74 towards Winterton. The Spioenkop battlefield is accessed from R616 via Bergville (not R600; follow the signs). Due to deteriorated road conditions in the reserve a 4WD or vehicle with high clearance and good traction is necessary.
Carrying a small amount of South Africa currency, the rand (ZAR) is advised for smaller purchases.
Tariffs & Regulations
Entrance fee
All Spioenkop Game Reserve fees are payable at the gate at time of entrance. The entrance fee is 50 rand (USD $2.70).
Gate Opening and Closing Times:
Summer (October to March) from 6am to 7pm
Winter (April to September ) from 6am to 6pm
Regulations
If you keep to park rules, you can stay with the animals as long as they are not disturbed by your presence.
Accommodation at Spioenkop Game Reserve
Tourists at Spioenkop Game Reserve can choose from a number of different options when deciding where to sleep with accommodation options including luxury safari lodges.
Lodges
Three Trees at Spioenkop (also known as Three Tree Hill lodge) is an eco-friendly lodge that places great emphasis on luxury with its eighteen bedroom lodge.
This owner-managed accommodation keeps with its historical theme and seven cottages were constructed to resemble the housing kits brought out from Britain in the 19th century; the emphasis is simple luxury with style.
Verandas overlook the reserve, where guests can watch rhinos, giraffes, zebras and more and bird-watch the over 300 species recorded in the area from the comfort of your own private deck.
Another great accommodation option is the Dalmore Guest Farm, an intimate, family friendly destination offering bed and breakfast and self-catering units. The guest farm has comfortably furnished rooms with en-suite bathrooms, tea and coffee-making facilities and fans.
Camping
There are 30 sites in Spioenkop, each accommodating a maximum of six people and are suitable for tents or caravans.
The sites have communal ablution blocks with hot and cold water. Those wanting to visit for the day can also find plenty of accommodation options near the reserve.
Campervan
Guests on a self-drive safari with a campervan can make significant savings by sleeping in their vehicle.
Bars/restaurants/amenities
Lodges will typically have all meals and drinks included in the lodge package.
Useful information
Geography
Spioenkop Game Reserve is located in KwaZulu Natal on the eastern side of South Africa at the base of the Drakensberg Mountains. The area is also located close to Lesotho and safaris here can be combined with trips to Kruger National Park or Phinda Game Reserve.
Weather
Winter is from May to September in South Africa and summer from October to April. These are the opposite times compared to the European and North America seasons.
In Spioenkop, the Dry season occurs in winter and the Wet season in summer. Winter gets cold with occasional snow. The winter months are very cold in the morning and remain cool throughout the day.
Best time to go
Understanding the best time to visit South Africa is important as this will impact accommodation, flight prices, availability and the weather that visitors can expect on their safari vacation. A South Africa visa for entry may also be required.
Spioenkop Game Reserve is a great place to visit all year round. The best time to go wildlife viewing however is during the dry season, between June and September, when the wildlife congregates around the dam to stay hydrated. For those looking for summer activities, the best time of year is from October to April.
Health
Your doctor can also provide you with assistance in preventing malaria, which may be a concern if traveling to wildlife areas of South Africa where malaria is present.
Antimalarials and other vaccines for South Africa are advised, as well as covering up in the evening and using mosquito repellent (those containing DEET are most effective).
It is recommended to visit a travel clinic before coming to South Africa. Several South Africa vaccinations are recommended and usually administered before your departure.
FAQs
Where is Spioenkop Game Reserve located?
Spioenkop Game Reserve is located on the eastern side of South Africa in KwaZulu Natal. From Johannesburg, the journey will take 4 hours to drive
What animals will visitors see at Spioenkop Game Reserve?
Visitors to Spioenkop Game Reserve will see white rhinos, giraffes, kudu, eland, blue wildebeest, zebra, waterbuck, blesbok and warthogs
How much is the Spioenkop Game Reserve entrance fee?
The entrance fee for visitors to Spioenkop Game Reserve is 50 rand (USD $2.70)