Addo Elephant National Park is South Africa's third-largest national park, located in the south of the country, some 60 minutes from Gqeberha (Port Elizabeth).
Addo is unique in that it is the only park in the whole world to shelter the Big 7 including the Elephant, Lion, Leopard, Rhino, Buffalo as well as the southern right whale and great white shark.
The park was founded in the year 1931 and was built for protecting the remaining 11 elephants in the area and now this place holds over 600 elephants and other mammals.
For the accommodation of such amazing species, the Addo Elephant National Park has expanded its quarters from the Sundays River to Alexandria and has also included St Croix and Bird Island which is a marine reserve and an essential ground for penguins and gannets.
Why visit Addo Elephant National Park?
Addo Elephant National Park safari
Addo Elephant National Park is not only known for the famous Addo elephants but also the dense vegetation that surrounds this area and the animals and birds which live here and make this place even more stunning.
The elephants however are to the Addo National Park what the polar bears are to the Arctic. Without them, Addo Park would not be Addo Park and seeing over 600 of these magnificent creatures in the open is an incredible sight to behold.
On an Addo safari, you'll also see lots of Black Back Jackals, Red Hartebeest, 400 Cape buffaloes and spotted hyenas. Apart from the game park drive, visitors can also go on horse trails, hiking (including a 32km stretch), whale watching, shark cage diving, bird watching and even visit important historical sites.
Addo is also very well set up for a self-drive safari. The main entrance and the two looped roads are sealed and the smaller tracks are gravelled. You can easily explore the park in a 2WD vehicle.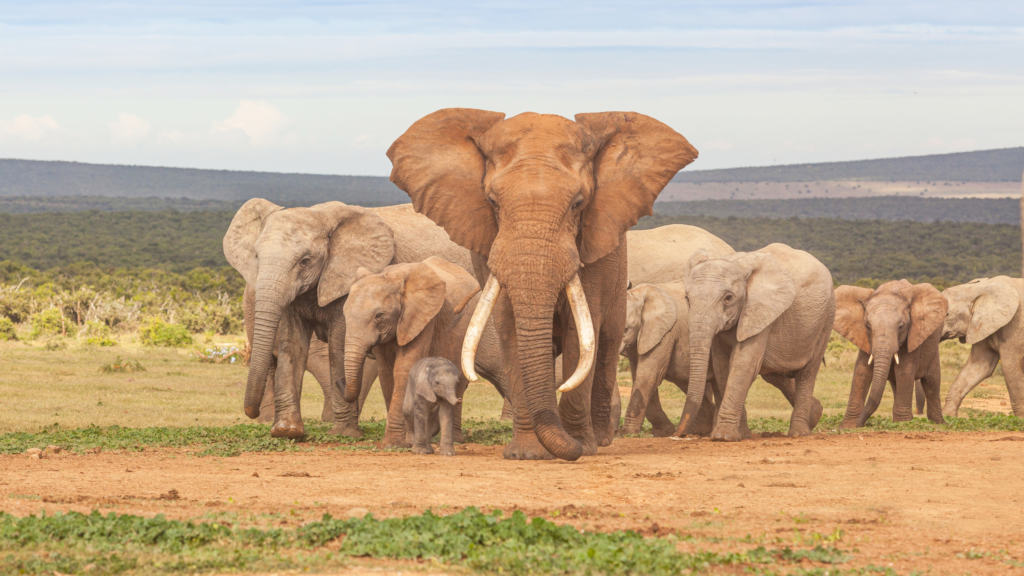 Animals
As South African safaris go, elephant lovers are in for a treat as Addo's top attraction is the elephant population. All of the Big Five are present, and lions are sometimes encountered early in the morning.
The black rhino is very shy and tends to stay in the thickets. Giraffes are absent, as it has never occurred in the area, and hippo are only found in the rarely visited Zuurberg Mountains section of the park.
Some of the more interesting antelope species regularly encountered are greater kudu, red hartebeest and eland. The endemic flightless dung beetle has right-of-way on the roads and plays an important role in recycling nutrients to stimulate vegetation growth.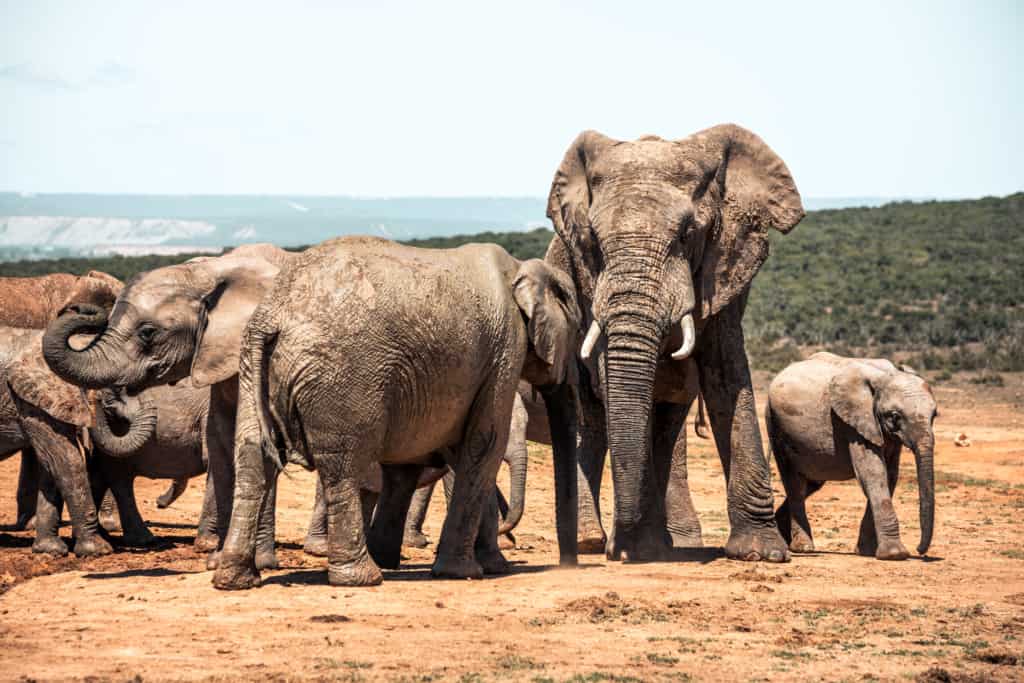 Birds
All the photographers and bird enthusiasts will fall in love with this place as this is an ideal spot for watching the diverse birds living in this national park.
A great number of birds live and breed here some of which are – Fork-tailed Drongo, Cape Robin, Grey Cuckoo Shrike, Martial Eagle, Cape Parrot, Hooded Kingfisher and Cape Gannet. The open grassy areas and coastal islands attract these birds which take shelter in this wonderful park.
Trees
Tucked away in the dense valley-bushveld of the Eastern Cape lies the Addo Elephant National Park.
The diversity of Addo Elephant Park's landscapes ranges from dense bushveld and shrubs to a wide range of trees including large numbers of "Spekboom" trees and rocky areas.
Among other plant species are the trees, Fuchsia, Sneezewood, Guarri, succulents and many types of shrub. In the original Addo Elephant National Park section, there was little naturally occurring surface water, hence the authorities have had to sink boreholes, which supply a number of dams.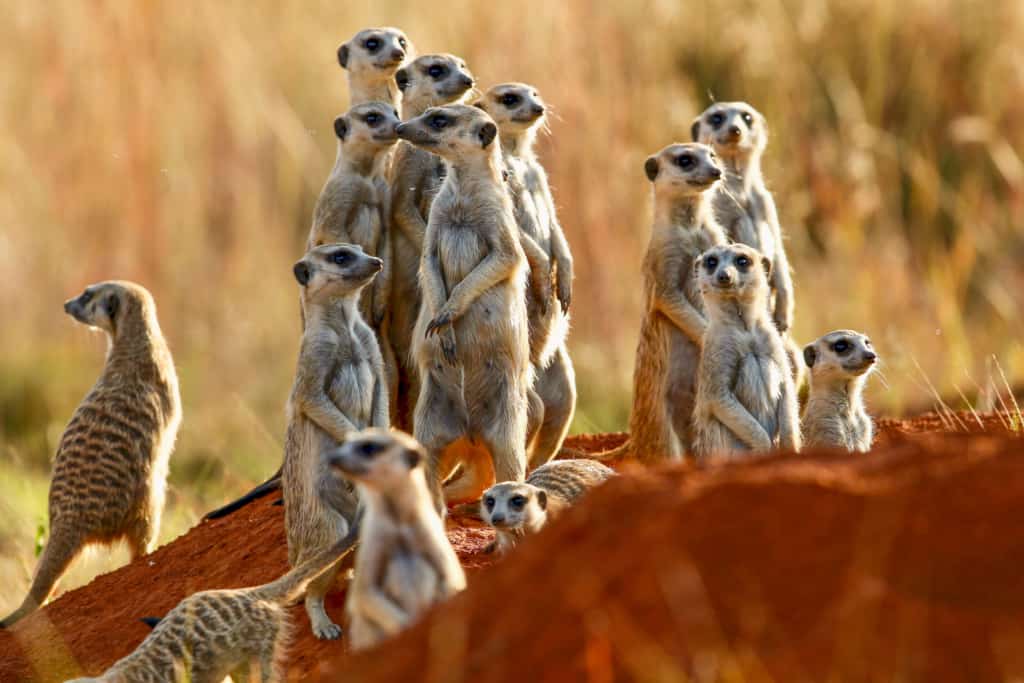 Other activities at Addo Elephant National Park
Other things to do in South Africa that visitors to Addo Elephant National Park can look forward to on their trip:
Game drive: Exploring Addo Elephant National Park's wildlife with spectacular views of large concentrations of elephants.
Bush walks: Walk with professional guides at a peaceful, relaxed pace through the extraordinary Addo Elephant National Park NP where you can see birds, wildlife and beautiful tree species.
Hiking: Alexandria hiking trail is the most popular hiking trail in this national park. This two day hiking trip is through the Woody Cape section of this national park in the Eastern Cape. There are many different trails from which you can choose.
Bedrogfontein 4×4 Trail: Situated between Kabouga and Darlington this trail is 45km long and offers stunning view of the the place where the battle between Afrikaner and British troops was held during the Anglo Boer War.
Hayterdale Trail: This is a hand built trail which has mountain bike events and has many different trails from which you can choose. The sports are for the adventure-junkies mainly but a new 12 km trail for beginners and flatlands has been added.
How to get to Addo Elephant National Park?
By Plane
Gqeberha (Port Elizabeth) is the nearest domestic airport from the park and is just 75 km away from Addo. You can book a cab or a car as there are many car agencies near the airport.
To get to South Africa and indeed Addo, most visitors fly into O.R. Tambo International Airport (JNB) in Johannesburg or Cape Town International Airport (CPT). Many people will drive from Cape Town to Addo via the Garden Route, over the course of a week or two.
A South Africa will likely also be required per the latest entry requirements.
By Road
Buses are quite accessible in this area and many buses are provided around this park. A 4×4 car is best suited for tourists or a high clearance vehicle if you are interested in travelling to Narina Bush Camp.
Carrying a compact amount of some local South Africa currency, the rand (ZAR) is advised for smaller purchases.
Tariffs & Regulations
Entrance fee
All Addo Elephant National Park fees are payable at the gate at time of entrance. Park fees are valid for 24 hours.
The entrance fee for international visitors to Addo Elephant National Park is R360 (USD $21) per adult, per day and R180 (USD $11) per child, per day.
Regulations
If you keep to park rules, you can stay with the animals as long as they are not disturbed by your presence.
Accommodation on an Addo Elephant Park safari
Tourists at Addo Elephant National Park can choose from a number of different options when deciding where to sleep with accommodation ranging from luxury safari lodges to lower budget camping.
Lodges
Gorah Elephant Camp is a colonial house and is the perfect place where you can just watch the Addo elephants roam around while sipping your tea and have the most beautiful experience of your life.
This safari lodge makes your stay in this national park even more memorable. Situated in the heart of Big 5 this place is a combination of colonial style houses and the natural African world.
Another great option is the Addo Elephant Safari Lodge, situated near the Yellow side forest. This is among one of the best Addo lodges and has exquisite sights from the hillside.
It perfectly blends with the surroundings and has a private and exclusive suite from where you can take in all the glory that surrounds this lodge. This environment-friendly lodge is designed using the recycled Brazilian pines and canvas.
Camping
Addo Rest Camp offers a wide variety of accommodation units to suit all tastes and plenty of activities to keep visitors busy. A unique feature is the waterhole lookout point, floodlit at night, within the camp as well as the underground hide, allowing close encounters with wildlife at the waterhole.
The evenings are punctuated with the calls of lion, spotted hyena and jackal while francolin and bokmakierie herald each dawn.
Accommodation units are situated within easy walking distance of each other and of facilities such as the swimming pool, restaurant and shop. Bookings are made through central reservations.
Campervan
Guests on a self-drive safari with a campervan can make significant savings by sleeping in their vehicle.
Bars/restaurants/amenities
Lodges will typically have all meals and drinks included in the lodge package.
Useful information
Geography
Addo Elephant National Park is located in the south of the country, 60 minutes from Gqeberha (Port Elizabeth) in South Africa's Eastern Cape Province, an area known for its numerous beaches
Safaris here can be combined with trips to Kruger National Park, Amakhala Game Reserve or Kgalagadi Transfrontier Park.
Weather
Addo Elephant National Park receives an average rainfall of less than 450mm/17.7in per year. Unlike the summer rainfall pattern covering most of the country, rainfall is relatively evenly distributed throughout the year, but there are two peaks: in February-March and October-November.
It can cool down to freezing in mid-winter. The park covers a wide range of altitudes, but the main tourist area is under 250m.
Best time to go
Understanding the ideal time to visit South Africa is important as this will impact accommodation, flight prices, availability and the weather that visitors can expect on their safari vacation. A South Africa visa for entry may also be required.
Wildlife viewing in Addo Elephant National Park is good throughout the year. Because it has an arid to semi-arid climate, animals are attracted to water holes at any time, but more so during the driest winter months (June to September).
The drawback to winter is that nights can become very cold and winter clothing is needed for early morning game drives, especially when using an open vehicle.
Health
Addo is generally considered to be malaria free, and antimalarials aren't necessary if you don't intend to visit those other parts of the country where there is a small risk during the wet summer months.
Antimalarials and other vaccines for South Africa are advised, as well as covering up in the evening and using mosquito repellent (those containing DEET are most effective).
It is recommended to visit a travel clinic before coming to South Africa. Several South Africa vaccinations are recommended and usually administered before your departure.
FAQs
Where is Addo Elephant National Park located?
Addo Elephant National Park is located in the south of the country, 60 minutes from Gqeberha (Port Elizabeth) in South Africa's Eastern Cape Province, an area known for its numerous beaches
What animals will visitors see at Addo Elephant National Park?
Visitors to Addo Elephant National Park will see over 600 elephants, all of the Big Five and antelope species including greater kudu, red hartebeest and eland.
How much is the Addo Elephant National Park entrance fee?
The entrance fee for international visitors to Addo Elephant National Park is R360 (USD $21) per adult, per day and R180 (USD $11) per child, per day.