Karoo National Park is primarily a wilderness destination, found in the mid-west of South Africa, some 450km from Cape Town. Although it is home to a variety of wildlife, many typical safari animals are absent.
The Great Karoo is the largest ecosystem in South Africa, and doesn't appear to be anything more than vast nothingness to people driving between Johannesburg and Cape Town. Most of the wildlife that once roamed here has been eradicated, but Karoo National Park is a relatively small area where this unique habitat and its animals are protected.
The park is dominated by the Nuweveld Mountains and rolling plains and this dramatic, rugged landscape brings with it excellent birding including and rich reptilian fauna, including five tortoise species.
Why visit Karoo National Park?
Karoo National Park safari
Two of the Big Five have been re-introduced including lion and black rhino, but they are only occasionally seen.
Large herbivores to look out for are red hartebeest, black wildebeest, eland, Cape mountain zebra, kudu and springbok. Klipspringers are regularly seen on the pass of the same name.
Guests arriving at Karoo do so generally with one thing in mind: exploring. An elephantine ecosystem and home to a collection of fossils dating back millions of years, the Karoo park plays host to a fascinating cross section of specially adapted species, capable of surviving the area's harsh climate.
Sunsets drenched in rose-amber hues are framed by the lofty Nuweveld Mountains and neighboring plains. Many of the park's endemic species have been relocated to their former ranges, such as black rhino and buffalo, as well as Cape mountain zebra, while over twenty breeding pairs of black eagle are to be found within the park.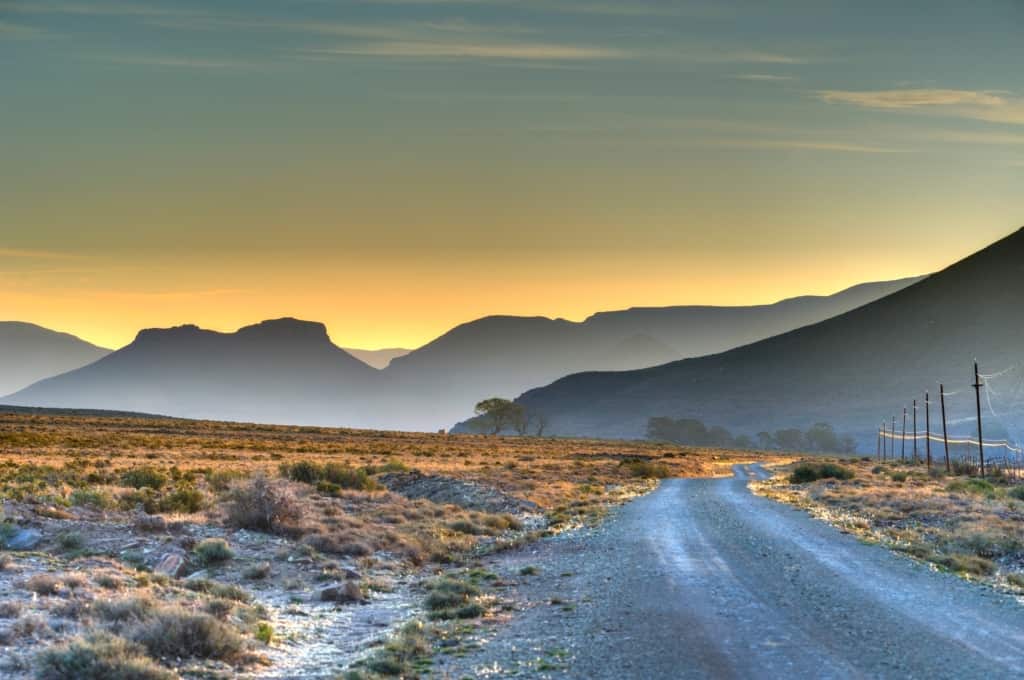 Animals
As South African safaris go, visitors won't find the Big Fiver here. The park however is known a sanctuary for herds of springbok, gemsbok (or Oryx), Cape mountain zebra, red hartebeest, black rhinoceros, eland, kudu, klipspringer, bat-eared foxes, black-backed jackal, ostriches and lions.
Lion and black rhino have been reintroduced, but as large parts of the park are inaccessible, sightings of these animals are unlikely.
Although wildlife viewing is mostly low-key, a good variety of antelope species can be seen. Also keep your eyes open for tortoises; five different species are present. Bat-eared fox is one of the small predators to look out for.
Two types of zebra are found in the park: the common Burchell's zebra and the rare endemic Cape mountain zebra. The localized black wildebeest is a common companion to the zebras as both like to eat the same grass.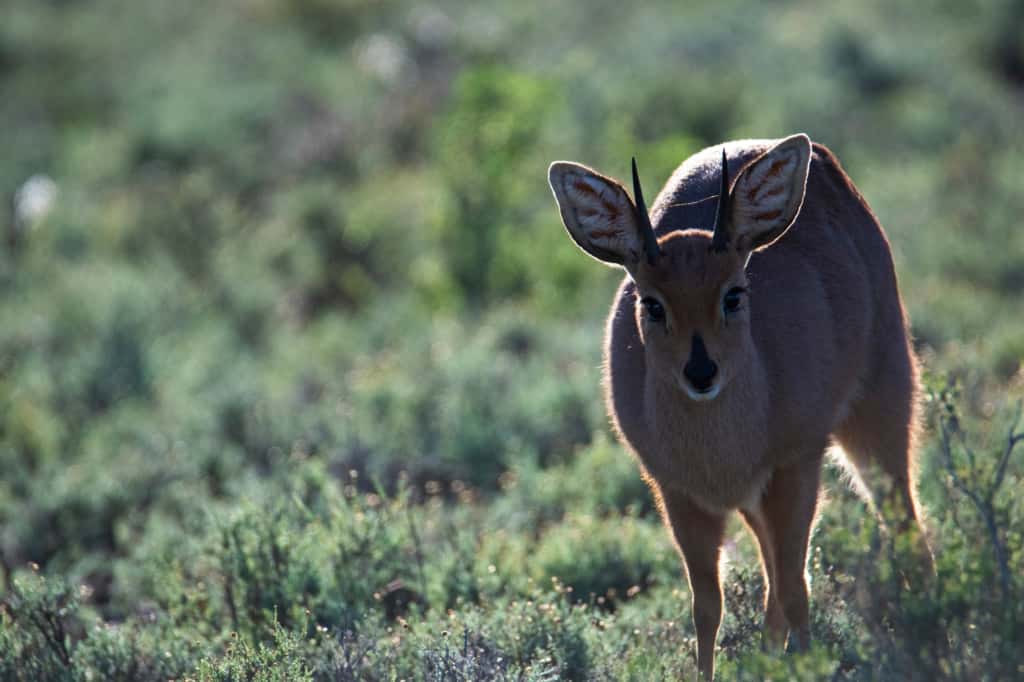 Birds
Karoo National Park is one of the best birding spots in the Great Karoo. Its bird list of over 200 species includes many Karoo specials, such as Karoo bustard and Karoo long-billed lark.
As is often the case, the best birding is in and around the campsite – take a stroll out there even if you're not camping. Also look out for the Verreaux's eagle soaring over the cliffs. The bird shelter at the dam is an excellent place to add some waders to your list. Migratory birds are present from November to April.
Visitors can expect to find Karoo scrub robins, Karoo prinias, Ostriches and Verreax's eagles.
Trees
The Grassland Biome is represented by the Karoo Escarpment Grassland vegetation types, which is part of the Dry Highveld Grassland Bioregion.
The physical appearance of the vegetation consists of Montane Karoo grassy shrublands, Karoo grassy dwarf shrublands, Karoo succulent dwarf shrublands and riparian thickets.
The Karoo "bossies" (several plant species) gives the Karoo its original character and flavour. Shrubs and trees form the basic browsing source for many of the wildlife species.
Other activities at Karoo National Park
Other South African activities that visitors to Karoo National Park can look forward to on their trip:
Guided game drive: 4×4 trails challenge those with experience behind the wheel, while the Main Rest Camp offers two trails for safe hiking. The first is the Fossil Trail, a quarter-mile walkway lined with geology and paleontology exhibits relating to the Great Karoo's past, including genuine fossils and petrified wood.
Hiking and mountain-biking: The second trail in the park is the Sylvester Single Track, a scenic 1.6-mile trail for mountain biking and hiking.
Old Schuur Interpretive Centre: For a deeper look at the history and ecology of the park and the wider Karoo area, head to the centre housed in a restored farm building from the 1800s.
Picnic: The park also has two fenced picnic sites perfect for making the most of hot summer days. One, Bulkraal picnic site, is located six miles from reception on the Lammertjiesleegte route and offers a braai area and swimming pool. The other, Doornhoek, is located roughly halfway around the circular Potlekkertjie Loop.
Wherever activity you go on, keep an eye out for the park's superbly adapted wildlife, ranging from predators like lions and caracal, to endemic Karoo bird species.
How to get to Karoo National Park?
By Plane
To get to South Africa and indeed to the park, visitors can fly to one of two airports: Cape Town International (CPT) or O.R. Tambo International Airport (JNB) in Johannesburg.
The closest airport is George Airport (GRJ), approximately 300km/187mi from the park. Car rental is also available in George. A South Africa visa will likely also be required per the latest entry requirements.
By Road
The park is located 12km/7mi outside the town of Beaufort West on the N1 highway between Johannesburg and Cape Town and is primarily visited as a stopover on a self-drive trip.
The distance from Johannesburg is approximately 1,000km/622mi, while it's only 500km/310mi from Cape Town. A normal car can be used to visit the park, but many tracks are limited to 4×4 only.
Carrying a small amount of South Africa currency, the rand (ZAR) is advised for smaller purchases.
Tariffs & Regulations
Entrance fee
All Karoo National Park fees are payable at the gate at time of entrance. Park fees are valid for 24 hours.
Standard Conservation Fee (International Visitors): R240 per adult, per day & R120 per child, per day
SADC Nationals (with passport): R120 per adult, per day & R60 per child, per day
South African Citizens and Residents (with ID): R60 per adult, per day & R30 per child, per day
Regulations
If you keep to park rules, you can stay with the animals as long as they are not disturbed by your presence.
Accommodation at Karoo National Park
Tourists at Karoo National Park can choose from a number of different options when deciding where to sleep with accommodation ranging from luxury safari lodges to lower budget camping.
Chalets
If you don't feel like sleeping under canvas, the rest camp also has some beautiful Cape Dutch-style chalets and cottages. The chalets feature an open-plan living area with two single beds, a double sleeper couch, and a kitchenette.
The cottages have an open-plan kitchen and lounge, and either one or two separate bedrooms. All guests are welcome to use the rest camp swimming pool, shop, and licensed restaurant. The latter serves a la carte meals for breakfast and dinner every day.
Cottages
For a more authentic wilderness experience, consider booking a stay at the excellent Afsaal Cottage, an old shepherd's hut, located inside the park's game-viewing area.
It's 22 miles from the Main Rest Camp, and can only be accessed with a 4×4 via the Asfaal Loop. Expect solar-powered electricity and hot water, a double bed, and two stretcher beds big enough for children only.
You can cook outside on one of two braais, and stay up late watching wildlife at the floodlit waterhole in front of the cottage.
Between the waterhole and the fact that you'll have earlier access to the game-viewing area, a stay at Asfaal Cottage is a good way to increase your chances of seeing the park's more elusive animals. A two-night minimum stay is required. Embizweni Cottage is another great cottage alternative in a remote part of the park.
Camping
The park's Main Rest Camp includes 12 camping and caravan sites, all with 220V power points and access to a communal ablution and kitchen block. There's plenty of hot water, and a laundry with coin-operated washing and drying machines.
Campervan
Guests on a self-drive safari with a campervan can make significant savings by sleeping in their vehicle.
Bars/restaurants/amenities
Lodges will typically have all meals and drinks included in the lodge package.
Useful information
Geography
Karoo National Park is located in the Great Karoo area of the Western Cape, near Beaufort West and some 80 minutes drive from Cape Town.
Safaris here can be combined with trips to Gondwana Game Reserve, Kwandwe Private Game Reserve or Phinda Game Reserve.
Weather
Located in an arid to semi-arid desert area, Karoo National Park is prone to wide variations in temperature and little to no rainfall. The park receives an average rainfall of 220mm/78.7in per year and is subject to periods of drought.
Although the annual average minimum and maximum temperatures are 9°C/48°F and 24°C/75°F respectively, the climate is one of extremes, and temperatures range from –15°C/-27°F on the plateau in winter to over 40°C/104°F on the plains in summer.
Best time to go
Understanding the best time to visit South Africa is important as this will impact accommodation, flight prices, availability and the weather that visitors can expect on their safari vacation. A South Africa visa for entry may also be required.
With Karoo NP's arid to semi-arid climate, wildlife viewing isn't much influenced by the seasons.
Summer and winter have extreme temperatures, so the best time to visit is in spring (August, September) and autumn (April, May) when the days are not too hot, and the nights are mild. Blooming flowers make spring a particularly attractive time.
Health
Before traveling to South Africa, you might need several vaccinations (consult your local doctor). You can refrain from taking antimalarials, however, as there is no malaria in Karoo National Park. Malaria is typically only a concern in the north eastern part of the country.
Antimalarials and other vaccines for South Africa are advised, as well as covering up in the evening and using mosquito repellent (those containing DEET are most effective).
It is recommended to visit a travel clinic before coming to South Africa. Several South Africa vaccinations are recommended and usually administered before your departure.
FAQs
Where is Karoo National Park located?
Karoo National Park is located in the Great Karoo area of the Western Cape, near Beaufort West, some 5.5 hours drive from Cape Town.
What animals will visitors see at Karoo National Park?
Visitors to Karoo National Park will see Black Rhino, Buffalo, Lion, Common Eland, Southern Gemsbok (Oryx) and Cape Mountain Zebra, Gemsbok and Burchell's zebra. Greater Kudu are also common and can often be spotted along the watercourses.
How much is the Karoo National Park entrance fee?
The entrance fee for international visitors to Karoo National Park is 240 rand per adult per day for international visitors and 120 per day per child.