The Kgalagadi Transfrontier Park (TP) is a 14,672 square mile wildlife and nature conservation area in Botswana, southern Africa and is famous for its predator species including the black-maned lion, hyena, bat-eared fox, leopard, gemsbok and cheetah.
The park is situated in the Kalahari desert region under joint management from a merger between the Gemsbok National Park situated in Botswana and the Kalahari Gemsbok National Park of South African national parks.
Most of the park (73%) lies in Botswana, managed by the Department of Wildlife and National Parks.
Why visit the Kgalagadi Transfrontier Park?
Safari at the Kgalagadi Transfrontier Park
Game drives are a real treat with abundant wildlife and beautiful scenery galore in the arid wide open spaces.
Kgalagadi can be compared to Kruger National Park in South Africa, but is far less busy and has smaller tourist numbers. The birding here is also excellent with superb photo opportunities and upmarket lodges for visitors to rest after a long day viewing predators.
Although the park attracts many visitors to South Africa and Botswana, most visitors tend to go to the South African side where facilities are more developed.
A popular destination with safari tours, the park offers plenty of attractions and wildlife for couples on a Botswana honeymoon safari and groups on a luxury safari.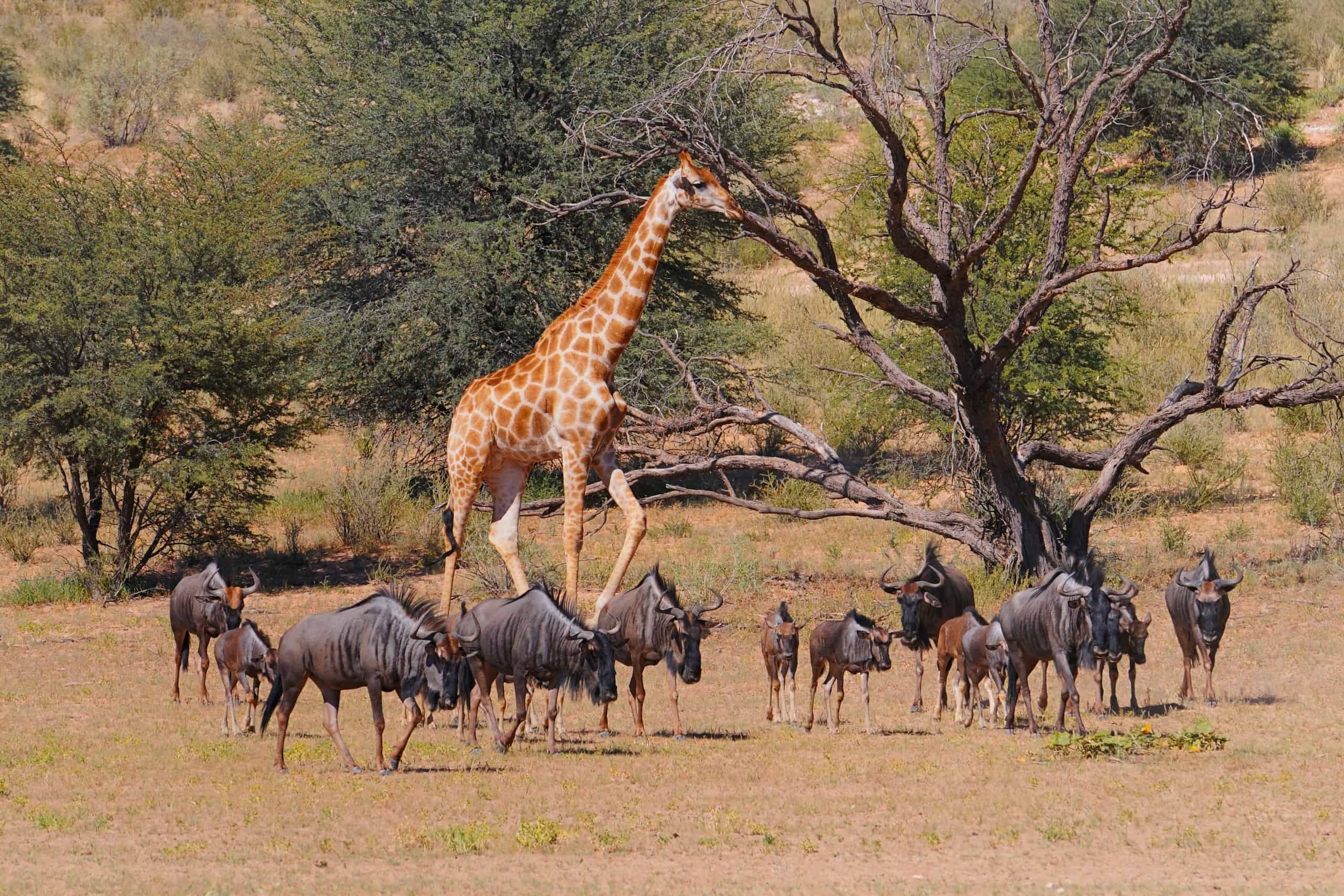 Animals
The park has large populations of predators including lions, cheetahs and leopards as well as hyenas, bat-eared foxes, yellow mongoose, suricates, jackals, meerkats and big cats.
The desert-adapted springbok and gemsbok are the main antelope species.
The dry river beds from the Nossob River and Auob River are always empty unless a thunderstorm causes them to flow temporarily. The sparse trees along the river banks are excellent places for game viewing as they provide shelter for some of the Kgalagadi animals.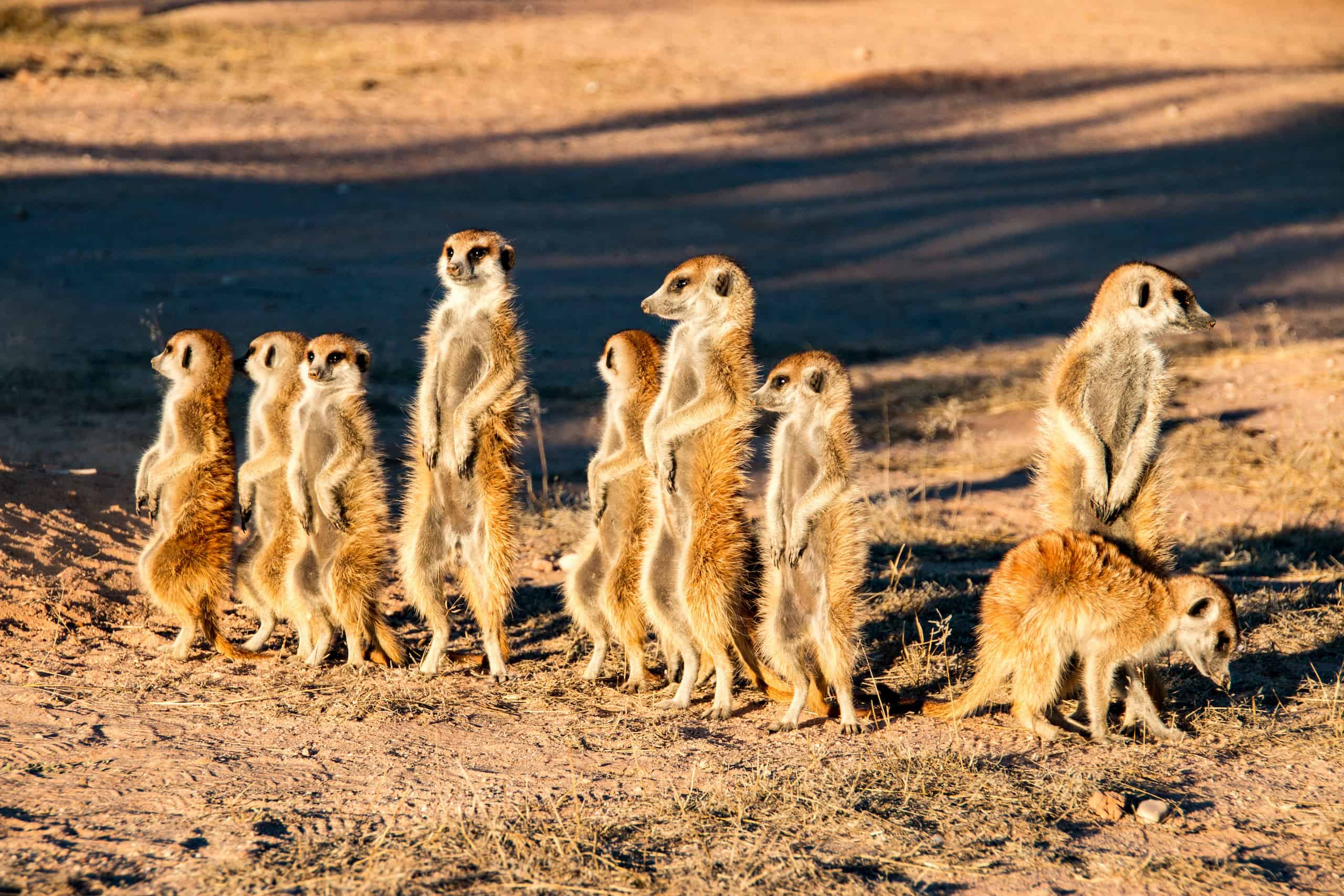 Birds
More than 300 bird species can be found in the area including raptors, migrant birds, black chested snake eagle, bateleur, white-backed and lappet-faced vulture and the tawny eagle.
Other activities at Kgalagadi TP
Although not a national park in Botswana, Kgalagadi offers visitors many different activities when it comes to experiencing the beauty of this area.
4×4 Eco trail
Extending between the Nossob river and the Twee Rivieren river, the Nossob 4×4 Eco Trail is 133 miles long and requires about 85 hours to complete.
Auchterlonie museum
Experience how people lived here over 100 years ago. The museum is a small restored stone & thatch cottage, giveing a great insight into the history of the people in the area.
Mountain bike safaris
Cycle different trails at a leisurely pace along ancient elephant migration paths. Hakskeenpan is a huge salt & mud pan in the Mier region of the Kalahari Desert.
Check out our article on the best things to do in Botswana which includes other activities including eco safari walks with local bushmen.
How to get to Kgalagadi TP?
Located over 520 miles from the capital Gaborone and 10 hours driving, visitors may prefer to fly-in. Visitors who drive are recommended to hire a 4×4 and see the incredibly diverse range of Botswana animals and scenery.
For visitors wondering how to get to Botswana, you can fly to Maun (MAU), Gaborone (GAB) or Kasane (BBK) airports. A Botswana visa and certain vaccinations may also be required to enter the country.
South Africa side
Many visitors from South Africa will fly from Johannesburg and Cape Town to Upington Airport (UTN), still a 124 mile drive from Kgalagadi by 4×4 or car rental.
Chartered flights also are available, landing at Twee Rivieren gate at Kgalagadi with trips often combined with tours of some of Botswana's best parks and reserves to the Okavango Delta and Chobe National Park ecosystem.
Botswana side
Visitors from Botswana can fly to Gaborone (GBE) airport and drive to the Mabuasehube Gate using a 4×4 vehicle, a drive of 330 miles and 12 hours.
Another option is to take a chartered flight to Tshabong and drive to Kgalagadi, a journey of 71 miles.
Tariffs & Regulations
Entrance fee to Kgalagadi Transfrontier Park
For international visitors, daily fees cost $26 per adult and $13 per child. For South African citizens, daily fees cost $6.50 and $3.30 per child.
Carrying a small amount of Botswana currency, the Pula (BWP) is useful when paying for smaller food or ticket items.
Regulations
When visitors enter the game reserve, they must follow common sense rules including picking up waste, respecting the reserve schedules and staying in the vehicle when required.
Accommodation at Kgalagadi Transfrontier Park
Excellent accommodation options for all parties can be found at Kgalagadi TP including luxury lodges, chalets and campsites.
Lodges
A number of lodge options are available including the '!Xaus Lodge' which lies within a private reserve run by Khomani San/Bushmen communities.
Perched on a dune, overlooking a salt pan and a fresh waterhole, it is the only camp in this park where all meals, guided game drives and walks are included in your stay.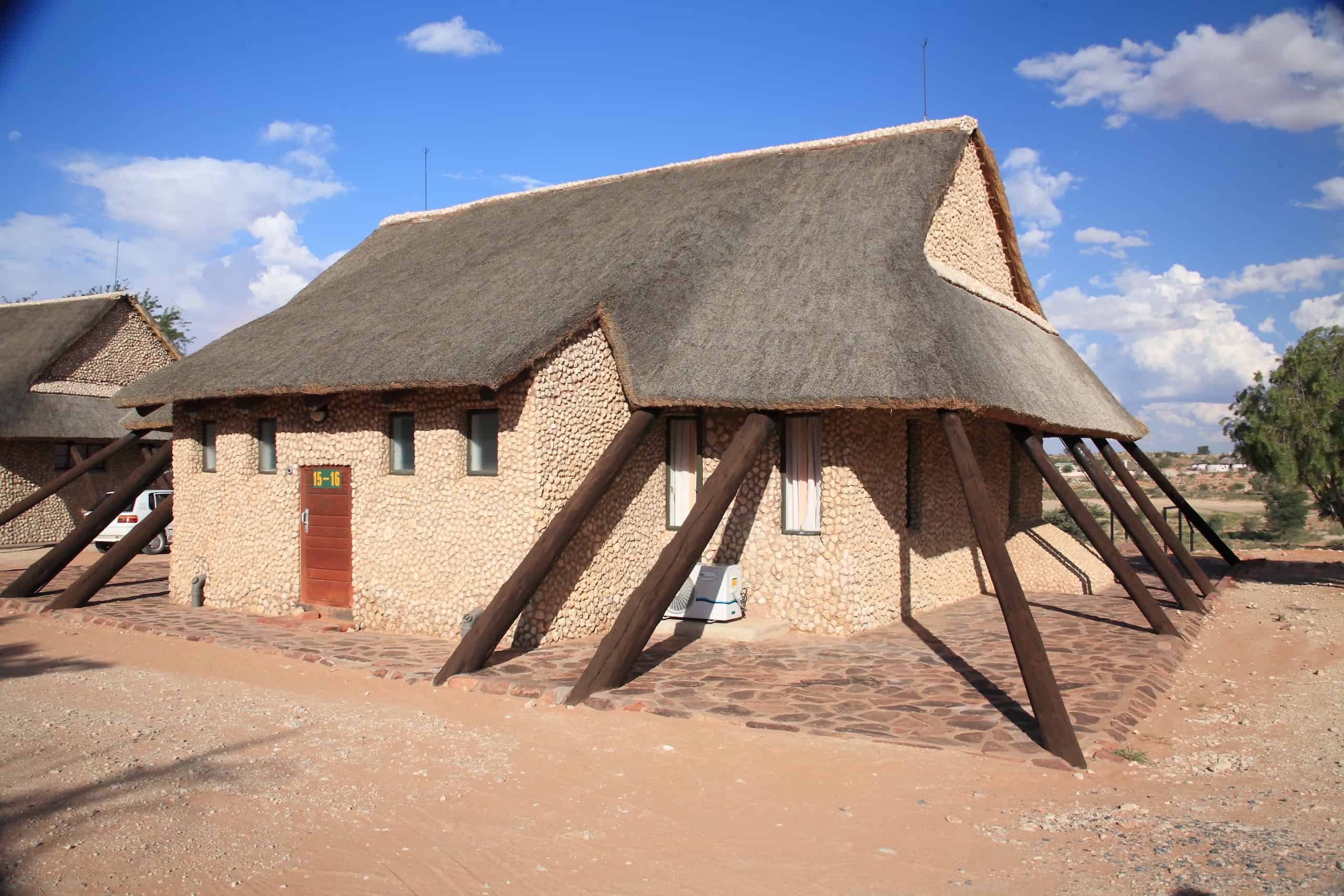 Luxury chalets
Only 5km from the gate of the Kgalagadi, the Kgalagadi Lodge offers accommodation in 28 luxury, family and standard chalets.
This wonderful option has a shop with groceries, fresh fruit and vegetables, freshly baked bread everyday, butchery, bakery, liquor store, restaurant meals with traditional South African Kalahari dishes. This is where rugged terrain and luxury meet.
Campsites
Kgalagadi has three campsites at Twee Rivieren, Mata Mata and Nossob with fuel facilities for visitors at each.
Twee Rivieren
Of these, only Twee Rivieren (two rivers) has ablution facilities consisting of cold showers and a toilet. Facilities available at the other campsites are limited, however some do have swimming pools.
Twee Rivieren is the Park's largest rest camp, situated on the banks of the Dry Nossob and Auob Riverbeds.
Mata Mata Rest camp
This is on the South African border with Namibia on the road from Twee Rivieren.
It has a six bed family cottage, two bedrooms, shower bathrooms, living room and fully equipped kitchen as well as three bed chalets with communal ablution facilities.
Outdoor camping is also allowed in the camp.
Nossob Rest Camp
The camp is built on the banks of Nossob river bordering Botswana, north of Twee Rivieren camp.
There are six bed family cottages, two bedrooms, two bathrooms, living room and a fully equipped kitchen.
There are also 3 grass thatched cottages within the camp. Camping is also allowed.
Useful information
Geography
In southern Botswana straddling the South African border.
Weather
The climate in Kgalagadi TP is warm to hot with day time temperatures ranging from 22C/71F to 35C/95F.
Best time to visit Kgalagadi TP
​March to May is the best time to visit Kgalagadi TP when animals congregate around the riverbeds. Kgalagadi gets very hot during summer, the cooler winter months (May to September) are the most pleasant.
Understanding the best time to visit Botswana is useful as this can impact safari prices and availability.
Health
Kgalagadi TP lies in a low-risk malaria zone. It is recommended to consult with your doctor prior to your trip.
FAQs
Where is the Kgalagadi TP located?
In the south of Botswana, straddling the South Africa border some 520 miles from Gaborone.
How much is the park entrance fee?
For international visitors, daily fees cost $26 per adult and $13 per child. For South African citizens, daily fees cost $6.50 and $3.30 per child.
What animals will visitors see?
The park has large herds of predators including lions, cheetahs and leopards as well as hyenas, springboks, bat-eared foxes, yellow mongoose, suricates, jackals and big cats.