Pilanesberg National Park, or Pilanesberg Game Reserve as it is often called, is located in the Bojanala Region, within the North West Province near Johannesburg, South Africa in an area of 550km².
It is the fourth largest park in South Africa and the unique biosphere of the park means it is home to one of the country's most famous wildlife. The Park is set in an ancient volcanic crater with a dramatic landscape that supports various plants, animals and birds.
The Park is named after the former Chief Pilane and has a unique Alkaline ring complex, Pilanesberg's primary geological feature. In the center of the south part of the park is the artificially created Mankwe Dam, an area with a high concentration of wildlife
Today, there are over 7,000 animals, 360 bird species, and more than 200 kilometers of roads.
Why visit Pilanesberg Game Reserve?
Pilanesberg Game Reserve safari
Pilanesberg National Park exists in a transition zone between the dryness of the Kalahari and the wet Lowveld vegetation. This rich transitional zone attracts an incredible variety of game animals, flora and fauna that are not often found living side by side.
Virtually all of the animal species native to southern Africa can be found here, including the Big 5, wild dog, Roan, Tsessebe, Sable antelope and more than 360 species of bird.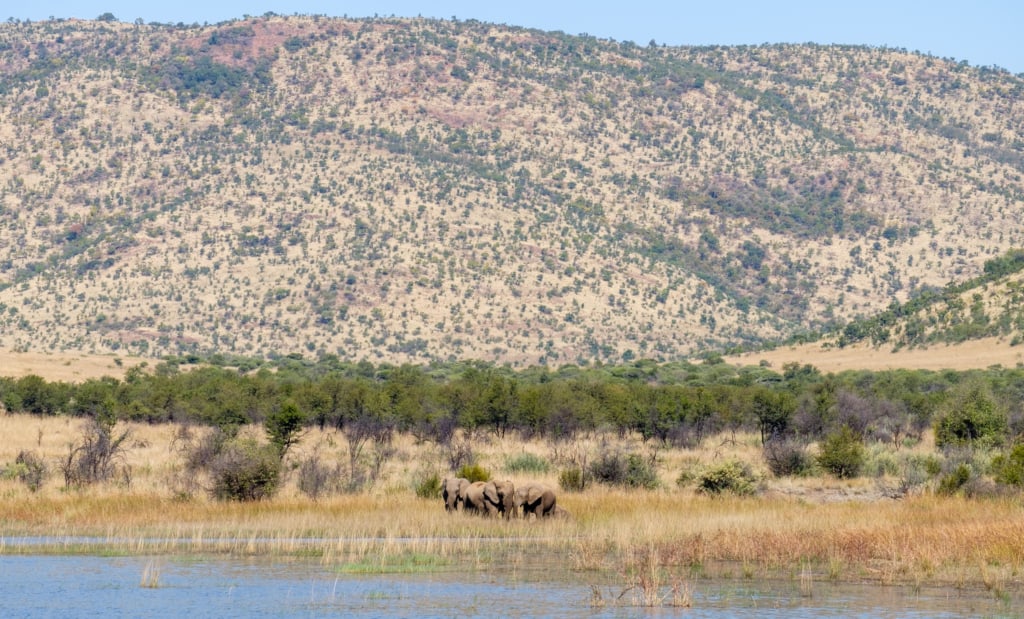 Combining this incredible safari experience with the park's crater from an ancient volcano, formed 1.2 billion years ago by overflowing magma, the landscape and rock formations are bound to blow away any visitor and make for incredible wildlife photo opportunities.
Mankwe dam is a great place to see animals coming to drink at sunset. A glimpse into the history of the Batswana people can also be found in one of the interesting iron-age archaeological sites in the reserve.
Animals
As South African safaris go, visitors to the park are in for a treat as the Big Five can be found, namely the lion, leopard, rhino, elephant and African buffalo.
Elephants in particular are abundant, and white rhino are common. All big cats are present, but you will need some luck to spot any. Aside from the Big Five, you can expect to see giraffe, zebra, wildebeest and many antelope species.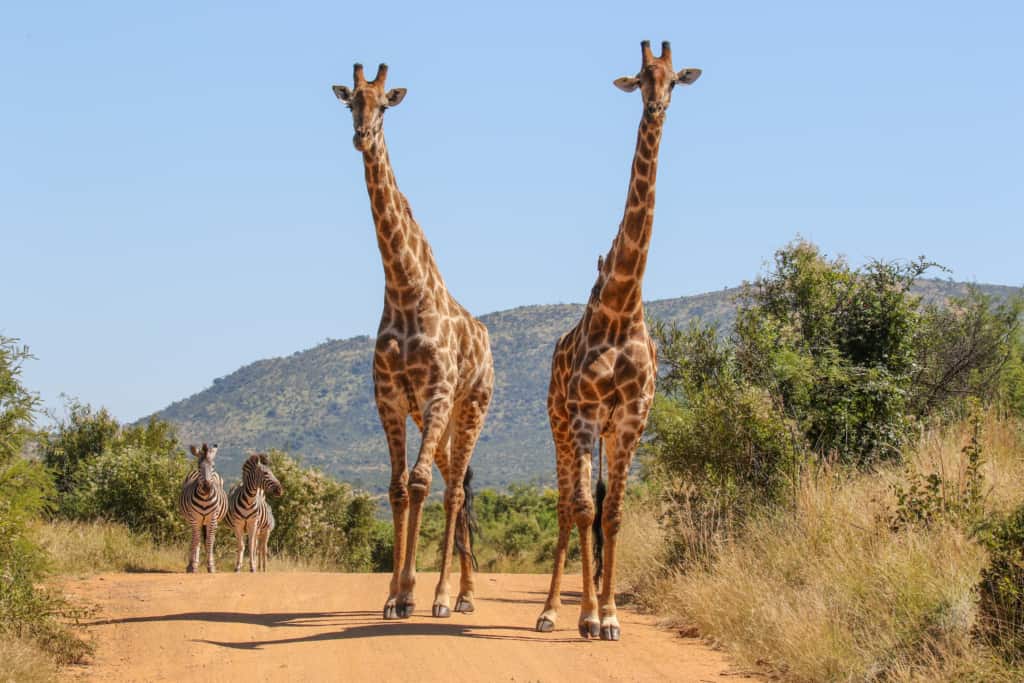 Black rhino also occurs but is rarely seen. As with any reserve that doesn't allow off-road driving and has thick vegetation, cat sightings are hit-and-miss. There is plenty of general plains wildlife around to keep game drives interesting.
The Pilanesberg is a good place to see the rare nocturnal brown hyena. Night drives will give you the best chance to encounter these shy but inquisitive creatures as well as packs of wild dogs. One of the more unusual antelope species that roam the reserve is the fastest of Africa's antelopes, the tsessebe.
Birds
The Pilanesberg area is an excellent venue for bushveld birding, with more than 300 species recorded. A typical day may yield 100 species or more in the summer months from November to April when migrants are present.
For close-up viewing and photography, you can visit the walk-in aviary with over 80 species of indigenous birds. The self-guided camp walk and bird shelters are also highly recommended for bird watching.
Other birds known in the area include the Crested barbet, Speckled pigeon, Spotted thick-knee and the Groundscraper thrush.
Trees
The Pilanesberg lies in a transition zone between the dry, arid Kalahari region and the lush, tropical Lowveld (Mpumalanga). As a result, trees and plants suited to both regions are found in the reserve and there is a remarkable overlap of wildlife and birds attracted to this unique ecosystem.
The trees and plants have adapted to 6 distinct eco-regions that range from valley and hill savanna to thickets and woodlands embedded in rocky outcrops.
Thorn trees survive in brackish soil while flat grasslands are characteristic of areas rich in pediments that contain a subterranean layer of ferricrete which is an accumulation of hard sheets of iron oxides.
Outcrops of red syenite have weathered into a jumble of red-brown boulders that support a wild thicket of large-leafed trees and the south and north-facing savanna that is dominated by thorn trees and bushwillow.
The Sweet thorn tree is one of South Africa's most beautiful and useful trees. It has been used by rural people for everything from raft making to sewing needles and fencing.
Other activities at Pilanesberg Game Reserve
Other South African activities that visitors to Pilanesberg Game Reserve can look forward to on their trip:
Game drive: Explore the incredible Pilanesberg Game Reserve wildlife with spectacular views of large concentrations of wildlife and watch out for the Big Five in the open wild.
Bush walks: Walk with professional guides at a peaceful, relaxed pace through the extraordinary Pilanesberg Game Reserve where you can see birds, wildlife and beautiful tree species.
African drumming: Discover the spirit of community with drumming to an African beat! Take your team or family back to basics and see how they connect with each other after this experience.
Hot air balloon ride: Experience the sun rising over the Pilanesberg from a balloon, high up in the air! The trip includes breakfast and champagne at a lodge after landing.
Quad biking: Learn how to ride a quad bike with the help of a guide. Kids 5 and up can take part when riding with an adult. The course is great fun and you can spot some wildlife like sable, wildebeest, warthogs and much more.
How to get to Pilanesberg Game Reserve?
By Plane
To get to South Africa and indeed to the park, visitors can fly to one of two airports: Cape Town International (CPT) or O.R. Tambo International Airport (JNB) in Johannesburg.
A South Africa visa will likely also be required per the latest entry requirements.
By Road
Pilanesberg Park is close enough for a day's visit from Johannesburg. The Park can be reached within 3 hours from the city, and upon arrival, you are surrounded by wildlife and nature.
Most visitors to Pilanesberg Game Reserve arrive independently, rather than on organized tours as the national park is typically not on tour itineraries.
Carrying a small amount of South Africa currency, the rand (ZAR) is advised for smaller purchases.
Tariffs & Regulations
Entrance fee
All Pilanesberg Game Reserve fees are payable at the gate at time of entrance. Park fees are valid for 24 hours.
Standard Conservation Fee (International Visitors): R110 per adult, per day & R30 per child, per day
SADC Nationals and SA citizens: R80 per adult, per day & R30 per child, per day whilst Pensioners are charged R40.
Vehicles: R40 per day
Gate times
Pilanesberg is a malaria-free park that is open year round with the following opening times:
March and April: 6h00-18h30
May to September: 6h30-18h00
September and October: 6h00-18h30
November to February: 5h30-19h00
Regulations
If you keep to park rules, you can stay with the animals as long as they are not disturbed by your presence.
Accommodation at Pilanesberg Game Reserve
Tourists at Pilanesberg Game Reserve can choose from a number of different options when deciding where to sleep with accommodation ranging from luxury safari lodges to lower budget camping.
Lodges
Black Rhino Game Lodge is inside the Black Rhino Private Game Reserve, forming part of the Pilanesberg National Park. Black Rhino is a cosy and beautiful 4-star lodge situated in a Tamboti forest and offers exclusive game viewing in a private section of the Pilanesberg called the Black Rhino Reserve.
18 Luxurious and spacious suites offer air con, toilets, outdoor showers, equipped kitchens, TV's, communal entertainment areas and a watering hole in front of the deck area. This waterhole has regular visits from a variety of animals, and it is not uncommon to spot the black rhino here.
Ivory Tree Game Lodge is an excellent alternative with double rooms, luxury suites and family room set in a natural amphitheater surrounded by mountains. This lodge als offers a true bush lodge experience with a large swimming pool, outdoor dining and spectacular big five game viewing.
Camping
Pilanesberg National Park offers two resorts that cater to camping and caravanning: Manyane and Bakgatla. These resorts offer campsites with electricity and without for the more rustic camper.
Each campground has its braai facility and campers share the ablution facilities. The resorts both offer excellent entertainment as well as access to shops and restaurants.
Guests can choose accommodation ranging from a tented camp to a 4-bedroom chalet. The 2-bedroom cottages and tented camps are perfect for the basic-needs traveler. The larger chalets come standard with kitchens and cooking facilities.
Campervan
Guests on a self-drive safari with a campervan can make significant savings by sleeping in their vehicle.
Bars/restaurants/amenities
Lodges will typically have all meals and drinks included in the lodge package.
Useful information
Geography
Pilanesberg National Park is located in the Bojanala Region, within the North West Province, near Johannesburg. With an area of 550km², it is the fourth largest park in South Africa.
Safaris here can be combined with trips to Kruger National Park, Sabi Sabi or Phinda Game Reserve.
Weather
Pilanesberg Game Reserve is located within an area of summer rainfall. Winter (May to September) is the Dry season and has mild daytime temperatures and cool nights. Warm winter clothing is recommended for night and early morning game drives.
The reserve is located within the southern hemisphere and so experiences summer and winter at opposite times to Europe and North America.
There is virtually no rainfall during winter, and thus, the humidity is very low. These drought-like conditions cause foliage to thin and animals are drawn to permanent water sources, making them easier to see.
In May, temperatures gradually drop, marking the beginning of winter. Average temperatures vary from 7°C/45°F in the mornings to 23°C/73°F in the afternoons.
Best time to go
Understanding the best time to visit South Africa is important as this will impact accommodation, flight prices, availability and the weather that visitors can expect on their safari vacation. A South Africa visa for entry may also be required.
The best wildlife viewing in the Pilanesberg is in the dry winter months from May to September. The vegetation thins out as the ground gets drier, and animals tend to congregate around permanent water sources making them easier to spot.
Health
There is no malaria in Pilanesberg GR, so antimalarial medication isn't required. Only in the north eastern part of South Africa, including Kruger, is there a small malaria risk.
Antimalarials and other vaccines for South Africa are advised, as well as covering up in the evening and using mosquito repellent (those containing DEET are most effective).
It is recommended to visit a travel clinic before coming to South Africa. Several South Africa vaccinations are recommended and usually administered before your departure.
FAQs
Where is Pilanesberg Game Reserve located?
Pilanesberg National Park is located in the Bojanala Region, within the North West Province, near Johannesburg. With an area of 550km², it is the fourth largest park in South Africa.
What animals will visitors see at Pilanesberg Game Reserve?
Visitors to Pilanesberg Game Reserve will see the Big Five including the lion, leopard, rhino, elephant, African buffalo, giraffe, zebra, wildebeest, antelope, Black rhino, brown hyenas and tsessebe.
How much is the Pilanesberg Game Reserve entrance fee?
The entrance fee for international visitors to Pilanesberg Game Reserve is 110 rand for adult foreign nationals and 30 rand for children whilst vehicles cost 40 rand.