Kapama Private Game Reserve occupies a vast area of 13,000 hectares between the northern Drakensberg mountain range and the Greater Kruger National Park, in the north-east of South Africa.
This is a private game reserve with several high-end safari lodges offering a range of activities, including day and night drives, bush walks, balloon safaris and elephant interaction.
If you're a keen photographer, you might like to fine-tune your skills in a field photography workshop. Although part of Greater Kruger, the large reserve is fully fenced and not part of a larger ecosystem.
Why visit Kapama Private Game Reserve?
Kapama Private Game Reserve safari
The reserve's habitat consists of savannah woodland, grassland and riverine bush. Several waterholes and dams provide water throughout the year. Distant peaks of northern Drakensberg mountains form a beautiful backdrop to the reserve.
Kapama is the place to visit if you want to get up-close to elephants. A good-sized herd is kept for elephant interaction.
Feeling and smelling these gentle giants up close is a real highlight and an opportunity to watch the youngsters drinking, playing and bathing in the dam on a hot afternoon is not to be missed. Aside from special memories, you're bound to take some great photos home as well.
A hot air balloon safari can be a wonderful way to explore the incredible scenery and view the wildlife from a different perspective.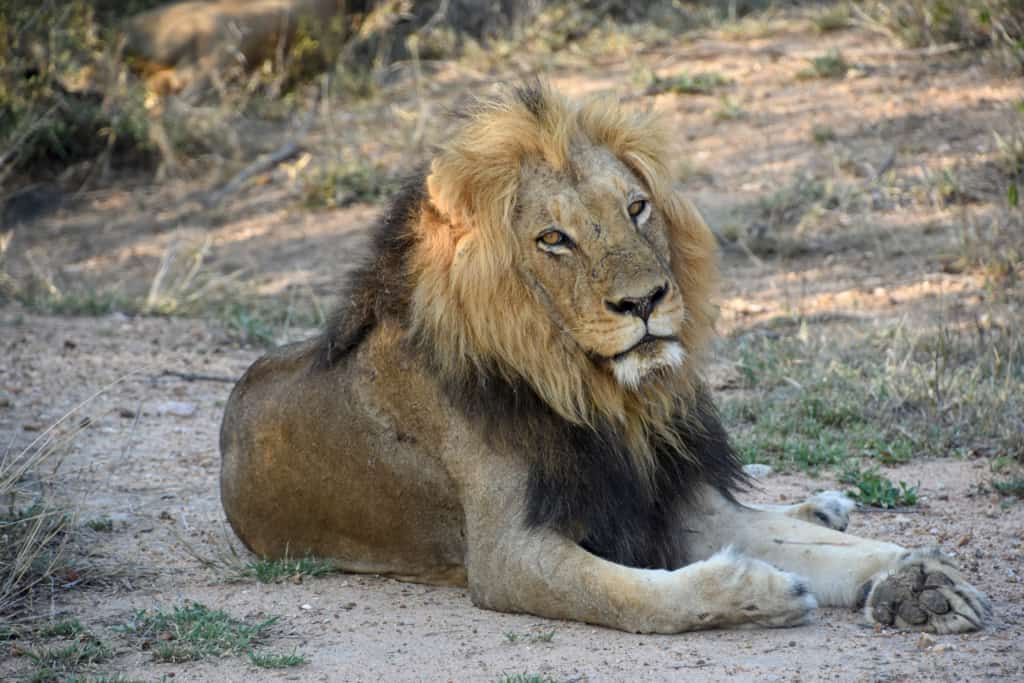 Animals
As South African safaris go, visitors to the park are in for a treat as the reserve is a former cattle ranch and has been re-stocked with animals that would have previously occurred here naturally.
All major safari animals are present, including the Big Five. Cheetahs are easily seen and even the shy leopard is quite habituated. Wildebeest and impala are all numerous.
Lions and elephants are especially easy to see. Some of the elephants are tame, and they are used for elephant-interaction experiences. Kudu, zebra and giraffe are some of the other animals you are likely to encounter.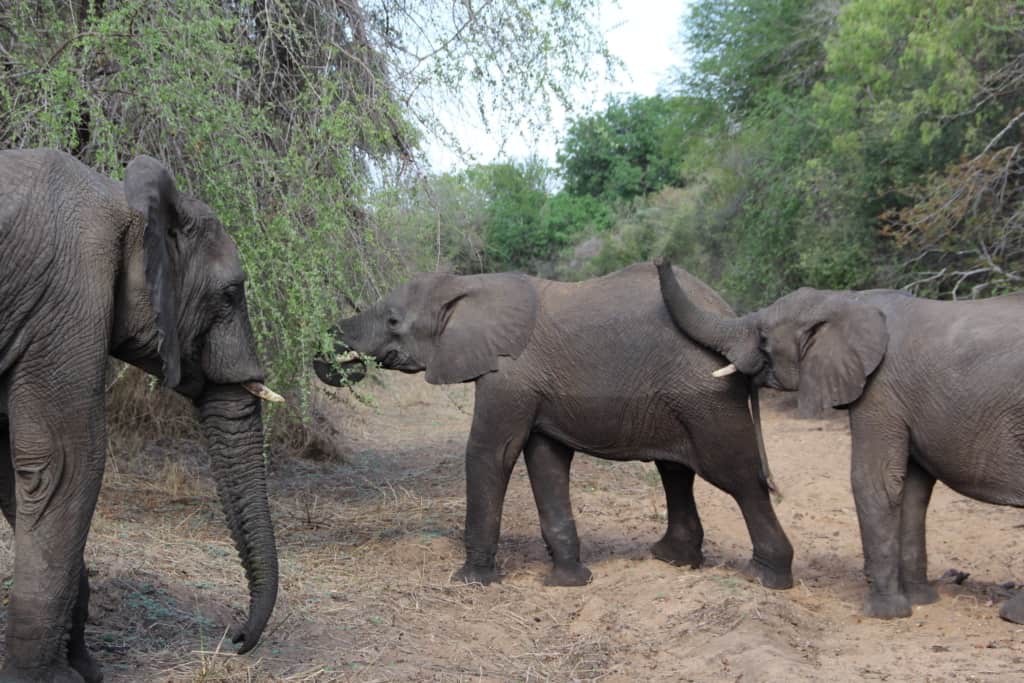 Birds
Kapama has more than 250 bird species recorded. Migratory birds are present from November to April. The main focus in Kapama is on wildlife viewing, so if bird watching is important to you, it would make sense to make prior arrangements for private game drives and bush walks.
Night drives are great for seeing some nocturnal species not easily encountered in the national parks.
Notable birds include Lilac-breasted rollers, Coqui francolins, Secretary birds and Southern ground hornbills.
Trees
With regards to the flora in the area, hundreds of tree species have been documented in the region. Of the better known predominant species in this wooded savannah are baobab trees, fever trees, knob thorns, marula and mopane trees.
The diverse flora of the region in turn accommodates an array of fauna. More than 350 different kinds of birds inhabit the area. These include several raptor species and impressive larger birds such as the kori bustard, ground hornbill and saddle-billed stork. At Kapama all the animals are free to roam according to their feeding needs.
Limpopo is renowned for the iconic Marula tree, which is rumoured to make elephants drunk after eating the fleshy fruit off these trees, however this is indeed an old wives' tale.
Other activities at Kapama Private Game Reserve
Other South African activities that visitors to Kapama Private Game Reserve can look forward to on their trip:
Game drive: Explore the incredible Kapama Private Game Reserve wildlife with spectacular views of large concentrations of wildlife and watch out for the Big Five in the open wild.
Bush walks: Walk with professional guides at a peaceful, relaxed pace through the extraordinary Kapama Private Game Reserve where you can see birds, wildlife and beautiful tree species.
Kapama Wellness Spa: Complete with a state of the art gym, a huge lap pool and a range of spa packages and treatments. Enjoy Kapama Wellness Centre spa treatments at Kapama Private Game Reserve on decks boasting beautiful bush views.
Evening dinners: Kapama Private Game Reserve is perfect for a wedding and ideal for a safari honeymoon. Imagine romantic dinners under the stars, being pampered at the Kapama Spa and falling asleep to the sounds of African night.
The lodges and camps have swimming pools to provide respite from the heat of the African summer. Other activities can be arranged through the lodges including white water rafting, micro-lighting and village tours.
How to get to Kapama Private Game Reserve?
By Plane
To get to South Africa and indeed to the park, visitors can fly to one of two airports: Cape Town International (CPT) or O.R. Tambo International Airport (JNB) in Johannesburg.
Most people fly into Johannesburg's O.R. Tambo International Airport (JNB) and continue with a connecting flight to Hoedspruit Airport. This airport is just minutes from the reserve, and Kapama includes free airport transfers to any of the lodges in the reserve.
Kapana also offers packages including flights, using its own small aircraft from O.R. Tambo International Airport (JNB) in Johannesburg or Cape Town International Airport (CPT) to its private airstrip. A South Africa visa will likely also be required per the latest entry requirements.
By Road
Driving to the park from Johannesburg is possible. Kapama is on the R40 near Hoedspruit west of Kruger National Park. The 450km/279mi drive takes around 4½ hours.
Carrying a small amount of South Africa currency, the rand (ZAR) is advised for smaller purchases.
Regulations
Kapama must monitor the natural resources on the reserve, to ensure a safe and sustainable environment and to preserve the wildlife habitat including the biodiversity on the reserve.
If you keep to park rules, you can stay with the animals as long as they are not disturbed by your presence.
Accommodation at Kapama Private Game Reserve
Tourists at Kapama Private Game Reserve can choose from a number of different options when deciding where to sleep with accommodation ranging from luxury safari lodges to lower budget camping.
Sandwiched between the Blyde River Valley and Kruger National Park, this wildlife arena offers a fine mix of luxury Kapama safari lodges and camps from where you can venture off to find the Big 5.
Lodges
Kapama Luxury Safari Lodges and Kapama Exceptional Safari Lodges in Kapama Private Game Reserve are for the discerning traveller wanting a comfortable setting with tasteful interior design and luxury decor, as well as a truly memorable safari experience with exciting game drives.
Kapama Buffalo Camp provides 10 luxury canvas tents, each accommodating two guests, are set on stilts amongst the canopies of ancient trees at the Camp. Each en-suite tent at the camp is linked to the other tents by wooden walkways, suspended above the river bed.
The camp is ideally suited to those who wish to experience the essence of the bushveld without compromising on comfort.
A great alternative is Kapama River Lodge, with luxurious 5-star accommodation in the scenic Greater Kruger National Park wilderness. Kapama accommodation includes suites, spa suites, a family room and the luxurious Royal Suites.
The wine cellar at the Lodge features some of South Africa's best wines. Enjoy cuisine with an African flair at the Lodge. The dishes are prepared with seasonal local produce and fresh herbs grown at this South Africa safari lodge.
Bars/restaurants/amenities
Lodges will typically have all meals and drinks included in the lodge package.
Useful information
Geography
Kapama Private Game Reserve is located in the Greater Kruger Park area in the north-east corner of South Africa and is home to over 40 mammal species, 350 bird species and the Big Five.
Safaris here can be combined with trips to Kruger National Park, Karoo National Park or Phinda Game Reserve.
Weather
Kapama GR can get uncomfortably hot in summer, between October and April. These months tend to see the most rain – the combination of heat and moisture make for sticky conditions.
In contrast, little rain falls during winter, from May to September, and the temperature hovers around an agreeable 27°C/81°F.
It is necessary to pack warm clothing if visiting in winter as early morning game drives tend to be chilly. During the wet summertime, thunderstorms are common in the afternoons.
Best time to go
Understanding the best time to visit South Africa is important as this will impact accommodation, flight prices, availability and the weather that visitors can expect on their safari vacation. A South Africa visa for entry may also be required.
Winter (May to September, also known as the Dry season) is the best time for wildlife viewing throughout the region. Vegetation thins during this time, while animals seeking water congregate at rivers and waterholes, and this only gets better for wildlife watching as the winter goes on.
However, the main activities in Kapama, elephant-back safaris and elephant interactions, aren't really affected by the seasons, and are good throughout the year.
Health
During the wet months of October through April (summer time) there is a small risk of contracting malaria in Kapama and the Greater Kruger area in general.
Antimalarials and other vaccines for South Africa are advised, as well as covering up in the evening and using mosquito repellent (those containing DEET are most effective).
It is recommended to visit a travel clinic before coming to South Africa. Several South Africa vaccinations are recommended and usually administered before your departure.
FAQs
Where is Kapama Private Game Reserve located?
Kapama Private Game Reserve is located in the Greater Kruger Park area in the north-east corner of South Africa and is home to over 40 mammal species, 350 bird species and the Big Five.
What animals will visitors see at Kapama Private Game Reserve?
Visitors to Kapama Private Game Reserve will see the Big Five including the lion, leopard, elephant, rhino and buffalo. Kudu, zebras and giraffes can also be found.