The Sabi Sand Game Reserve is situated in the southwestern corner of the world-renowned Kruger National Park in South Africa and consists of 65,000 hectares.
Known as the most prestigious game reserve in South Africa and indeed a multi-award winning one at that, it is famous for incredible leopard and lion sightings.
The area is divided into individual private game reserves, all offering the ultimate Big Five safari experience, luxury accommodation, great service and excellent food.
With one of the richest game populations in the country, the chances of seeing the Big Five are excellent and in general, the reserve is well habituated resulting in extraordinary close encounters and prolific sightings.
Why visit Sabi Sand Game Reserve?
Sabi Sand Game Reserve safari
Sabi Sands private game reserve is well known to be one of the best places in South Africa to easily see all of the Big Five within a short period of time. Even a two-day visit is usually enough to see all flagship species.
With a strong population of highly habituated leopards, Sabi Sands is also one of the best places in Africa to see these normally elusive cats. Lions and cheetahs are also easily seen.
For a safari lover, the area has it all with the wildlife diversity making the area famous. Avid bird or wildlife photographers will be also in awe as Sabi Sand with the quality and density of birding on offer.
After a long day of wildlife viewing, guests can relax in the Sabi Sands safari lodges, renowned for their stylish decor and peerless game viewing from your doorstep.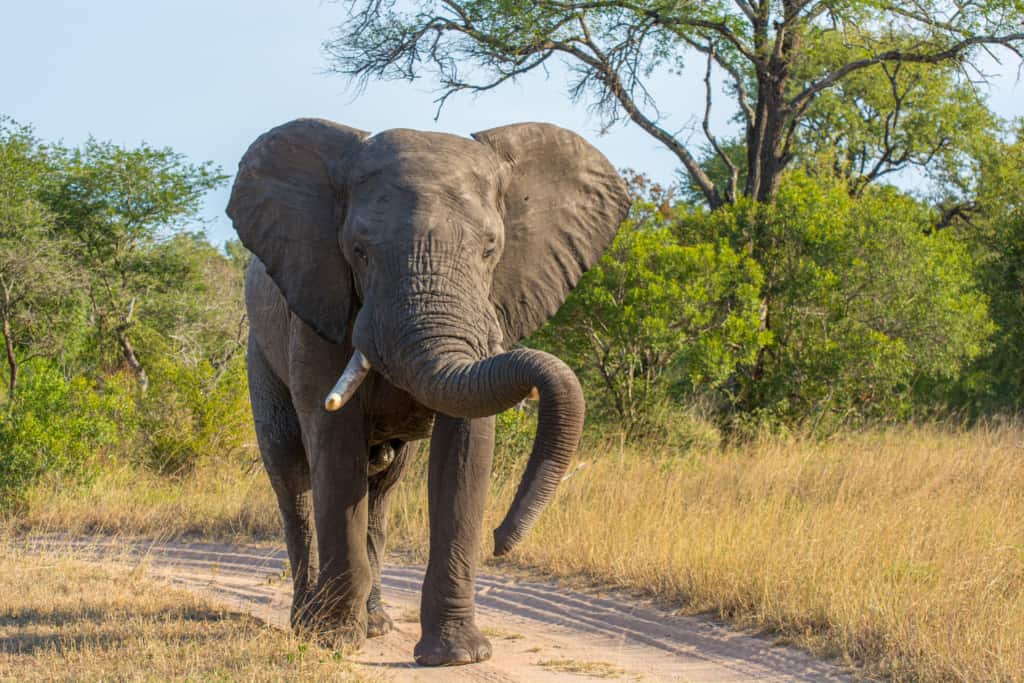 Animals
As South African safaris go, visitors to the park are for a treat with Sabi Sand Game Reserve offering truly superb wildlife viewing. This is especially true of the big cats.
All of the Big Five (lion, leopard, rhino, elephant and African buffalo) are usually seen in a two to three-day visit. Off-road driving assures quality sightings, particularly of the habituated resident predators. Sabi Sand is part of the vast Greater Kruger ecosystem, which makes for a very authentic wildlife experience.
Indeed, Sabi Sands is possibly the best place in Africa to see leopards. Both the quantity and quality of sightings is superb. This is a place where you can see leopard behavior such as males marking and patrolling their territory or females interacting with their cubs.
Wild dog sightings are less common, but if they are denning in the area, it is often possible to spend time with these social pack animals.
Other species roaming the reserve include wildebeest, zebras, giraffes, hyenas, and Cape wild dogs.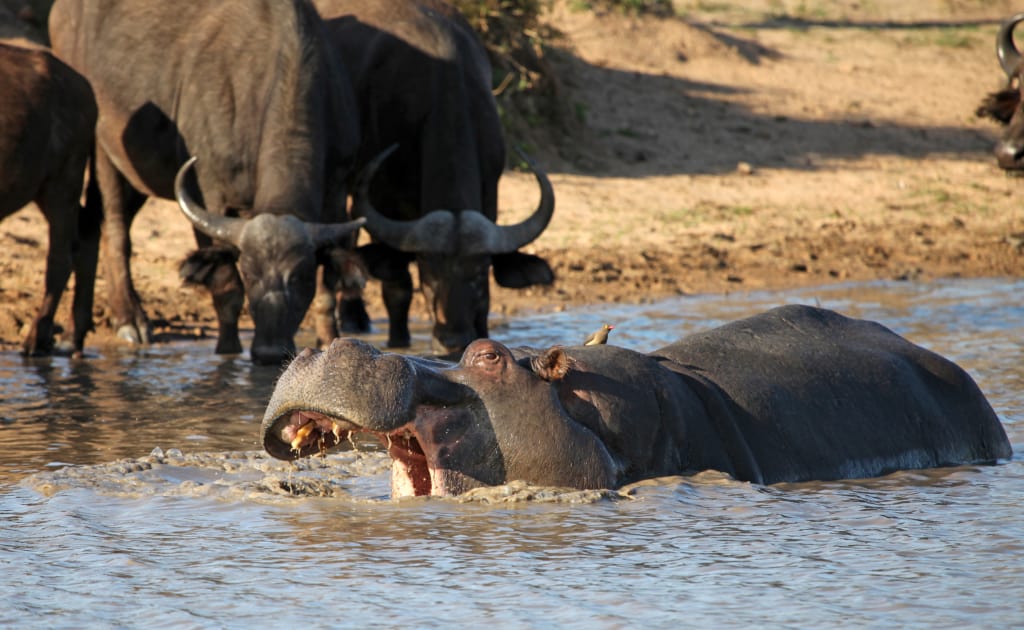 Birds
Sabi Sabi Private Game Reserve is a bird watcher's paradise with over 350 bird species found on the reserve. Studying the resident birdlife adds a special dimension to any safari and skilled rangers will provide insight into their fascinating world.
Guides tend to be very knowledgeable about birds and everything else. The combination of walking and driving safaris in the private reserves is also very suitable for birding.
The emphasis in Sabi Sands is, however, on mammals and the Big Five. It would be advisable to book private game drives if you are a birder. Migratory birds are present from November to April.
Other birds known in the area include the Bateleur, Comb duck and the Black-bellied bustard.
Trees
There are thousands of varieties of plants in the Sabi Sands Game Reserve. All plants, whether grasses or others, vary in their attraction as food depending on how tasty they are, or how high the actual food value is. There are two types of plants that offer food to the animals. Grasses and non-grasses.
Wooded bush areas cannot feed as many animals as the same size grassland. Trees on view at Sabi Sands include the Scented Thorn, the Delagoa Thorn, the Fever Tree and the Brack Thorn.
Other activities at Sabi Sand Game Reserve
Other South African activities that visitors to Sabi Sand Game Reserve can look forward to on their trip:
Game drive: Exploring Sabi Sand Game Reserve's wildlife with spectacular views of large concentrations of wildlife and stunning scenery.
Bush camp walks: Walk with professional guides at a peaceful, relaxed pace through the extraordinary Sabi Sand Game Reserve where you can see birds, wildlife and beautiful tree species.
Helicopter flight: Enjoy a spectacular eagle's eye view of the breathtaking Lisbon Falls, which tumble in four cascades down a 92 meter high cliff into a large, beautiful and icy cold pool. Witness the 80 meter high Berlin Falls as well as the 64 metre high Mac-Mac Falls which plunge into the forested gorge below and Gods Window.
Elephant Whispers – Full Day with Elephants: Experience the privilege of spending a wonderful day working closely with six majestic African Elephants. Help brush down the elephants and watch their morning exercises and day care.
Amani Spa at Bush Lodge: The Spa offers a comprehensive range of beauty and wellness treatments against the backdrop of the bushveld, including massages, facials and classic or deluxe pedicures and manicures, as well as body wraps and scrubs.
Boma dinners: Returning to your camp after a successful evening game drive, you are greeted with the enticing sight of beautifully presented dining tables all encircling a roaring fire. Sitting down next to the crackling fire, you'll be warmed by its dancing heat.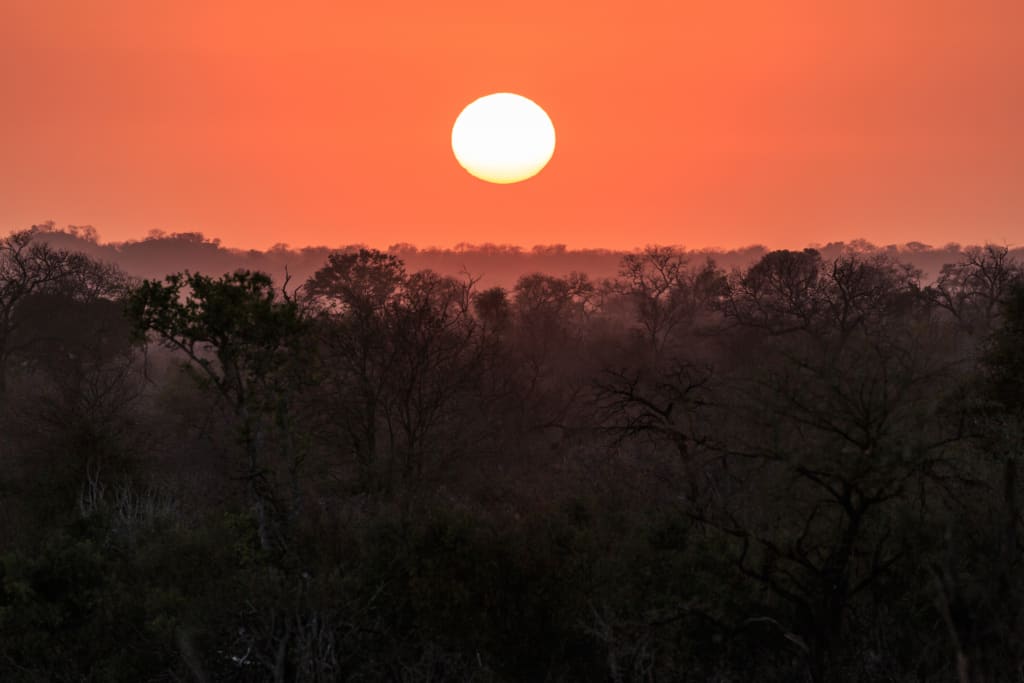 How to get to Sabi Sand Game Reserve?
By Plane
To get to South Africa and indeed to the park, visitors can fly to one of two airports: Cape Town International (CPT) or O.R. Tambo International Airport (JNB) in Johannesburg. A South Africa visa will likely also be required per the latest entry requirements.
After that, you can take the twice-daily scheduled flight to Sabi Sand, run by Federal Air.
Alternatively, you can take a connecting flight to Kruger Mpumalanga International Airport (MQP) near Mbombela or to Skukuza Airport (SZK) in Kruger National Park. A transfer from Nelspruit or Skukuza to your Sabi Sands safari accommodation can be arranged and takes about two hours.
By Road
It is possible to hire a car in Johannesburg and drive to the park via the N4 to Nelspruit. The park has three entrance gates for access to different lodges within the reserve. The distance is about 500km/310mi, and the drive takes about 5.5 hours.
Carrying a small amount of South Africa currency, the rand (ZAR) is advised for smaller purchases.
Tariffs & Regulations
Entrance fee
All Sabi Sand Game Reserve fees are payable at the gate at time of entrance. Park fees are valid for 24 hours. Fees include:
Entrance fees R340 ($USD 20) per vehicle per stay
R160 (USD $10) per person per stay
Guest Conservation Contribution of R151
Regulations
If you keep to park rules, you can stay with the animals as long as they are not disturbed by your presence.
Accommodation at Sabi Sand Game Reserve
Tourists at Sabi Sand Game Reserve can choose from a number of different options when deciding where to sleep with accommodation ranging from luxury safari lodges to lower budget camping.
Lodges
Umkumbe Bush Lodge luxury tented camp is a luxury tented camp that offers all the creature comforts from home and is the first of its kind in the reserve including good air conditioning.
This lodge is more about glamping than a traditional lodge in the bush. A small team of very competent and friendly people run whilst the food is simple yet excellent with a braai (barbeque) style.
The main area of Umkumbe houses a boma, bar, swimming pool and expansive viewing decks, and is furnished complete with local artifacts, ideal for families and couples.
Also on offer is the superb Royal Malewane, an exclusive safari lodge in the 12,000-hectare Thornybush Game Reserve. A maximum of just 20 guests are accommodated in colonial splendor, with each air-conditioned suite having its own private deck, pool and gazebo.
Elevated walkways link the suites to the main camp complex, which houses a library, dining area and lounge furnished with antiques and Persian carpets. There is also a gym, a steam room and a spa where qualified therapists offer massage, aromatherapy and other treatments.
Alternative lodge options include the Sabi Sabi Bush Lodge, an upscale lodge in the nearby Kruger National Park, offering chic quarters with hot tubs or private pools.
Bars/restaurants/amenities
Lodges will typically have all meals and drinks included in the lodge package.
Useful information
Geography
Sabi Sand Game Reserve is located adjacent to the Kruger National Park in the Lowveld of Mpumalanga.
Safaris here can be combined with trips to Kruger National Park, Singita Sabi Sand Private Game Reserve or Phinda Game Reserve.
Weather
Sabi Sand Game Reserve experiences winter and summer at opposite times to those seasons in Europe and North America. October to April are the hot, wet summer months while the mild, dry winter occurs from May to September.
Although winter days are pleasant, it is cold in the mornings, so warm clothes are advisable for game drives. In the Dry Season from May to September, it mostly doesn't rain during this winter period and humidity is low. Permanent water sources become a place for animals to gather, making them easier to spot.
Best time to go
Understanding the best time to visit South Africa is important as this will impact accommodation, flight prices, availability and the weather that visitors can expect on their safari vacation. A South Africa visa for entry may also be required.
The best time to visit Sabi Sands is during winter, which is also considered the 'low season'. This is the Dry season which lasts from May to September.
Animals are easy to spot during the dry months as foliage becomes less abundant and they gather around rivers and waterholes. September is a lovely month to visit. It is also the least cold of the winter months.
Health
As malaria is present in Sabi Sand, the wet summer months pose a very slight risk of catching malaria. If you are visiting at this time, measures you can take to protect yourself include using mosquito repellent containing DEET and taking antimalarials.
Antimalarials and other vaccines for South Africa are advised, as well as covering up in the evening and using mosquito repellent (those containing DEET are most effective).
It is recommended to visit a travel clinic before coming to South Africa. Several South Africa vaccinations are recommended and usually administered before your departure.
FAQs
Where is Sabi Sand Game Reserve located?
Sabi Sand Game Reserve is located adjacent to the Kruger National Park in the Lowveld of Mpumalanga, South Africa and can be accessed via twice-daily scheduled flights by Federal Air.
What animals will visitors see at Sabi Sand Game Reserve?
Visitors to Sabi Sand Game Reserve will see big cats, the Big Five including the lion, leopard, rhino, elephant and African buffalo as well as wild dogs.
How much is the Sabi Sand Game Reserve entrance fee?
The entrance fee for Sabi Sand Game Reserve is R340 ($USD 20) per vehicle per stay, R160 (USD $10) per person per stay and guest conservation contributions of R151 (USD $8.78).