Mapungubwe National Park in the northern corner of South Africa is situated at the confluence of the mighty Limpopo and Shashe Rivers at the borders of Zimbabwe and Botswana.
It is one of the few places in Africa that has both meerkats and Nile crocodiles and the park is renowned for its scenic landscape, with sandstone formations, woodlands, riverine forest and baobab trees.
A huge selection of wildlife can be found here including lions, leopards and cheetahs and Mapungubwe was declared a World Heritage Site in recognition of its value as an archaeological site that provides insight into humanity's past.
Why visit Mapungubwe National Park?
Mapungubwe National Park safari
Mapungubwe is not primarily a typical safari destination and its cultural and historical attractions are what it is known for. However, it is a place with real wilderness appeal.
A drive around the small wildlife viewing circuit offers good sightings of a variety of species including elephants, blue wildebeest, Burchell's zebra, blue duiker and warthog.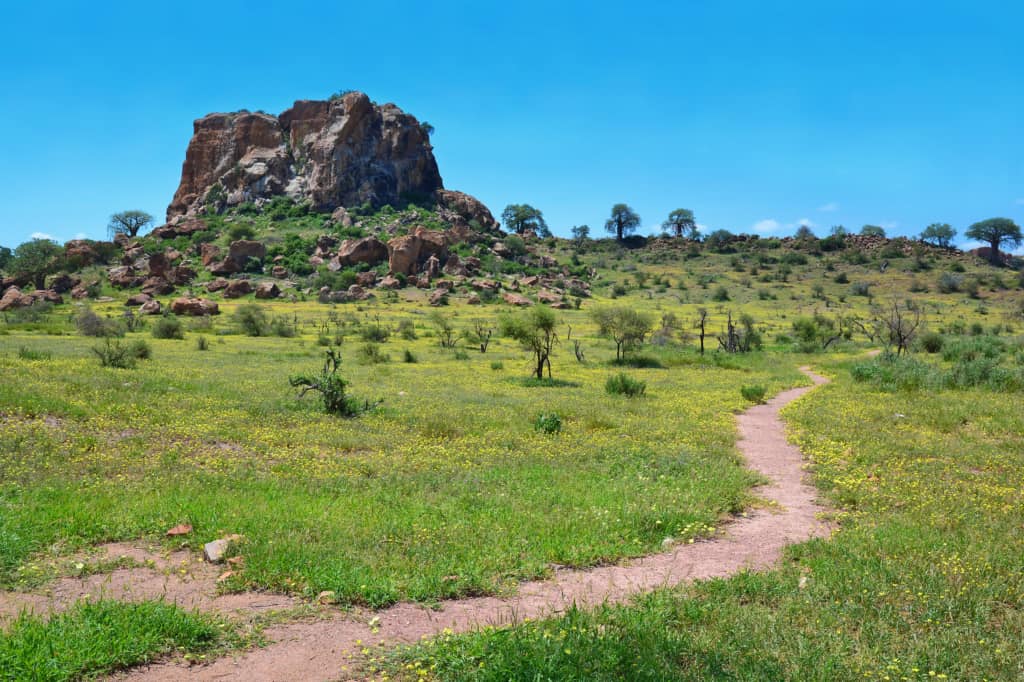 Among the many interesting facts a safari-goer will learn is what makes the area a UNESCO World Heritage Site. The landscape here dates back to 210 million years ago, home to one of the earliest plant-eating dinosaurs, Plateosauravus (Euskelosaurus).
The area's rich biodiversity and scenic beauty, fossils and ancient rocks that are nearly three billion years old bring a real charm to the place as well as the 24 species of acacia tree and baobabs found here.
Animals
As South African safaris go, visitors to the park will see plenty of elephants, giraffes, zebras and wildebeest. Klipspringer are particularly at home in the dramatic landscape with rocky outcrops. They can be seen standing in pairs resembling little statues on top of a boulder.
Chacma baboons also love to keep guard on top of the sandstone cliffs. Eland and red hartebeest can be found on the grassy plains while greater kudu keep to the thickets.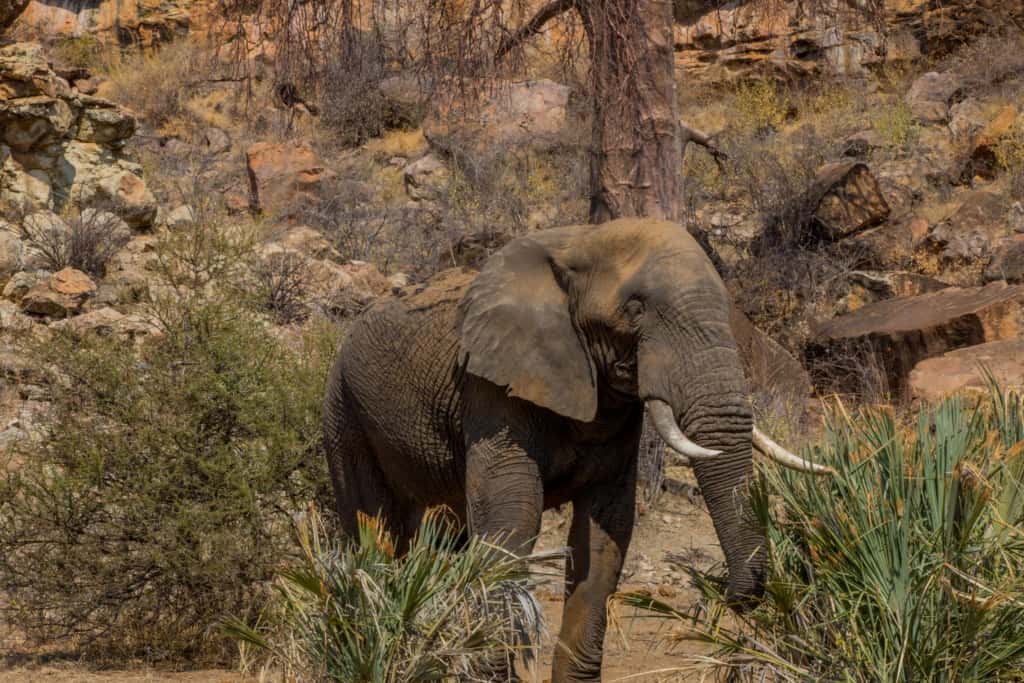 Other species include hippopotamus, white rhinoceros, lion, leopard, cheetah, Cape wild dog, spotted hyena, brown hyena, blue wildebeest, zebra, bushbuck, waterbuck, impala, klipspringer, duiker, steenbok, oryx, giraffe, warthog, bush pig, aardvark and baboon.
There are also numerous smaller game species, including badgers, civets, porcupine, caracal, vervet monkey, and a host of smaller species.
Birds
With over 400 bird species recorded, Mapungubwe is a birder's paradise. The park opened in 2007 and is still relatively unexplored with no definitive bird list compiled yet.
The Limpopo treetop boardwalk offers a superb birding opportunity by allowing visitors a view into the canopy of a stretch of riverine forest. At the end of the boardwalk is a well-positioned bird shelter on the bank of the Limpopo River. Migratory birds are present from November to April.
The wildlife park is also known to be home to at least 17 species of bats. Fruit bats are attracted to the fig trees along the Limpopo River banks, including tree roosting Wahlberg's epauletted fruit bat and the cave dwelling Egyptian fruit bat.
Notable birds include the African fish eagle, Goliath heron, Grey crowned crane, Spotted eagle owl and the Bronze winged courser.
Trees
Mapungubwe National Park is renowned for its scenic landscape, with sandstone formations, woodlands, riverine forest and baobab trees.
There are at least 24 Acacia species and 8 Commiphora species, amongst others. Other vegetation in the area is typically short, dense growth of shrubby Mopane trees, generally associated with a number of other trees and shrubs and a somewhat sparse and tufted grassveld.
The riparian fringe of the Limpopo is of prime importance from the point of view of conservation. It is a dense vegetation community with a closed canopy which occurs in the rich alluvial deposits along the river.
The most striking trees in this community are fever trees, ana trees, leadwoods, fig trees and acacias and extensive patches of this vegetation have been cleared for cultivation elsewhere along the length of the Limpopo River. There are also some very large baobabs in the park, with one specimen having a circumference of 31 metres.
Other activities at Mapungubwe National Park
Other South African activities that visitors to Mapungubwe National Park can look forward to on their trip:
Game drive: Explore the incredible Mapungubwe National Park wildlife with spectacular views of large concentrations of wildlife and watch out for the Big Five in the open wild.
Bush walks: Walk with professional guides at a peaceful, relaxed pace through the extraordinary Mapungubwe National Park where you can see birds, wildlife and beautiful tree species.
Rock art: Explore the human habitation from over the last 5,000 years with a fascinating guided tour of the stunning legacy of rock art (paintings and engravings) left behind by the San people and nearby Mapungubwe hill
Braai: Experience an unforgettable game drive ends in a barbeque dinner in the bush overlooking a dam, surrounded by burning lanterns whilst listening to the sounds of the bushveld and distant animals calling.
How to get to Mapungubwe National Park?
By Plane
To get to South Africa and indeed to the park, visitors can fly to one of two airports: Cape Town International (CPT) or O.R. Tambo International Airport (JNB) in Johannesburg.
The closest airport to Mapungubwe is Polokwane and is 200km/124mi from the park. It is possible to take a connecting domestic flight from Johannesburg to Polokwane, but car rentals will be more expensive from here.
A South Africa visa will likely also be required per the latest entry requirements.
By Road
Mapungubwe National Park is located about 520km/323mi north of Johannesburg near the border with Botswana. Mapungubwe is a self-drive destination.
Only 35km/21mi of road network in the park is accessible to normal 2WD vehicles, and a further 100km/62mi is accessible to all-terrain 4WD vehicles.
If you plan on continuing on to Botswana after visiting Mapungubwe, you could rent a 4WD at O.R. Tambo International Airport (JNB) in Johannesburg and drive from there. O.R. Tambo is where most visitors enter South Africa.
Carrying a small amount of South Africa currency, the rand (ZAR) is advised for smaller purchases.
Tariffs & Regulations
Entrance fee
All Mapungubwe National Park fees are payable at the gate at time of entrance. Park fees are valid for 24 hours.
Standard Conservation Fee (International Visitors): R240 per adult, per day & R120 per child, per day
SADC Nationals (with passport): R120 per adult, per day & R60 per child, per day
South African Citizens and Residents (with ID): R60 per adult, per day & R30 per child, per day
Regulations
If you keep to park rules, you can stay with the animals as long as they are not disturbed by your presence.
Accommodation at Mapungubwe National Park
Tourists at Mapungubwe National Park can choose from a number of different options when deciding where to sleep with accommodation ranging from luxury safari lodges to lower budget camping.
Camps
Leokwe Camp
This is Mapungubwe's main camp, located in the eastern section of the Park in the spectacular sandstone hills. Close to the camp guests can enjoy the Treetop Hide and the Confluence View Site & Picnic Area. The camp itself has a swimming pool and sundeck, as well as a central braai area.
With nice views over the valley, guests can often see different kinds of animals walking including antelopes and elephants.
Accommodation available at Leokwe includes 14 Cottages and 2 Family Cottages with double sleeper couches, equipped kitchens, bathroom (w/c and shower), air conditioning, ceiling fans and braai facilities.
Near the entrance there is a small 'restaurant' where guests can order breakfast, lunch or dinner in case you don't want to cook yourself.
Camping
The Mazhou Camping Site in Mapungubwe National Park is situated approximately 40km from the Main Gate, close to the Limpopo Forest Tented Camp in the Western Section of the Park. The camping site caters for ten caravans or tents, and each camping site is equipped with a powerpoint.
Guests intending to stay over at Mazhou Camping Site should check in at the Mapungubwe Main Gate and pensioner discounts are available from Sunday to Thursday nights.
Campervan
Guests on a self-drive safari with a campervan can make significant savings by sleeping in their vehicle.
Bars/restaurants/amenities
Lodges will typically have all meals and drinks included in the lodge package.
Useful information
Geography
Mapungubwe National Park is located in the northern corner of South Africa, situated at the confluence of the mighty Limpopo and Shashe Rivers at the borders of Zimbabwe and Botswana.
Safaris here can be combined with trips to Kruger National Park, Marakele National Park or Phinda Game Reserve.
Weather
Mapungubwe National Park's climate is semi-arid with an annual rainfall around 350mm/11.8in. Rainfall is highly variable but falls entirely during the summer months from October to April.
There are 10 rainy days per year on average and extended periods of less than average rainfall occur. In summer peak temperatures rise to 45°C/113°F and winters are mild.
Winter is a time of very little, if any, rain or humidity and the heat index is fairly mild, therefore, much less oppressive than during the summer months. It is sunny throughout winter with virtually no clouds – an all-around pleasant time of year.
In May, average temperatures are mild, at about 10°C/50°F in the morning and 27°C/81° during the day.
Best time to go
Understanding the best time to visit South Africa is important as this will impact accommodation, flight prices, availability and the weather that visitors can expect on their safari vacation. A South Africa visa for entry may also be required.
A good time to visit Mapungubwe is from March to May after the rains when the air is free of dust, and the heat is less oppressive than in the middle of summer.
Rainfall is scarce most of the year, but when it does occur, it's during the summer. As the park is very dry, wildlife viewing doesn't depend much on the seasons.
Health
There is a very slight risk of contracting malaria in the wet summer months from September to May in parts of South Africa. As Mapungubwe is located in a low-risk zone, antimalarials are not considered necessary.
Antimalarials and other vaccines for South Africa are advised, as well as covering up in the evening and using mosquito repellent (those containing DEET are most effective).
It is recommended to visit a travel clinic before coming to South Africa. Several South Africa vaccinations are recommended and usually administered before your departure.
FAQs
Where is Mapungubwe National Park situated?
Mapungubwe National Park is located in the northern corner of South Africa, situated at the confluence of the mighty Limpopo and Shashe Rivers at the borders of Zimbabwe and Botswana.
What animals are in Mapungubwe National Park?
Visitors to Mapungubwe National Park will see elephants, blue wildebeest, Burchell's zebra, blue duiker, warthogs, Klipspringer, Chacma baboons, Eland, red hartebeest and greater kudu.
How much does it cost to go to Mapungubwe?
The entrance fee for international visitors to Mapungubwe National Park is 240 Rand per adult per day and 120 Rand per child per day.