Londolozi Game Reserve has been privately owned for the past 90 years by the Varty family and offers the visitors unique game drive experience, very much home to one of Africa's most opulent safari lodges.
The Zulu term, Londolozi, means "protector of all things" – this is a large part of the spirit in which Londolozi Reserve conducts itself. The reserve prides itself on its ecotourism policies, something for which it has earned itself a name.
The private game reserve is part of the greater Sabi Sand Game Reserve, which shares open borders with world-famous Kruger National Park. Being part of this vast ecosystem, Londolozi offers a genuine wilderness experience and excellent wildlife viewing.
Emphasis is given to sightings of the Big Five and other high-profile species such as cheetahs. Unlike in most parks, leopards are easily seen in this area.
Why visit Londolozi Private Game Reserve?
Londolozi Private Game Reserve safari
Londolozi, started by the Varty family 90 years ago, is one of the original pioneering private game reserves of South Africa. It is responsible for introducing the leopard habituation for which Sabi Sands is known today.
Off-road driving allows visitors to get close to wildlife whilst skilled guides offer walking safaris as well as daytime and night drives.
Another great feature of Londolozi is the fact that it is one of the bigger properties in Sabi Sands offering limited traversing rights, which ensures wildlife sightings don't get too crowded.
After a long day's safari, guests can look forward to the very best of food and accommodation before being entertained by the locals with an entertaining musical presentation.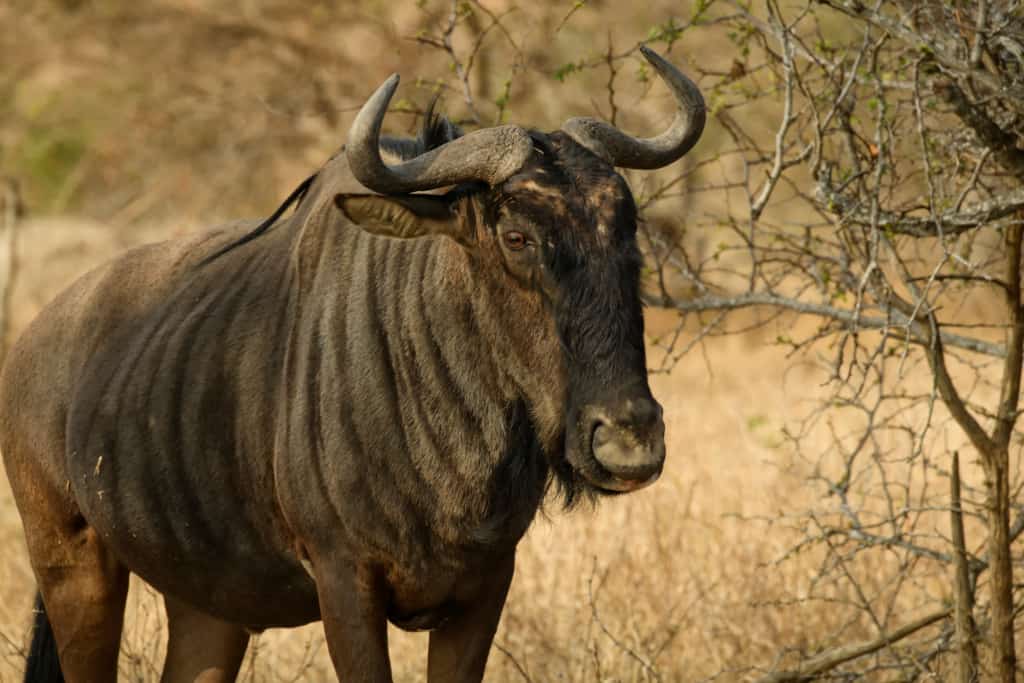 Animals
For a South African safari go, Londolozi is simply stunning and the Big Five animals can also be seen quite easily and the range of wildlife viewing on offer in general is excellent.
Leopards in particular can be found in numbers in this reserve and the guides are incredibly knowledgeable about their routines and behaviors.
Other species found roaming the reserve borders include wildebeest, zebras, giraffes, hyenas, and Cape wild dogs.
Birds
Londolozi Private Game Reserve is a bird watcher's paradise with over 350 bird species found in the area. Studying the resident birdlife adds a special dimension to any safari and skilled rangers will provide insight into their fascinating world.
The emphasis is however on mammals and the Big Five. It would be advisable to book private game drives if you are a birder. Migratory birds are present from November to April.
Birds known in the area include the Bateleur, Comb duck and the Black-bellied bustard.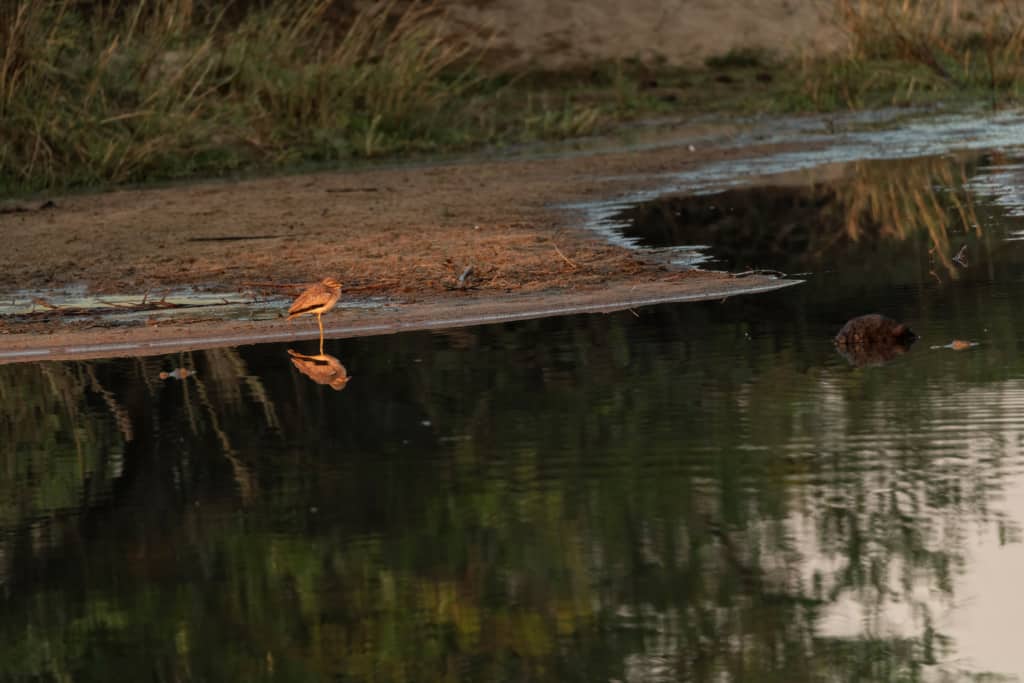 Trees
Ebony trees can be found in abundance at the Londolozi Tree Camp. Surrounded by huge shady trees, the camp is a small and exclusive safari destination that offers the height of sophistication and romance in the spectacular African wilderness.
Londolozi Tree Camp has 6 suites, each of which has its own private oasis – a plunge pool and sala overlooking the lush banks of the Sand River.
The camps' spacious living areas are furnished in classic African safari style, and lead out to a generous wooden deck shaded by an ancient ebony tree.
Elegant candlelit dinners of Pan-African cuisine are served in the boma or enjoyed in a spectacular bush setting.
Other activities at Londolozi Private Game Reserve
Other South African activities that visitors to Londolozi Private Game Reserve can look forward to on their trip:
Game drive: Explore the incredible Londolozi Private Game Reserve wildlife with spectacular views of large concentrations of wildlife and watch out for the Big Five in the open wild.
Bush walks: Walk with professional guides at a peaceful, relaxed pace through the extraordinary Londolozi Private Game Reserve where you can see birds, wildlife and beautiful tree species.
Some of the other activities included during your stay at this camp are the Londolozi Photographic Studio, Living Boutique as well as easy access to the Yoga Deck at Founders Camp.
How to get to Londolozi Private Game Reserve?
By Plane
To get to South Africa and indeed to the park, visitors can fly to one of two airports: Cape Town International (CPT) or O.R. Tambo International Airport (JNB) in Johannesburg.
After that, you can take the twice-daily scheduled flight to Sabi Sand, run by Federal Air.
Alternatively, you can take a connecting flight to Kruger Mpumalanga International Airport (MQP) near Mbombela or to Skukuza Airport (SZK) in Kruger National Park. A transfer from Nelspruit or Skukuza to your Sabi Sands safari accommodation can be arranged and takes about two hours.
A South Africa visa will likely also be required per the latest entry requirements.
By Road
It is possible to hire a car in Johannesburg and drive to the park via the N4 to Nelspruit. The distance is about 500km/310mi, and the drive takes about 5.5 hours.
Carrying a small amount of South Africa currency, the rand (ZAR) is advised for smaller purchases.
Regulations
If you keep to park rules, you can stay with the animals as long as they are not disturbed by your presence.
Accommodation at Londolozi Private Game Reserve
Tourists at Londolozi Private Game Reserve can choose from a number of different options when deciding where to sleep with accommodation ranging from luxury safari lodges to lower budget camping.
Lodges
There are five exquisite lodges on the property – each offering excellent food and service – but with differences in style and price.
Each of the five exquisite Londolozi camps offer luxury accommodation, stunning views, and exceptional cuisine. All camps offer the same access to 34,000 acres of the best big five game viewing in Africa.
The camps vary in price according to the exclusivity of the accommodation. The Private Granite Suites are the crème de la crème of the Londolozi portfolio, followed closely by Pioneer Camp and Tree Camp, who all carry the prestigious global standard of excellence – Relais & Châteaux.
Founders Camp, with its bushveld Bohemian feeling, has 7 Superior Chalets and 3 Superior Family Chalets, that pay homage to past guests and staff that helped build the Londolozi Game Reserve.
Bars/restaurants/amenities
Lodges will typically have all meals and drinks included in the lodge package.
Useful information
Geography
Londolozi Private Game Reserve is situated near Mala Mala Airport, a 1 hour flight from Johannesburg or 6.5 hours by car.
Safaris here can be combined with trips to Sabi Sands Private Game Reserve, Dulini Private Game Reserve or Kruger National Park.
Weather
Londolozi experiences winter and summer at opposite times to those seasons in Europe and North America. October to April are the hot, wet summer months while the mild, dry winter occurs from May to September.
Although winter days are pleasant, it is cold in the mornings, so warm clothes are advisable for game drives.
In the Dry Season from May to September, it mostly doesn't rain during this winter period and humidity is low. Permanent water sources become a place for animals to gather, making them easier to spot.
Best time to go
Understanding the best time to visit South Africa is important as this will impact accommodation, flight prices, availability and the weather that visitors can expect on their safari vacation. A South Africa visa for entry may also be required.
The best time to visit Londolozi is during winter, which is also considered the 'low season'. This is the Dry season which lasts from May to September.
Health
As malaria is present in nearby Sabi Sands, the wet summer months pose a very slight risk of catching malaria. If you are visiting at this time, measures you can take to protect yourself include using mosquito repellent containing DEET and taking antimalarials.
Antimalarials and other vaccines for South Africa are advised, as well as covering up in the evening and using mosquito repellent (those containing DEET are most effective).
It is recommended to visit a travel clinic before coming to South Africa. Several South Africa vaccinations are recommended and usually administered before your departure.
FAQs
Where is Londolozi Private Game Reserve located?
Londolozi Private Game Reserve is situated near Mala Mala Airport, a 1 hour flight from Johannesburg or 6.5 hours by car.
What animals will visitors see at Londolozi Private Game Reserve?
Visitors to Londolozi Private Game Reserve will see the Buffalo, Rhino, Elephant, Leopard, Lion, as well as cheetah which can be found in this region.