Zulu Nyala is a very small reserve nestled between the wilderness reserves of Hluhluwe and Isimangaliso on the eastern side of South Africa. There are no lions in the park, but it is easy to get up close to all the other Big Five animals.
The reserve was founded in 1981 by Trevor Shaw who purchased 1500 acres of land. He immediately noticed the abundance of the endemic Nyala buck that is not frequently found in the other provinces of South Africa and within the next ten years, thatched and stone houses were built.
Due to the limited size of the park however, game drives can become repetitive, but well-priced packages are offered with excursions to nearby reserves and attractions.
The reserve offers reasonable wildlife viewing of several big safari animals – including four of the Big Five. Leopards are present but rarely seen whilst cheetahs are especially relaxed without lions on the property, and watching a mother with cubs is a special experience.
Why visit Zulu Nyala Private Game Reserve?
Zulu Nyala Private Game Reserve safari
Zulu Nyala Game Reserve is a secret corner amidst the wetlands of KZN. Surrounded by the wilderness areas of Mkhuze, Hluhluwe, St Lucia, and Sodwana Bay, Zulu Nyala Game Reserve acquired the characteristics of all.
However, it differs from these parks by the luxurious holiday it offers. Guests can enjoy going to the gym, relaxing at a spa, and driving into the wildlife at the same place.
Besides the regular game drives during early mornings and sunsets, night drives can also be arranged. This is an excellent opportunity to view nocturnal animals at the peak of their activity.
Nestled atop a hill, the Lodge offers views from East to West meaning you get to witness spectacular African sunrises and sunsets without leaving the property.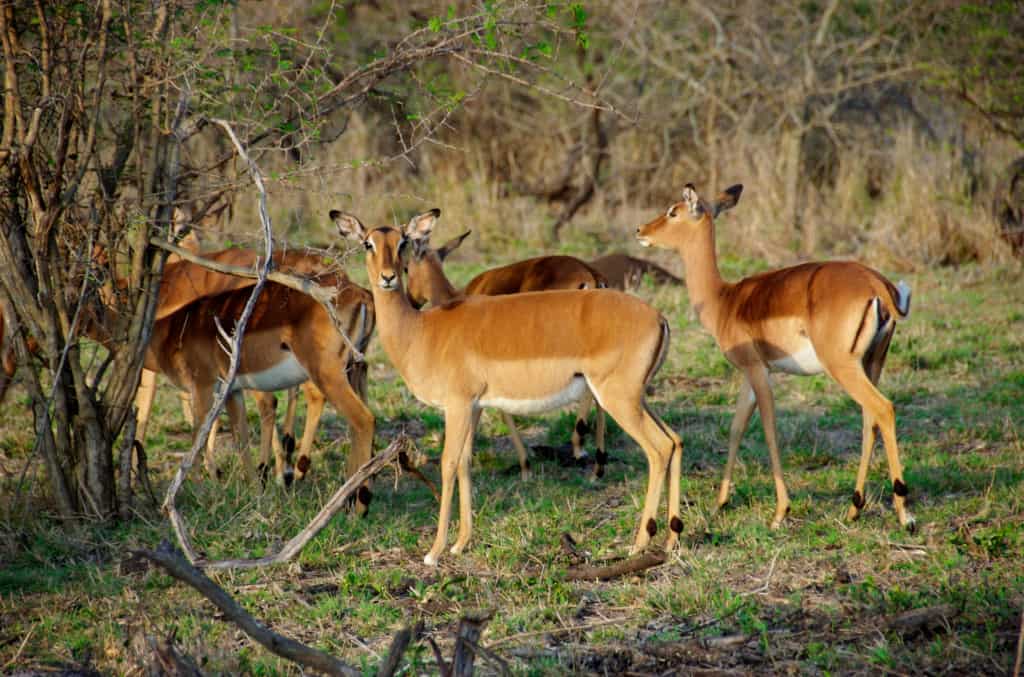 Animals
As South African safaris go, visitors to the park will find it is well stocked with many big safari animals including four of the Big Five. Lions are absent, but this makes the resident cheetah very relaxed, and sightings of these graceful cats tend to be excellent.
Elusive leopards can also be spotted quite easily in the park. While both rhino species are present in the park, it is much easier to spot white rhinos, while the black rhinos are shy and not eager to walk past the vehicles.
Other species that you are guaranteed to spot are elephants, nyala, Burchell's zebra, hippos, mongoose, monkeys, grey and red duiker. Buffalo are usually accompanied by their best friends, the red-billed oxpeckers.
The elegant nyala antelope, Burchell's zebra and giraffe are plentiful, while gray and red duiker are some of the less conspicuous antelopes to look out for.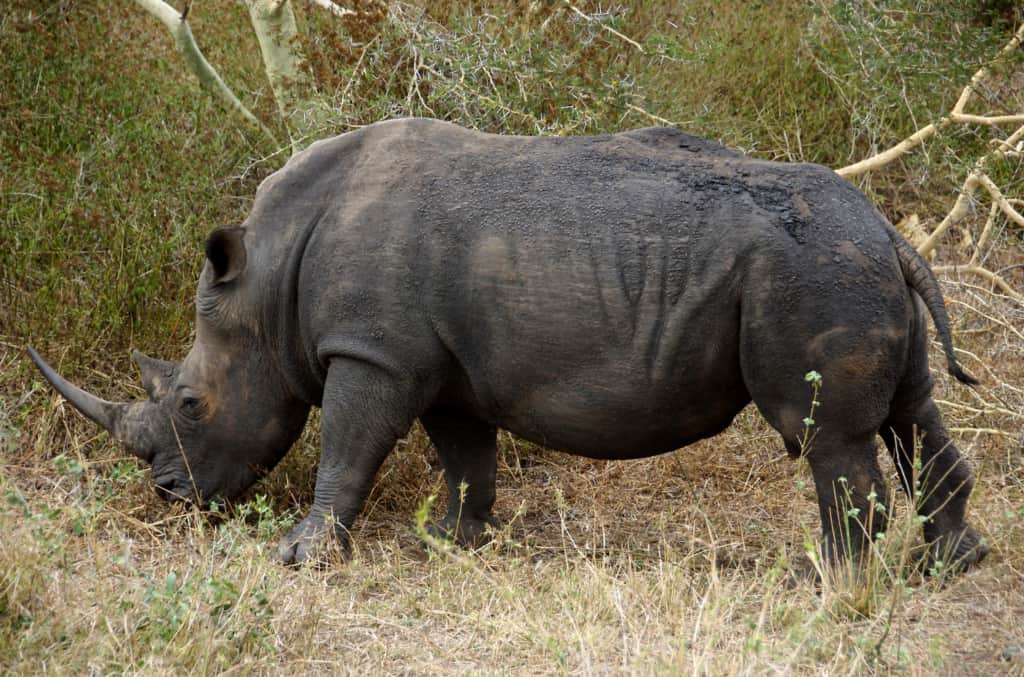 Birds
Zulu Nyala is situated in an area of Kwazulu Natal known for excellent birding. The park is, however, very small and the vegetation is a mix of indigenous and exotics. The guides focus more on finding flagship mammal species and might not really be expert birders themselves.
There are no checklists, but there is a good variety of birds in the park. Migratory birds are present from November to April.
Other birds known in the area include the Black-headed heron, the Fork-tailed drongo, the Spotted eagle owl and the Red-billed oxpecker.
Trees
This small reserve feels a bit like a ranch. There are patches of indigenous vegetation and areas of exotics, such as eucalyptus. There is a beautiful patch of fever tree forest in the center and a man-made dam but, overall, it's not a pristine environment.
This lush stretch of paradise will often find wandering game, from the majestic elephant to rhino, buffalo, hippo, giraffe, the shy and beautiful Nyala buck that is endemic to the region and the secretive leopard.
Other activities at Zulu Nyala Private Game Reserve
Other South African activities that visitors to Zulu Nyala Private Game Reserve can look forward to on their trip:
Game drive: Explore the incredible Zulu Nyala Private Game Reserve wildlife with spectacular views of large concentrations of wildlife and watch out for the mammals prowling in the open wild.
Bush walks: Walk with professional guides at a peaceful, relaxed pace through the extraordinary Zulu Nyala Private Game Reserve where you can see birds, wildlife and beautiful tree species.
Day trips: Although the park is relatively small, its central location enables day trips and excursions to the surrounding parks in St. Lucia and Hluhluwe. Another highlight of Zulu Nyala park is the proximity to Zulu villages that will help you get a glimpse of the local life.
How to get to Zulu Nyala Private Game Reserve?
By Plane
To get to South Africa and indeed to the park, visitors can fly to one of two airports: Cape Town International (CPT) or O.R. Tambo International Airport (JNB) in Johannesburg.
Zulu Nyala is about 350 km to the north of Durban, which is the third-largest city of South Africa. King Shaka Airport can be accessed through domestic flights from Cape Town or Johannesburg. There are car rental companies at King Shaka Airport.
You can also fly to Richards Bay Airport near Durban since it's even closer to the park; however, you must arrange car rental beforehand, as the options at Richards Bay are narrower.
A South Africa visa will likely also be required per the latest entry requirements.
By Road
At King Shaka International Airport (DUR) in Durban, some choose to rent a car here. The drive from Durban to Zulu Nyala takes about 3.5 hours.
Carrying a small amount of South Africa currency, the rand (ZAR) is advised for smaller purchases.
Accommodation at Zulu Nyala Private Game Reserve
Tourists at Zulu Nyala Private Game Reserve can choose from a number of different options when deciding where to sleep with accommodation including luxury safari lodges.
Lodges
The Zulu Nyala Group comprises 2 magnificent privately owned properties – Zulu Nyala Game Lodge & Reserve and the Heritage Safari Lodge & Tented Camp – both in Hluhluwe, KwaZulu-Natal. Both venues offer a variety of accommodation options to suit safari guests.
At Hluhluwe, guests can relax in the comfort of your beautifully appointed room, bask by the poolside in the African sun or enjoy a game-drive on our Reserve, then top off the day with refreshing cocktails from the comfort of the lodge's balcony as a legendary African sunset unfolds.
The accommodation's spa and gym face onto the reserve offering further relaxation and the opportunity to exercise during your stay.
Facilities include a full bathroom with shower, heating, room safe, licensed bar, on-site restaurant, air-con and a hair dryer.
Bars/restaurants/amenities
Lodges will typically have all meals and drinks included in the lodge package.
Useful information
Geography
Zulu Nyala is a very small reserve nestled between the wilderness reserves of Hluhluwe and Isimangaliso on the eastern side of South Africa.
Safaris here can be combined with trips to Kruger NP or Phinda Game Reserve.
Weather
Zulu Nyala Game Reserve has a summer (October to April) and winter (May to September) season, which occur at opposite times to their European and North American counterparts.
In accordance with its sub-tropical climate, the park experiences a hot and humid Wet season during summer. Winter is dry and pleasantly warm during the day, but cold at night and in the morning.
In May to September, little rainfall occurs during the winter, with the exception of the rare shower due to the proximity to the coast of the reserve. Temperatures are generally pleasant, with bright clear skies.
Best time to go
Understanding the best time to visit South Africa is important as this will impact accommodation, flight prices, availability and the weather that visitors can expect on their safari vacation. A South Africa visa for entry may also be required.
Due to the small size of the reserve, wildlife viewing is good throughout the year. However, the Dry season (May to September) has a slight advantage when it comes to animal visibility.
Days are pleasantly cool and sunny, but evenings and early mornings can be chilly. It can be very hot and humid during the Wet season (October to April).
Health
There is a very small risk of contracting malaria in the wet summer months from September to May in parts of South Africa.
Antimalarials and other vaccines for South Africa are advised if traveling to other wildlife parks in South Africa with malaria present.
It is recommended to visit a travel clinic before coming to South Africa. Several South Africa vaccinations are recommended and usually administered before your departure.
FAQs
Does Zulu Nyala have the big 5?
Zulu Nyala has four of the Big Five safari animals. The reserve is a small, fully enclosed area and doesn't offer an authentic wildlife experience. It is, however, well stocked with many big safari animals.
What animals will visitors see at Zulu Nyala Private Game Reserve?
Visitors to Zulu Nyala Private Game Reserve will see Four of the Big Five including cheetah, leopards, black and white rhinos as well as elephants, nyala, Burchell's zebra, hippos, mongoose, monkeys, gray and red duiker.