Tembe Elephant Park hosts all the Big Five, but above all it is a place for elephant lovers. This is one of the few places in South Africa, indeed anywhere on the continent, where you are still likely to see legendarily big tuskers.
Tembe Elephant Park is a critical part of a planned transfrontier park on KwaZulu-Natal's northern border with Mozambique and Swaziland. It protects a tract of very rare sand forest, home to many birding specials. Other habitats include thick woodland and wetlands.
The park's only lodge offers relatively affordable all-inclusive packages and is owned by the local community. There is a limit to how many self-drive visitors are allowed to come into the park; only 4×4 vehicles are permitted.
Why visit Tembe Elephant Park?
Tembe Elephant Park safari
Tembe Elephant Park is most widely known for having over 200 of the world's largest Elephants, which are also the last remaining indigenous herd in KwaZulu-Natal and includes the legendary big "Tuskers." These are elephants whose enormous tusks weigh more than 45kgs.
Built on ancient coastal sand dunes and falling within the core area of the Maputaland centre, the park also displays a spectacular variety of rare and endemic plant and animal species.
Most of these being found in a unique forest type, locally referred to as a sand forest. These sand forests, found in patches scattered throughout Tembe, are made of the most unique plant communities in the Maputaland centre.
The park is also home to the largest South African population of the tiny suni antelope. It is one of the few places in the country where the pretty samango monkey is regularly seen.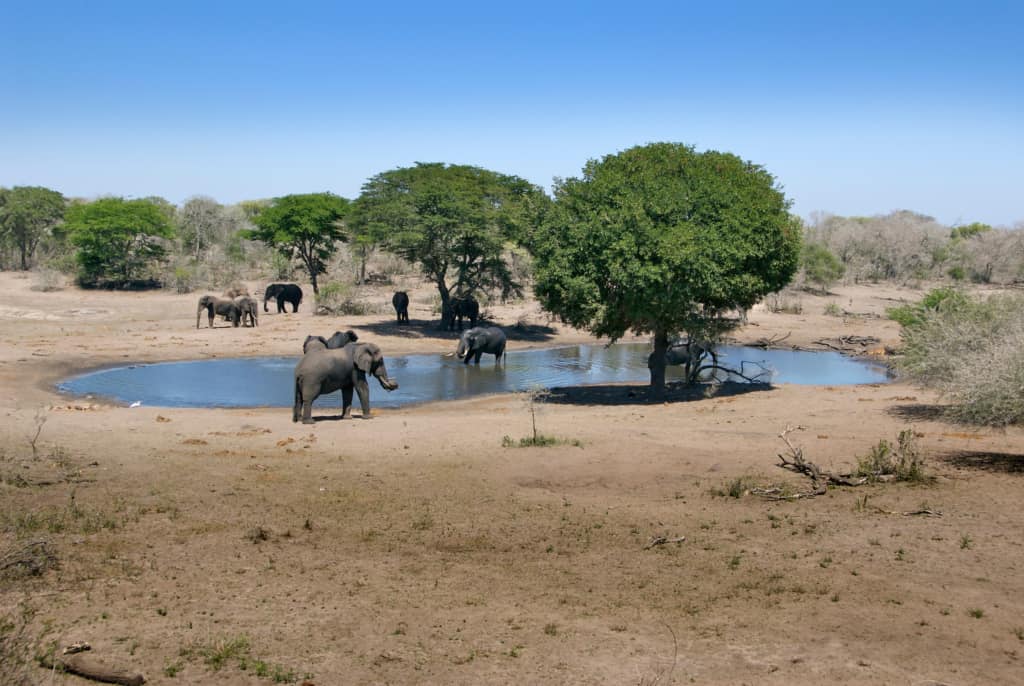 Animals
As South African safaris go, visitors to the park are in for a treat as the area is situated within the sand-veld ecological zone and consists mainly of closed woodland and secondary thicket formation, making for beautiful elephant shots amidst the wilderness.
Tembe's elephants are acknowledged giants. The bulls are huge in size and their tusks are phenomenal. The wildlife shelter at the waterhole is the best place to sit and watch them coming and going. The park is Big Five territory but big cat sightings are hit-and-miss.
Tembe's claim to fame is its population of giant elephants with enormous tusks. Elephants are very common in the park, and the other Big Five animals are present as well. However, checking off the Big Five is not the focus here, and you will probably leave without seeing all of them.
Wild dogs have been reintroduced to Tembe. The gracious nyala is the most common antelope here and the red duiker, a sand forest special, is common but shy.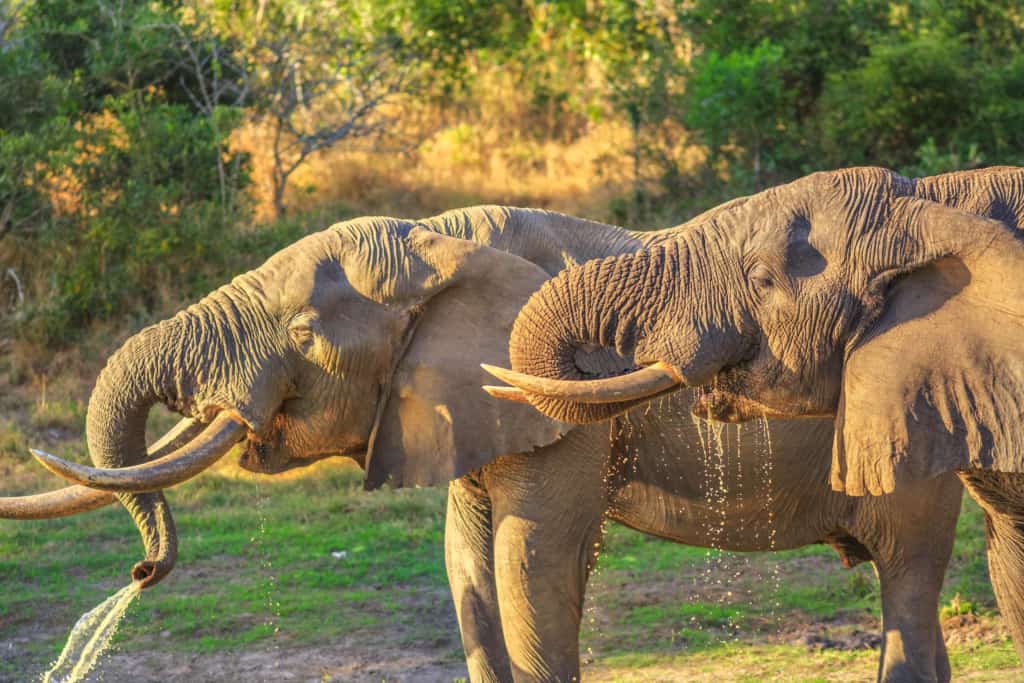 Birds
Tembe Elephant Park has over 340 bird species recorded and is a birder's paradise. The extensive checklist is due to the variety of habitats, such as sand forest, scrub and acacia woodland.
Some tropical birds are at the most southerly point of their range, including African broadbill and Rudd's apalis. The guides are knowledgeable, and most birders will walk away with several lifers under their belt. Migratory birds are present from November to April.
Other birds known in the area include the Crested guineafowl, the Crowned hornbill, the Pin-tailed whydah and the Grey waxbill.
Trees
Tembe represents an area of high biodiversity and ecotourism potential. The wider area (Maputaland) is relatively undeveloped with little human influence.
The minimal impact by commercial development has allowed the rich biodiversity and high levels of endemic flora and fauna species to thrive and remain, in many ways, untouched.
These endemics include about 230 species of vascular plants, 1 mammal species, 23 reptile species, 5 bird species and vast insect life that at this stage has not yet been properly explored. Tembe can therefore be referred to as a thriving endemic sanctuary!
Other activities at Tembe Elephant Park
Other South African activities that visitors to Tembe Elephant Park can look forward to on their trip:
Game drive: Explore the incredible Tembe Elephant Park wildlife with spectacular views of large concentrations of wildlife and watch out for the mammals walking in the open wild.
Bush walks: Walk with professional guides at a peaceful, relaxed pace through the extraordinary Tembe Elephant Park where you can see birds, wildlife and beautiful tree species.
Tembe tribes: Learn more about the culture and traditions of the Tembe tribe and the stories of the wild handed down from father to son with a rich oral history of these people and their way of life as you relax under the stars around a glowing campfire.
Birding: Tembe's location and diverse habitat of scrub, sand forest and thornveld makes it one of southern Africa's premier birding destinations. The rangers of Tembe are extremely knowledgeable about birds and their habits, and a trip out with your local guide will not only produce some rare sightings and possibly a 'lifer' or two.
How to get to Tembe Elephant Park?
By Plane
To get to South Africa and indeed to the park, visitors can fly to one of two airports: Cape Town International (CPT) or O.R. Tambo International Airport (JNB) in Johannesburg. King Shaka International Airport (DUR) in Durban is another option, from where you could rent a vehicle.
A South Africa visa will likely also be required per the latest entry requirements.
By Road
Tembe Elephant Park is located about 410km/255mi north of Durban, 550km southeast of Johannesburg, and 300km south of southern Kruger. The drive from Durban or southern Kruger takes around 5 hours, while from Johannesburg it takes almost 7 hours.
There is only one camp in the park, and it offers fully inclusive packages. With a 4×4, you can drive to the lodge and leave your car for the duration of your stay. Non-4×4 vehicles can safely be left at the entrance gate.
A limited number of 4×4 self-drive visitors are allowed as day visitors in the park (note that there are very few accommodation options nearby).
Carrying a small amount of South Africa currency, the rand (ZAR) is advised for smaller purchases.
Accommodation at Tembe Elephant Park
Tourists at Tembe Elephant Park can choose from a number of different options when deciding where to sleep with accommodation options including luxury safari lodges.
Lodges
Tembe Elephant Park offers a number of accommodation options including Tembe Lodge, the only community-owned full-service game lodge inside a proclaimed game reserve, The lodge can be found right in the middle of unspoiled bush, in a stunning sand forest ecosystem.
You'll be able to spot many of Tembe's 340 bird species from your own verandah or spa tent, enjoy an open-air hot shower under the stars surrounded by the calls and night-sounds of the African bush. Small animals wander through the camp grounds day and night (although an electric fence protects more dangerous species from entering).
Enjoy an early breakfast followed by a morning game drive, returning just in time for a light brunch and an afternoon nap in the welcoming green shadow of your tent.
Guests can also cool off in the pool near the boma later in the afternoon when the temperature dips before venturing off with your guide on your afternoon game drive to enjoy sundowners overlooking a water hole.
Camping
Tembe volunteers are based in the Tembe Research Camp Accommodation within the natural sand forest.
The camp offers three wooden cabins nestled among the trees and thickets, with a separate toilet and shower block and laundry facilities for Wildlife ACT volunteers, as well as a communal kitchen, dining, lounge and braai area that is shared with other scientists and researchers carrying out studies in the park.
Campervan
Guests on a self-drive safari with a campervan can make significant savings by sleeping in their vehicle.
Bars/restaurants/amenities
Lodges will typically have all meals and drinks included in the lodge package.
Useful information
Geography
The park's location is very remote, lying deep in the sand forests and wetlands in the northeast of South Africa. It borders KwaZulu-Natal and Mozambique. Safaris here can be combined with trips to Kruger National Park or Phinda Game Reserve.
Weather
Due to its locale in the southern hemisphere, Tembe Elephant Park experiences winter and summer at opposite times to Europe and North America. The park lies in an area of summer rainfall and the Wet season months (October to April) tend to be hot and humid.
Winter (May to September) is the dry time of the year, and although the daytime is pleasantly warm, it cools off at night.
During this time, there is little rain during the winter, but there could be an occasional shower due to the proximity of the park to the coast. Compared to the summer months, the heat is less oppressive, and skies are usually clear.
Best time to go
Understanding the best time to visit South Africa is important as this will impact accommodation, flight prices, availability and the weather that visitors can expect on their safari vacation. A South Africa visa for entry may also be required.
Tembe's best time for wildlife viewing is during the driest part of the year (June through September) and in particular from August to September.
The temperatures are a bit higher in August and September, and animals gather around remaining water sources because the bush has dried out.
Health
Your doctor can also provide you with assistance in preventing malaria. Tembe is however located in a low-risk zone, and antimalarials are not considered necessary.
Antimalarials and other vaccines for South Africa are advised, as well as covering up in the evening and using mosquito repellent (those containing DEET are most effective) if visiting wildlife areas in other parts of South Africa.
It is recommended to visit a travel clinic before coming to South Africa. Several South Africa vaccinations are recommended and usually administered before your departure.
FAQs
Can you self drive in Tembe Elephant Park?
Yes, self driving is possible in Tembe Elephant Park, but only 4×4 vehicles are permitted
Where is Tembe Elephant Park located?
Tembe Elephant Park is located in Maputaland, KwaZulu-Natal, South Africa, adjacent to Ndumo Game Reserve, some 5 hours from Kruger National Park.
What animals will visitors see at Tembe Elephant Park?
Visitors to Tembe Elephant Park will see the Big Five including Black rhino, Buffalo, Bushbuck, Elephant, Giraffe, Hippo, Impala, Kudu, Leopard, Lion, Nyala, Side striped jackal, Steenbuck, Suni, Warthog, Waterbuck, Wild dog, White rhino, Wildebeest and Zebras.