Manyeleti Reserve near Kruger National Park in South Africa is one of those very special places in the world offering the ultimate African safari experience in the northeast of the country.
The reserve is privately owned and situated between Kruger National Park and Timbavati Game Reserve, with open borders to both. It is, therefore, a part of the Greater Kruger ecosystem and it offers an authentic wildlife experience.
The reserve is owned and managed by the local Mnisi people with three privately-owned lodges that pay concession fees to the local community.
Why visit Manyeleti Game Reserve?
Manyeleti Game Reserve safari
The most popular way to see game animals in the reserve is by taking a game drive or a game walk. Guests of the game lodges within the reserve will usually be offered these trips as part of their stay.
During a game drive an experienced guide, who is usually armed, takes visitors out in an open-top, four-wheel drive vehicle to observe the animals of the African bush.
A guided game walk is on foot and offers visitors a different perspective of the wildlife and guests on a safari at Mantobeni Tented Safari Camp will wake each morning to the sound of beating drums, a surreal experience and part of local customs to celebrate events or to warn tribespeople of incoming dangers.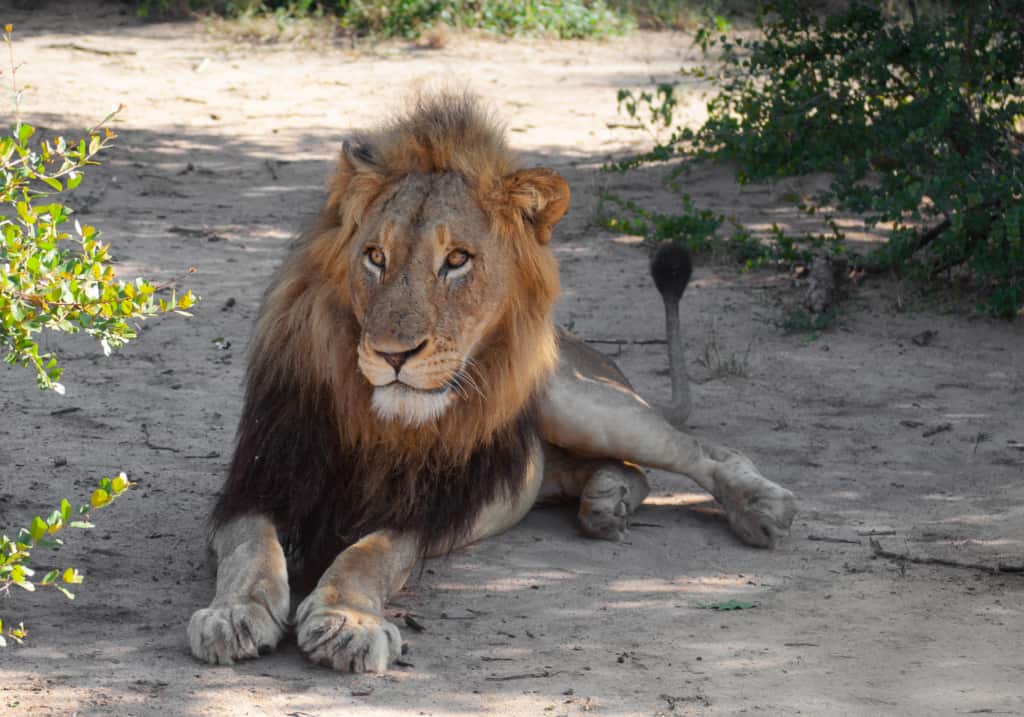 Animals
As South African safaris go, visitors to the park are for a treat with a very genuine bush experience on offer. Although all of the Big Five are present, the emphasis is more on looking at all wild creatures big and small.
The reserve offers a good environment for plains game such as Burchell's zebra and blue wildebeest. Big cats can be hard to find, but look out for cheetahs in the open areas.
Black-backed and side-striped jackal can often be seen trotting along, and unusual antelope such as greater kudu, nyala and the rare sable antelope can also be spotted.
These animals are commonly seen roaming the land that makes up the Manyeleti Game Reserve. Other creatures that live in the reserve are zebras, giraffes, cheetahs, and several species of antelope.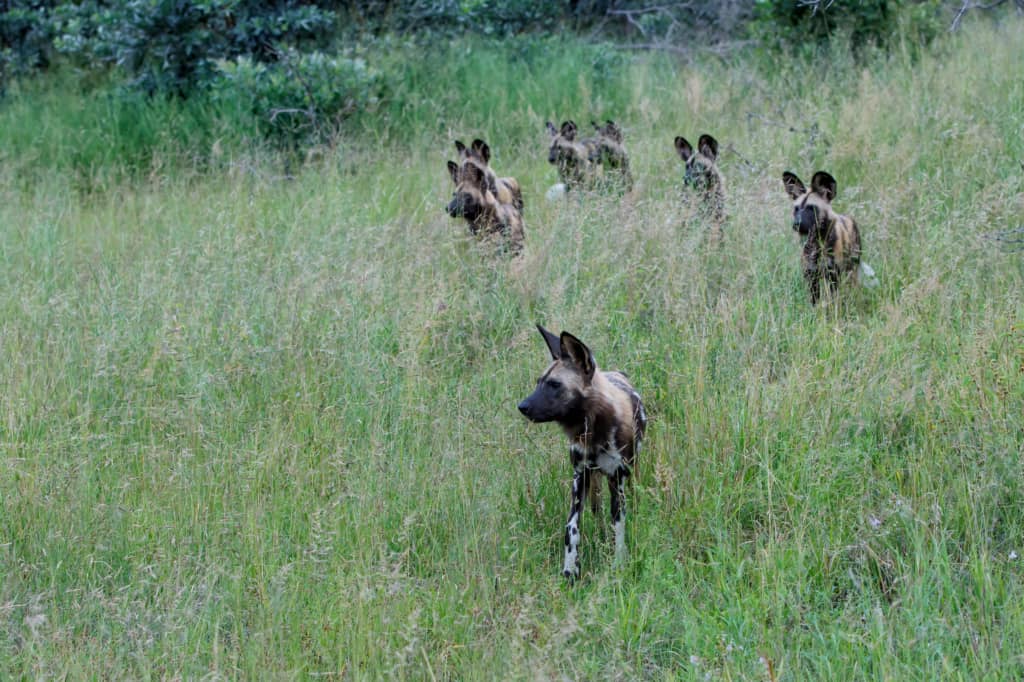 Birds
With more than 450 bird species recorded, Manyeleti is a great birding destination. A bonus for birders is that the focus here is less on checking off the Big Five animals, as is the case in a lot of other private game reserves.
The combination of open-vehicle drives and walking safaris is ideal to observe a lot of species. Night drives offer an opportunity to spot nocturnal birds. Migratory birds are present from November to April.
Other birds known in the area include the bearded scrub robin, European roller, the scarlet-chested sunbird and the Southern-carmine bee eater.
Trees
Tintswalo Safari Lodge shelters under the shade of massive ancient sycamore fig trees on a
seasonal riverbank in the northern reaches of the Manyeleti Game Reserve, Greater Kruger.
Other notable trees in the area include the boer-bean tree where leopards can often be found hiding up these massive structures.
The Manor House in Manyeleti GR overlooks a watering hole with surrounding trees in the area, a location often frequented by elephants and other large animals.
Other activities at Manyeleti Game Reserve
Other South African things to do that visitors to Manyeleti Game Reserve can look forward to on their trip:
Game drive: Explore the incredible Manyeleti Game Reserve wildlife with spectacular views of large concentrations of wildlife and watch out for the Big Five in the open wild.
Bush walks: Walk with professional guides at a peaceful, relaxed pace through the extraordinary Manyeleti Game Reserve where you can see birds, wildlife and beautiful tree species.
Evening drives: During game drives, refreshments and complimentary snacks are served at a scenic spot, particularly at sunset when the view from the Mohwareng Hills is spectacular.
How to get to Manyeleti Game Reserve?
By Plane
When coming to South Africa and indeed to the park, visitors can fly to one of two airports: Cape Town International (CPT) or O.R. Tambo International Airport (JNB) in Johannesburg.
Connecting flights from Johannesburg can be taken to Hoedspruit Airport, located 44km/27mi from the reserve. Pick-up and transportation to the reserve from the airport is easily arranged.
A visa for South Africa will likely also be required per the latest entry requirements.
By Road
It is also possible to drive to the reserve from Johannesburg in a rented car. Manyeleti is located on the R40 close to Hoedspruit, to the west of Kruger National Park. The drive takes about 5 hours and the distance is 450km/279mi.
Carrying a small amount of South Africa currency, the rand (ZAR) is advised for smaller purchases.
Tariffs & Regulations
Entrance fee
Manyeleti has one access gate. Access is via Orpen Gate road. Each guest will be charged an entrance fee of ZAR 30.00 per person. There is also an additional charge per vehicle (car/ minibus ZAR 50.00) and a community levy of ZAR 75.00 per person.
Regulations
If you keep to park rules, you can stay with the animals as long as they are not disturbed by your presence.
Accommodation at Manyeleti Game Reserve
Tourists at Manyeleti Game Reserve can choose from a number of different options when deciding where to sleep with accommodation ranging from luxury safari lodges to lower end options.
Lodges
There are limited game lodges in the reserve, in which visitors may stay overnight. Each lodge is privately owned and the land it is built on is leased from the Mnisi tribe.
The lodges in the Manyeleti Game Reserve offer guests an all-inclusive experience. The rate charged by a game lodge typically includes all meals as well as game walks and game drives.
Camps
In the heart of the Manyeleti Game Reserve, lies Honeyguide Mantobeni Camp which offers the wildlife enthusiast a truly African experience and where all meals, refreshments, game drives and walking trails are included in the rate and a full bar service is available.
Each tent is equipped with en-suite facilities and is furnished in traditional safari style giving the nature lover a close encounter with the sounds and ambience of wild Africa without sacrificing safety or comfort.
Honeyguide Mantobeni Camp operates ecosafaris in a vast private concession area which may be explored in open game viewing vehicles or on foot under the guidance of armed and experienced rangers.
A special feature of this experience is that you will not be competing with many others for your wildlife encounter.
Bars/restaurants/amenities
Lodges will typically have all meals and drinks included in the lodge package.
Useful information
Geography
Manyeleti Game Reserve is located between the Timbavati and Sabi Sands Game Reserves and borders the world famous Kruger National Park in the northeast of the country.
Safaris here can be combined with trips to Kruger National Park, Mapungubwe National Park or Phinda Game Reserve.
Weather
Winter and summer in Manyeleti Game Reserve are opposite to those seasons in Europe and North America. Winter (May to September) brings the Dry season, while summer (October to April) brings the Wet season.
Summer months are hot and humid, and winters are mild and dry. Warm clothing for early morning and night game drives is advisable, especially in the winter months.
Virtually no rain occurs during the entire winter, and there is very low humidity. Permanent water sources are attractive to animals because water is scarce elsewhere.
Best time to go
Understanding the best time to visit South Africa is important as this will impact accommodation, flight prices, availability and the weather that visitors can expect on their safari vacation. A South Africa visa for entry may also be required.
The winter months of May to September are the best time to visit Manyeleti. This coincides with the Dry season, and wildlife viewing is at its peak.
Vegetation thins and animals seek waterholes and other sources for water making them easier to spot. September is probably the best month of all since it tends to be warmer than the other months.
Health
Manyeleti is located in the part of South Africa where there is a slight risk of malaria. The risk is negligible in the colder months, but in the summer's Wet season, from October to April, it is wise to protect yourself.
Antimalarials and other vaccines for South Africa are advised, as well as covering up in the evening and using mosquito repellent (those containing DEET are most effective).
It is recommended to visit a travel clinic before coming to South Africa. Several South Africa vaccinations are recommended and usually administered before your departure.
FAQs
Where is Manyeleti Game Reserve located?
Manyeleti Game Reserve is located between the Timbavati and Sabi Sands Game Reserves and borders the world famous Kruger National Park.
What animals will visitors see at Manyeleti Game Reserve?
Visitors to Manyeleti Game Reserve will see the Big Five including the lion, leopard, elephant, African buffalo, rhino as well as Burchell's zebras, blue wildebeest, black-backed jackals, side-striped jackals and antelope.
How much is the Manyeleti Game Reserve entrance fee?
Manyeleti has one access gate. Access is via Orpen Gate road. Each guest will be charged an entrance fee of ZAR 30.00 per person. There is also an additional charge per vehicle (car/ minibus ZAR 50.00) and a community levy of ZAR 75.00 per person.