A safari in Botswana is above all a trip to see the most incredible wildlife Africa has to offer in beautiful landscapes.
Discover the main Botswana animals, including the big 5 and the largest population of elephants in the world, that visitors can expect to see on their trip to southern Africa.
What animals will I see in Botswana?
Wildlife in Botswana stands out from other southern African countries including South Africa thanks to the clearly marked efforts of the Botswana people to protect their nature, flora and fauna.
The country is renowned for its wildlife migratory movements, particularly to the Okavango Delta in the north of the country, one of Botswana's best parks and reserves.
Main Botswana animals
This premium wildlife destination will almost guarantee sightings of the most famous of Africa's mammals: the Big Five.
Elephants thrive in Botswana and are heavily protected with the greatest number, 50,000 of them, found in the Chobe National Park.
| | | | |
| --- | --- | --- | --- |
| Animal | Length | Weight | Lifespan |
| Lion | 10 ft | Up to 573 pounds | 13-15 years |
| Leopard | 3 ft – 6 ft | 80 to 160 pounds | 12-17 years |
| Elephant | 8 ft 2″ – 13 ft | 5,000 to 14,000 pounds | 60-70 years |
| Rhino | 6 ft 6″ – 13 ft | 1,320 to 2,090 pounds | 40-50 years |
| Buffalo | 7 ft – 11 ft | 1,100 to 2,000 pounds | 15-18 years |
| Cheetah | 3ft 11″ – 4 ft 11″ | 75 to 140 pounds | 12-14 years |
| Hippo | 10 ft 9″ – 16 ft 6″ | 3,500 to 9,920 pounds | 40-50 years |
| Springbok | 4 ft – 4 ft 6″ | 60 to 68 pounds | 7-9 years |
| Wildebeest | 6 ft 6″ | 240–400 pounds | 20 years |
| Zebra | 3 ft 7″ – 4 ft 9″ | 380 to 850 pounds | 25 years |
| Hyena | 4ft – 6ft | 90 to 170 pounds | 12 years |
| Oryx | 6 ft | 500 pounds | 18 years |
| African wild dogs | 5ft | 35 to 50 pounds | 7-10 years |
| Red lechwe | 4 ft 3″ to 6 ft | 150 to 265 pounds | 10-11 years |
| Crocodile | 17 ft | 1,000 pounds | 30-40 years |
| Bat-eared fox | 1.5 ft to 2 ft | 6.6-11 pounds | 13 years |
Lions are abundant all over Botswana, but have the highest numbers in the Savute region of the Chobe National Park. This area consists of dry savannah and grassy plains, the perfect setting for ambush predation.
Rhinos can be found in the Moremi Game Reserve adjacent to the Okavango Delta. This is an exclusive reserve, known for excellent camps and a wide variety of safari activities on offer, popular with Botswana honeymoon safaris and luxury safaris.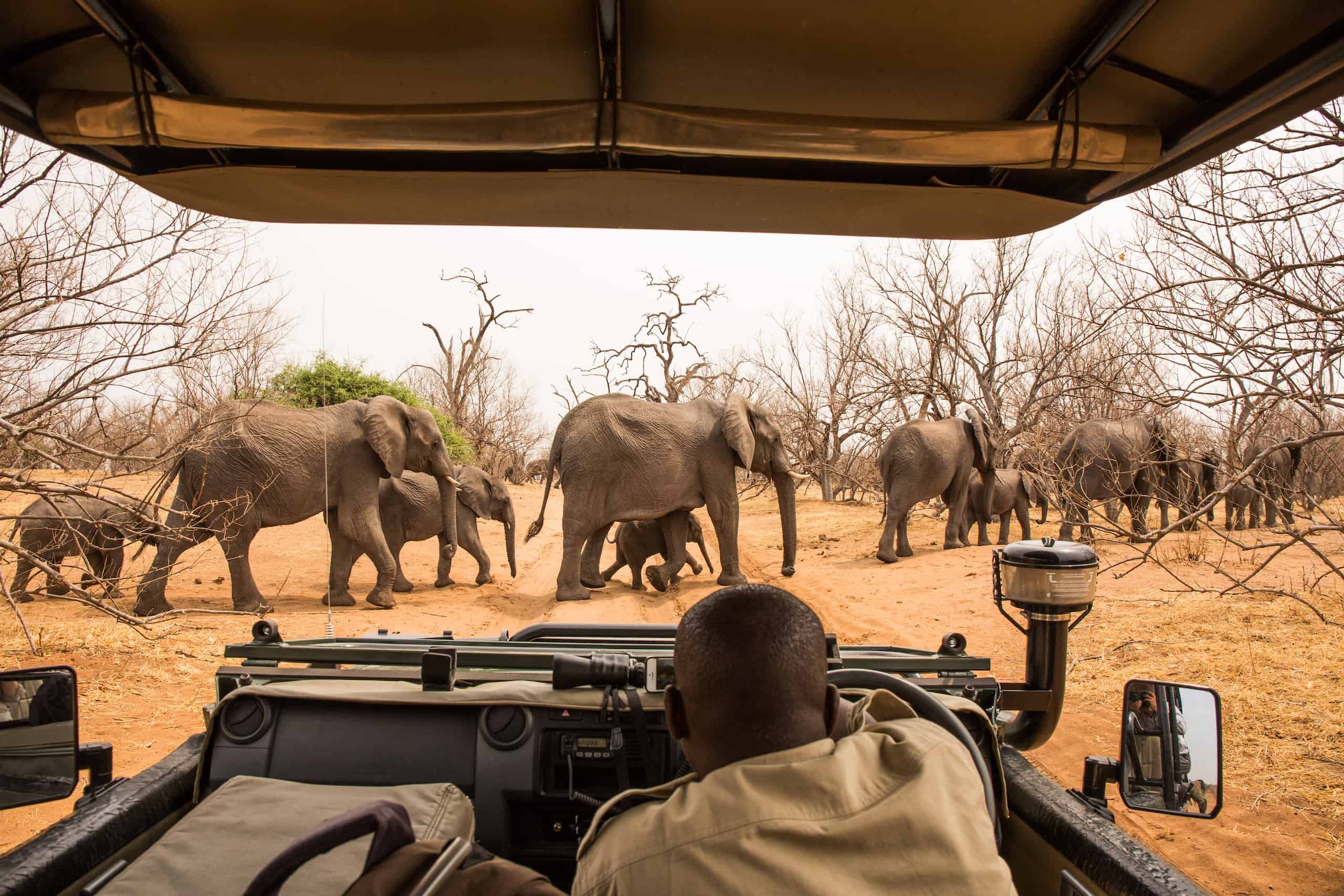 Leopards can be found at the Tuli Bloc, which borders Zimbabwe and South Africa and Mashatu Game Reserve. These predators are rarely seen due to their elusive nature and threats from other big predators.
African buffaloes can be found in the north of Botswana, in the lush grasses of the Duba Plains in the Okavango Delta, amongst the placid waters from the wet season.
Birds
600 species of birds including bee eaters can be found in Botswana's many eco-systems. The country has 13 Important Bird Areas (IBAs) covering 130,000 sq km.
Botswana is a superb birding destination. It doesn't have endemic species (birds that only occur in Botswana), but several have limited distribution.
| | | | |
| --- | --- | --- | --- |
| Bird | Length | Weight | Lifespan |
| Kori bustard | 3 ft 5″ – 4 ft 2″ | 15 – 40 pounds | 26- 28 years |
| African darter | 2 ft 7″ – 3ft 3″ | 2.3 – 3 pounds | 16 years |
| African skimmer | 1ft 3″ | 0.5 – 0.8 pounds | 20 years |
| Schalow's turaco | 1ft 3″ – 1 ft 5″ | 0.5 pounds | 30 years |
| Trumpeter | 6 ft | 2.2 pounds | 30 years |
| Crowned hornbills | 1ft 6″ – 1.7″ | 0.4 – 0.7 pounds | 10 – 15 years |
| Crested guinea fowl | 6 ft | 4 pounds | 12 – 15 years |
The habitat ranges from wet delta to desert bush, and both waterbirds and dry-country specials can be seen. Large numbers of migratory birds are present from October to April.
The best birding areas are in the north and include Chobe National Park, the Okavango Delta and the salt pans in the Makgadikgadi Pans.
The last is home to large flocks of greater and lesser flamingos after the rains. In the Kalahari Desert a wide variety of birds gather in large flocks round the limited water sources, offering great photo opportunities.
Chobe also boasts the highest bird species diversity in Botswana wildlife (468 species), including birds found nowhere else in the country like the Schalow's and Purple-crested turacos, Trumpeter and Crowned hornbills and the Crested guinea fowl.
Flora
Although 90% of Botswana is covered by some kind of savanna, even the Kalahari Desert contains adequate vegetation to support tens of thousands of wild animals.
Common trees are the mopane, camel-thorn, motopi (shepherd's tree), and baobab as well as sausage trees.
Botswana has some of the world famous wetlands such as the Chobe River and Okavango Delta in the northern part of the country and the dry areas such as the Kalahari Desert in the centre and southwest, popular destinations with groups going on safari tours.
In that regard the types of plants and animals found have different adaptations according to the landscape of the particular region.
Visitors will find cactus plants and camels surviving in a desert like the Kgalagadi desert while wetlands and semi-arid regions have more plants like the waterlilies and abundant wildlife such as elephants, flamingos, hippos and lions.
Where to see animals in Botswana?
The humid regions of the country and the ancient lakes are the ideal habitat for more than 600 species of birds: ostriches, storks, flamingos, vultures, herons, cranes and more.
Car rental in Botswana is an excellent way to tour this stunning country and see the wilds of Northern Botswana, which safeguard the largest elephant population in the world.
Huge breeding herds and large solitary bulls traverse the landscapes of Chobe National Park and Chiefs Island in the Moremi Game Reserve.
Chobe's broad-leaved woodlands and riparian forests are home to the endemic Chobe bushbuck and other lesser-known antelope species like puku, sable and roan.
Savute, in the western Chobe region is notorious for its large lion prides, historically numbering up to 30-odd individuals.
The unpredictability of Savuti's water supply has been known to set the scene for dramatic feats of survival, including hibernating crocodiles and bold lions preying on adult elephants.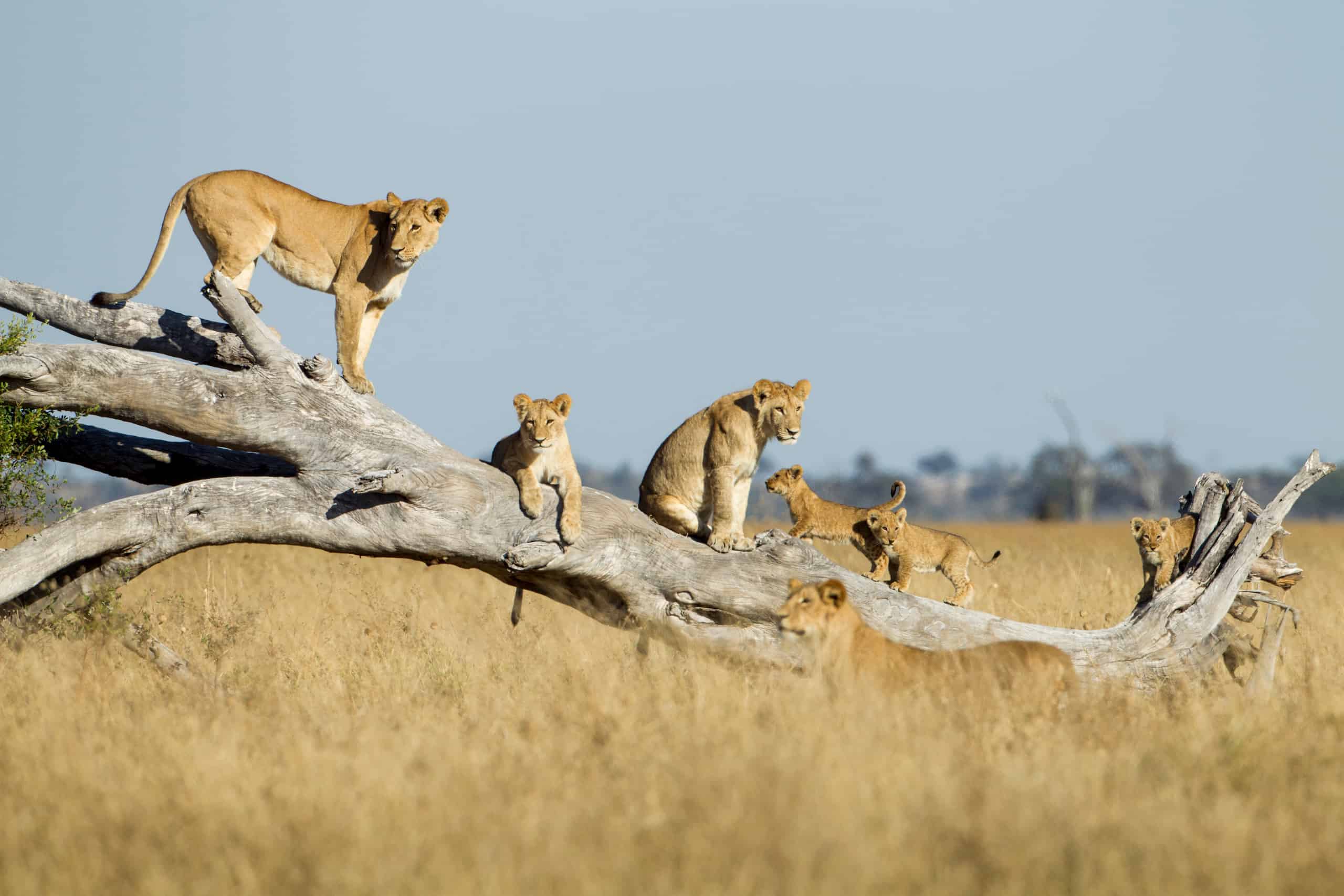 Savuti's vast savanna plains are perfect for enjoying sightings of Burchell's zebra, tsessebe, giraffe, and impala.
Lion, Hyena and Wild Dogs are their main predators in the Okavango Delta. Lechwe will often take to the water to escape predators.
They can take great leaps over channels and have a water repelling substance coating the fur on their legs which allows them to move faster through the permanent water.
What time of year is best to see the animals in Botswana?
The best time to see animals in Botswana is during the dry season, between June and October and travellers can fly into Botswana via Maun (MAU), Gaborone (GAB) or Kasane (BBK) airports for visitors wondering how to get to Botswana.
Flights from Maun Airport to the Okavango Delta in the north take 40 minutes and a Botswana visa and certain vaccinations may be required to enter the country.
The water points in Botswana dry up between June and October meaning animals gather around water sources which are becoming increasingly rare. The vegetation is also shorter, making it possible to see and observe the animals even from a distance.
Understanding the best time to visit Botswana is useful as this can impact safari prices and availability. Apart from the wildlife, there are many exciting outdoor activities that can be added to your safari itinerary. Check out our article on the best things to do in Botswana which includes eco safari walks with local bushmen.
FAQs
What animals can visitors see in Botswana? 
The Big Five including herds of elephants, lions, Cape buffaloes, lions, leopards and rhinos as well as African painted dogs, blue wildebeest, civets, crocodiles, giraffes, hippos, hyenas, impala, leopards and many more. 
What parks should I visit to see these animals in Botswana? 
Each of the parks and reserves in Botswana has its own unique wildlife and surroundings. Visitors should consider a tour of multiple parks on their visit including the must-see Okavango Delta and Chobe National Park.  
When to go on a safari in Botswana to see the animals? 
The ideal season to observe the most animals in Botswana is during the dry season from June to October.