The Savuti Channel is a place of enchantment and beauty in northern Botswana covering 1,930 square miles in the south west of Chobe NP, some 135 miles north of Maun.
Savuti (also spelt "Savute") is known for its mysterious and fascinating channel which runs 62 miles from the Chobe River in southern Africa through a gap in the sand ridge to the Mababe Depression.
Why visit the Savuti Channel?
Safari at the Savuti Channel
Visitors can expect both day and nighttime game reserve drives through open landscapes where guests will see abundant wildlife and a full cast of predators.
Its open woodlands provide habitat for large antelope and buffalo herds, preyed on by big cats and wild dogs, while permanent waterholes ensure elephants remain in Savuti all year.
The clear water levels of the Savuti, which had remained dry for so long and are now back flowing, set this area apart.
A popular destination with safari tours, the park offers plenty of attractions and wildlife for couples on a Botswana honeymoon safari and groups on a luxury safari.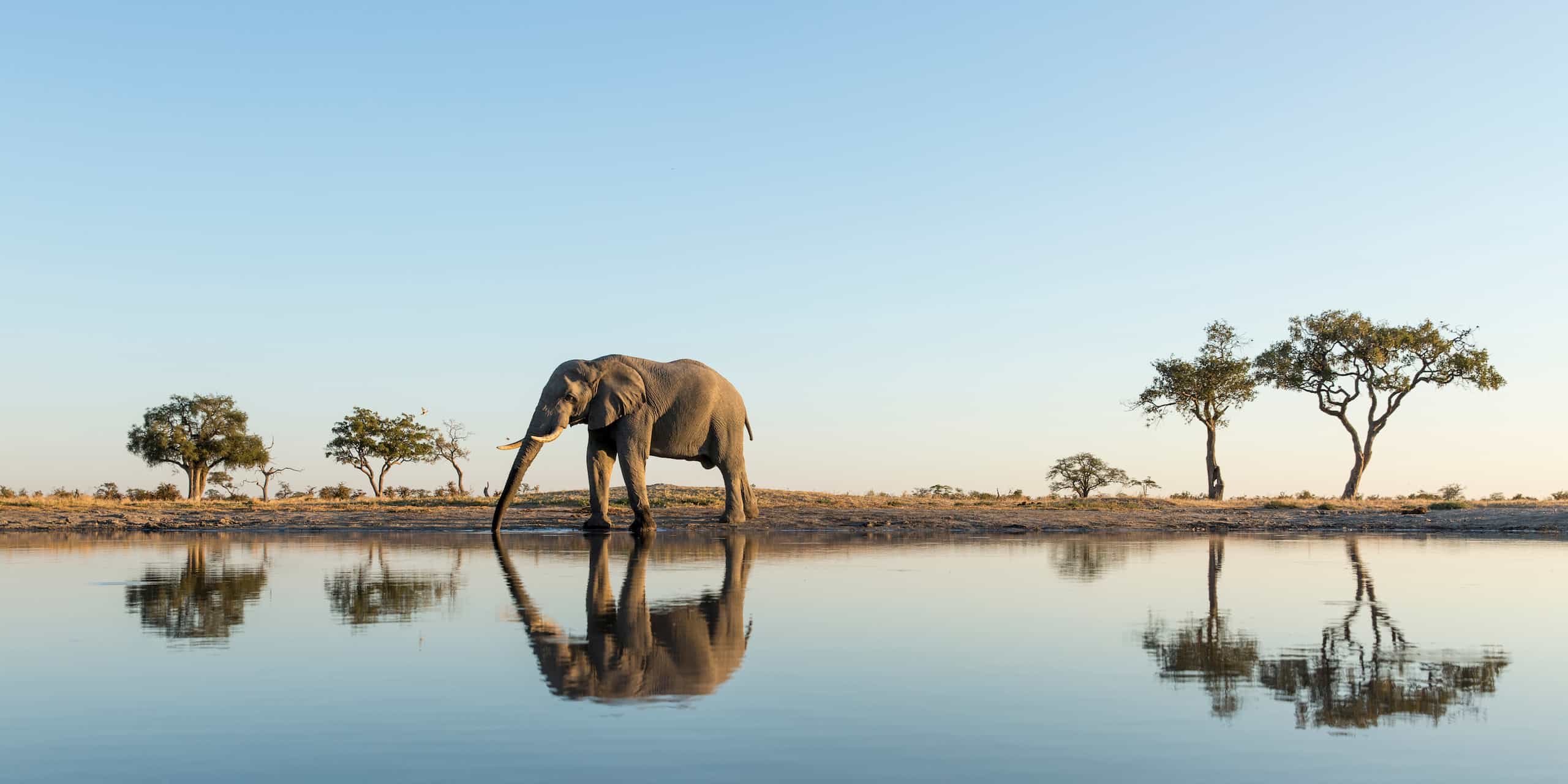 Animals
Savuti is famous for its predators, especially its resident lion and spotted hyena populations as well as elephants, zebras, impalas, tsessebe, buffaloes, giraffes and wildebeest.
The neary Linyanti and upper Savuti areas also host large numbers of buffalo, wild dogs, elephants and visitors will also see zebra migrations.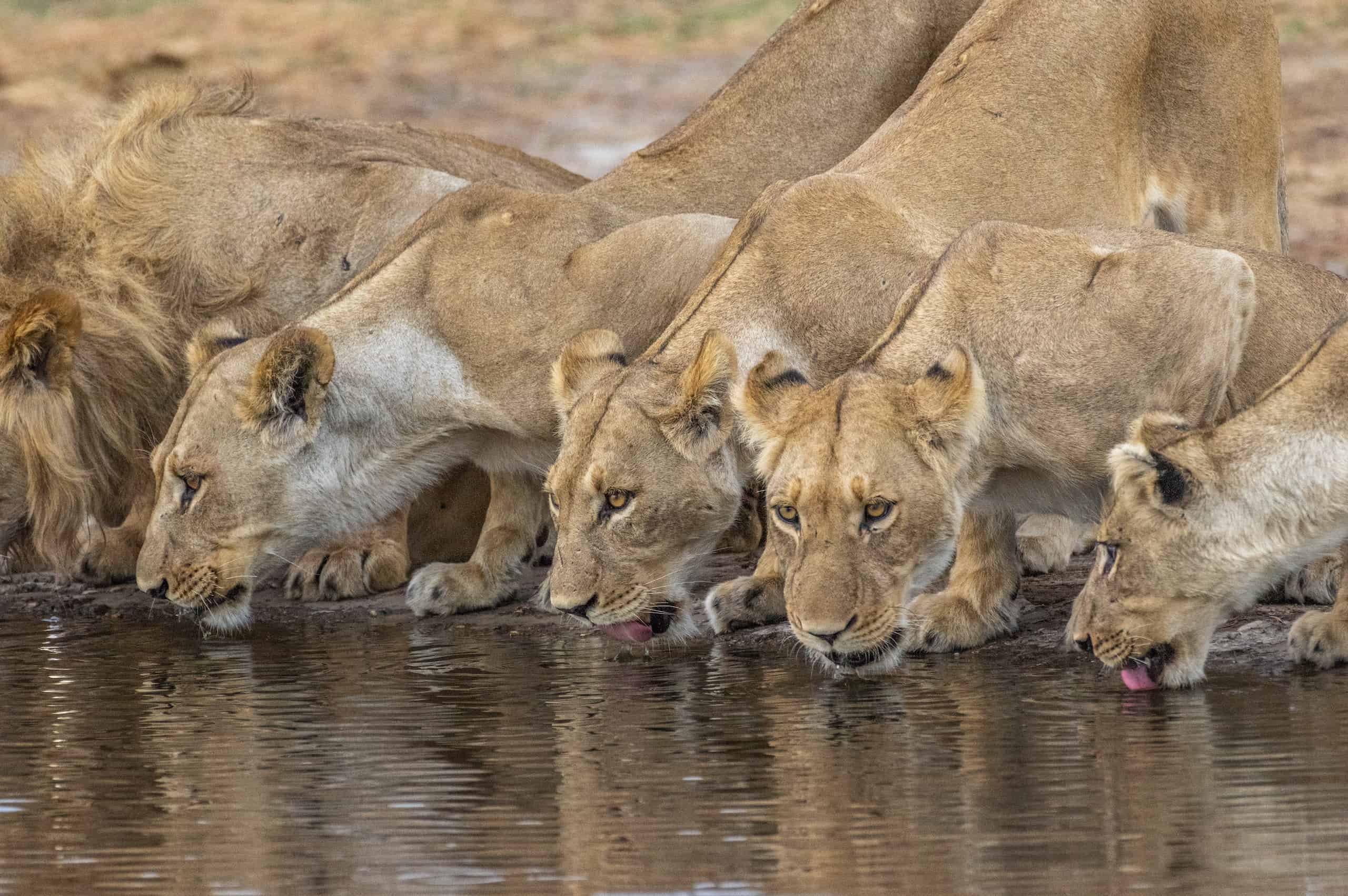 Birds
Large secretary birds, kori bustards and carmine bee eaters can be sighted around the Savuti marsh.
Other activities at Savute Channel
Savuti offers visitors different options when it comes to experiencing the beauty of this area.
Safari walks
Explore wildlife on foot, an authentic and economical means of exploring wildlife in Savuti. Visitors can also go on excursions that explore the ancient San rock paintings at Gubatsa Hills as well as endless dead trees in the Dead Forest.
This extraordinary dolomite rock mound houses a skillful anthology of paintings that reveal the rich history and indigenous way of life of the San people who once roamed the bush.
Helicopter tours
A scenic helicopter flight over the landscape offers a unique perspective on the incredible wildlife, waters, islands and lagoons.
Boating tours
Traverse the Savuti in comfortable custom-designed game viewing boats.
Sleep under the stars
This extraordinary experience involves sleeping under the stars at the Zibadianja hide overlooking the lagoon.
Skydiving
See the incredible Savuti landscape from a very different view, whilst jumping out of a plane.
Sand-boarding
Visitors can enjoy all the thrills of sandboarding on the nearby dunes.
White water rafting
An action packed adventure whilst enjoying the splashes and wildlife as well as the breathtaking scenery.
Check out our article on the best things to do in Botswana which includes other activities including eco safari walks with local bushmen.
How to get to Savuti?
By Plane
Visitors can access Savuti by light aircraft via Camp Savuti in the west of Chobe National Park, taking guests from Maun or Kasane on a short 40 minute flight.
For visitors wondering how to get to Botswana, you can fly to Maun (MAU), Gaborone (GAB) or Kasane (BBK) airports. A Botswana visa and certain vaccinations may also be required to enter the country.
By Road
The shortest route from Kasane is 105 miles long, taking 4-6 hours driving along the Chobe Riverfront.
Car rental in Botswana is an excellent way to tour this stunning country and see the incredibly diverse range of Botswana animals and scenery.
Tariffs & Regulations
Entrance fee to the Savuti Channel
Park entry fees are $14 per person per day and $6 per day for foreign-registered vehicles ($6).
There are also additional fees for camping – $8.50 per adult and $4.20 for children 8-17.
Carrying a small amount of Botswana currency, the Pula (BWP) is useful when paying for smaller food or ticket items.
Regulations
When visitors enter the reserve, they must follow common sense rules including picking up waste, respecting the reserve schedules and staying in the vehicle when required.
Accommodation at Savuti
The Savuti Canal has many fine resting camps and more luxurious options available as well as a public campsite.
Lodges
Savuti Safari Lodge
The Belmond Savute Elephant Lodge is an excellent option for game drives and viewing as it has a unique viewing hide overlooking the watering hole.
Tented Camps
Savuti tented camp Chobe
A canvas tent will separate visitors from the sights and sounds of the wild and guests will also enjoy the perks of air conditioning, plush beds, and world-class service.
Campsite
Savuti Campsite has 14 camping pitches with running water and good sanitary facilities.
Useful information
Geography
Located in northern Botswana, some 135 miles north of Maun. Trips are often combined with visits to Victoria Falls and the Okavango Delta.
Weather
Savuti has temperate weather with temperatures averaging between 20C/68F to 30C/86F.
Best time to visit Savuti
The dry season (Nov to December) in winter is the best time to visit Savuti for migration sightings. Understanding the best time to visit Botswana is useful as this can impact safari prices and availability.
With some of Botswana's best parks and reserves an easy charter flight away, trips are often combined with tours to the Okavango Delta and Chobe National Park ecosystem.
Health
Savuti lies in a moderate-risk malaria area. Visitors entering the area should consult their doctors regarding anti-malarial medicines.
FAQs
Where is the Savuti Channel located?
135 miles north of Maun. Most visitors will fly in by light aircraft to Camp Savuti airstrip.
How much is the park entrance fee?
Park entry fees are $14 per person per day and $6 per day for foreign-registered vehicles ($6). 
What animals will visitors see?
Lions, spotted hyenas, elephants,zebras, impalas, tsessebe, buffaloes, giraffes and wildebeest.