Botswana parks and reserves are home to some of the most diverse landscapes in Africa with lush wetlands, dry desert plains and incredible salt pans.
With the help of the government's conservation policy, Botswana's national parks, sanctuaries and game reserves are the perfect hangout for the big 5 and thousands of other predators and birdlife.
More than 80% of Botswana's land has been allocated for wildlife making the country's parks unrivaled and perfect for game viewing.
Animals and wildlife in Botswana's parks
Botswana is home to many different species of animals and predators, including 50,000 elephants, making it the largest elephant population in the world.
Visitors can also find the Big Five across the country's diverse range of parks including the lion, the leopard, the rhino, the elephant and the African buffalo.
Other animals guests will view include giraffes, springboks, wildebeest, zebras, antelopes herbivores, kudu, lechwe antelope, big cats including cheetahs, hyenas, oryxes, hippos, crocodiles, bat eared foxes and may more.
Primates can also be found, particularly in the Okavango Delta including the Chacma baboon, malbrouck, mohol bushbaby and the vervet monkey.
Birds are also plentiful with the humid regions of the country and lake habitats hosting more than 500 species including ostriches, storks, flamingos, vultures, herons and cranes.
More than 150 species of reptiles and amphibians also call Botswana's parks home from different types of tortoises, turtles, Nile crocodiles, long-tailed thread snakes to black mamba snakes.
There are numerous beautiful parks and reserves dotted across the country where visitors will find these predators.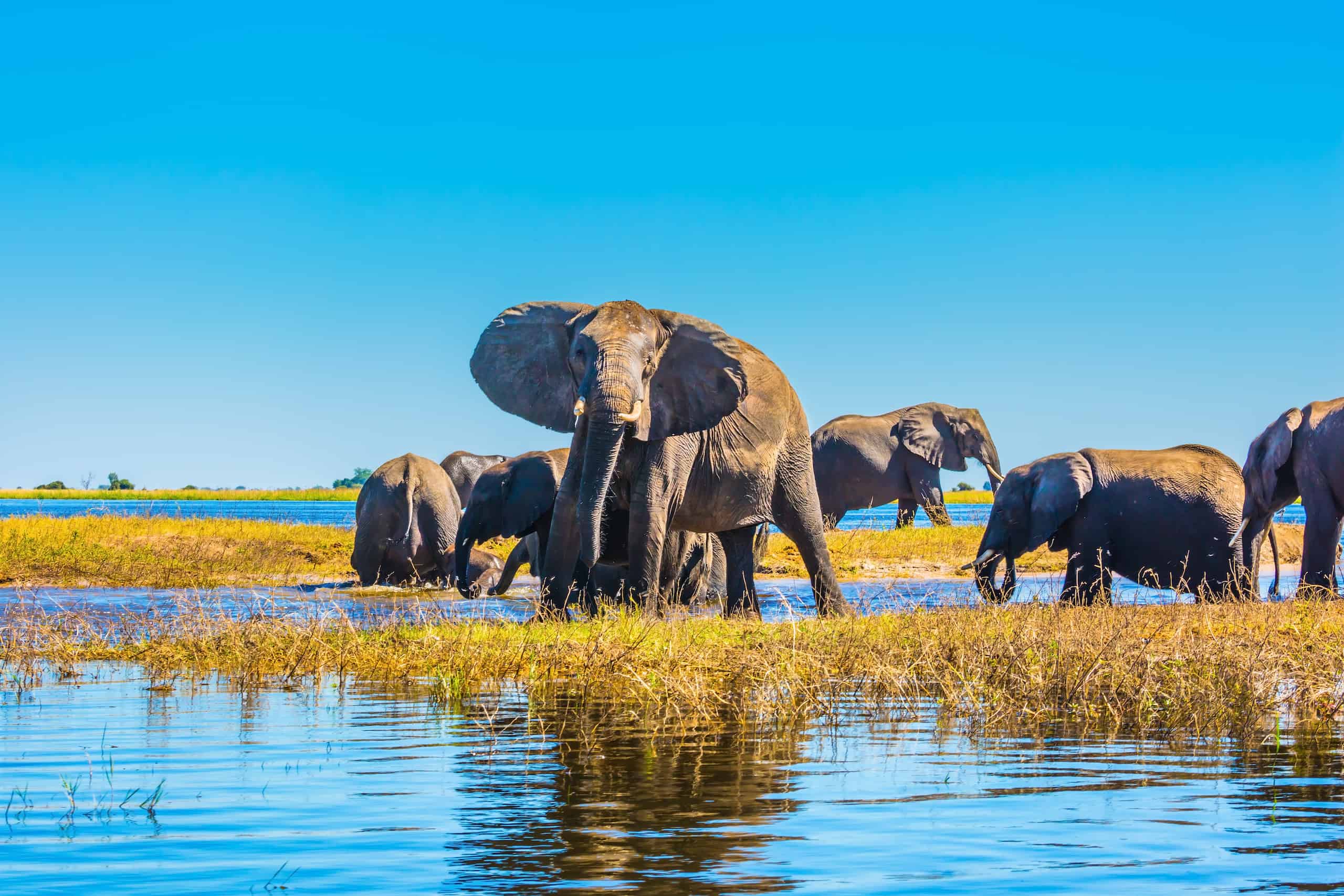 Botswana parks and reserves
National parks, game reserves, sanctuaries, concessions and salt pans all fall under the incredibly diverse Botswana parks and reserves umbrella. Understanding the best time to visit Botswana is useful as this can impact safari prices and tourist number in each park.
A national park is territory protected and managed by the government in order to preserve the biodiversity of the land and fauna, with access to a national park regulated. Conservation areas are also protected areas and a reserve is an area managed by a private company.
Visiting rules for tourists are different in a park or conservation area where it may be possible to get closer to the animals.
Botswana has four national parks, six game reserves and many other parks.
The national parks including Chobe, Kgalagadi Transfrontier Park (Gemsbok), Makgadikgadi Pans and the Nxai Pan are run by the Department of Wildlife and National Parks (DWNP), based in Gaborone.
The game reserves include the Central Kalahari Game Reserve, Gaborone Game Reserve, Khutse Game Reserve, Mannyelanong Game Reserve, Maun Game Reserve and Moremi Game Reserve.
Regarded as the best parks, the Okavango Delta, Chobe National Park, Moremi Game Reserve and the Central Kalahari Game reserve are a must-see.
Most parks have an entrance fee and carrying a small amount of Botswana currency, the Pula (BWP) is useful when paying for smaller food or ticket items.
Northern parks
Okavango Delta
The Okavango Delta is often described as one of the most beautiful areas in Africa.
The Okavango Delta is one of Africa's most famous destinations and offers a true wilderness experience, low impact tourism, excellent wildlife viewing, stunning scenery and the renowned Okavango luxury safari experiences. Walking safaris and mokoro (canoe) trips are a great addition to the usual game drives.
There are many exciting activities that can be added to your Okavango Delta itinerary. Check out our article on the best things to do in Botswana which includes eco safari walks with local bushmen.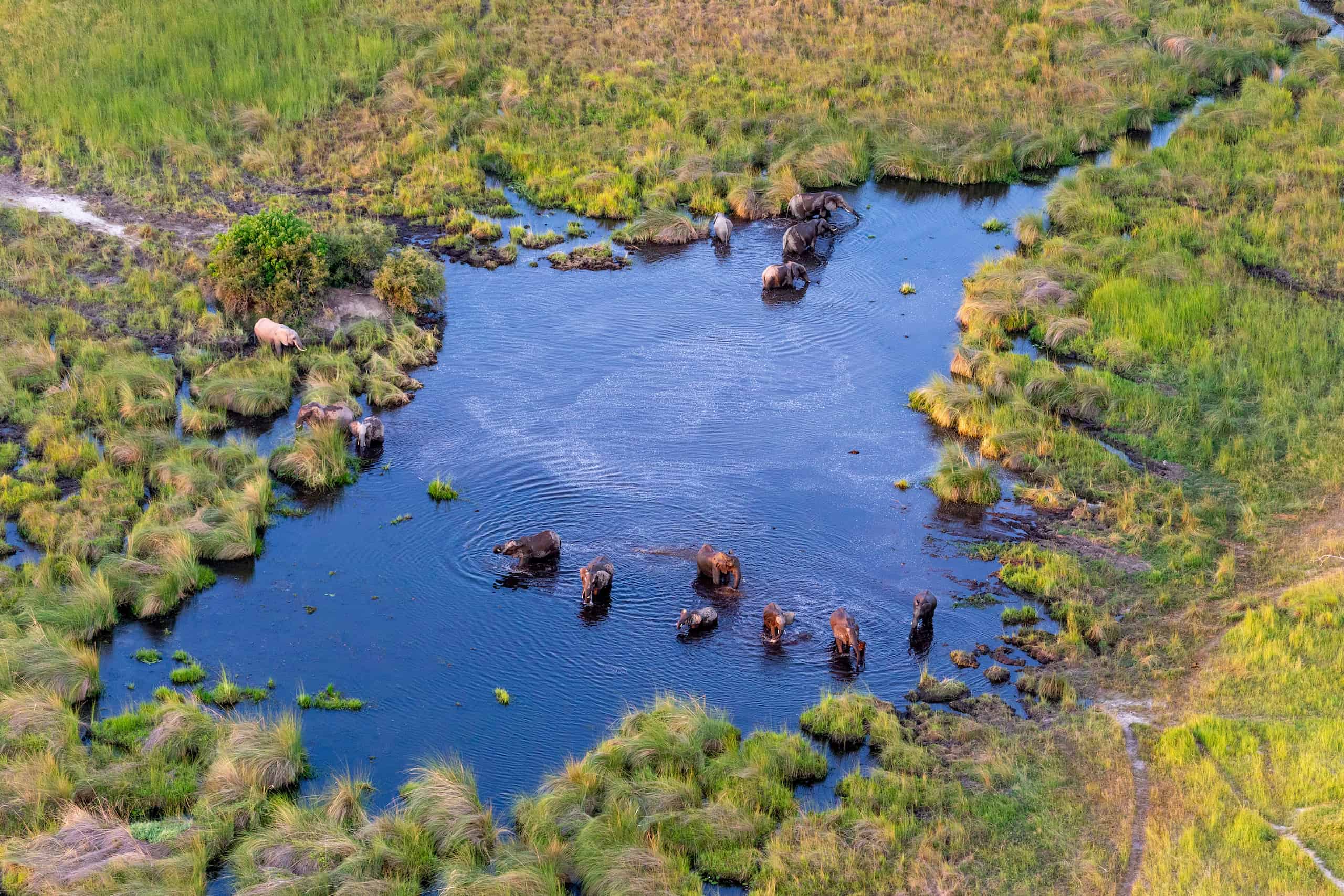 Moremi Game Reserve
The oldest and first protected reserve of the Okavango Delta, the reserve is named after Batawana tribe members, Chief Moremi III and his wife.
Now, the Moremi Game Reserve is one of the most diverse reserves with surprises everywhere including wildlife species, birdlife and a diverse landscape.
This wilderness combines mopane woodland, seasonal flooding plains, beautiful lagoons, papyrus rivers and acacia forests.
Chobe National Park
A popular destination with newlyweds going on a Botswana honeymoon safari and luxury safaris, Chobe is the oldest national park in Botswana and home to distinct ecosystems, making it one of the most ecologically diverse parks in all of Africa.
The Serondela area or Chobe riverfront is in the northeast corner of the park, an area made up of lush marshes and woods. The woodlands are receding due to the large elephant population.
The Linyanti Marsh to the west is alongside the Linyanti and Kwando rivers. Due to the waterways, this area is made up of lagoons and woodlands.
The Savuti marsh area on the west bank of the park is rarely an active marsh. Visitors often combine day trips from Victoria Falls with a trip to Chobe.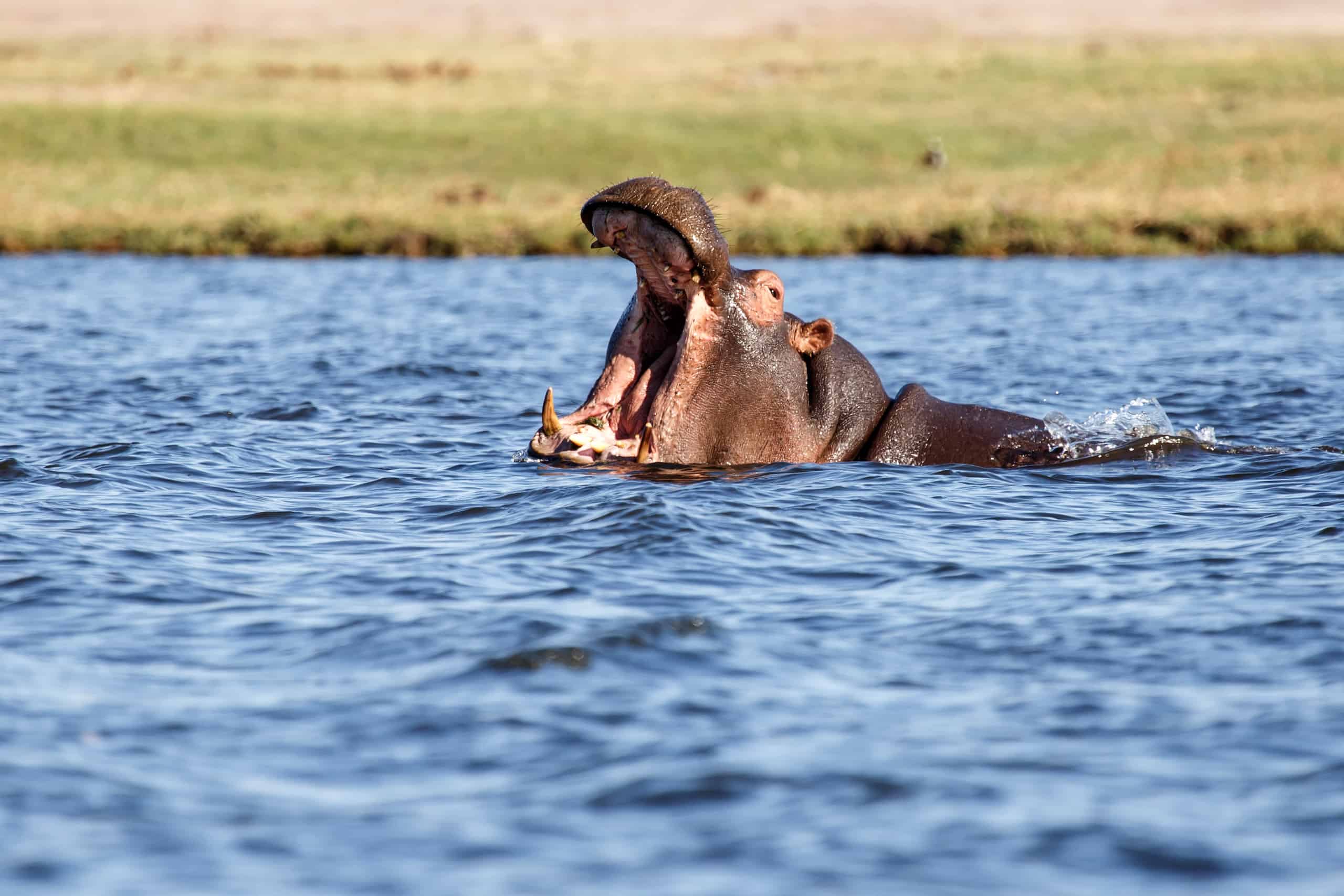 Linyanti Concession
Linyanti is home to large herds of elephants, endangered wild dogs, lions, leopards, red lechwe, hippo, zebras and crocodiles.
Savuti Channel
Savuti is famous for its mysterious and fascinating channel and running a distance of 62 miles from the Chobe River.
Makgadikgadi Pans
The Makgadikgadi Pan National Park is a salt pan located in the middle of the dry desert landscape savannah.
When it rain, the pans come to life with water birds and great herds of game. The Makgadikgadi pans are the remains of a once ancient lake and now form part of the route of Southern Africa's largest remaining migration.
Nxai Pan
The Nxai Pans shares a border with the much larger Makgadikgadi Pan National Park and consists of salt pans covering 2,650 square kilometres.
Selinda Concession
Selinda is a private concession of 130,000 hectares boasts large herds of elephants, lions and packs of African wild dogs.
Central parks
Central Kalahari Game Reserve
The Central Kalahari GR is an extensive national park and the second largest wildlife reserve in the world at 52,800 sq km in the Kalahari Desert.
The reserve is well-known for providing inspiring star gazing experiences as well as for its many notable attractions. This includes Deception Valley, the Sunday and Leopard Pans, Passage Valley and Piper's Pan.
Khutse Game Reserve
Khutse GR is an extension of the southern boundary of the Central Kalahari Game Reserve (CKGR) with plentiful lions and leopards.
Eastern parks
Mashatu Game Reserve
Mashatu GR is one of the largest private reserves in southern Africa comprising 29,000 hectares with three of the big five present. Mashatu can be found on the eastern tip bordering South Africa and Zimbabwe.
Northern Tuli Game Reserve
Northern Tuli GR is a vast reserve that incorporates several private concessions including Mashatu Game Reserve and Tuli Safari Lodge.
Khama Rhino Sanctuary
Khama Rhino Sanctuary is a conservation project with over 40 rhinos located 370 miles from the waters of the Okavango River. With lower rainfall and less muddy sand tracks, April to November during the dry season is the best time to visit.
Southern parks
Kgalagadi Transfrontier Park
Kgalagadi TP this park is a merger of Kalahari Gemsbok National Park in South Africa and Gemsbok National Park in Botswana.
This immense wilderness (37,000 sq kms) is now shared by both countries as a protected area, and is jointly managed.
Mokolodi Nature Reserve
Mokolodi is a smaller reserve with white rhinos, giraffes, zebras, kudus, impalas, waterbucks, klipspringers, baboons and hippos located 12 miles from the capital Gaborone.
Travelling between parks
Botswana is a big country and the parks are spread apart far and wide from one another.
Visitors may require a combination of road and plane transfers to navigate between the different parks and reserves. Car rental in Botswana is an excellent way to go on a safari tour of this stunning country and see the incredibly diverse range of Botswana animals and scenery.
Moremi Game Reserve can be accessed by road via the North Gate near the Khwai River, which is accessible from Chobe National Park.
Travelling from Moremi in northern Botswana however, all the way to Kgalagadi Transfrontier Park in southern Botswana is over 700 miles and 22 hours driving by road. This trip is typically made via charter flight.
Travellers can fly to Botswana via Maun (MAU), Gaborone (GAB) or Kasane (BBK) airports for visitors wondering how to get to Botswana. Flights from Maun Airport to the Okavango Delta in the north take 40 minutes and a Botswana visa and certain vaccinations may be required to enter the country.