During your safari in Botswana, guests will have to pay for accommodation, food, park entrance fees, activities and more. Knowing the currency of Botswana and what is/isn't acceptable will be useful for visitors to understand.
What is the official currency of Botswana?
The official currency of Botswana is the Pula (BWP), which is subdivided into 100 thebe. This sub-unit of the currency includes the thebe which means "shield" and represents defence.
Notes and coins
Visitors can expect to find the following denominations.
Notes of: 10 pula, 20 pula, 50 pula, 100 pula & 200 pula
Coins of: 1 pula, 2 pula and 5 pula
Thebe: 1, 2, 5, 10, 25 and 50 thebe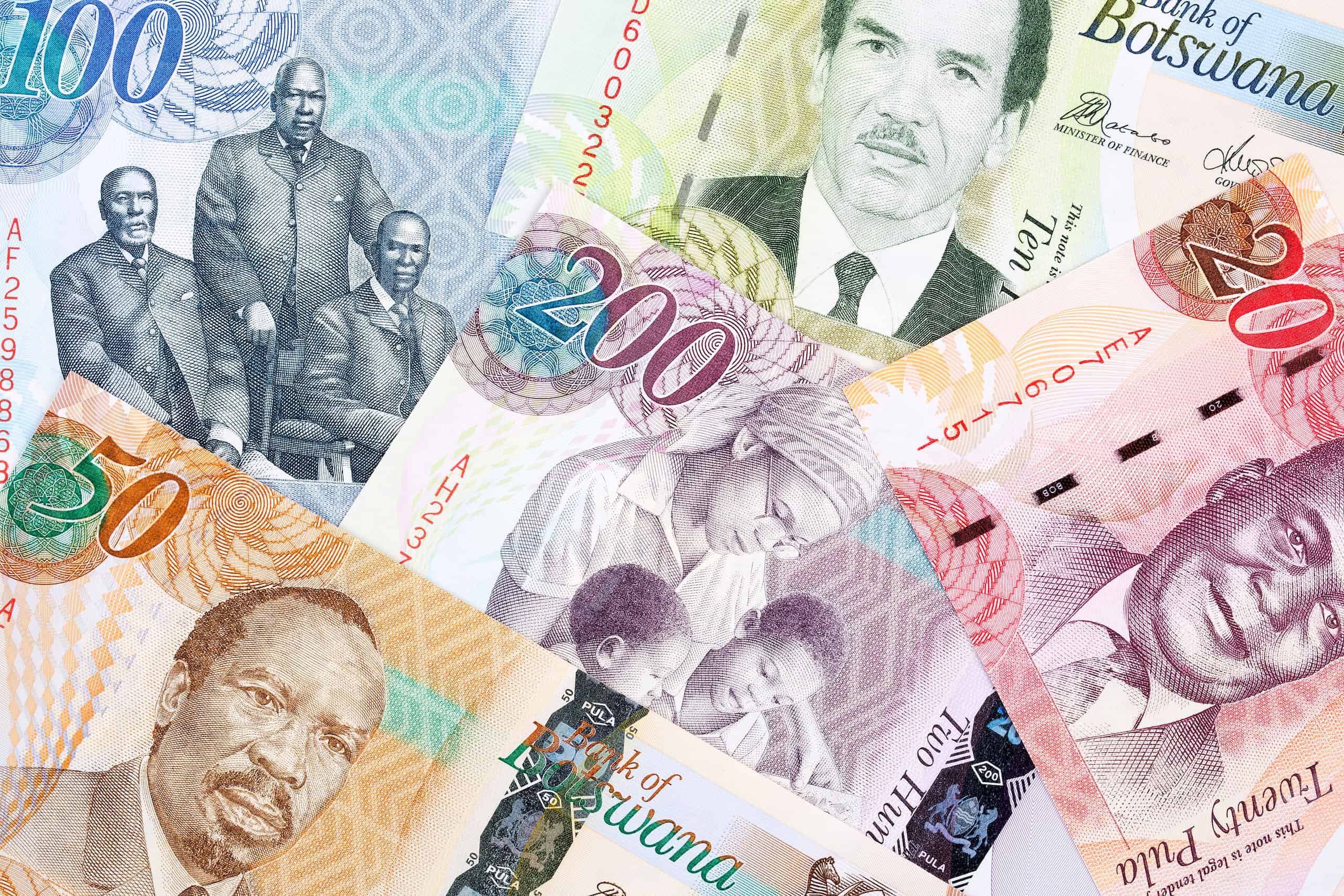 Pula currency
The Pula was introduced on 23 August 1976, subsequently known as "Pula Day", replacing the South African rand.
In 1976, coins were introduced in denominations of 1, 5, 10, 25 and 50 thebe. The 1 thebe was struck in aluminum, with the 5 thebe in bronze and the others in cupro-nickel. These coins were round except for the scalloped 1 pula.
Bronze, dodecagonal 2 thebe coins were introduced in 1981 and discontinued after 1985.
In 1991, bronze-plated steel replaced bronze in the 5 thebe, nickel-plated steel replaced cupro-nickel in the 10, 25 and 50 thebe and the 1 pula changed to a smaller, nickel-brass, equilateral-curve seven-sided coin.
A similarly shaped, nickel-brass 2 pula was introduced in 1994. In 2004, the composition was changed to brass-plated steel and the size was slightly reduced.
Following the withdrawal of the 1 and 2 thebe in 1991 and 1998 respectively, smaller 5, 10, 25 and 50 thebe coins were introduced, with the 5 and 25 thebe coins being seven-sided and the 10 and 50 thebe coins remaining round.
A bimetallic 5 pula depicting a mopane caterpillar and a branch of the mopane tree it feeds on was introduced in 2000 composed of a cupronickel center in a ring made of aluminum-nickel-bronze.
What is the Botswana currency exchange rate?
| | |
| --- | --- |
| 1 GBP | 15.56 Botswana Pula |
| 1 USD | 11.72 Botswana Pula |
| 1 EUR | 13.27 Botswana Pula |
| 1 ZAR | 0.73 Botswana Pula |
| 1 CHF | 12.74 Botswana Pula |
| 1 AUD | 8.41 Botswana Pula |
Latest exchanges rates can be found here.
Should a visitor change money before arriving?
Visitors can obtain Botswana Pula at their local bank or exchange office prior to the trip. Understanding the best time to visit Botswana is useful as this can impact safari prices, flight prices and availability when planning how to get to Botswana.
Carrying significant sums of cash is not recommended. Visitors can use ATM cash machines to withdraw cash in Botswana should they require it.
Foreign exchange currencies in Botswana
Botswana banks accept the following foreign currencies: US Dollars, Pounds Sterling, Euro and South African Rands in cash.
Credit cards in Botswana
When paying for activities including the best things to do in Botswana and eco safari walks, visitors should be aware that credit and debit cards including International Visa and MasterCard are accepted at most lodges.
However, Express and Diners Club are often not accepted by the banks of Botswana or by the camps.
Most common foreign currencies can be exchanged, but not every branch of every bank will do so. Therefore it's best to stick to US dollars, euros, UK pounds and South African rand, which are all easy to change.
Visitors may also need to their credit card to pay for a Botswana visa upon arrival or certain vaccinations which may be required prior to entry.
USD in Botswana
Dollars is USD and in Botswana, foreign currency typically means the United States dollar which is accepted by a number of midrange and top-end hotels, lodges and tour operators instead of Pula BWP.
Dollars are useful for paying the entrance fees to Botswana's best parks and reserves which include the stunning Okavango Delta and Chobe National Park ecosystem.
Replacing the South African rand instead of BWP can also be used on Botswanan combis (minibuses) and buses going to/from South Africa, and to pay for Botswanan vehicle taxes at South Africa–Botswana borders.
US Dollars are no longer accepted in Zambia. If visitors are planning to cross into Zambia on a honeymoon safari or luxury safari trip, they will need to ensure they have enough cash to change at a bureau on arrival or a bank card to withdraw local Kwacha from an ATM.
There are money changing facilities in Lusaka and Livingstone. Visitors won't be able to purchase Zambian Kwacha outside of Zambia.
FAQs
What currency does Botswana use?
Pula (BWP) is the main currency and $1 USD = 11.72 Pula (BWP).
Do businesses accept credit and debit cards?
Most lodges accept Visa and MasterCard however Express and Diners Club are often not accepted by banks and lodges.