Renowned as a luxury safari destination, Botswana remains a very unspoilt and wild country, reflected in the top notch safari experience visitors have come to expect. Correspondingly, Botswana safari prices are considered higher here in comparison to other African nations
Visitors often wonder about the approximate cost of Okavango Delta safaris and if affordable Botswana safari packages are possible. Below, we have listed the various elements that impact Botswana safari costs and detailed the price averages for each.
Elements that influence safari prices in Botswana
Flight and entry to Botswana
For visitors wondering how to get to Botswana, there is no direct flight between Botswana and most countries. Therefore a stopover in Johannesburg, South Africa will be required before reaching Gaborone, the capital of Botswana.
Due to this stopover, flights to Botswana are more expensive than most flights serving African safari countries via a direct flight such as Kenya,Tanzania or South Africa.
The prices of flights from the U.K. or U.S. can vary according to the dates of the stay and the chosen airline.
A Botswana visa and certain vaccinations may also be required to enter the country and will add to the overall price.
Local transport
Several transport options are available in Botswana but not all offer the same experience and speed of connection visitors want when travelling between parks and reserves.
Due to this, private charter flights are commonly used to quickly access isolated private reserves and concessions, sometimes the only way to access them.
Others choose to go on self drive safaris and rent their own cars/4×4's and use the roads of the national parks. This is a more affordable option and offers visitors the comfort of seeing the incredibly diverse range of Botswana animals and scenery at their own pace.
Flights from Maun to the Okavango Delta
Seeing the Okavango Delta from above is a breath-taking experience. Pricing is based on distance from the airport i.e. Maun or Kasane to the lodge with flights ranging from USD $150 for a short flight to USD $400 for longer distances.
Flights from Maun are shorter, so less expensive than those from Kasane but the flights from Kasane and South Africa allow visitors to see both Chobe National Park and the Okavango Delta from above.
Depending on your travel origin, visitors will also be able to see the incredible Kalahari Desert, Moremi Game Reserve and Victoria Falls, each spectacular in their own ways.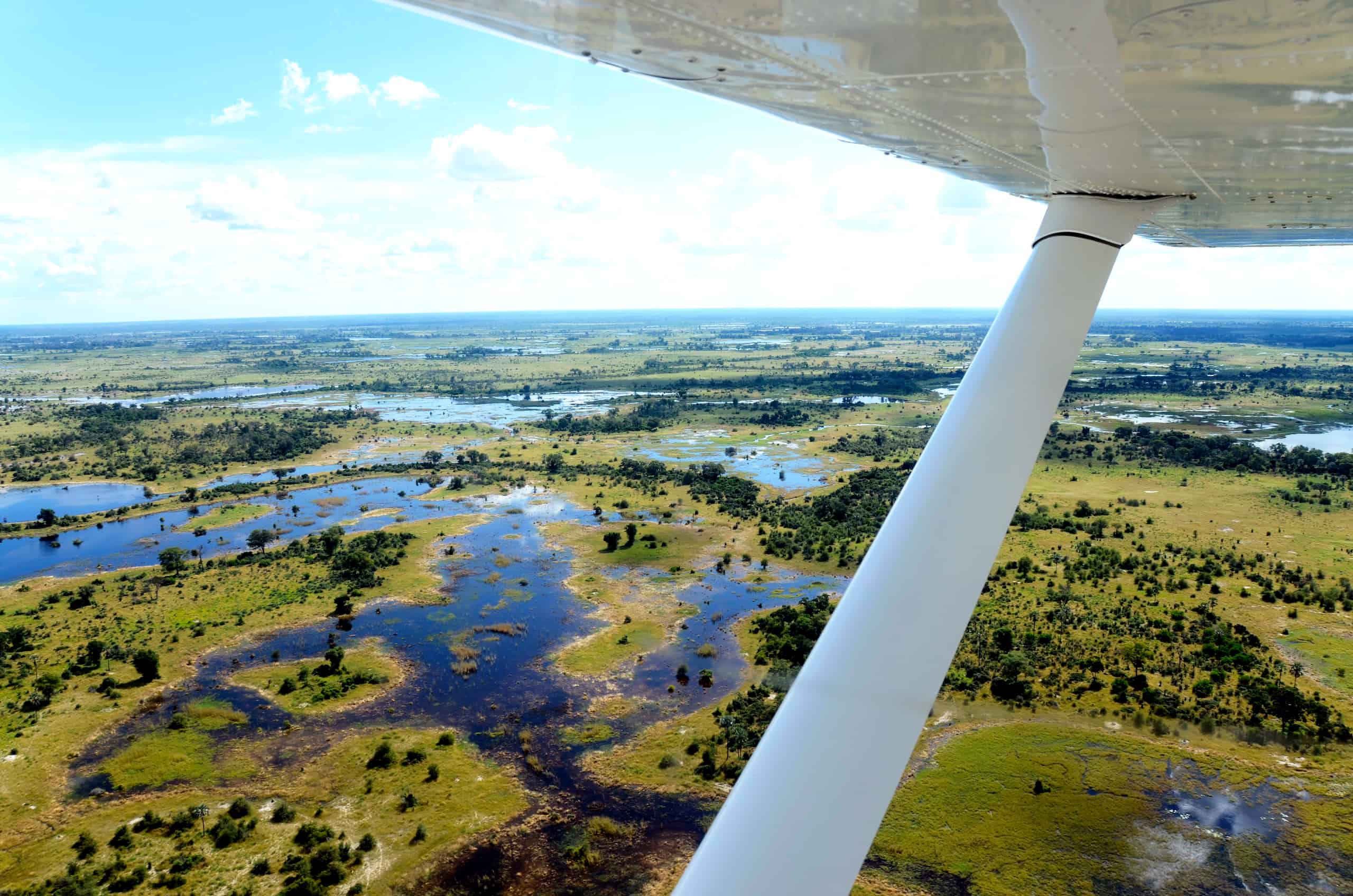 Accommodation
Accommodation options in Botswana are generally considered more limited than in other African countries.
Many luxurious lodges are available, some of which can only be accessed by plane transfer however, thus adding to the costs.
Newlyweds on a Botswana honeymoon and premium safari tours can expect a price to reflect the premium accommodation they will typically stay in.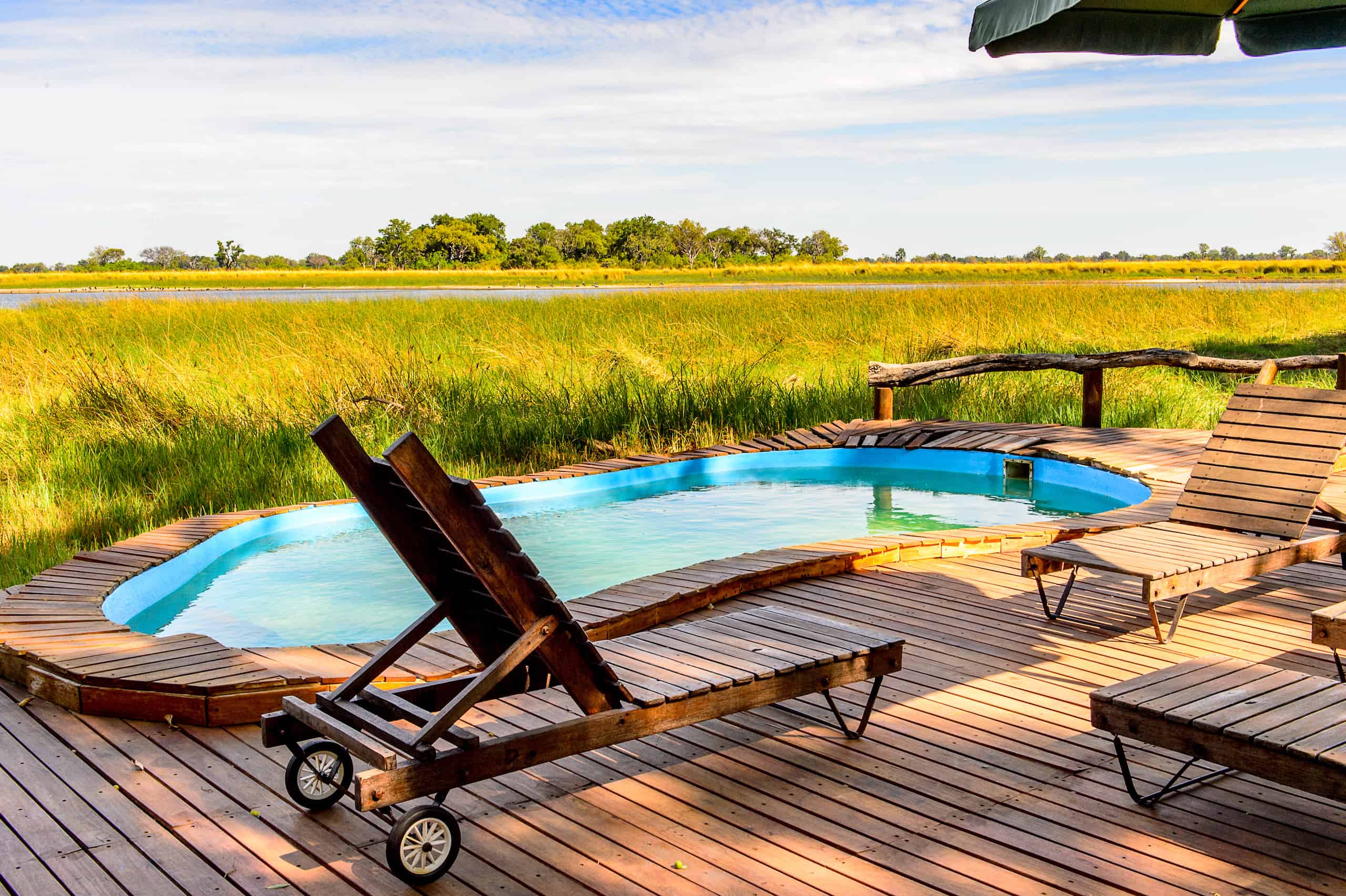 Food/Dining
Supermarket food prices are similar to those in Europe however there are fewer restaurants in Botswana other than those run by lodges and meal prices at these lodges are relatively expensive.
Parks and reserves
Botswana's national parks and reserves charge entrance fees per person including guides, as well as vehicle entry fees. Carrying a small amount of Botswana currency, the Pula (BWP) is useful when paying for smaller food or ticket items.
Activities
Many visitors will also be interested in other activities in Botswana beyond the main safari and wildlife excursions including mokoro canoe trips, Victoria Falls day trips or eco safari walks, all of which add to overall costs. Comparable to Europe, these prices are lower.
A one-hour chartered scenic flight over the Makgadikgadi Pans, the salt pans situated in the middle of the dry savanna of north-eastern Botswana can be purchased for $400. 6 people sharing the flight instead can reduce this cost down to a reasonable USD $67 per person.
Prices for a Botswana fly-in safari start at around US$500 per person per night in the low season in mid-range lodgings, but go up to about US$1500 per person per night in luxury accommodation in the high season.
Travel Insurance
Safari trips can result in unfortunate events happening, like contracting an illness from contaminated water or falling ill from a mosquito bite.
Visitors may need medical attention while abroad so it's important to ensure an adequate travel insurance policy is in place which will cover you in the event of an accident or injury.
Visitors should check to see if they have already through their credit card company and workplace benefits.
If not, it is recommended to ensure travel insurance is purchased prior to travel to cover:
Medical expenses and hospital benefit
Personal accident and liability
Cancelling and cutting short your holiday
Covid-19 specific cover
Abandoning your trip
Delayed departures
Accommodation cover
Personal belongings and baggage
Personal money, passport and travel documents
Legal expenses
Vaccinations
Vaccines are another expense which need to be accounted for in the overall Botswana safari prices, especially if visitors are planning to visit the north of Botswana, an area with an increased risk of malaria.
Visitors are recommended to consult with their local doctor before arrival and consider antimalarial prophylaxis as recommended.
Other expenses
Gasoline, tips, souvenirs can also impact a visitors budget.
Budgeting for a trip to Botswana
Transportation
For a flight to Botswana from the U.K, it will cost around £800/$1,060 per person, and more from the U.S. Prices can change and are certain to increase during the summer months.
If on a budget, visitors can save two thirds of their daily expenses on transport costs by opting for a car/4×4 rental compared to plane transfers.
Car rental costs start from £90/$115 for a package with basic insurance. Prices increase if visitors book a 4×4 safari vehicle or campervan.
Guests staying at lodges should note the lodges will likely pick up guests and drive them to the lodge, with prices often included in the accommodation.
Accommodation and food
This will vary significantly depending on the type of accommodation selected. Guests can budget £15/$20 a night and upwards for one night camping and can purchase groceries at local supermarkets.
For lodges, nightly rates will cost several hundred dollars, typically with meals included.
Park entrance fees
Comparably, Botswana does charge high prices for visiting its national parks. Average costs can expect to be around £8.50/$11 to visit most of Botswana's national parks.
Access to private reserves and concessions is restricted to travelers staying at the lodge with prices typically already included in the concession entry and game viewing drives.
Is a cheap Botswana safari possible?
Safari prices in Botswana are more expensive in general, especially for accommodation. However, visitors can be smart and take measures to keep their bank balance in check including:
DIY organize your own safari
Sleeping in a campervan/van with a rooftop tent
Drive yourself around the country
Prepare your meals and limit eating out at restaurants
Limit your activities other than the main safari excursions
Travel seasons
Visitors looking to avail of a cheap Botswana safari on a lower budget should travel in the low season which is December to March. This time of year however is also unfortunately a period of hot, muggy weather.
May is still mid-season and will allow for cooler weather at still reasonable rates.
Visitors planning an 8 night stay during Peak Season (July – Oct) in a premier camp can expect to pay around $9,000 to $10,000 per person
Visitors planning an 8 night stay during Off-Peak Season (Sep – Dec) in a moderate camp can expect to pay around $5,500 per person
Affordable lodging options
If budget is the primary concern, and visitors don't mind camping, then there are some overland camping trips (called mobile safaris) available as well as budget Botswana safari packages.
Excluding international flights and plane transfers:
Visitors planning a 6 night safari staying at two different camps can expect to pay around $4000 – $4,500 per person
Visitors planning a similar 6 night mobile camping safari can expect to pay around $2,500 per person, prices can vary
Affordable Botswana safari packages tend to be for longer safaris (7+ nights) whilst higher cost safaris are typical of a shorter 3 or 4 night safari.
Summary: The average price of a safari in Botswana
Estimating the cost of an average safari isn't so easy, given the range of factors noted above that can impact prices. However, two examples are provided below to give visitors an idea of average costs to expect.
Affordable Botswana safari prices including:
International flights
4 × 4 rental with a tent on the roof
Campsite accommodation
Parks entry for game drives
Meals
Based on the above, we can estimate prices of at least £340/$450 per person based upon a 10 day stay.
Luxury Botswana safari costs including:
International flights and transfers
Transfers by plane and/or private drive
Lodge accommodation
Guided game drives
Meals
Based on the above, we can estimate costs of at least £940/$1240 per person based upon a 10 day stay.
This trip includes visiting the Okavango Delta, Savuti Marsh and a Chobe Safari during peak season. Prices are indicative only and may vary depending on travel conditions.
The following is a pricing summary of the main costs a safari visitor in Botswana can expect:
| | | |
| --- | --- | --- |
| | Minimum Price per person | Average Price per person |
| Flights | £800/$1,050 | £1,250/$1,650 |
| Accommodation per day | £20/$27 | £230/$300 |
| Transport per day | £50/$65 | £150/$200 |
| Parks per day | £15/$20 | £15/$20 |
| 10-day safari | £165/$220 pp per day | £520/$690 pp per day |
FAQs
How much does a safari cost in Botswana?
Botswana is one of the more expensive African countries to go on safari, however it is possible to go on a safari budget friendly trip to Botswana. 
Average prices are difficult to calculate given the various elements of the trip to take into account.
Are credit cards and debit cards accepted?
All major credit cards including Visa, MasterCard are accepted as well as American Express and Diners Club in most shops, restaurants and hotels, but only in some petrol stations.
Almost every town has a Barclays or Standard Chartered that offers FX facilities. Travelers cheques can be cashed at most banks and exchanges, with charges of 2%-3% commission.
When to go on a safari in Botswana?