Makgadikgadi Pans National Park (NP) is one of the largest salt pans in the world, a stunning area of almost 11,600 square miles in Botswana, southern Africa.
Makgadikgadi is technically not a single pan, but many pans with sandy desert in between, the largest being the Sua (Sowa), Nwetwe and Nxai Pan National Park which formed the bed of the ancient lakes.
The area is renowned for these pans interspersed with sandy desert and occasional vegetation, making up nutritious grasslands which attract thousands of animals.
Why visit Makgadikgadi National Park?
Safari at Makgadikgadi Pans NP
Makgadikgadi safaris feature wild open plains that are stark and hypnotic, the closest thing on the earth to the rugged surface of the moon.
Encounter especially adapted wildlife as they expertly navigate through the arid desert in search of food and moisture in this seemingly hostile environment.
Game viewing day trips pass large herds of springbok, gemsbok, and red hartebeest, while night drives brush by the elusive black-maned Kalahari lion.
A popular destination with safari tours, the park offers plenty of attractions and wildlife for couples on a Botswana honeymoon safari and groups on a luxury safari.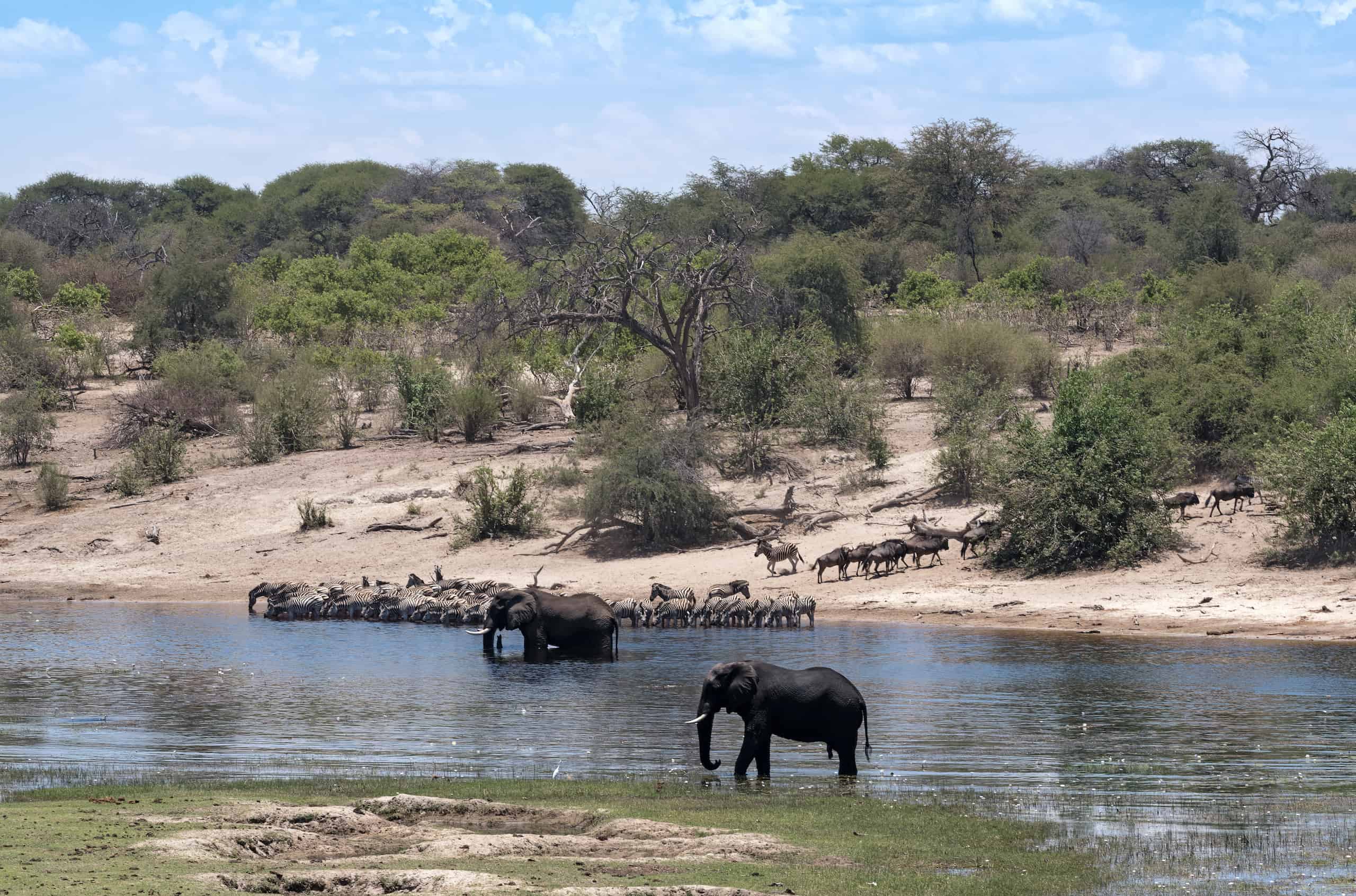 Animals
Makgadikgadi is home to many animals including Burchell's zebra, blue wildebeest oryx, eland, red hartebeest, hyenas, leopard and lions. One of Africa's biggest herds of zebra makes this vista of white sand and salt their home.
During the rainy season in the Makgadikgadi Pans NP has a high concentration of herbivores, as is the case in the neighboring Nxai National Par with herds that move in the wavy grasslands creating a dense network of paths.
The herds are concentrated on the banks of the Boteti River until November, when the wet season begins again.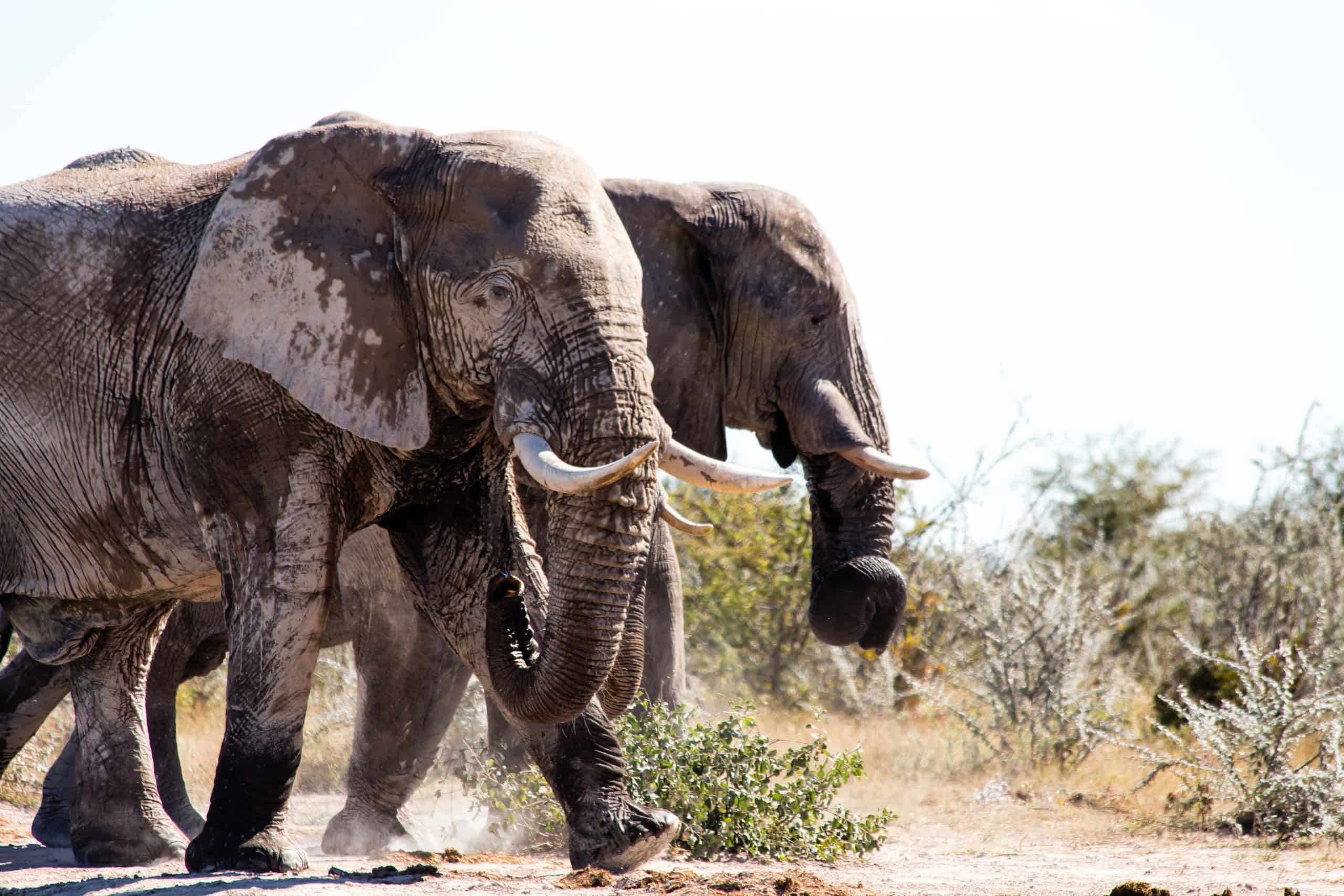 Birds
Makgadikgadi Pans is moreso a birding destination than a general wildlife destination.
Birding here is excellent in the wet summer months, especially if the pans fill up and flocks of flamingos, accompanied by pelicans to the Nata River delta as well as herons, egrets, cormorants, darters, waders, black-necked grebe, red-knobbed coot, and ducks.
Other activities at Makgadikgadi Pans NP
Makgadikgadi offers visitors a range of different and exciting activities in this beautiful setting.
Kubu Island
Explore Kubu Island's granite rock surface, stained white with fossilized bird droppings and riddled with other prehistoric artifacts.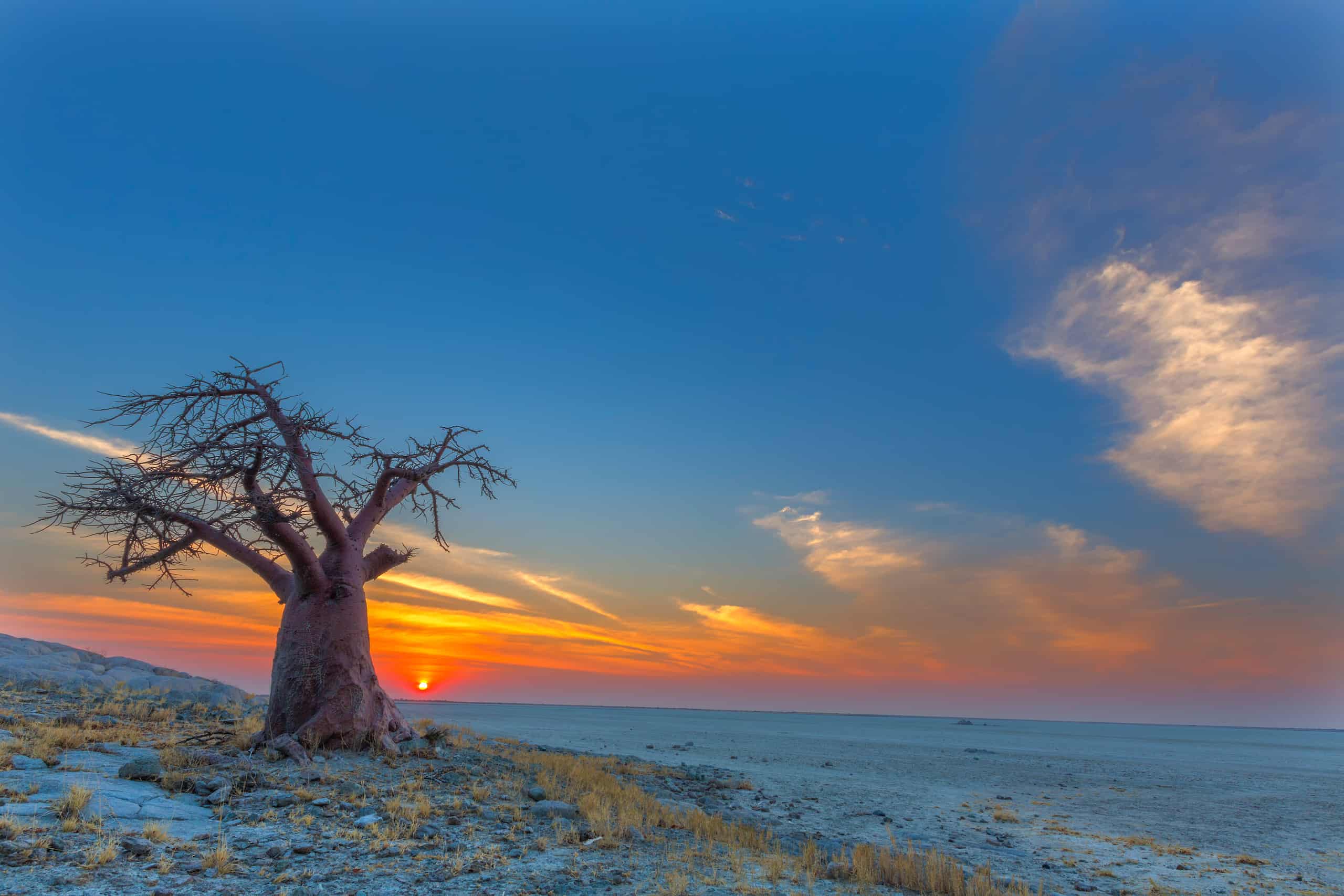 Salt pans sleep out
This extraordinary, experiential sleep out, under the stars on the vast Salt Pans is a truly amazing encounter. Quad biking is also an option for the more adventure minded.
Birdwatching
Enjoy a guided tour seeking out flamingoes, pelicans and so much more.
Check out our article on the best things to do in Botswana which includes other activities including eco safari walks with local bushmen.
How to get to Makgadikgadi Pans NP?
Makgadikgadi Pans NP in north-east Botswana, east of Maun. It can be accessed by both road and plane.
For visitors wondering how to get to Botswana, you can fly to Maun (MAU), Gaborone (GAB) or Kasane (BBK) airports. A Botswana visa and certain vaccinations may also be required to enter the country.
By Road
Makgadikgadi Pans NP is located 100 miles east of Maun. The park can be reached on a self-drive safari, an organized mobile safari or a fly-in safari.
Car rental in Botswana is an excellent way to tour this stunning country and see the incredibly diverse range of Botswana animals and scenery.
By Plane
Most visitors on safari will enter Botswana through either Maun Airport (MUB) or Kasane (BBK). From there, the easiest way to get to the park is to fly by chartered plane to the airstrip at one of the lodges on the western boundary of the park.
All lodges are quite far from the actual pans, but there are some campsites for mobile safaris closer to the pans.
It is also possible to fly into Victoria Falls Airport (VFA) in Zimbabwe and begin the journey from there. The distance from Victoria Falls is 340miles.
Tariffs & Regulations
Entrance fee to Makgadikgadi Pans NP
For international non-residents, adult daily fees cost $11 and non-Botswana vehicles cost $5.50.
Carrying a small amount of Botswana currency, the Pula (BWP) is useful when paying for smaller food or ticket items.
Regulations
When visitors enter the park, they must follow common sense rules including picking up waste, respecting the game reserve schedules and staying in the vehicle when required.
Accommodation at Makgadikgadi Pans National Park
Luxury can certainly be found at Makgadikgadi, with game lodges offering all modern facilities visitors have come to expect, in addition to various tented camp and campsite options.
Lodges and tented camps
Jack's camp Makgadikgadi
An old-world, Moroccan-style tented safari camp in the middle of Botswana's arid Kgalagadi, Jack's Camp is a glamorous oasis in the desert.
The brand-new Jack's Camp, renovated and reopened in 2021 pays homage to the property's enduring and much-loved 1940s campaign style.
The guest tents, seven twins and two doubles, are much larger and each is 270 square metres in size.
The iconic interiors remain and are embellished with rich textiles from around the world, Natural History Museum cabinets, and an overhead bed cooling system. Ensuite bathrooms have both indoor and outdoor showers and outside, each veranda has a private plunge pool.
Jack's camp Makgadikgadi rates
Pricing starts from USD $1,450 per person per night.
Camp Kalahari Makgadikgadi salt pan Botswana
Camp Kalahari offers similar activities to other camps for a cut-down price and is a bigger camp and an attractive option with family tents.
Nata Lodge Makgadikgadi Pans
For bird-watchers, Nata Lodge offers some of the best bird viewing in the area and is a breeding ground for a host of water birds including pelicans and flamingos in their thousands. The lodge sits close to the well-known Nata Sanctuary.
Eight en-suite chalets are built on a platform overlooking the Didibakwe river and in the shade of Ilala palm trees.
Right on the edge of the Makgadikgadi Salt Pans, the lodge offers three accommodation options: chalets, family chalets and safari tents.
Nata Lodge Makgadikgadi rates
Pricing starts from USD $114 per room per night.
Other notable accommodation options include the 12 thatched chalets at Leroo La Tau.
Camping
Njuca Hills Campsite is situated 26 km south of the park entrance and Kumaga Camp where water is found (not for human consumption though) is situated at the Boteti river, 48 km southwest of the park entrance.
Makgadikgadi Pans camping rates
Pricing starts from USD $75 per person per night.
Useful information
Geography
In the north-east of the Kalahari desert in Botswana and southeast of the Okavango Delta.
Weather
The climate in Makgadikgadi is warm to hot with day time temperatures ranging from 24C/75F to 32C/89F.
Best time to visit Makgadikgadi Pans NP
June to December is the best time to visit Makgadikgadi during the dry season for wildlife viewing at the river. December to May is also good for wildlife and birding at the pans.
Understanding the best time to visit Botswana is useful as this can impact safari prices and availability.
With some of Botswana's best parks and reserves an easy charter flight away, trips are often combined with tours to the Okavango Delta and Chobe National Park ecosystem.
Health
Makgadikgadi Pans NP lies in a high-risk malaria zone and antimalarial medication is advised. It is recommended to consult with your doctor prior to your trip.
FAQs
Where is Makgadikgadi Pans located?
In the north-east of the Kalahari desert, 100 miles east of Maun and southeast of the Okavango Delta
How much is the park entrance fee?
For international non-residents, adult daily fees cost $11 and non-Botswana vehicles cost $5.50. 
What animals will visitors see?
Burchell's zebra, blue wildebeest oryx, eland, red hartebeest, hyenas, leopard and lions.