A Botswana luxury safari is like no other. This southern Africa nation truly is home to the luxury experience, with some of the continent's finest lodges offering the most exquisite comforts.
All set in the surreal surroundings of large elephant herds and giraffes wading through the crystal-clear waters of the Okavango Delta, Chobe National Park and similar incredible locations.
The best Botswana luxury safaris
How to organize a luxury safari in Botswana?
Pre-trip planning
To organize your luxury safari in Botswana, the recommended route is to hire a travel agency specializing in Botswana safaris who can help visitors plan how to get to Botswana and much more.
Their expertise of the top luxury lodges, tours and logistics required will be of significant benefit to guests. Trips can also be customised per the customers requirements or requests for particular activities.
Understanding the best time to visit Botswana is useful as this can impact safari prices and availability. There are many activities that can be added to your safari itinerary. Check out our article on the best things to do in Botswana which includes eco safari walk with local bushmen.
Luxury safari details
Potential visitors are advised to detail their wish list in terms of accommodation, activities, preferred means of transport and food requirements, as these can vary significantly depending on preferences and budget.
The travel agency will then be able to provide a more detailed estimate.
Chartered flights are often used to arrive at different parts of Botswana and will save the visitor a lot of time. Various safari types can be explored in 4 × 4 vehicles with a private guide or car rentals are also an excellent way to see the diverse range of animals and scenery.
For a luxury trip to Botswana, some visitors prefer the tranquillity of private reserves with a hot-air balloon safari or they may prefer concessions with more adrenaline packed activities including quad biking and white water rafting activities.
Carrying a small amount of Botswana currency, the Pula (BWP) is useful when paying for smaller food or ticket items.
Lastly, choosing the right accommodation for you is what will make your safari an unforgettable luxurious experience. In this regard, Botswana has some of the most exceptional lodges in the world making your stay unforgettable.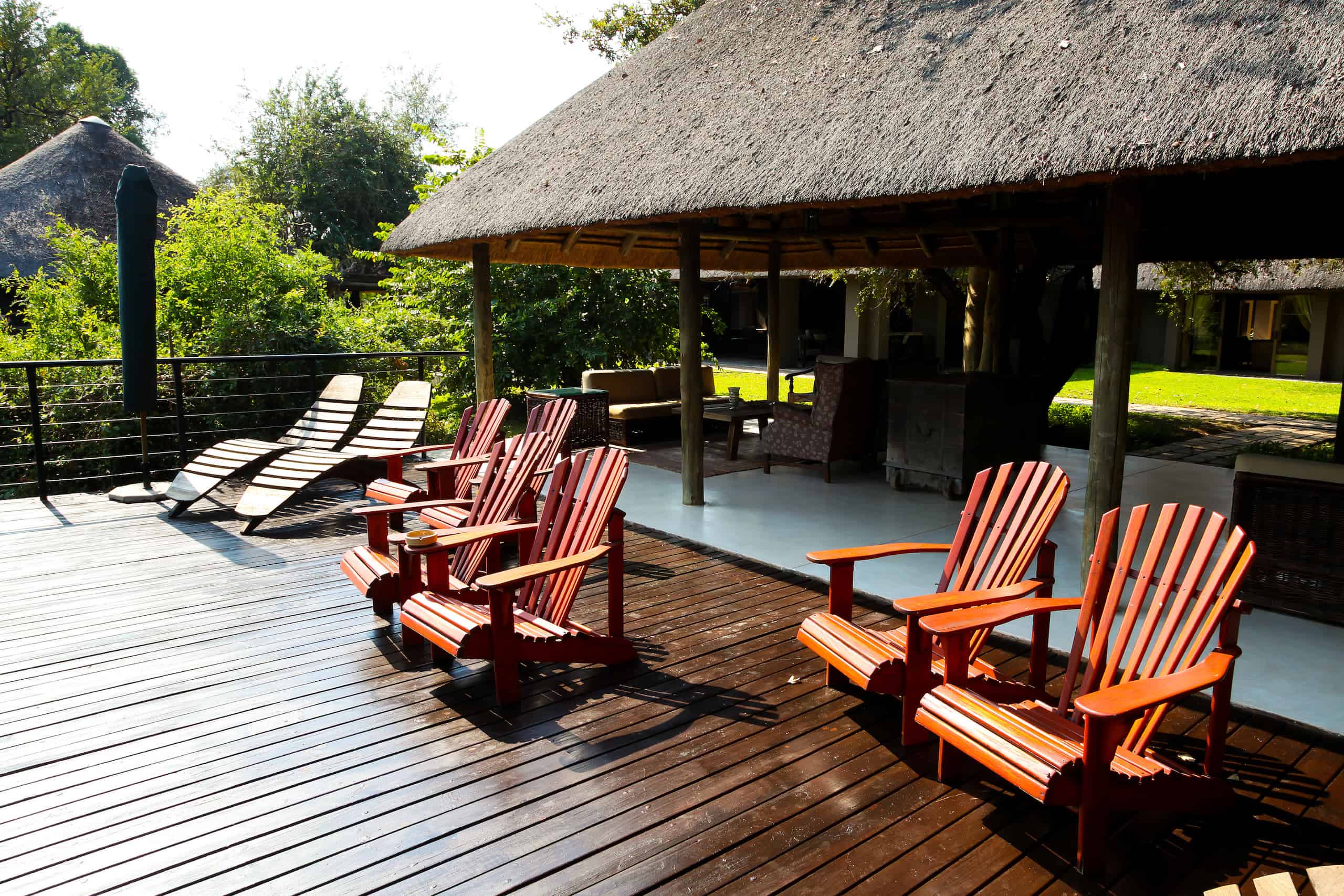 Luxury safari pricing and itinerary
There are numerous different safari tours of a more luxurious variety in Botswana that can be designed and customised per the customer's requirements including honeymoon safaris.
The following is an example of a 10 day luxury safari tour that will immerse guests in a luxury safari experience whilst discovering the most incredible wildlife and scenery Botswana has to offer.
Days 1 – 3: Arrive in Maun, fly to Kwedi Concession, Vumbura Plains
Days 4-6: Fly to Moremi Game Reserve, Little Mombo
Days 7-9: Fly to Selinda Reserve, Zarafa Camp
Day 10: Fly to Kasane, depart
In addition to day and night drives, boat safaris and mokoro canoe rides, visitors can take a scenic helicopter transfer or a sunrise hot air balloon ride followed by a champagne breakfast.
Little Mombo is home to huge numbers of game and predators including the big cats. Take a packed breakfast for a morning game drive en route to your onward flight to the ultra luxurious and eco friendly Zarafa Camp where hippos and elephants await.
This type of tour includes multiple different types of safaris accompanied by a private guide: In a 4×4, on foot, by hot air balloon and by boat. Transfers are completed by chartered plane, taking guests directly to their lodge.
Pricing for the tour above starts from £1,130/$1,500 per person per day.
9 Best Botswana Luxury Safari Lodges
Botswana really does stand apart from neighbouring countries as it is home to some of the continent's most beautiful reserves and luxury lodges. Here we've detailed some of the best luxury lodges Botswana has to offer.
Jao Camp
In the stunning Okavango Delta in the northwest, Jao Camp Jao sits in the 60,000 hectare Jao Reserve under a tree canopy on its own remote island, next to Moremi GR, home to some of Botswana's best parks and reserves.
Privately owned by the Kays family, the camp is elevated on high terraces and feels like the world's most spectacular tree house, perfect for game viewing.
Botanical themes run through the camp, with tables printed with leaf motifs and lamp shades mimicking palm leaves near the bar.
With just seven large villas, Jao also has plunge pools and fire-pits on the private terraces where guests can watch leopards shadowing impala.
Pricing from £1,022/$1,350 per person sharing.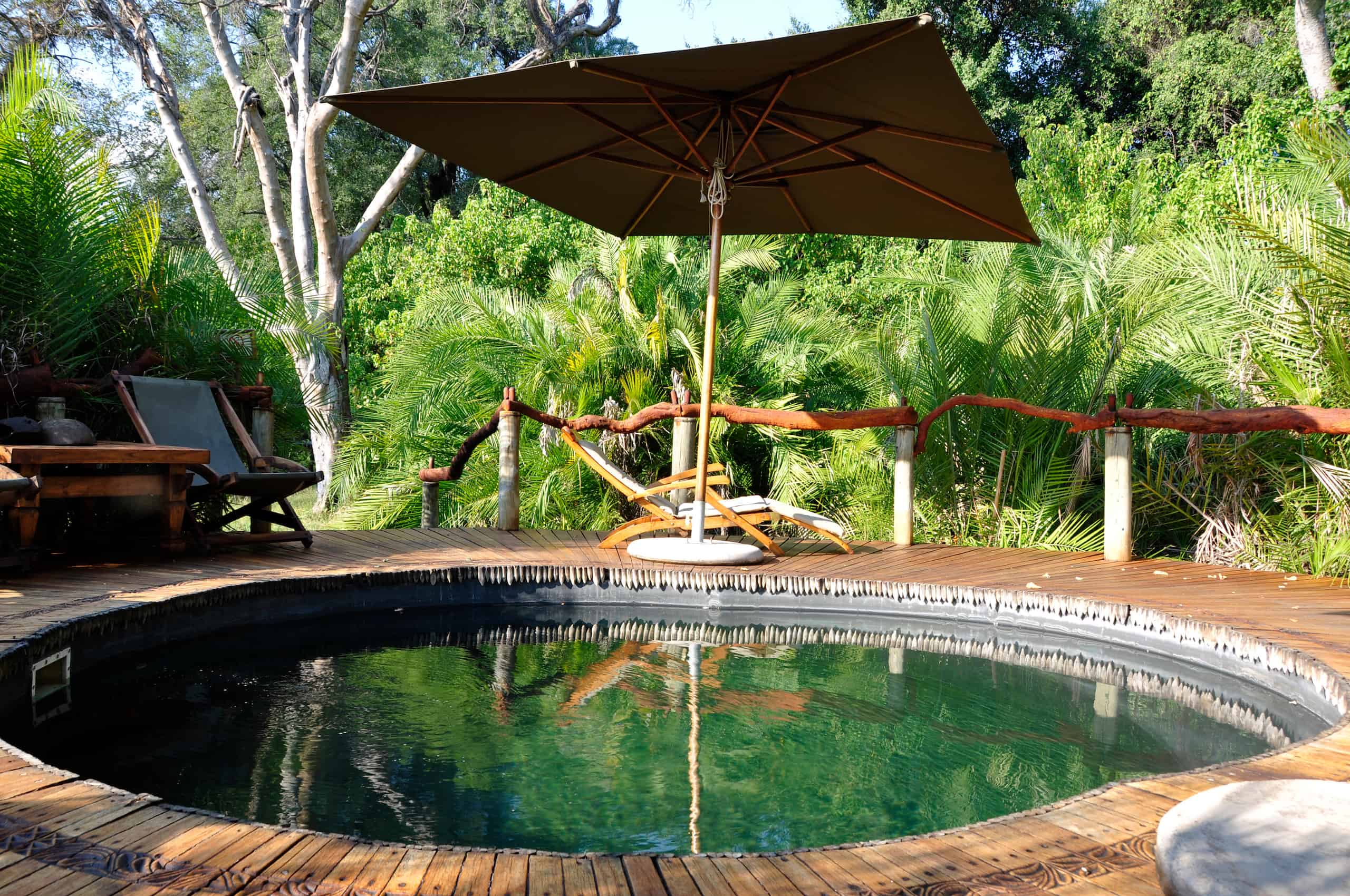 King's Pool Camp
Also in the Okavango, this 5 star camp overlooks the glistening waters of King's Pool Lagoon in the game-rich Linyanti Wildlife Reserve.
This isolated camp with modern design, décor and open suites is set on an oxbow lagoon named after King Carl XVI Gustaf.
Nine tents look out over the water with excellent views of hippos wallowing and crocodiles snoozing.
King's Pool has a library, bar, terrace and fire-pits as well as being completely solar-powered with one of the lightest eco-footprints in Africa.
Pricing from £1,155/$1,525 per person sharing.
Ngoma Safari Lodge
Set in the Chobe National Park in the northeast of Botswana, guests will find Ngoma perched in a vast, pristine forest reserve on the fringes of the park.
Ngoma Safari Lodge is a passionate endeavor to support the ecosystem through sustainable tourism and empowerment of the local community, where awaking guests will find animals drinking water at the water hole.
Lovingly named the 'Land of the Giants' by locals, Chobe National Park is where the largest hordes of elephants can be found.
Eight luxurious villas can be found, built entirely out of natural materials that blend in harmoniously with the surroundings with the beautiful Chobe Forest Reserve.
Pricing from £700/$920 per person sharing.
Xaranna Camp
Deep in the Okavango in northern Botswana, guests can visit the luxuriously isolated Xaranna Camp.
Here, they can enjoy the best of the Okavango at one of the best luxury safari camps with day or night game drives, birding, boating and mokoro as well as guided nature walks.
Fishing is also permitted between the months of March and December.
Just nine ensuite safari tents can be found that luxuriously combine canvas, soft drapes and bleached timber.
Pricing starts from £815/$1,075 per person sharing.
Zarafa Camp
Located in northern Botswana, Zarafa is one of the best Botswana safari camps and lodges in the Selinda Concession.
The camp is owned by nature documentary filmmakers and conservationists Dereck and Beverly Joubert and sits along the banks of the pristine Zibadianja Lagoon offering excellent wildlife views.
With just four luxury tents, guests are treated like royalty and also offered the loan out of state-of-the-art camera equipment, affording them the best possible photography during their stay.
Pricing starts from £1,285/$1,695 per person sharing.
Abu Camp
Up north in Botswana, Abu Camp can be found on a 180,000-hectare private concession in the Okavango Delta, guests can the very best in luxury safari accommodation, impeccable service and an extraordinary safari and wildlife experience.
The birding is superb, and predators including lions, leopards, wild dogs and cheetahs can also be spotted.
Abu is set in a pristine riverine forest and blends in seamlessly with the magnificent hardwood trees. Each of the six en-suite tents has its own distinctive furnishings and fittings, imparting an air of opulence in the bush.
Pricing starts from £1,550/$2,048 per person sharing.
Meno-A-Kwena Tented Camp
Fit for a prince. Not just any prince but Prince Harry of British royalty has frequented this camp in the Makgadikgadi Pans National Park in the north of the country numerous times.
From the nine fully serviced Meru tents, expect nothing but chic surroundings with epic views of the Boteti River viewing zebras, wildebeest and herds of elephants in this romantic safari camp as well as a swimming pool located right on the cliff edge.
Pricing starts from £375/$495 per person sharing.
Jack's Camp
Also located in the Makgadikgadi, Jack's camp is a unique salt pans desert experience in old-world safari glamour amidst the Great Kalahari desert.
Jack's camp is reminiscent of a traditional East African, 1940s safari camp, with eight tents on offer.
Each intimate tent features a lovely ensuite bathroom, with an indoor and alfresco shower and a private veranda.
Pricing starts from £1,000/$1,350 per person sharing.
Khwai Tented Camp
Set within the Okavango Delta's community-run Khwai Concession, this beautiful camp is tucked under the trees on the edge of the Khwai River.
This river is all that separates the iconic Moremi Game Reserve and the concession, with hippos, elephants and even lions crossing over from time to time.
The elegantly designed camp hosts six luxury African safari tents and one family unit.
Pricing starts from £585/$775 per person sharing.
Bonus: Chief's Camp
Last but by no means least, located on Chief's Island in the Moremi Game Reserve, this camp offers huge suites and a pavilion featuring a tranquil outside seating area and terrace plunge pool.
Guests can enjoy an exquisite private bar, boma, lounge and kitchen, all serviced by a private house-keeper, waiter, guide and vehicle.
Pricing starts from £790/$1,046 per person sharing.
FAQs
What other countries are worth visiting for luxury safaris?
Luxury safaris in South Africa or Kenya are great alternatives. 
What is the budget for a luxury safari in Botswana?
The price of a luxury safari in Botswana will depend on multiple factors including the accommodation and transport means chosen. 
Visitors can budget for a minimum of £1,130/$1,500 per person per day.