Nxai Pan National Park (NP) is a 995 square mile park located 110 miles from Maun in the north-east of Botswana. The park is made up of the Nxai Pan, one of the Makgadikgadi Pans salt flats.
Nxai Pan is a waterless, fossil pan covered in open grasslands with acacia trees forming islands and home to a cluster of millennia-old Baines baobab trees, which owe their name to Thomas Baines, the man known to have discovered them.
The area comes to life after the summer rains in December, when big herds of migrating zebra and wildebeest, accompanied by other grazers, arrive to feast on the new grasses.
Why visit the Nxai Pan National Park?
Safari at the Nxai Pan NP
Visitors can expect game drives through the park covering plains, salt pans and exploring the unique wildlife near the watering holes.
Day trips through the park and its mopane woodlands pass herds of springbok, impala, kudu and, ostrich, while night drives brush by packs of the edgy black-backed jackal, bat-eared fox and, the elusive tawny maned lion.
A popular destination with safari tours, the park offers plenty of attractions and wildlife for couples on a Botswana honeymoon safari and groups on a luxury safari.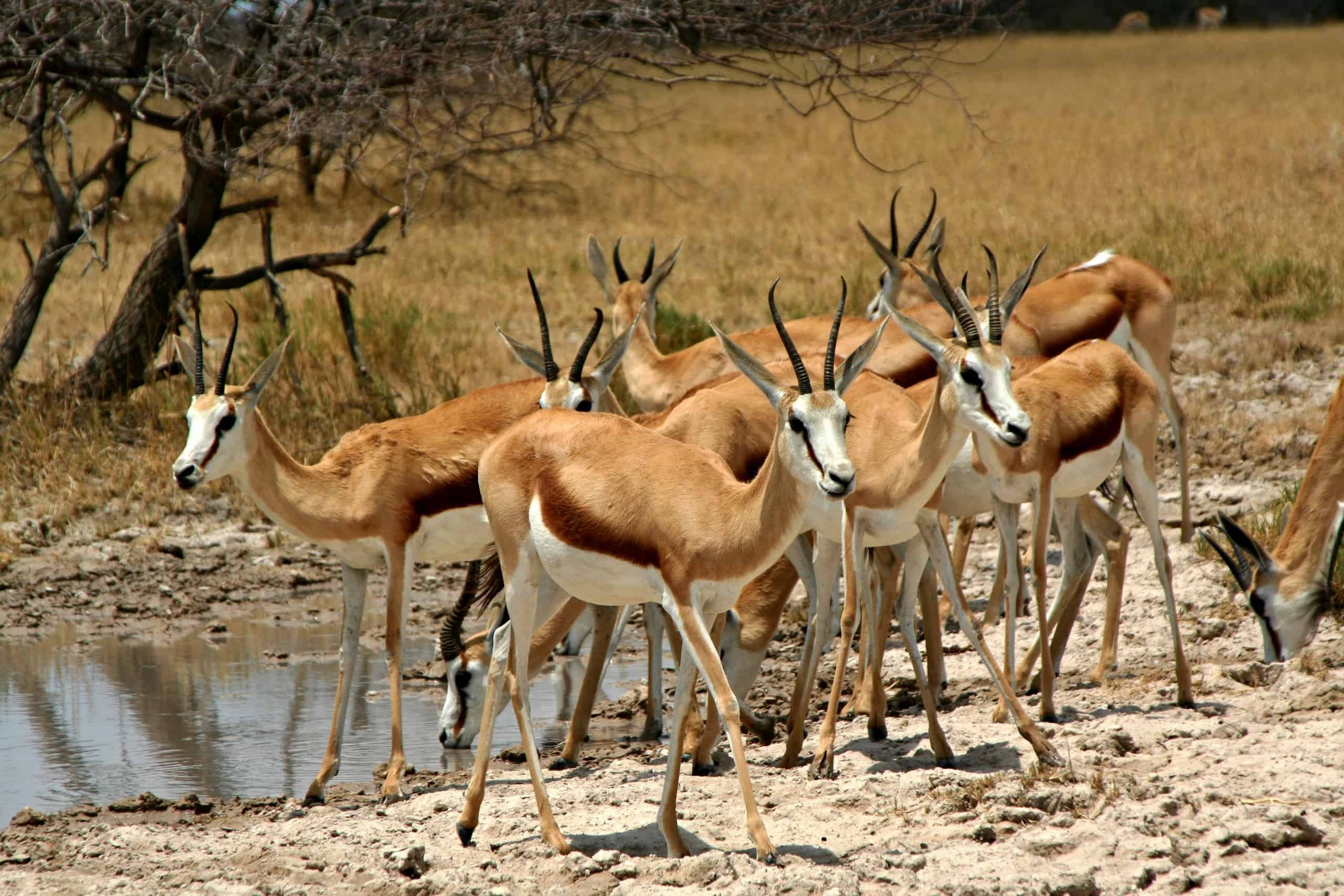 Animals
The fossil pans of Nxai Pan offer spectacular, seasonal game-viewing in the rainy season (Nov – March).
Huge herds of zebras, wildebeest, springbok and gemsbok attract many predators including lions, cheetahs, hyenas and bat-eared foxes.
This is one of the few areas in Botswana that is more interesting during the rainy season – when huge herds hit Nxai's grassy pans.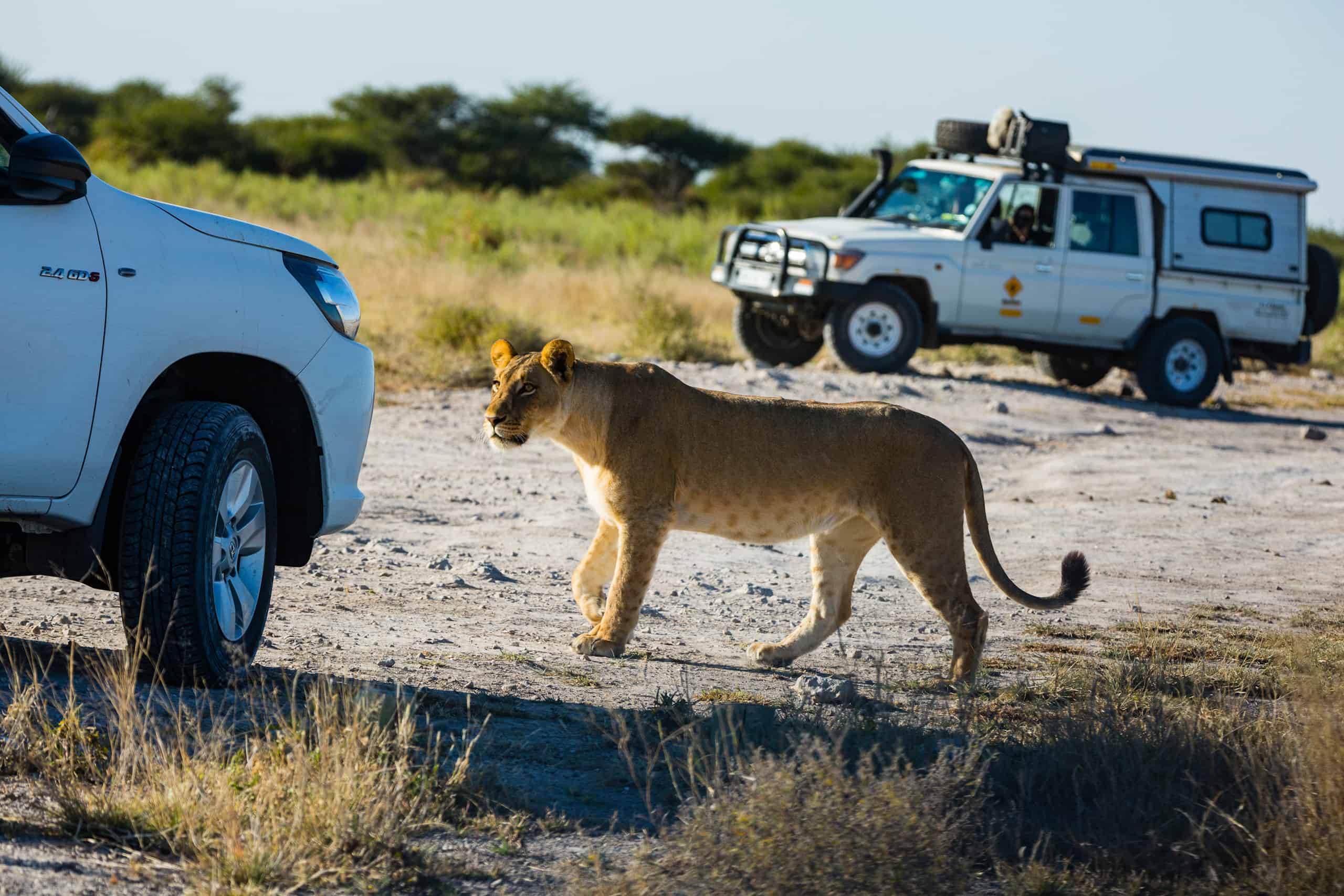 Birds
More than 200 species of birds can be viewed including ostriches, pale chanting goshawks, black bustards and the pin-tailed whydah.
Other activities at Nxai Pan NP
Nxai Pan offers visitors many options when it comes to experiencing the beauty and of this area.
Bushman walks
Learn the traditional hunting methods of the San bushmen along guided Bushman Walks. The tracker guides also provide insights into San traditional culture.
Quad biking
Race into the void at great speed, arriving at nowhere. The pans stretch miles, making for a perfect white track of nothingness, discovering remote sites and investigating fossil beds.
Safari tours
Trips to Nxai Pans are often combined with tours to the nearby Makgadikgadi Pans National Park.
Check out our article on the best things to do in Botswana which includes other activities including eco safari walks with local bushmen.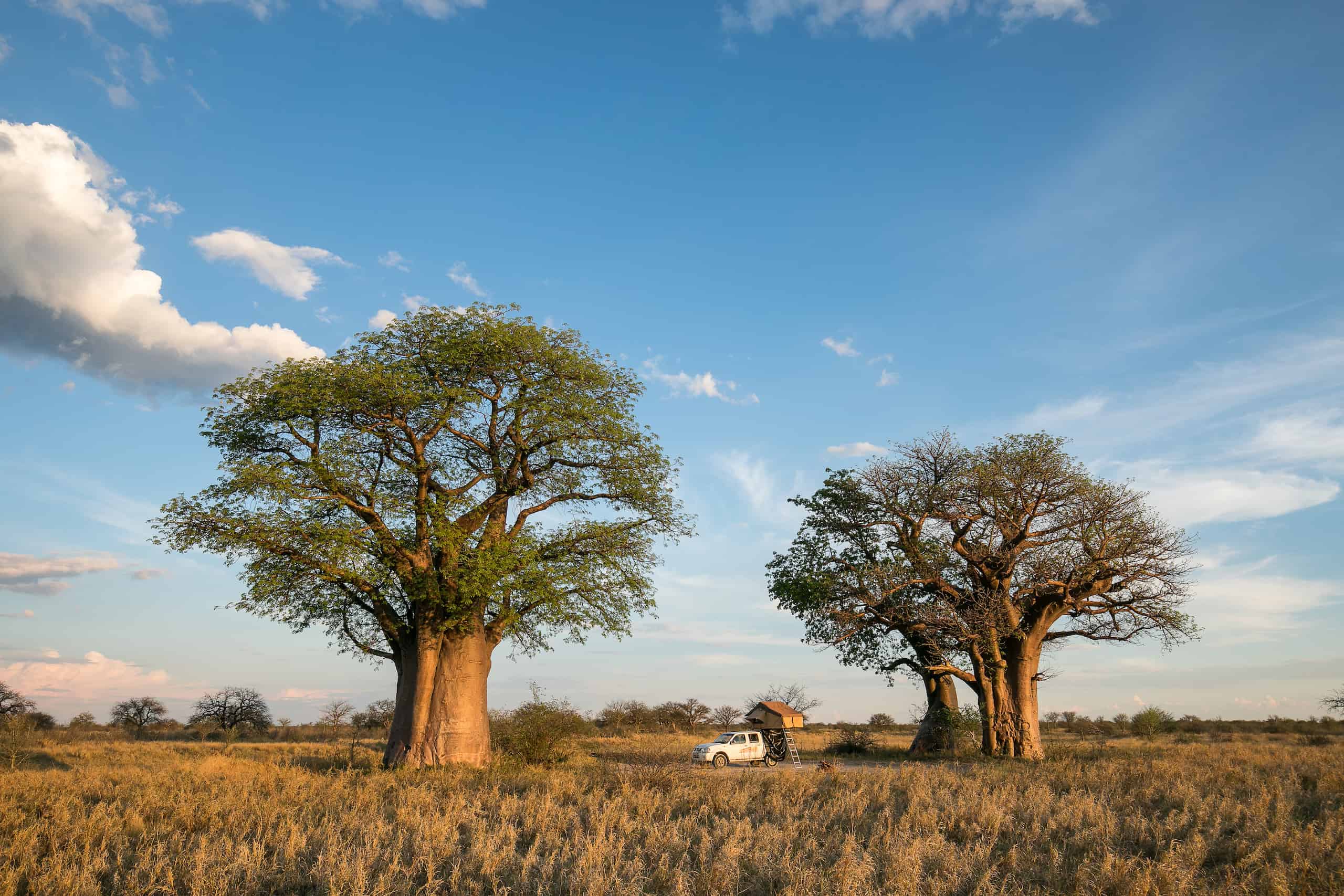 How to get to the Nxai Pan NP?
By Plane
Entry into Botswana is usually through Maun Airport (MUB) or Kasane Airport (BBK).
Flying by chartered plane from Maun or Kasane, or from any safari camp to the airstrip is the simplest way to get there.
For visitors wondering how to get to Botswana, you can fly to Maun (MAU), Gaborone (GAB) or Kasane (BBK) airports. A Botswana visa and certain vaccinations may also be required to enter the country.
By Road
North of the Makgadikgadi Pans National Park lies the Nxai Pans National Park in north-eastern Botswana, 110 miles from Maun and 155 miles from the Okavango Delta.
Car rental in Botswana is an excellent way to tour this stunning country and see the incredibly diverse range of Botswana animals and scenery.
Tariffs & Regulations
Entrance fee to the Nxai Pan NP
Daily park fees are $10 per person and an extra $4.20 for each vehicle. Carrying a small amount of Botswana currency, the Pula (BWP) is useful when paying for smaller food or ticket items.
Regulations
When visitors enter the reserve, they must follow common sense rules including picking up waste, respecting the reserve schedules and staying in the vehicle when required.
Accommodation at Nxai Pan National Park
Nxai Pans has camps and a lodge for visitors to choose from.
Lodge
Kwando Nxai Pan Lodge is a lodge which will have visitors stunned upon arrival into the main foyer. Here, you'll find candlelit tables set with full course meals and friendly service.
The bedrooms are just as lavish with full-size King beds, outdoor and indoor showers as well as cabins with sliding doors that opened for a view of the veld from both the bed and sitting areas.
The outdoor fire pit also looks onto the watering hole where guests can find springboks, giraffe, and zebras
Camps
Two small camping sites with ablution facilities and water including the Nxai Pan Camp, situated on the edge of Nxai Pan National Park.
Nxai Pan National Park Camping
The camp's nine tents face the waterhole, with the main area being the central best place for game viewing from the water hole.
The minimalist white-washed design of the camp is in keeping with the surrounding white salt pans. Nxai Pan accommodates a maximum of eighteen guests in thatched units.
The main areas of the camp include an expansive open-air lounge and dining area, with a bar, pool and curio shop.
Nxai Pan is a 100% solar-operated camp.
South Camp Nxai Pan
Nxai Pan National Park South Camp campsite is situated close to the second entrance gate in a well-shaded area.
The camp consists of 10 sites within a tree-covered area and ablution facilities.
The water is clean and there is a small tuck shop at reception. Visitors can also buy wood from reception.
Pricing starts from USD $38.00 for international guests per night.
Useful information
Geography
Located in north-eastern Botswana 110 miles from Maun and 155 miles from the Okavango Delta.
Weather
Nxai Pan has well-defined Dry season (April to October) and Wet season (November to March) seasons, as well as a hot, desert climate.
Best time to visit Nxai Pan NP
Nxai Pan can be visited year-round. It's a seasonal park and wildlife migrates to the park in the wet, summer months – but the exact timing is erratic and depends on rainfall.
Little wildlife is left in the dry months, from June to September.
Understanding the best time to visit Botswana is useful as this can impact safari prices and availability. With some of Botswana's best parks and reserves an easy charter flight away, trips are often combined with tours to the Okavango Delta and Chobe National Park ecosystem.
Health
Nxai Pan lies in a high-risk malaria area. Prophylactics and insect repellent are advised. Visitors entering the area should consult their doctors regarding anti-malarial medicines.
FAQs
Where is the Nxai Pan NP located?
110 miles from Maun, a 3 hour drive.  
How much is the park entrance fee?
Daily park fees are $10 per person and an extra $4.20 for each vehicle.
What animals will visitors see?
Animals include lions, elephants, giraffes, zebras, wildebeest, leopards, cheetahs, kudus, springbok, impalas, ostriches, cape wild dogs, jackals, hyenas and bat-eared foxes.