Chobe National Park (NP) is Botswana's first national park and its third-largest protected area at 4,517 square miles. Named after the Chobe River, forming the border with Namibia's Caprivi Strip, Chobe is famous for its biological diversity, wildlife, lodges and water activities.
Fondly known as 'The Land of The Giants', the park has four distinct geographical areas: the Chobe Riverfront, the Ngwezumba pans, Savuti and Linyanti with large elephant herds spanning the riverways and landscapes in the incredible part of southern Africa.
The river plays a big part in daily life here and a trip to Chobe is not complete without a boat trip along the Chobe river, discovering wildlife and birdlife from a different perspective.
Why visit Chobe National Park?
Safari at Chobe National Park
Chobe national park safari drives are a real treat with abundant wildlife and beautiful scenery galore along the waterways.
Chobe has a huge population of elephants as well as lions, giraffes and other, captivating the attention of visitors and guides alike.
The birding here is also excellent with superb photo opportunities on game drives and upmarket lodges for visitors to rest after a long day viewing predators.
Visitors can also combine their African safari tours with the nearby Victoria Falls with easy border transfer into neighbouring Zambia.
A popular destination with safari tours, the park offers plenty of attractions and wildlife for couples on a Botswana honeymoon safari and groups on a luxury safari.
Animals
Home to the big five and Africa's largest elephant population at around 50,000, Chobe also hosts large numbers of lions as well as African painted dogs, blue wildebeest, Cape buffaloes, civets, crocodiles, giraffes, hippos, hyenas, leopards and pukus.
The elephants and buffaloes are a permanent presence on the riverbanks in the dry months and zebras are very common as well, while smaller numbers of sable, roan and greater kudu can be found in the park interior.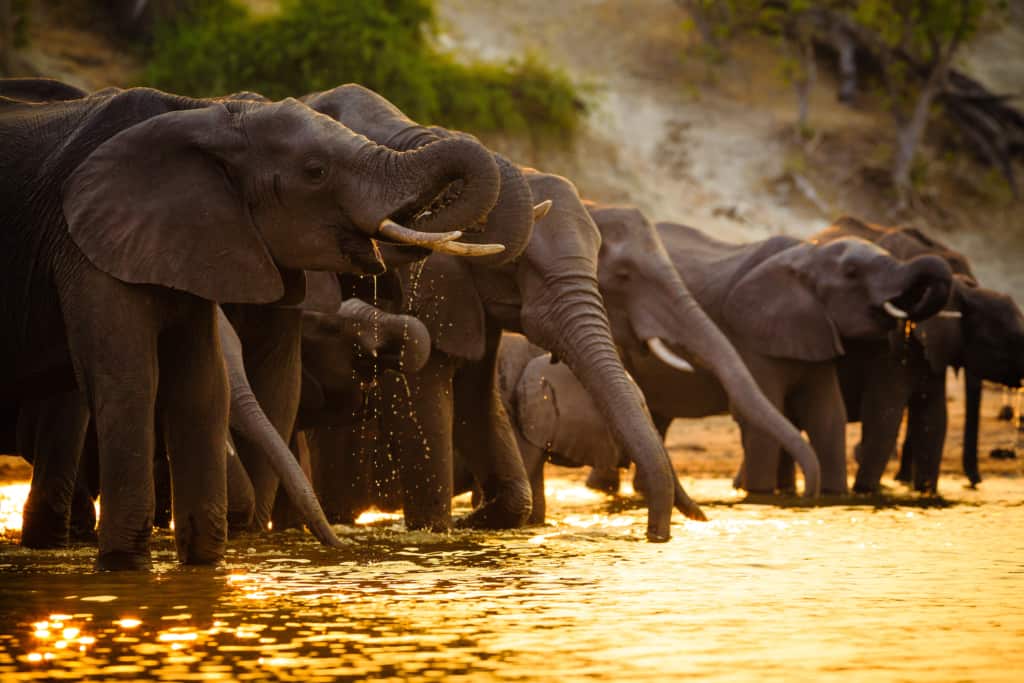 Birds
More than 450 bird species can be found in Chobe including fish eagles, skimmers, long-toed lapwings, African darters and saddle-billed storks.
Other activities at Chobe NP
Chobe offers visitors a large range of different and exciting activities in this beautiful setting.
Boat safari cruises
Starting from $49.50 per person, visitors can choose a boat cruise. Departing from Kasane, with regular morning and afternoon departures. For the more adventurous, try a white water rafting trip on the mighty Zambezi river.
Zambezi Queen river cruise
Visitors can expect to sip cocktails with a close view of relaxed wildlife. The Zambezi river queen offers a true luxury hotel experience on the Chobe River with excellent views.
Chobe Princess boat cruise
Only a small number of guests permitted per boat with the Pride of the Zambezi accommodating passengers in five elegant en-suite cabins.
Photographic safari
Limited to just a small  number of travellers, visitors can share a different type of Chobe safari, a photography tour, with like-minded individuals whilst enjoying big game views and capturing favourite moments.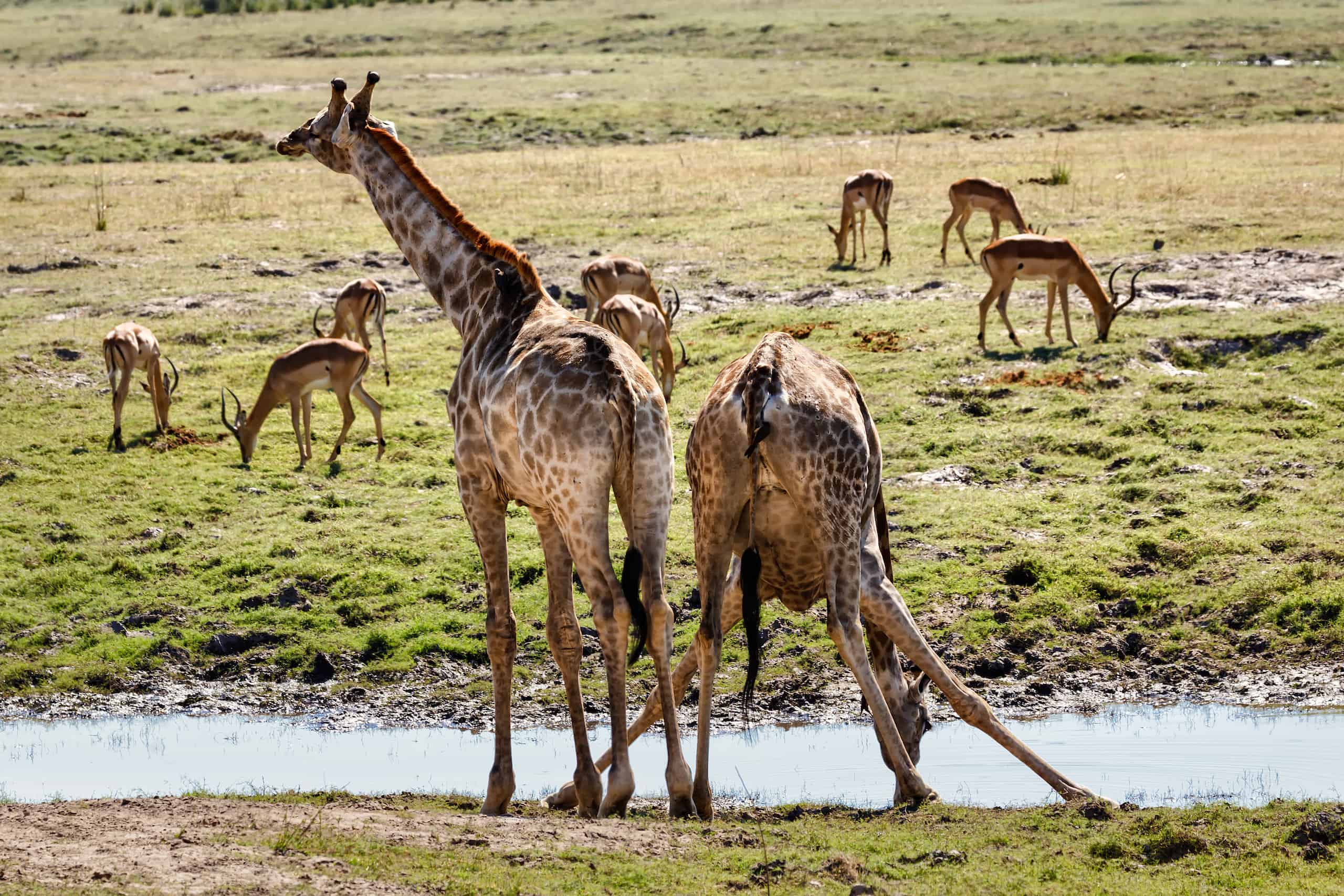 Fishing
Fishing in the Chobe river appeals to many visitors looking for a relaxing activity with these 'catch and release' trips.
Safari tours
Visitors can book customised safari tours to see multiple parks and game reserves over a week or longer. With some of Botswana's best parks and reserves an easy charter flight away, trips to Chobe are often combined with tours to the Okavango Delta.
Village tours
Discover the cultural heritage of the region, traversing across the Chobe River by wooden mokoro canoe and then on foot to traditional tribal villages.
Bush walks
Get up close and personal with the African bush on a guided bush walk visiting the Chobe Forest Reserve.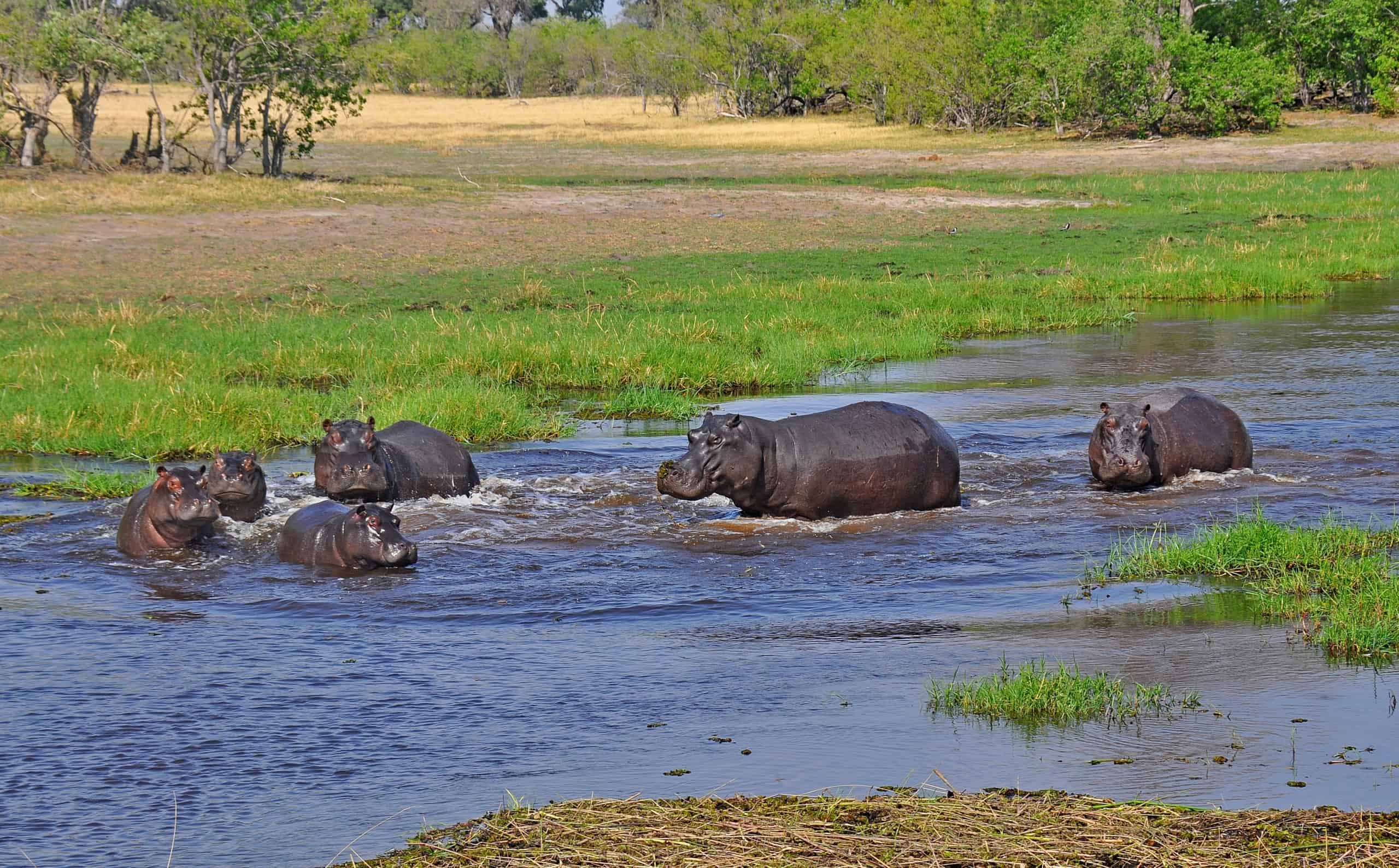 Chobe to Victoria Falls day trip
Visitors can get from Chobe to Victoria Falls either by joining a tour bus/boat or driving themselves. The drive is approximately 100km (62 miles) and takes just over one hour.
Hotels on the Zambian side of Victoria Falls typically charge approximately USD $150 per person for the day trip with pick ups via road transfer at 7am.
Check out our article on the best things to do in Botswana which includes other activities including eco safari walks with local bushmen.
How to get to Chobe NP?
For visitors wondering how to get to Botswana, you can fly to Maun (MAU), Gaborone (GAB) or Kasane (BBK) airports. A Botswana visa and certain vaccinations may also be required to enter the country.
Chobe NP in northern Botswana has multiple areas that can be visited.
By Road
The most popular and accessible of which is the riverfront, just 3 miles west of Kasane and 50 miles/1hour driving from the Victoria Falls.
The Savuti and Linyanti areas can be reached by 4×4 in the Dry season, but most people fly-in by chartered plane to their lodge.
From Maun, the route is 370miles taking over 3.5 hours. Car rental in Botswana is an excellent way to tour this stunning country and see the incredibly diverse range of Botswana animals and scenery.
By Plane
Visitors to this area usually fly into Kasane Airport (BBK), and self-drive visitors can pick up their 4×4 at the airport.
Another entry point is Maun Airport (MUB). From here, visitors can fly to Kasane.
Tariffs & Regulations
Entrance fee to Chobe National Park
For international non-residents, adult daily fees cost $11 and children cost $5.50.
Carrying a small amount of Botswana currency, the Pula (BWP) is useful when paying for smaller food or ticket items.
Regulations
When visitors enter the park, they must follow common sense rules including picking up waste, respecting the reserve schedules and staying in the vehicle when required.
Accommodation at Chobe National Park
Excellent accommodation options for all parties can be found at Chobe including luxury lodges, houseboats and camping.
Chobe has very few lodges within its boundaries as the accommodation is mostly set in private concessions on the borders of various parts of the Park.
Lodges
Belmond Savute Elephant Lodge Chobe NP Botswana
Situated on the banks of the Savute Channel, Savute Elephant Camp offers a magnificent birds-eye view of the majestic elephants in its natural habitat.
Savute Elephant Lodge features spacious and airy rooms atop raised wood lined decks with rich thatch roofing. Suites boast contemporary, minimalist décor with fine linens, ensuite bathrooms with el fresco showers, dressing areas, and personal bars.
Chobe Game Lodge
Chobe Game Lodge is a five-star eco-lodge situated on the banks of the Chobe River and offers 44 guest rooms.
Each lodge boasts air con, an ensuite bathroom, and a private terrace with views of the river. Four decadent suites add to the experience with their own infinity plunge pools.
Pangolin Chobe Hotel
This Chobe National Park hotel is situated on the top of a hill in the nearby town of Kasane, overlooking the mighty Chobe River.
Rooms come complete with air conditioning and modern bathrooms, and an on-site plunge pool is available for a refreshing dip.
Chobe Chilwero Lodge
Offering great views above the river, this luxury accommodation is an excellent option also.
Chobe Houseboats
Choose from a floating hotel with 14 suites, a sun deck, and a hot tub, a houseboat that sleeps 10, or a more private affair on a boat with only two or three suites.
All boat options give visitors ringside seats to the wildlife action along the riverbank and come complete with all meals, complimentary drinks and spirits, and airport transfers.
Chobe National Park camping
Visitors looking for budget accommodation in Chobe can avail of camping options starting from $12 per person per night. There are some designated camping areas in the park, though visitors are strongly recommended to camp only with a guide.
Chobe National Park offers three public campgrounds that are very popular and book up fast.
Ihaha Campground
This campground is located on the riverfront and contains 10 sites, a solar-powered washing station with flush toilets and hot water, and daily trash collection. This campground overlooks a hippo pool during the dry season when the river's water level below it recedes.
Savuti Campground
This unfenced campground is for the adventurous, as wildlife can meander through camp at any time, and a four-wheel-drive vehicle is needed to access it. The campground contains 14 sites.
Linyanti Campground
This camp contains five sites that overlook the Linyanti rivers. This campground also has a washing station with flush toilets and cold showers and is pretty remote.
Private camps offer a step up from roughing it, with mobile tent suites, complete with ensuite bathrooms, flush toilets, steaming hot buckets, and solar-powered lamps.
Useful information
Geography
Chobe National Park can be found in northern Botswana close to the border between Namibia and Zimbabwe.
Weather
The climate in Kgalagadi TP is warm to hot with day time temperatures ranging from 25C/77F to 35C/95F.
Best time to visit Chobe NP
​August to October is the best time to visit Chobe for wildlife viewing along the riverfront. Understanding the best time to visit Botswana is useful as this can impact safari prices and availability.
Health
Chobe NP lies in a high-risk malaria zone and antimalarial medication is advised. It is recommended to consult with your doctor prior to your trip.
FAQs
Where is Chobe National Park located?
In the north of Botswana close to Namibia and Zimbabwe. Visitors typically fly into Kasane Airport (BBK). 
How much is the park entrance fee?
For international non-residents, adult daily fees cost $11 and children cost $5.50. 
What animals will visitors see?
Big 5 including herds of elephants, lions, Cape buffaloes, lions, leopards and rhinos as well as African painted dogs, blue wildebeest, civets, crocodiles, giraffes, hippos, hyenas, impala and leopards.