Established in 1992 by the Khama Rhino Sanctuary Trust, this park in Eastern Botswana, some 4.5 hours from Gaborone, is a community based wildlife project that helps save and protect both white and black rhinos, as well as 30 other animal species.
Covering approximately 8,585 hectares of the Kalahari Sandveld, the sanctuary helps provide economic benefits to the local Botswana community through tourism and through the sustainable use of natural resources.
Why visit the Khama Rhino Sanctuary?
A safari in Khama Rhino Sanctuary (KRS)
Although not one of the national parks, a safari in KRS is a unique experience where visitors will have numerous opportunities to view one of the most interesting big 5 animals, the rhino.
Almost extinct as a species, both black and white rhinoceroses can be found roaming here as well as zebras, warthogs, giraffes, kudus, impalas and oryxes.
Approximately 40 black and white rhinos can be found roaming through KRS.
This rhino conservation programme was set-up and designed to protect the rhino species, an animal once on the brink of extinction. The sanctuary can be explored via a self-drive safari (a 4×4 vehicle is recommended) or by a guided tour.
A popular destination with safari tours, the park offers plenty of attractions and wildlife for couples on a Botswana honeymoon safari and groups on a luxury safari.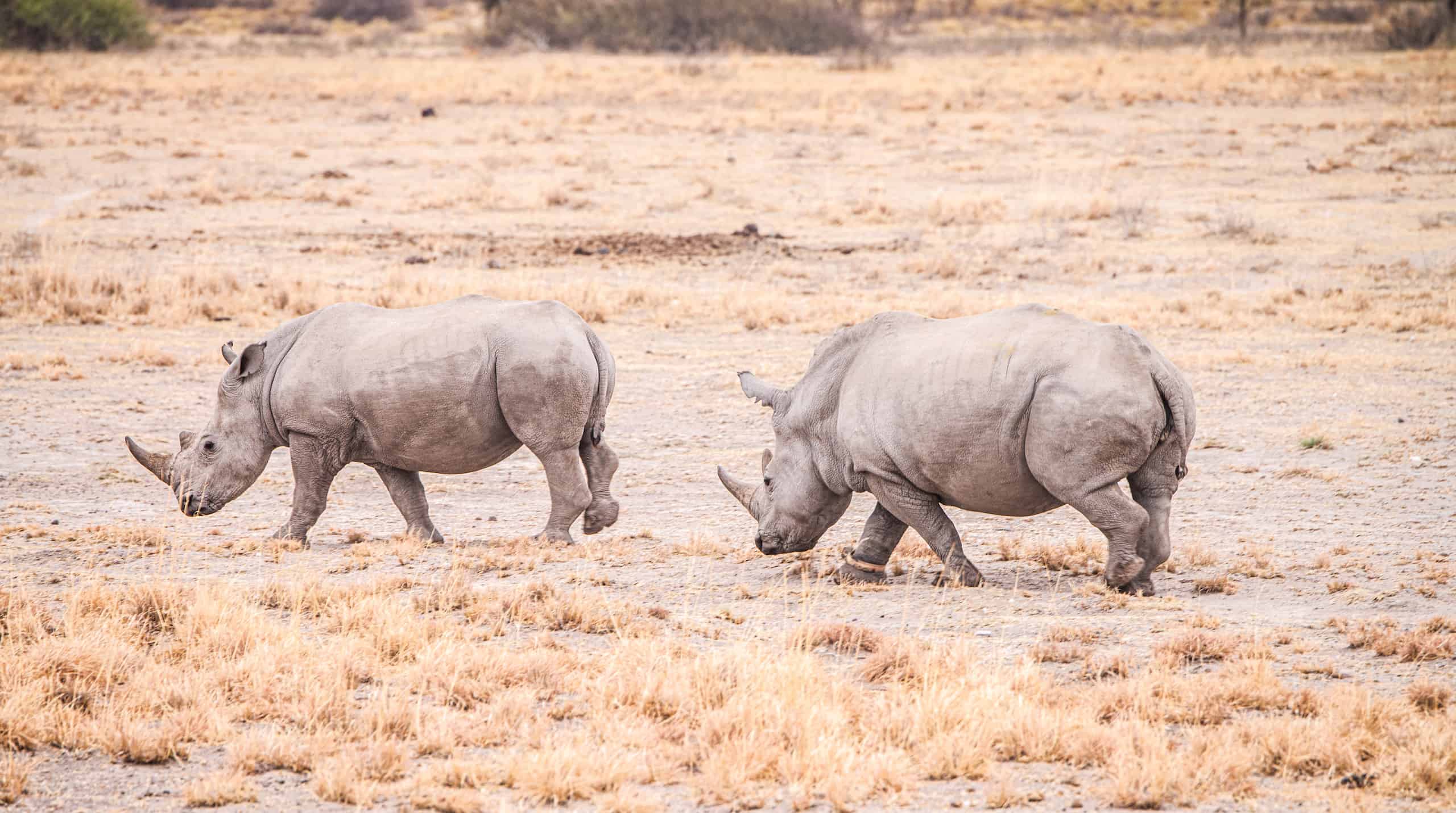 Animals
Other animals visitors can expect to see in the sanctuary include the zebra, blue wildebeest, giraffes, eland, springboks, impalas, gemsbok, kudus, steenbok, duiker, red hartebeest, leopards, ostriches and African wild cats.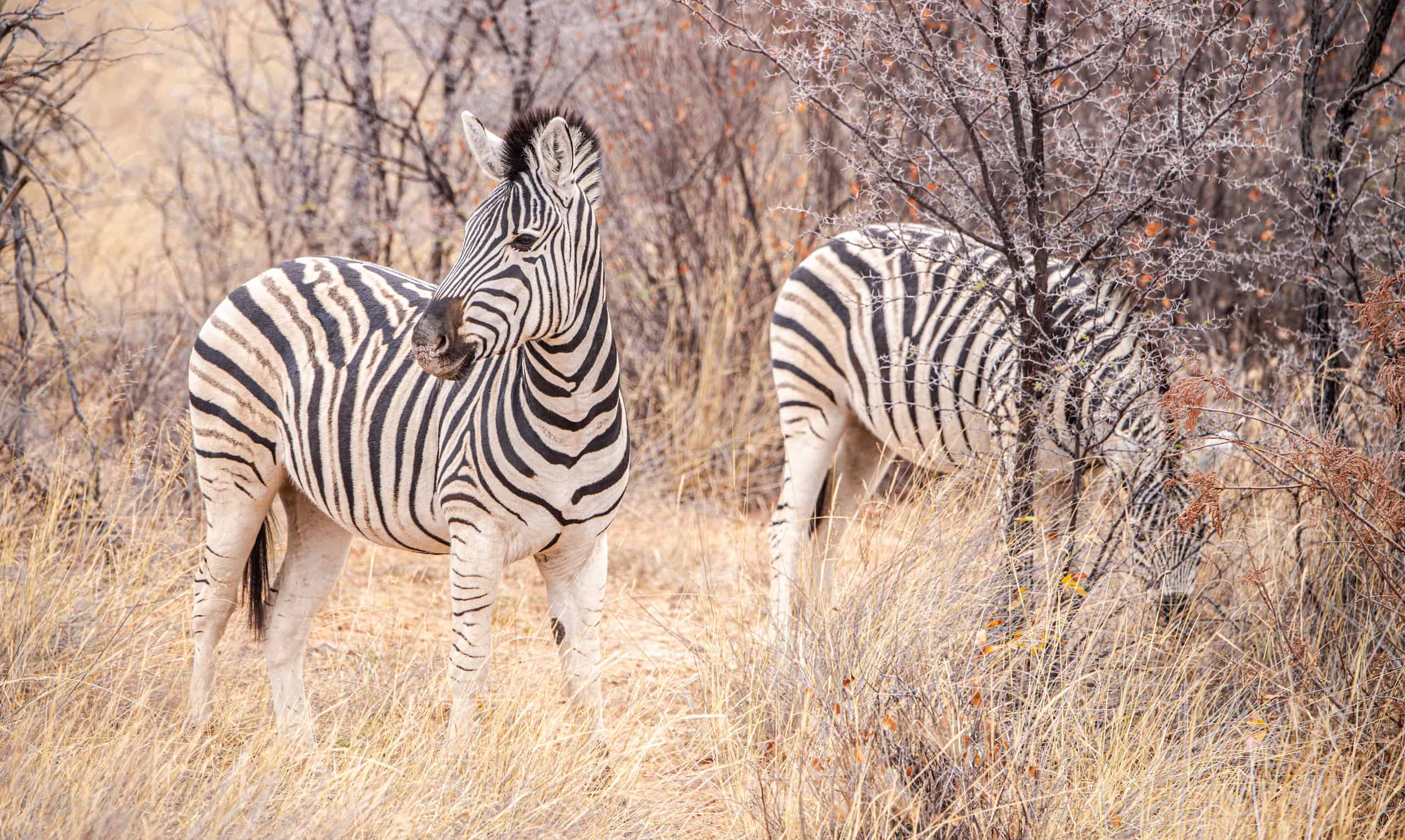 Birds
Over 230 species of birds including Abdim's stork and the bearded woodpecker can be found at KRS. Visitors can enjoy birding at the tranquil Bird Hide and watch the sunset ​​over Malema's Pan.
Other activities at KRS
The sanctuary is managed and staffed by local village residents offering many activities including game drives and bush walks on the Serwe Pan.
Arts and Crafts
There is also a craft shop selling various local crafts, books, maps, souvenirs and postcards.
Education centre
KRS also has an education centre where many young children from all over Botswana come for environmental education as well enjoying time in the bush, with the increase in tourism bringing many benefits to the local area.
Check out our article on the best things to do in Botswana which includes other activities including eco safari walks with local bushmen.
How to get to Khama Rhino Sanctuary?
By road
Car rental in Botswana is an excellent way to tour this stunning country and see the incredibly diverse range of Botswana animals and scenery.
With some of Botswana's best parks and reserves a relatively short trip away, trips are often combined with tours to the Okavango Delta, some 370 miles away on the main road between Serowe and Orapa as well as Chobe National Park.
Access by car is possible with a 208 mile/4.5 hour road journey along the A1 tarmac road from the capital Gaborone or a 320 mile/6 hour/ journey from Maun.
A 4×4 vehicle is recommended if planning a self-drive safari in Khama however due to the depth of the sand levels when driving through the sanctuary.
By plane
Francistown Airport (PG Matante International Airport) is the closest to Khama Rhino Sanctuary.
Flying to Gaborone and renting a car would be a better option, especially if visitors are thinking of visiting multiple destinations and continuing north.
Visitors from the United States can take a flight from Johannesburg, South Africa to KRS by connecting through Francistown International Airport.
For visitors wondering how to get to Botswana, you can fly to Maun (MAU), Gaborone (GAB) or Kasane (BBK) airports. A Botswana visa and certain vaccinations may also be required to enter the country.
Gates to enter the park
Khama Rhino Sanctuary opens every day at 8am and closes at 7pm.
Khama Rhino Sanctuary to Kubu Island
Kubu Island lies in the Makgadikgadi Pans in central Botswana. Travel time via road should be 4 hours & covers 136 miles.
Tariffs & Regulations
For non-residents, entrance fees range from $4 for kids to $8.20 for adults. Vehicles prices range from $17 to $30 based on weight.
Game related activities cost from $71 for at least one person, with an a $16 charge for each additional adult.
Carrying a small amount of Botswana currency, the Pula (BWP) is useful when paying for smaller food or ticket items.
Accommodation at Khama Rhino Sanctuary
KRS has a variety of accommodation facilities, ideal for families, individuals or groups.
Campsites
There are 22 campsites spread over 2 camps. The central feature of each site is a large tree by Mokongwa camp which provides both character and shade.
None of the campsites have any charging points.
There is also a fireplace, braai stand with grill and two communal ablution blocks containing toilets, showers with hot water and basins.
Non-citizen prices range from $5 for children to $10 for adults per night.
Chalets
There are 8 chalets housing from two to eight people each.
Bedding & towels, braai facilities, fridge and an electric kettle are provided in all chalets. Basic cooking utensils are not provided, visitors can bring their own.
Non-citizen prices range from $66 to $88 per chalet per night.
Bars/Restaurants/Amenities
KRS has a bar and restaurant open for guests and day visitors with a variety of dishes.
The sanctuary also has wifi, a pool and a shop selling crafts, books, maps, wood for a braai as well as ice, cold drinks and basic provisions.
Useful information
Geography
Located in the east of the country, a trip to KRS is often combined with game drives through the Northern Tuli Reserve, some 200 miles east of Khama.
Weather
Day-time temperatures range from 22C/71F to 33C/91F whilst November to February experience higher amounts of rainfall.
When to visit
KRS can be visited all year round. Due to the higher rainfall and muddy sands in winter, a trip anytime from April to November is recommended. Understanding the best time to visit Botswana is useful as this can impact safari prices and availability.
Health
Khama Rhino Sanctuary is in a high-risk malaria zone. It is recommended to consult your doctor before planning a trip.
FAQs
Where is Khama Rhino Sanctuary located?
208 miles, a 4.5 hour drive north of the capital Gaborone. 
How much does the entrance to Khama Rhino Sanctuary cost?
For non-residents, entrance fees range from $4 for kids to $8.20 for adults. 
Vehicles cost between $17 and $30 whilst game related activities cost from $71 for the first adult one and an additional $16 charge for every other adult. 
What time does the entrance gate open and close at?
KRS opens every day from 8am to 7pm.
What animals will visitors see?
Black rhino, white rhino, giraffes, zebras, blue wildebeest, eland, springboks, impalas, gemsbok, steenbok and African wild cats.