When planning a trip to southern Africa, choosing the best time to visit Botswana is important and guests should be aware of the differences in climate, availability, activities and pricing when choosing between the various months and seasons.
Best time to go to Botswana: months and seasons
A landlocked country with no sea, Botswana's climate is not influenced by the ocean but does benefit from a temperate climate.
There are two main seasons which can vary depending on the region:
Winter: April to October
Summer: November to March
May to September during the winter months is generally considered the best time of year to travel to Botswana as a safari destination.
These are the dry season months with more moderate temperatures, fewer mosquitos and clearer skies, perfect for a safari during the early mornings.
The weather is pleasant, rainfall will have stopped also and water finally has reached the now flooded Okavango Delta, attracting wildlife from far and wide to the water holes.
Botswana is typically less touristy than some of its neighbours such as Kenya and Tanzania so over-crowding isn't an issue here however safari prices will increase significantly in summer time.
Carrying a small amount of Botswana currency, the Pula (BWP) is recommended as back-up when paying for items where credit card facilities are unavailable.
Travellers can fly to Botswana via Maun (MAU), Gaborone (GAB) or Kasane (BBK) airports for visitors wondering how to get to Botswana. Flights from Maun Airport to the Okavango Delta in the north take 40 minutes and a Botswana visa and certain vaccinations may be required to enter the country.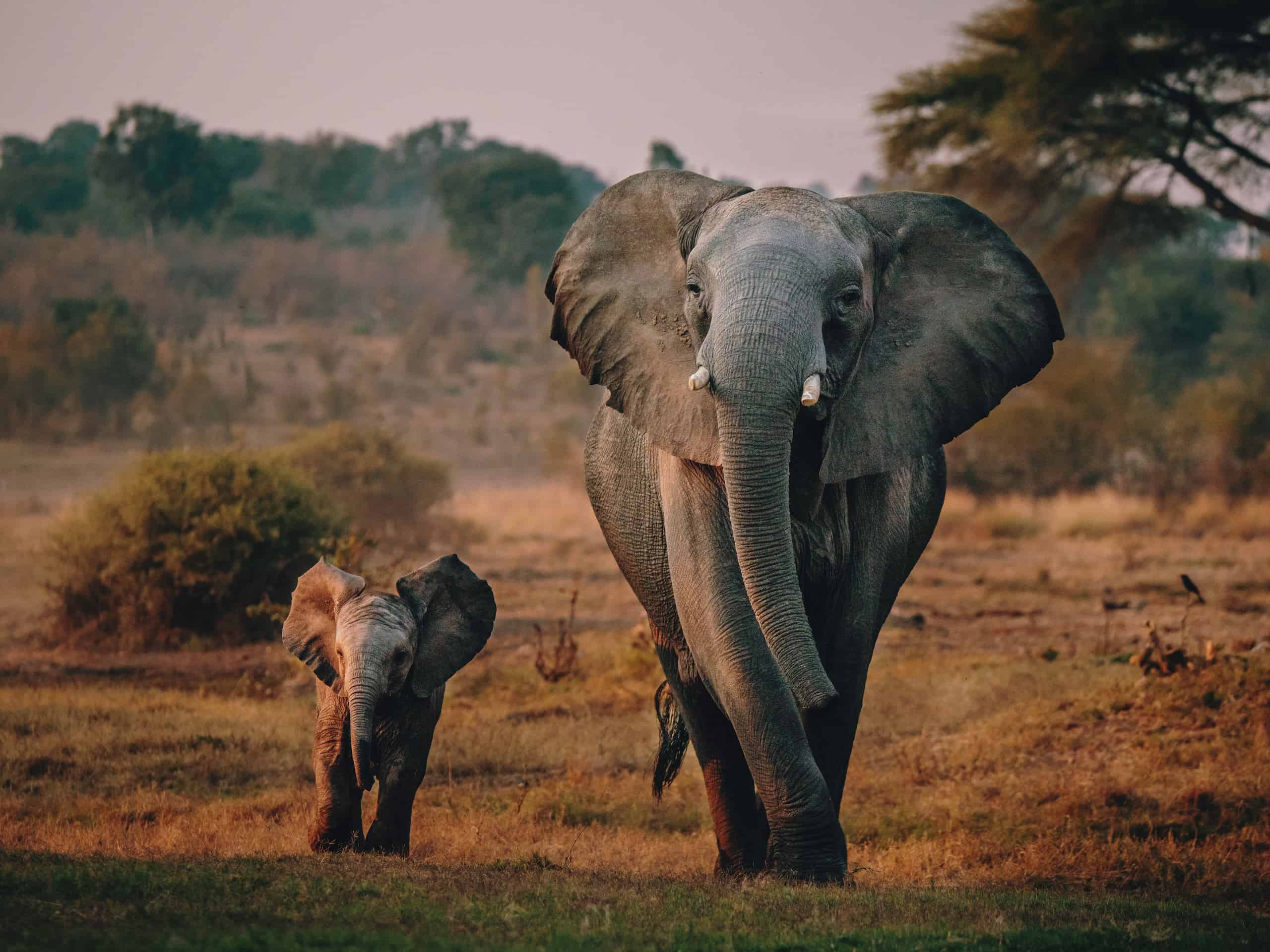 Weather and climate in Botswana
Seasons in Botswana
Located south of the equator, Botswana's seasons are the opposite of what U.S. and European visitors will be accustomed to in the northern hemisphere.
From April to October, it is winter and the dry season. The climate is therefore dry. The days are warm and sunny but the nights are cool.
From November to March, it is summer and the wet season. The days will see strong thunderstorms and showers and the climate is muggy and humid.
Temperatures in Botswana
In winter, temperatures are the most bearable with an average of around 20C/68F to 25C/77F during the day.
The sun sets early at 5 p.m and temperatures can drop significantly at night-time to near zero when it can be cool to sometimes frosty depending on the region.
From September, temperatures start to rise. During the summer, temperatures hover around 30C/86F to 35C/95F but can climb to 40C/104F on certain days. January and February Are the hottest months with the air, heavy and humid, sometimes making it difficult to bear.
The weather by region
In central Botswana, around the Kalahari Desert, although arid, this area has a rainy season. Temperatures are warm but pleasant all year round, sometimes with frost on certain nights.
In the south-east around the capital Gaborone, the climate is semi-arid. Rains are lower but present throughout the year with temperatures varying between 12C/53F° and 25C/77F on average, the highest being in January and the lowest in July.
In the north, home to some Botswana's best parks around the Okavango Delta and Chobe National Park, the best time to visit is in the earlier winter months, from April to August. The hottest periods tend to be from September to November.
For a combined trip, the best time to visit Botswana and Victoria Falls is anywhere from February to May, depending on your budget and preferences.
This period is directly after the region's summer rains, when visitors will see the world's largest sheet of falling water flowing at its greatest volume.
Regional visitors from neighbouring countries and cities including Cape Town and Johannesburg may prefer the November to January period with lesser crowds.
The most impressive spray found at Victoria Falls does not coincide with the peak safari season in nearby Chobe in Botswana or Hwange in Zimbabwe and it will take a few months for the Falls to quite literally gather steam after a dry winter in mid-year.
Some activities, like swimming in the Devil's Pool and certain sections of white-water rapids, are also too dangerous to undertake when the water is at its highest and fastest.
When to go to Botswana: Activities
May to September during the winter months is generally considered the best time to travel to Botswana for a safari game viewing and other activities including eco safari walks with local bushmen.
Car rental in Botswana is an excellent way to tour this stunning country and see the incredibly diverse range of Botswana animals and scenery.
For ornithologist enthusiasts and admirers of flora, the wet season at the start of the year is conducive to the observation of birds, smaller fish as well as abundant vegetation, watered by the rains.
Water activities
A popular destination with newlyweds going on safari tours, the country offers all the pampering, comforts and exciting activities one would expect on a Botswana honeymoon safari with similar premium pampering and action on a luxury safari.
Water-based activities include mokoro (canoe) rides, boat trips and houseboat safari trips allowing visitors to observe wildlife from a different perspective at the river and channel waterfronts.
Birds
A year-round birding destination, bird watchers will nevertheless find the migratory birds arriving during the summer months of the "Green Season" (late October to March/April) to be the best time to visit Botswana for both numbers and diversity of species.
Botswana has a wonderful range of resident species but as the rains arrive, so do migrant birds from Europe, Asia and other parts of Africa.
Botswana's bird watching goes from superb to sensational: kingfishers, kites, swallows, bee-eaters, rollers and cuckoos fill the air with extravagant song and colour.
Everywhere is good for birding – the Kalahari, Savuti, the Okavango Delta, the Chobe River and Linyanti wetlands. Even non-birders will get caught up in the excitement during a Botswana Green Season safari.
Coupled with the fact that Botswana's dry season coincides with the northern hemisphere's summer vacation period, Botswana's major wildlife destinations can get busier, particularly along the Chobe riverfront.
Visitors should also note that some camps can close for a period during these months.
FAQs
What is the best time to visit Botswana?
May to September during the winter months is the best time of year to travel to Botswana for a safari .
What type of climate does Botswana have?
From April to October, it is the dry, winter season when days are warm and sunny but nights are cool. November to March is the humid summer season with thunderstorms and showers.