The Okavango Delta in northwestern Botswana is a permanent marshland and seasonally flooded wetland and home to over 200,000 large mammal species, located 90 minutes by plane from the capital Gaborone.
The delta doubles in size during annual floods to over 2,300 sq. miles, approximately half the size of Massachusetts attracting animals, birds and tourists from far and wide.
Not just one of the best African safari destinations, the Okavango Delta is unique due to the way in which the wildlife have adapted to these seasonal changes as well as the presence of water in the desert, no water outlet to any ocean and floods during the dry season.
Why visit the Okavango Delta?
Safari in the Okavango Delta
A safari trip here is a must on a trip to Botswana, the Okavango is a UNESCO World Heritage Site as well as one of the Seven Natural Wonders of Africa.
From May to September each year, 2.5 trillion gallons of rainwater travels 590 miles from Angola's highlands via the River Okavango and dead-end on the surface of Botswana's Kalahari Desert.
This transforms this swampy inland delta into a lush maze of marshy grasslands, crystal clear lagoons, fertile floodplains and reeded islands, perfect for attracting animals.
A Botswana delta safari is known for its superb wildlife with large populations of big animals including the Big Five, lechwe, hippo, crocodile, buffalo, zebra, giraffe, impala and wild dogs.
Accommodation is exceptional with eco-friendly tented camps and luxurious safari lodges found near the flooded delta waterways.
A popular destination with safari tours, the park offers plenty of attractions and wildlife for couples on a Botswana honeymoon safari and groups on a luxury safari.
Animals
Visitors will be amazed by the variety and numbers of animals they will encounter including the big five namely the African bush elephant, the lion, rhinoceros (both black rhinoceros and white rhinoceros), leopard and the African buffalo.
Male lions in the Okavango are the largest lions on Earth, some of whom weigh upwards of 200kg.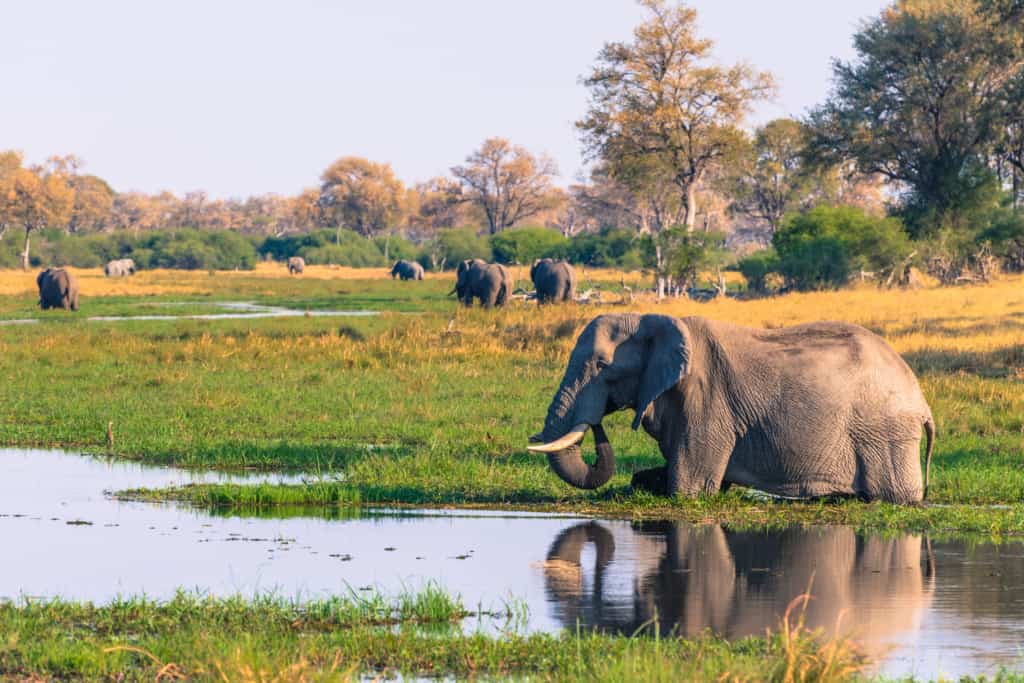 Birds
Over 400 species of birds can be found here including the Malachite kingfisher, African jacana and the Africa fish eagle.
Trees
Visitors can also see the baobab, papyrus and sausage trees, thriving in areas with a plentiful supply from the waters of the Okavango.
Other activities at Okavango Delta
The Delta falls under the protection of the Moremi Game Reserve offering many activities including:
Okavango Delta tours
Visiting multiple wildlife safari and activity locations on a safari tour of typically 2 and 10 days long can be very appealing to guests looking to make the most of their time in Botswana.
Tours can be tailored to the customer's needs and can combine excursions including a Victoria Falls visit, guided nature walks, mobile camping expeditions, boat cruises, night game drives, water safaris, island hopping, quad biking, luxury lodge retreats and Okavango fly-in safaris across different game reserves. 
Chobe Okavango Delta safari
Enjoy the best of both worlds of Chobe National Park and the Okavango with mobile tented camps, superb game viewing, water and wildlife activities, bird-watching, professional tour guides, riverboat cruises, sparkling lagoons and helicopter game viewings.
Luxury safaris
With excellent game viewing, Okavango Delta luxury lodges also offers some of the very best lodging and premium comforts for safari-goers. With incredible décor, modern decorated suites, excellent views, superb service and food, these intimate safari experiences have it all.
Botswana horse safari
With huge fence-less landscapes, horse riding safaris operate across multiple terrains including dry desert-lands to delta wetlands viewing giraffes, elephants, buffaloes and tracking lions along the way.
Okavango river boat safaris
Okavango River Safaris traverse the length of the Delta in comfortable custom-designed game viewing boats. Tour guides set up comfortable tented camps along the way for the guests on secluded islands, a perfect way to view wildlife.
Mokoro trips
An Okavango Delta canoe safari, the wooden mokoro is the perfect means of navigating some of the Delta's more challenging swampy marsh and grasslands with a tour guide using a gondola-style wooden pole to push the canoe along.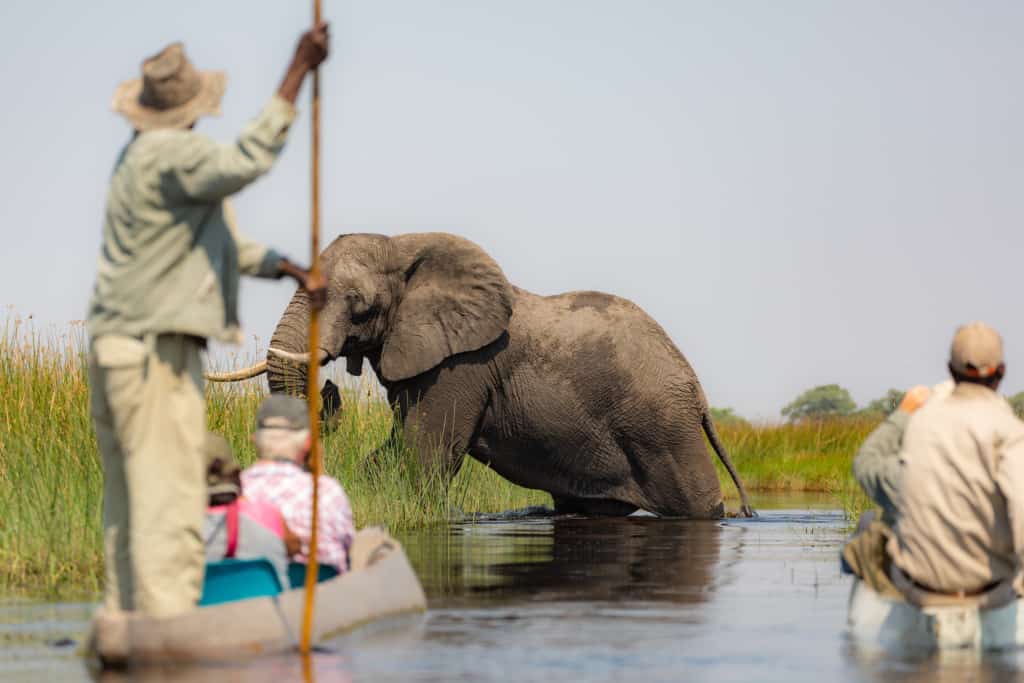 Okavango Delta houseboat safari
Visitors can stay overnight on a houseboat, a luxurious floating boat with multiple rooms, ensuite facilities, bar and prepared meals.
Walking safaris
Explore wildlife and private concessions on foot, an authentic and economical means of exploring wildlife in the Okavango.
Photo safaris
Limited to just 3 travellers, visitors can share a luxury Botswana photography tour with like-minded individuals and enjoy big game viewing whilst capturing their favourite moments.
Okavango Delta mobile safari
Moving every few days, these guided wildlife safaris make use of exclusive luxury campsites with en suite safari showers and excellent food served.
4×4 safari
A stunning self-drive Okavango journey will allow visitors to enjoy the very best wildlife at their own pace.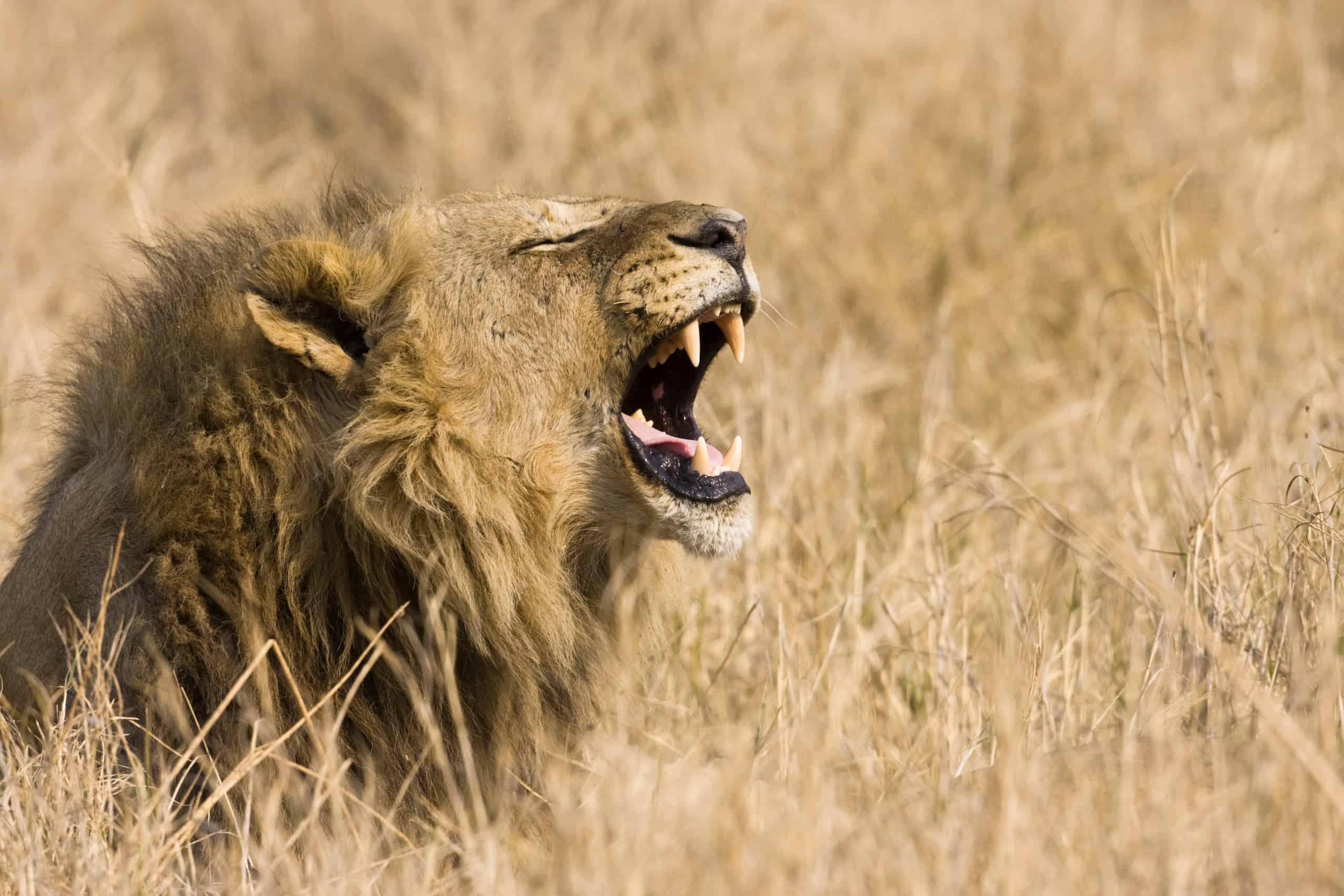 Helicopter trip Okavango Delta
A scenic helicopter flight over the Delta's landscape offers a unique perspective on the incredible wildlife, islands, plains and lagoons.
Botswana eco safari
Adhering to strict environmental standards, solar and renewable energies as well as waste water treatment, Botswana eco safari lodges are at the fore-front of committing to eco and their surroundings.
Check out our article on the best things to do in Botswana.
How to get to the Okavango Delta?
By Plane
Access to the Okavango Delta is typically made via a flight. There are many airstrips situated a short drive from the plains camps, with Maun airport nearby.
Flights to these airstrips can be made from Maun (MUB), Kasane (BBK), Gaborone (GBE) or linked from other airstrips in other areas of Botswana. Flights from Maun Airport into the delta take between 30 – 45 minutes.
Flights into Maun typically arrive via Johannesburg and Cape Town, or locally from Gaborone and Kasane via charter flights.
For visitors wondering how to get to Botswana, you can fly to Maun (MAU), Gaborone (GAB) or Kasane (BBK) airports. A Botswana visa and certain vaccinations may also be required to enter the country.
By Road
From Maun, the Okavango Delta is 50 miles away taking almost 5 hours to drive whilst driving from the capital Gaborone, a 600 mile journey, will take over 15 hours.
The Okavango Delta is situated 370 miles/7 hours driving from Chobe National Park.
Car rental in Botswana is an excellent way to tour this stunning country and see the incredibly diverse range of Botswana animals and scenery.
Victoria Falls to the Okavango Delta
Many visitors will combine a tour to both Victoria Falls and the Okavango Delta on a 430 mile journey taking over 12 hours.
Visitors can also take the 50 mile, 1.5-hour road trip to Kasane (BBK) and fly 40 minutes from there via private charter to the Okavango Delta.
Tariffs & Regulations
Tariffs and entrance fees depend on the game reserve the visitor is entering, of which the Okavango Delta has many.
Moremi Game Reserve has an entrance fee of approximately $12/£9 per person per day.
Carrying a small amount of Botswana currency, the Pula (BWP) is useful when paying for smaller food or ticket items.
Accommodation in the Okavango Delta
Okavango has a variety of accommodation facilities, ideal for families, individuals or groups.
Lodges
The Okavango Delta offers a diverse range of lodge options across multiple game reserves from eco lodges to the most sought after luxury lodges on the southern Africa safari circuit.
Many camps and lodges are still tented in the traditional style, whilst some utilize comfortable explorer style Meru tents and radical modern wood and canvas designs.
Guest facilities typically include a swimming pool, bar, spa, meals, guided tours, inclusive meals, ensuite rooms and expertly trained staff.
Pricing from $400 to several thousand dollars per night.
Tented camps
These sophisticated structures are large luxury tents on raised wooden floors with excellent guest services and meals provided, often found overlooking a wildlife-rich lagoon.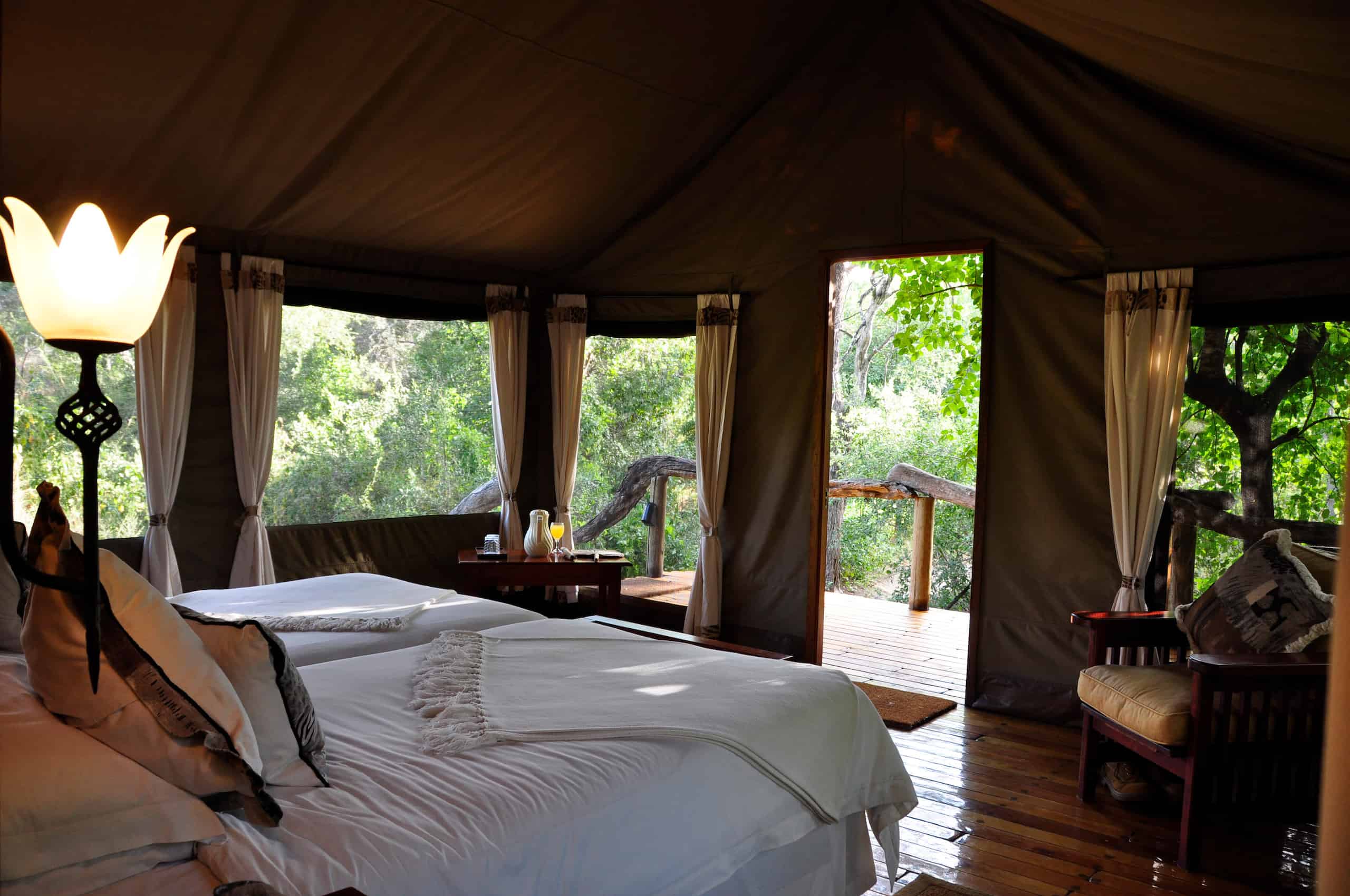 Pricing from $835 per person per night.
Houseboats
Luxurious floating accommodation with multiple rooms.
Pricing starts from USD $450 – $750 per person sharing per night.
Campsites
There are a number of affordable camping sites within the Moremi Game Reserve as well as deep within the delta, offering cheaper camping options for travellers on a budget.
Pricing starts from $20 per person per night.
Campervan
Guests on a self-drive safari with a campervan can make significant savings by sleeping in their vehicle.
Pricing starts from $80 per day.
Bars/restaurants/amenities
Lodges will typically have all meals and drinks included in the lodge package.
Useful information
Geography
Located in the northwest, a trip to the Delta is often combined with a trip to Victoria Falls, a journey of 40 minutes by flight and 1.5-hours by road.
Weather
Day-time temperatures range from 27C/81F to 35C/95F whilst November to February will experience higher amounts of rainfall.
Best time to go
The best time for wildlife viewing is from July to October. Understanding the best time to visit Botswana is useful as this can impact safari prices and availability.
With some of Botswana's best parks and reserves an easy charter flight away, trips are often combined with tours to the Makgadikgadi Pans and Chobe National Park ecosystem.
Health
The Okavango Delta lies in a high-risk malaria zone. It is recommended to consult your doctor before planning a trip.
FAQs
Where is the Okavango Delta located?
50 miles from Maun, a 5 hour road trip. It can also be accessed via a flight from Maun. 
How much does the entrance to the Okavango Delta cost?
Tariffs and entrance fees depend on the game reserve, Moremi GR has an entrance fee of $12/£9 per person per day.
What time does the entrance gate open and close at?
Chobe National Parks open from 6am – 6.30pm from March to September and 5.30am – 7.30pm in October to February.
What animals will visitors see?
Lions, leopards, African bush elephants, giraffes, rhinos, African buffaloes, lechwes, hippos, crocodiles, zebras, impalas, African wild dogs and many more.