When planning a trip to east Africa, timing is important, as visiting in different seasons can impact pricing, availability and activities planned, thus knowing the best time to visit Zanzibar is imperative.
Visitors from around the world are attracted to this island to relax on the incredible Zanzibar beaches, enjoying quality downtime at the numerous luxury beach resorts by the Indian Ocean.
A beach holiday here is often combined with a Tanzania safari trip to the Serengeti where visitors can marvel at the millions of animals searching for food and water during the wildebeest migration. Below, we detail all you need about the best time to visit Zanzibar.
Best time to go to Zanzibar: Months and seasons
Zanzibar is a stunning island and self-governing state in Tanzania some 57 miles from Dar es Salaam. The island is renowned for attracting honeymooners, often after their safari excursions, as well as guests from Europe, the U.S, U.K and beyond to relax by its breathtaking beautiful beaches, white sandy shores and turquoise waters.
The best time to visit Zanzibar is during the archipelago's dry season, from July to September, which is a very popular time to travel. However, it's worthwhile travelling at most times of year, with balmy temperatures between 28°C and 34°C and sunshine the norm.
In general, Tanzania is a popular safari destination with trips to Ngorongoro Crater often combined with beach vacations to Zanzibar. Guests should be aware of this and book in advance as prices can increase significantly during summer time.
Travellers can fly to Zanzibar via the island's main airport (ZNZ) for visitors wondering how to get to Zanzibar. ZNZ airport is located 3.1 miles south of Stone Town, the main city on the island and a Zanzibar visa and certain vaccinations may be required to enter the country.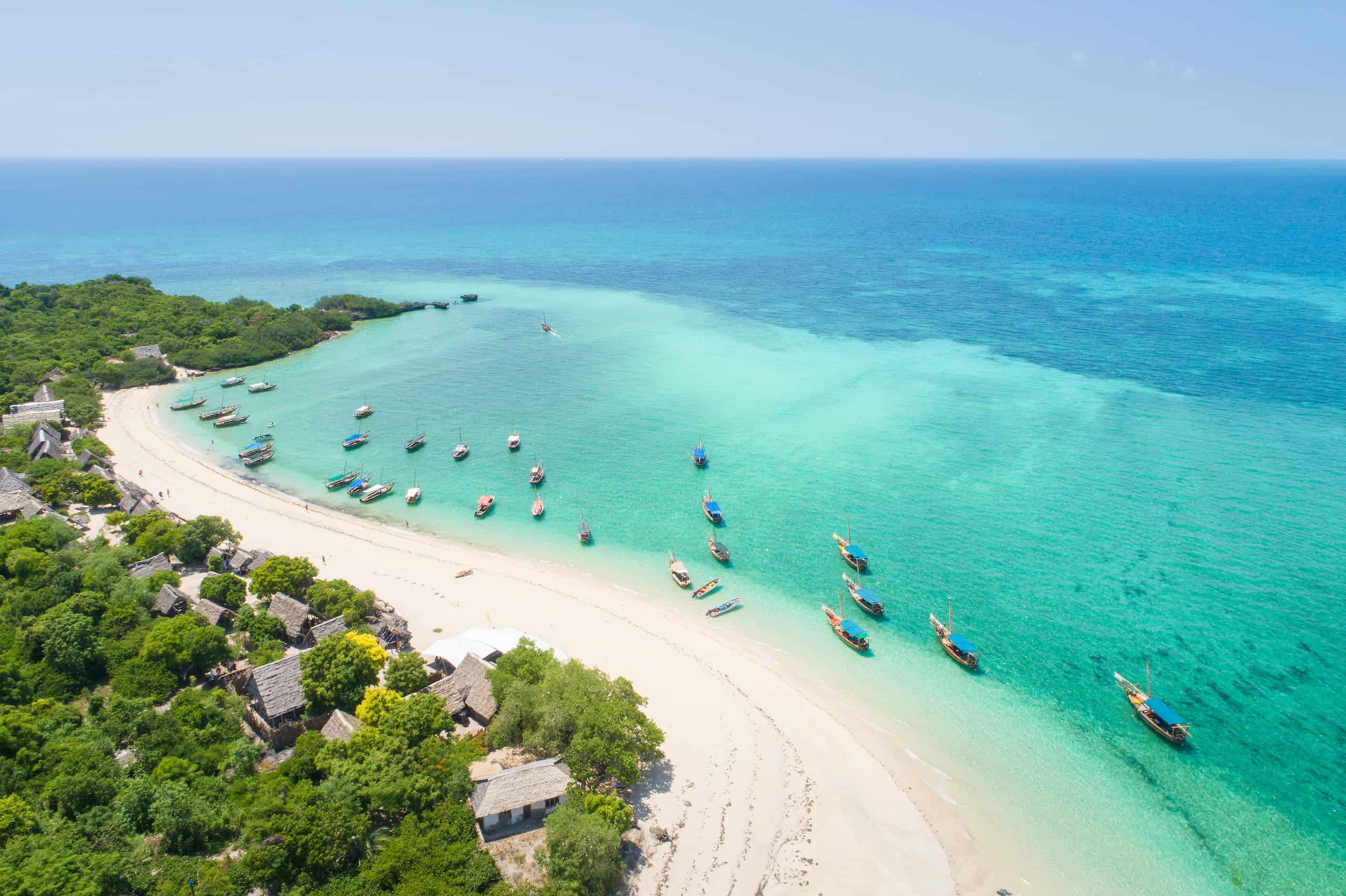 Weather and climate in Zanzibar
Seasons in Zanzibar
Located south of the equator, Zanzibar's seasons are the opposite of what U.S. and European visitors will be accustomed to in the northern hemisphere.
The climate is tropical, hot all year round, with two rainy seasons: one more intense, known as the "long rains" season, from March to May, with the peak in April, and the other less intense, known as the "short rains" season, between mid-October and December.
Temperatures in Zanzibar
The warmest period on Stone Town, the old part of Zanzibar City and main city of Zanzibar, is from December to March, during which the maximum temperature hovers around 32/33 degrees Celsius (90/91 °F) and the humidity is high, although the breeze tempers a little the heat.
February is the hottest month in Zanzibar with an average temperature of 28°C (82°F) and the coldest is July at 24°C (75°F) with the most daily sunshine hours at 10 in December.
The wettest month is April with an average of 401mm of rain. The best month to swim in the sea is in March when the average sea temperature is 30°C (86°F).
Wind
The north-eastern kaskasi wind is a major factor in choosing where to holiday in January. Beaches along Zanzibar's north and east coasts bear the brunt of the wind – a steady, stiff breeze that's usually between 20 and 30 km/h (11-17 knots).
Wind and waves can also wash seaweed onto the eastern beaches although many resorts make a point of clearing the bathing areas in front of their properties.
Conditions are ideal for kitesurfers and the stable, moderate winds are also ideal for beginners. Paje in particular is very popular at this time of year, as is Kiwengwa, although it's more low-key.
Visitors looking for something more sheltered can try Kendwa or Ras Kizimkazi. Day trips to the west coast atolls of Chumbe and Prison Island are also ideal at this time of year.
When to go to Zanzibar: Activities
Most activities in Zanzibar revolve around the beautiful turquoise waters. Such is the underwater freedom and marine paradise of Zanzibar's waters, it may even be the world's best scuba diving location, according to many pro divers.
Guests can find the best time to dive in Zanzibar is February, March, July, and August.
There are many great beaches in Zanzibar and related activities which visitors can enjoy as well as the nearby islands of Pamunda, Pemba island, Chumbe and Unguja Island.
The water temperature during this period is quite comfortable (24°C to 30°C) whilst the general diving season stretches from June through to March, avoiding the rainy season.
Mnemba Atoll is the self-proclaimed tropical "fish capital" of East Africa; it is full of marine life and a lot of drift diving along the walls and edge of the reef. Divers can find butterfly fish, leaf fish, pipefish, and lots of shrimp, lobsters, graceful manta rays, dolphins, turtles, and even sharks.
Water activities
This is an important element for water levels and of course water-based activities including fishing, canoeing, boat trips and scuba diving observing wildlife and marine life on the lakes and coastline of East Africa.
January and February are prime times for swimming with whale sharks off Mafia Island and the visibility is at its best over the coral gardens of Chole Bay.
For divers with specific interests, migration seasons with the highest concentration of certain marine animals, and the highest possibility of sightings are over the following periods:
Marine life sightings calendar
| Best months | Marine life |
| --- | --- |
| Dec to April | Manta rays |
| June to March | Blacktip reefs sharks |
| Nov to Feb | Hammerhead sharks |
| Oct to Feb | Whale sharks (Mafia Island) |
| June to March | Seahorses |
| June to Oct | Humpback whales |
| All year-round | Whitetip reef sharks, dolphins, and hawksbill turtles |
Birds
Zanzibar is home to a fragile host of ecosystems that are the habitats of a number of amazing birds including the Fish eagle, Pemba sunbird, Fischer's Turaco, brown-headed parrot, Roseate Terns and the Pemba Scops Owl.
Birding in Zanzibar is done all year round but the best time is during the wet season of March, April and May when migratory birds are present.
Markets
January is mango season across Zanzibar and the markets are full of fresh, ripe fruit. It also marks the end of the clove harvest in Pemba, with fragrant piles of the islands' main export drying in the sun.
Carrying a small amount of Zanzibar currency, the Tanzania Shilling (TZS) is recommended as back-up when paying for items where credit card facilities are unavailable in Stone Town and beyond.
FAQs
What is the best time to visit Zanzibar?
The best time to visit Zanzibar is during the archipelago's dry season, from July to September.
What type of climate does Zanzibar have?
Zanzibar's climate is tropical, hot all year round, with two rainy seasons: one more intense "long rains" from March to May, the other less intense "short rains" from mid-October to December. Daily temperatures reach the low-mid 30°s.