A popular honeymoon destination and documentary location in northern Tanzania, the Serengeti plains are home to the world's largest movement of animals, often called the "Great Migration."
Covering 5,700 sq. miles of savannah, the Serengeti is renowned for the incredible migration of over 2 million animals on a 300 mile loop following seasonal rains around the Serengeti and mara rivers by Masai Mara in Kenya.
The Serengeti is located just over 200 miles/8 hours driving from Arusha. Tourists often fly from Arusha to airstrips within the Serengeti park.
Why visit the Serengeti National Park?
Safari in the Serengeti
A safari trip to the Serengeti is a must-do on a trip to Tanzania. The Serengeti is a World Heritage site and Biosphere Reserve, as well as the main tourist attraction in Tanzania
It's also one of the oldest and most scientifically significant ecosystems on the planet. Its weather patterns, fauna and flora are believed to have changed very little over a million years, giving the area a prehistoric feel.
The landscape of the Serengeti Plain is also extremely varied, ranging from savannah, to hilly woodlands, to open grasslands.
Apart from rhinos and hunting dogs, visitors will readily see every species of African savanna mammal within the Serengeti.
It is the best place in East Africa to see predators in action because of the open grass plains where the grazing animals gather, predators are numerous and easily visible to the safari-goer.
Accommodation is also excellent with numerous options from tented camps, luxury lodges to camping grounds.
Animals
Visitors will be amazed by the variety and numbers of animals they will encounter, with close to 2 million animals, including the big five namely the African bush elephant, the lion, rhinoceros, leopard, African buffalo, spotted hyena as well as numerous hippos in the Serengeti Retina hippo pool.
Visitors will also find wildebeest, gazelle, giraffes, African bush elephants, big cats, black rhinos and more spread across the endless plains.
The Serengeti also contains a high concentration of lions with over 3,000 of them found in the park and about 1.5 million wildebeests. A view of these huge beasts crossing the crocodile infested river Mara has been included in the 7 wonders of natural Africa.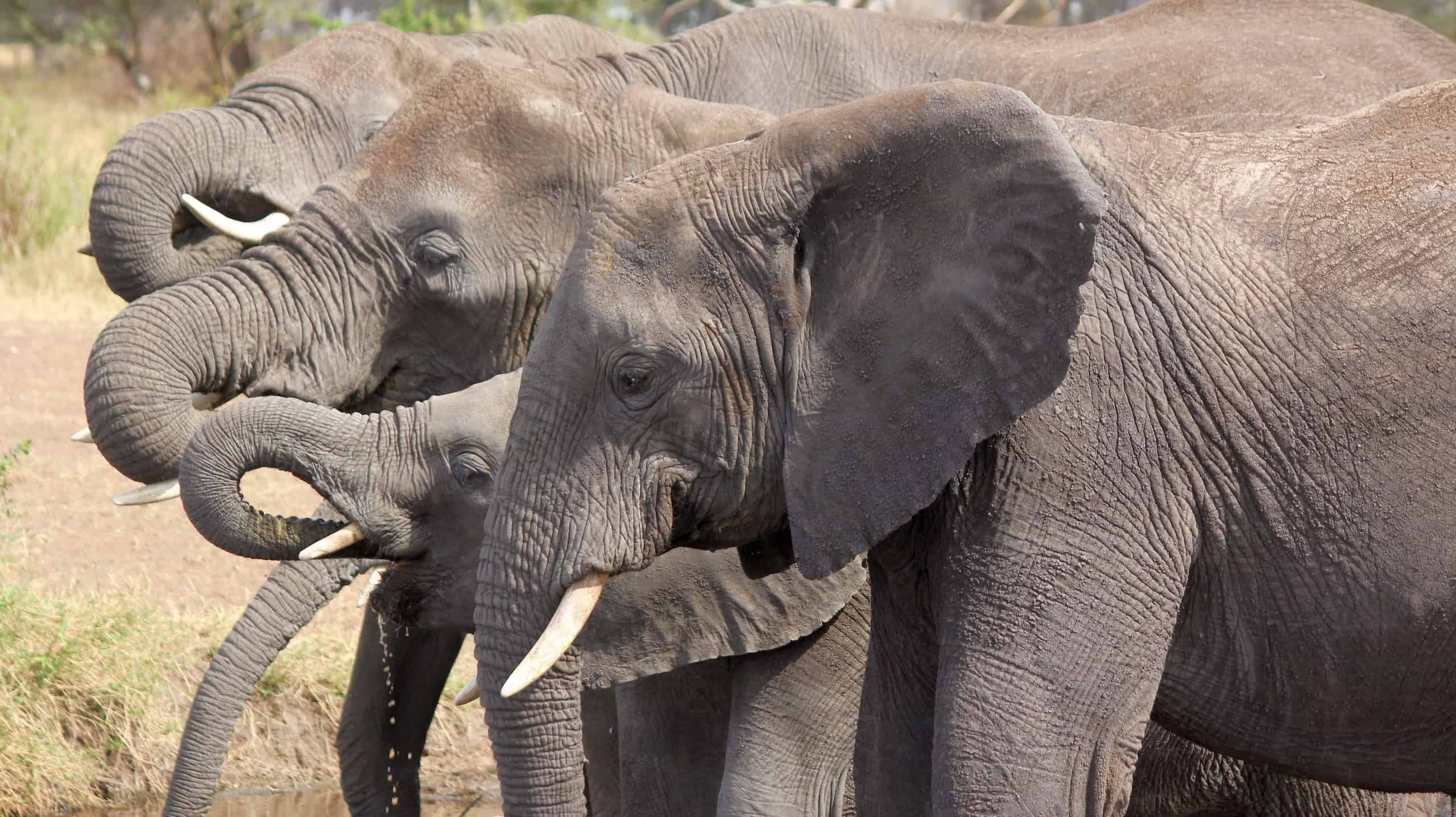 Birds
Over 500 species of birds can be found here including the Masai ostrich, secretary bird, kori bustards, helmeted guinea fowls, Grey-breasted spurfowl, blacksmith lapwing, african collared dove, red-billed buffalo weaver, southern ground hornbill, crowned cranes, sacred ibis and cattle egrets.
Other birds found include black herons, knob-billed ducks, saddle-billed storks, white stork, goliath herons, marabou storks, yellow-billed stork, spotted thick-knees, lesser flamingo, shoebills, abdim's stork, hamerkops, hadada ibis, african fish eagles, pink-backed pelicans, tanzanian red-billed hornbill, martial eagles, egyptian geese, lovebirds, spur-winged geese, oxpeckers, and many species of vultures.
Trees
The most common plant species in Serengeti are Acacia trees, Acacia tortilis, Acacia Drepanolobium and the Kigelia (Sausage tree).
The sausage tree is a large tree only sparsely found in the Serengeti, usually along the dry river banks. It produces remarkably long (up to 50 centimeters), succulent, but poisonous fruits that drop from the tree and release seeds as the pulp rots:
There are several species of fig trees in Serengeti National Park. The distinctive grey smooth bark with large buttressing intertwined roots and saucer-sized dark green leaves make them easy to identify. Figs are a common tree along the moist banks of rivers or growing in the rocky clefts of kopjes.
Other activities at the Serengeti
There are multiple activities and things to do in Tanzania that can be added to your safari including walking safaris. Here are some other activities which visitors can consider during their visit to the Serengeti:
The Great Migration tour: A spectacular scene with millions of animals moving through the Serengeti National Park in search of food and breeding grounds. 
Serengeti fly in safaris: See things from a different perspective high above! If you'd like to see large herds of wildlife roaming across the vast open plains and river crossing of these magnificent, powerful creatures in the wild, a Serengeti flying safari is certainly for you.
Photo safaris: As safari destinations go, visitors on a photo safari will be in dreamland in the Serengeti where small groups of just 3 travellers can share a luxury photography tour with like-minded individuals and enjoy big game viewing whilst capturing their favourite moments.
Serengeti walking safaris: Explore wildlife and private concessions on foot, an authentic and economical means of exploring wildlife in the Serengeti and Lake Manyara.
Hot air balloon tour package: A magical way of seeing the Great Migration in a hot air balloon flight over the landscape including the Seronera River Valley, Naabi Hill, Lobo Valley, northern Serengeti, Bologonja Springs, black rhinos in the Moru Kopjes and the Serengeti western corridor towards Lake Victoria.
Ngorongoro Crater tour: Although not part of the Serengeti National Park, the Ngorongoro Conservation Area is worth a visit, with a huge intact volcanic caldera and Olduvai Gorge with over 25,000 animals and thousands of Masai tribe members.
Serengeti luxury tours: With excellent game viewing, the Serengeti National Park also offers some of the very best luxury lodges in the world. With incredible décor, modern decorated suites, excellent views, superb service and food, these intimate safari experiences have it all to make the perfect Serengeti safari tour and popular with honeymoon safari couples.
4×4 safari: A stunning self-drive Serengeti journey will allow visitors to enjoy the very best wildlife at their own pace.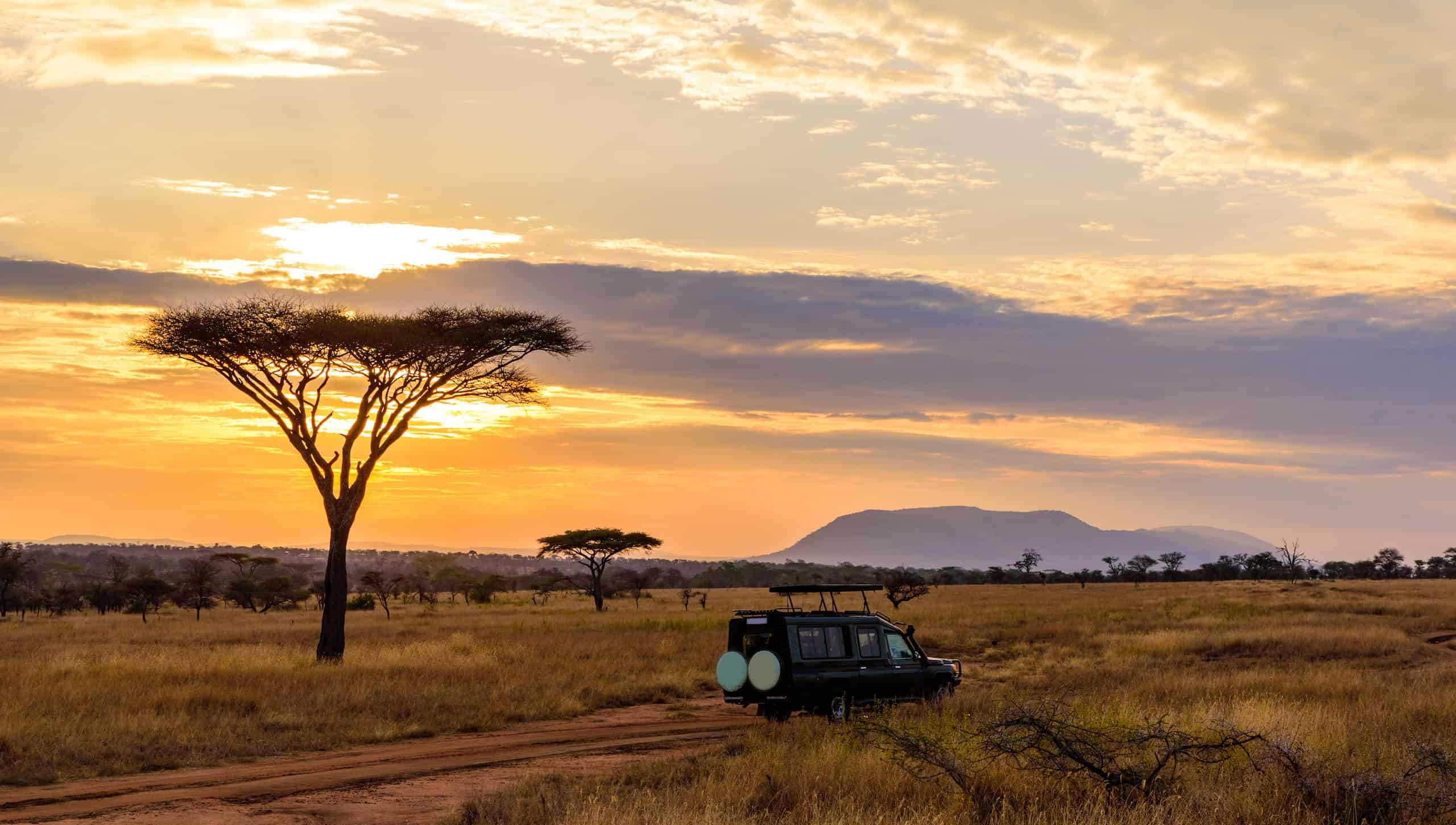 How to get to the Serengeti National Park?
By Plane
Access to the Serengeti is typically made via flying into a Serengeti airstrip including Seronera (SEU) from the northern town of Arusha. Tourists arrive into the town of Arusha via flying into Kilimanjaro International Airport (JRO), some 29 miles by road.
International flights into the country also arrive via Dar es Salaam (DAR) airport for visitors wondering how to get to Tanzania. DAR airport is located 18km south of Dar Es Salaam and a Tanzania visa and certain vaccinations may be required to enter the country.
By Road
From Arusha, the Serengeti NP is about 200 miles/8 hours drive, a bumpy but scenic trip.
Tariffs & Regulations
Entrance fee
Prices per person per day:
USD $60 per adult to enter the conservation area
USD $30 per child (aged 5 – 16)
The main access gates open at 6am and close at 6pm.
Carrying a small amount of Tanzanian currency, the Tanzania Shilling (TZS) is recommended as back-up when paying for items where credit card facilities are unavailable. Visitors can also review further details on overall Tanzania safari prices here.
Check out our feature on Serengeti safari prices.
Regulations
Visitors must respect the rules of Serengeti National Park, including the flora and fauna. Details will be provided at the park entrance gate.
Accommodation at the Serengeti National Park
Being one of Tanzania's biggest attractions, Serengeti Park offers a wide selection of accommodation, to suit all budgets and tastes.
Lodges
For more luxury lodge options, visitors can choose from the 6 lodges of the Serengeti National Park.
The Serengeti Serena Safari Lodge is the ideal place to stay near the Grumeti River and have a front-row seat to see the fabulous crossing of the river by the wildebeest and zebras.
Of particular note include the luxurious Four Seasons Serengeti safari lodge, the Serengeti Serena safari lodge and the Nomad serengeti safari camp.
Pricing from USD $1,100 per person per night.
Tents
Serengeti NP also has several safari tent accommodations, also called "tented lodges", a popular and luxurious option. The Serengeti Lodge Mawe is particularly popular with travelers.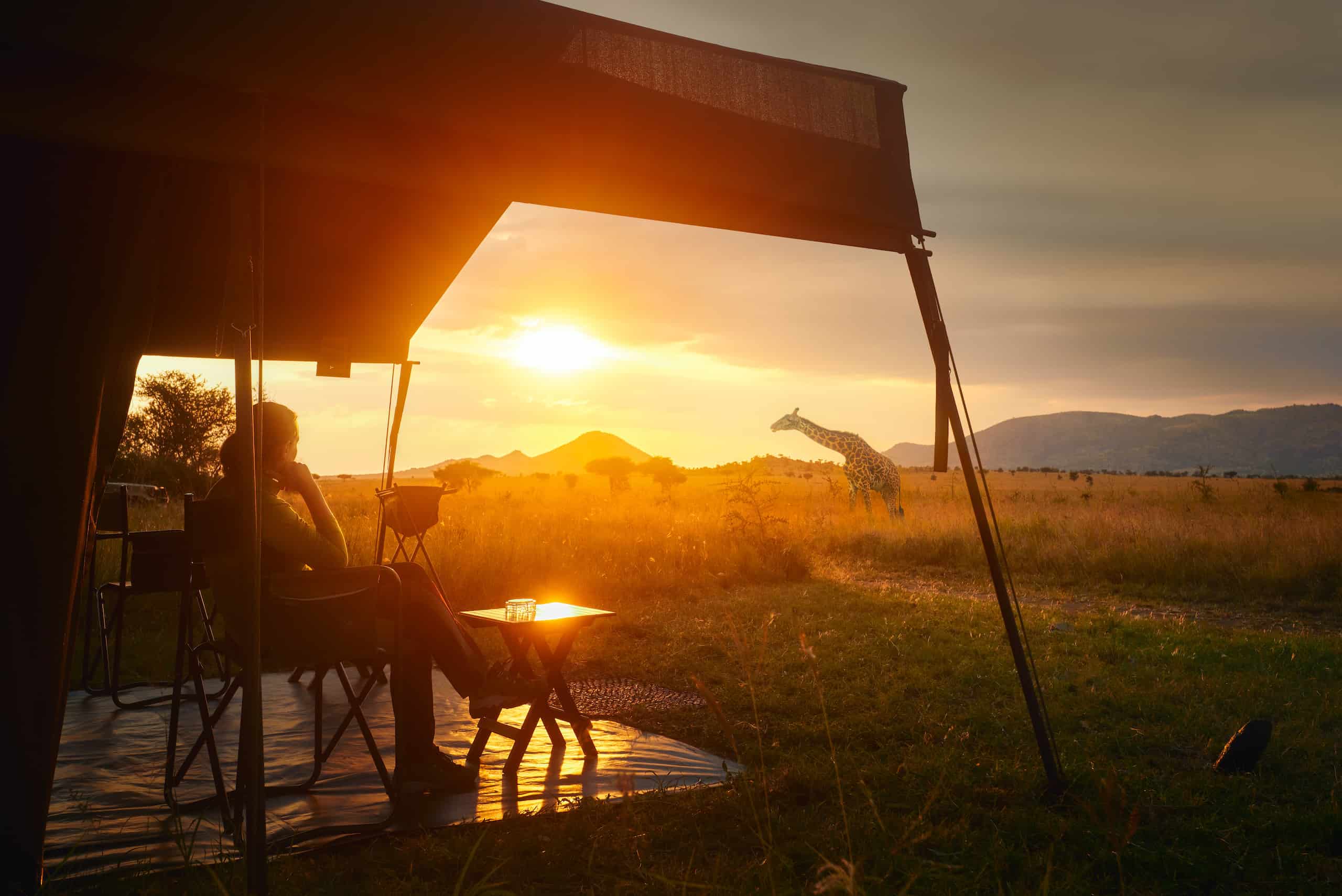 Camping
9 public camping areas are available to travelers. Sanitary facilities and kitchens are available on site.
Bars/restaurants/amenities: Lodges will typically have all meals and drinks included in the lodge package.
Useful information
Geography: Located in the north of Tanzania, a trip to the Serengeti National Park is often combined with a trip to the Ngorongoro Crater.
Weather: Day-time high temperatures range from 24C/75F to 27C/80F with the last of the rain falling in May.
Best time to go: The best time to visit the Serengeti National Park is in the Dry season (from late June to October). This period offers the best wildlife viewing in general – with the wildebeest migration as its absolute highlight.

Wildlife viewing is good throughout the year, but certain areas are better at specific times.
The timing of the migration varies every year (the best chance of seeing it is during June and July) while the wildebeest calving is from late January to February.
Understanding the best time to visit Tanzania is useful as this impacts flight prices and availability.

Health: Malaria is present in the Serengeti and visitors should seek medical advice from their doctor and consider antimalarial medication.
FAQs
Where is the Serengeti National Park located?
Access to the Serengeti Crater is typically made via flying into a Serengeti airstrip from the northern town of Arusha. Tourists arrive into the town of Arusha via flying into Kilimanjaro International Airport (JRO), some 29 miles by road.
How much is the entrance fee to the Serengeti National Park?
USD $60 per adult & USD $30 per child (aged 5 – 16). 
What time does the entrance gate open and close at?
The gates into the Serengeti NP open at 6am and close at 6pm. 
What animals will visitors see?
The big 5 as well as wildebeest, giraffes, elephants, big cats, black rhinos and much more.