Mafia Island in Tanzania is the third largest island in the country's ocean territory, located in the Pwani Region. Known for its picture perfect beaches and incredibly diverse marine life, Mafia Island has some of the richest reefs in the world with an amazing variety of coral and tropical fish.
The Mafia Archipelago is mentioned as early as the 8th century and got its name from the Arabic word morfiyeh, meaning "archipelago," or possibly from the Swahili mahali pa afya meaning "healthy dwelling place."
The area is a group of islands, reefs and tidal sandbars scattered in the Indian Ocean off the coast of Tanzania, and at only 30 miles long and 10 miles wide, Mafia Island is the largest of these islands.
The best time to visit Mafia Island at the beach is in the dry season from July – October when the weather is dry and sunny and the rainy season is over.
Why visit Mafia Island
Set off the southern coast of Tanzania, Mafia Island is an off the beaten track bucket-list destination on the Swahili coast best known for its great diving, swimming with whale sharks, authentic Swahili culture and characterful lodges.
Rarely visited, and much quieter even than Pemba, Mafia and its surrounding islands are a diver's paradise.
Huge groupers, rays, turtles and whale sharks all frequent its warm, clear waters and Chole Bay is perhaps the best coral garden in East Africa.
Accommodation around Mafia tends to be intimate and upmarket, and for the ultimate in exclusivity, stunning private island lodges are also available.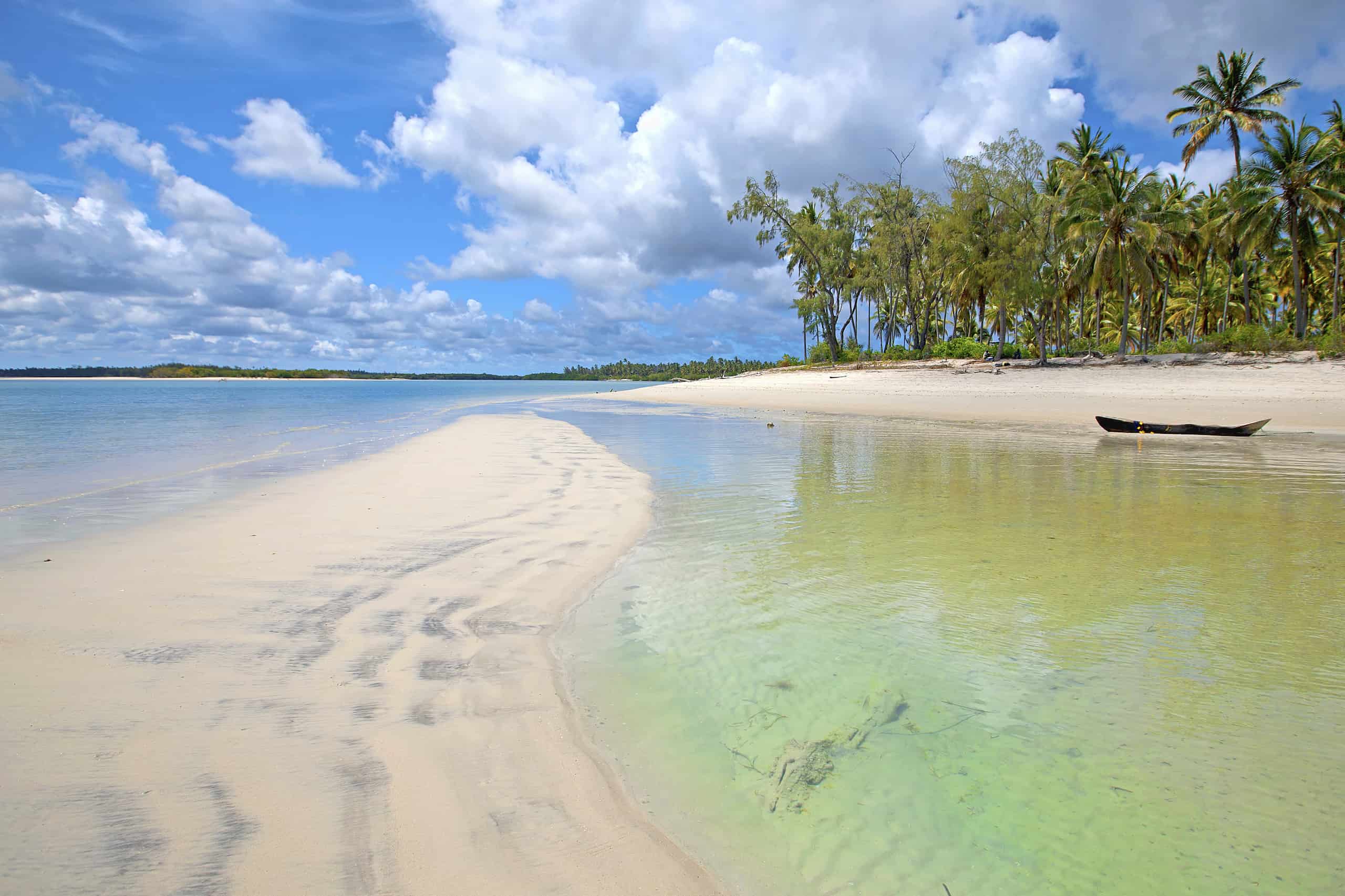 Top attractions visitors can expect on the Mafia Island archipelago include:
Animals
All islands on the archipelago have lush vegetation and wildlife, with coconut palms, baobabs, cashew, mango and papaya trees in the interior.
These are home to bush babies, wild pigs, blue duikers, genets, vervet monkeys and Pteropus fruit bats (flying foxes) as well as pygmy hippos. On the coast, mangrove forests and tidal flats attract endless sea birds.
Sealife
The waters around Mafia Island are brimming with an abundance of beautiful fish species, with over 400 species found here. Many marine species can be found including reef sharks, humpback whales, marine turtles, dolphins and dugongs in the area.
The coral reefs and immaculate ivory beaches make for the most stunning of locations, attracting marine life from all around the area.
Perhaps the most famous of Mafia Island's marine residents, the majestic whale shark is oftentimes considered to be a major draw for tourists to this part of the world. Despite being the largest fish species on earth, whale sharks are about the furthest thing from being intimidating: rather, they are gregarious, harmonious, and serene.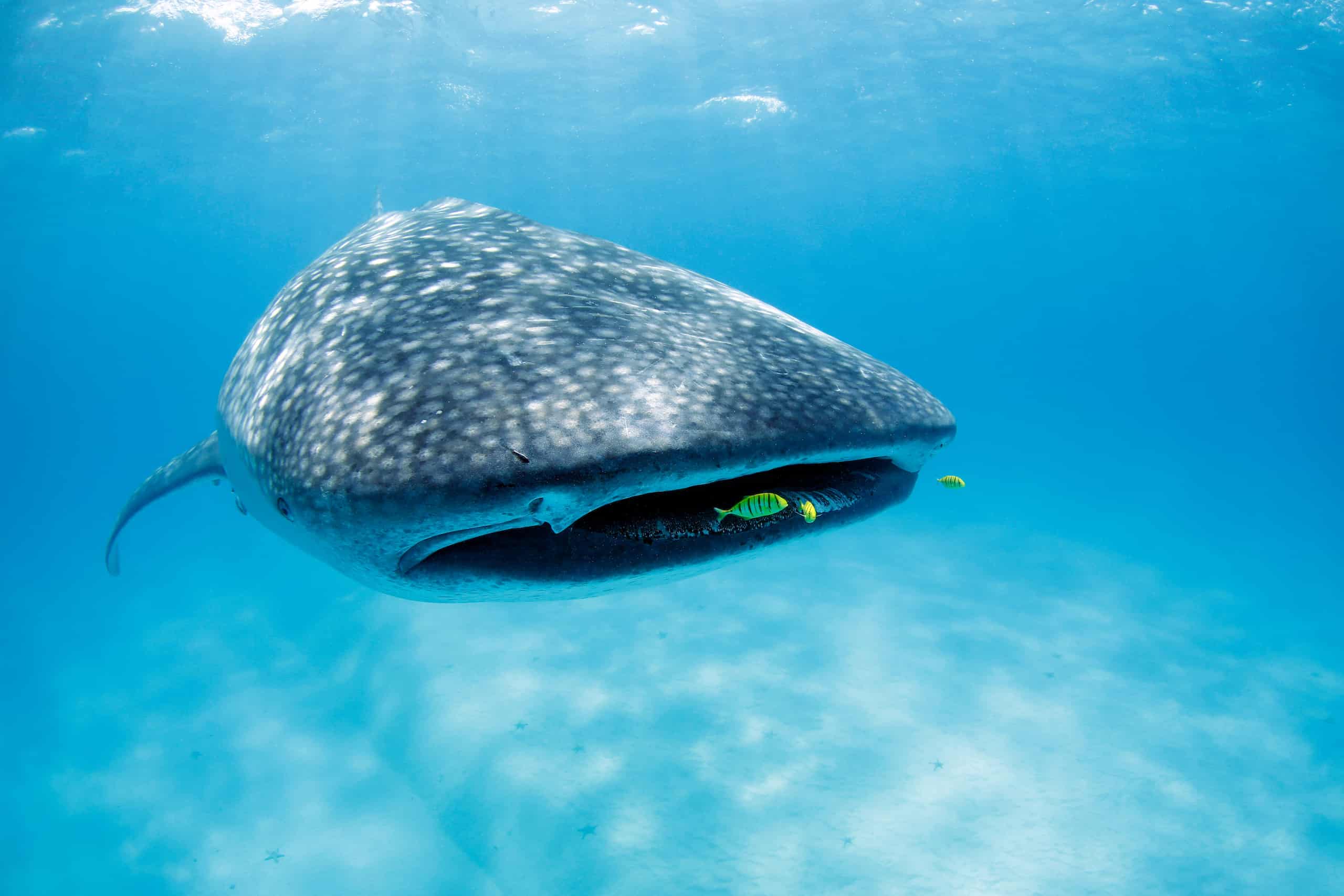 Birdlife
Birdlife on Mafia Island is also distinctly different that mainland with a range of sea birds and forest birds. Of special interest are the coastal birds with many different waders, as well as fish eagles, palm nut eagles and open-billed storks. There are also at least five different varieties of sunbird.
Islands & Parks
In its entirety, the Mafia Archipelago consists of fifteen islands and dozens of sandbanks and reefs. Apart from Mafia Island, three more islands are inhabited including Chole, Juani and Jibondo whilst Bwejuu is uninhabited.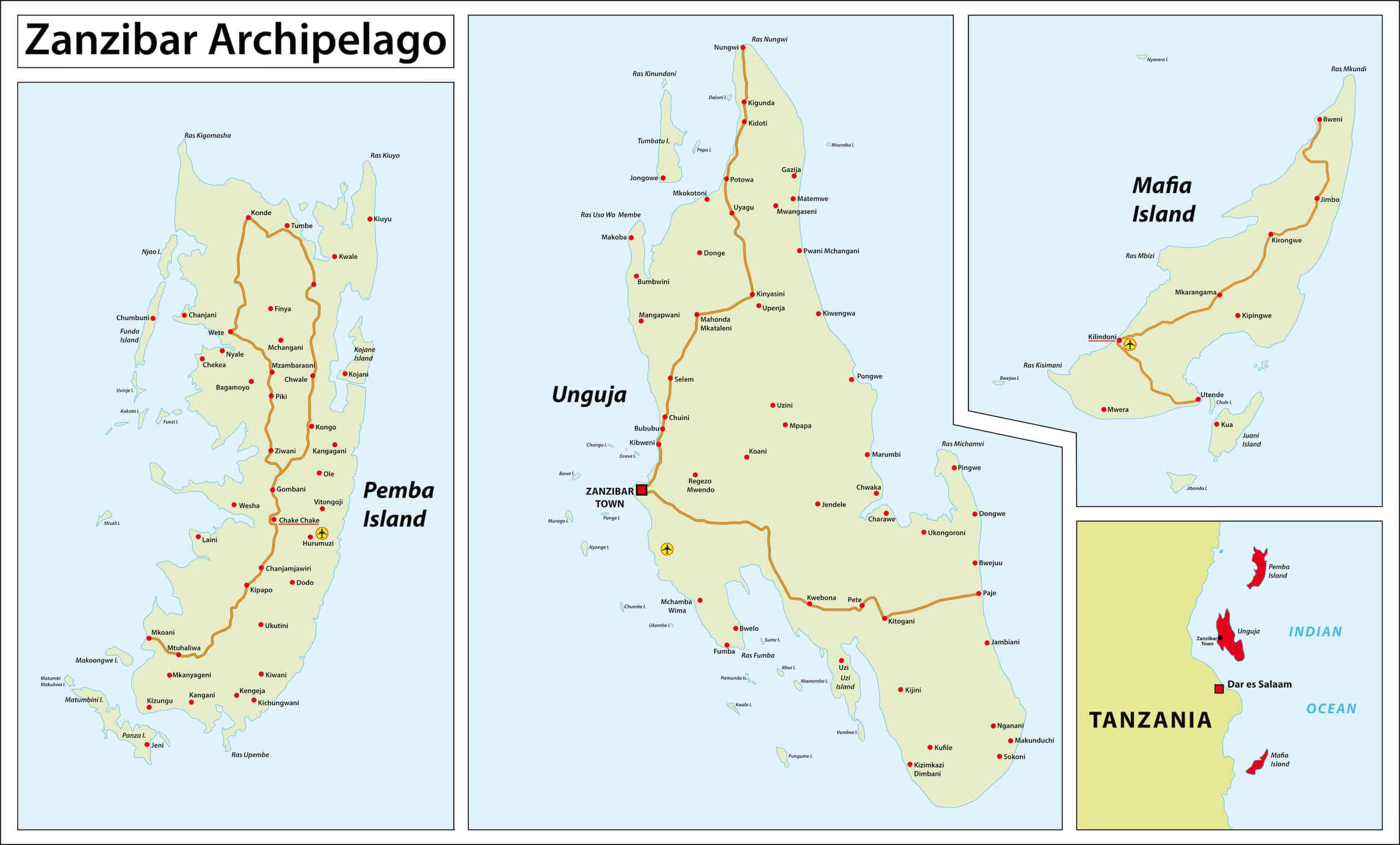 Of particular note amongst the islands include:
Mafia Island: 168 sq. miles of coral reefs, whale sharks and sea turtles. In the south, beaches include secluded Ras Kisimani, just across from Bwejuu Island.
Mafia Island Marine Park: 317 sq. miles of protected marine nature reserve around Mafia Island, the largest marine protected area in the Indian Ocean, sheltering a unique complex of estuarine, mangrove, coral reef and marine channel ecosystems.
Chole Island: A 1 sq. mile island of fossil coral reef exposed at the end of the last ice age about 12,000 years ago with tourists today discovering whale sharks in Mafia Bay.
Juani Island: The large and heavily vegetated island of Juani, southeast of Mafia, has overgrown but evocative ruins at Kua. This includes the remains of several mosques dating from a Shirazi settlement during the 18th and 19th centuries, and crumbling palace walls.
Jibondo Island: One of the smaller islands at 1.7 sq. mile in size, this island is known as the most traditional of the archipelago's settlements with most of its 2,000 inhabitants engaged in fishing, especially for sharks, and octopus-baiting.
Other activities at Mafia Island
There are multiple activities and things to do in Tanzania that can be added to your safari including walking safaris. Here are some other activities which visitors can consider during their visit to Mafia Island:
Mafia Island diving: With PADI accredited scuba divers and instructors, Mafia Island offers visitors the chance to come head to head with incredible whale sharks and explore Chole Wall, Milimani Reef and barracuda at Kinasi Pass.
Kayaking: At Mafia Island, visitors can find free kayaks to explore the Indian Ocean and explore the Ras Mkumbi Lighthouse and various tiny islands situated around Mafia Island.
Snorkelling: At Mafia Island Marine Park, the park has one of the most beautiful coral reefs in the world with numerous marine species including stingrays, octopuses and eels.
Fishing: Mafia Island offers professional fishing services with the opportunity for guests to catch tuna, giant trevally, barracuda and even kingfish.
Birdwatching: There are about 200 species of birds at Mafia Island, making it a great place for birding and many of the bird species here are difficult to find in other parts of Tanzania. These include the Yellow-fronted canary, house sparrow, zebra waxbill and purple-banded sunbird.
Safari game drives: Visitors often combine trips to Mafia Island with the Serengeti National Park or Ngorongoro Crater, combining the best of bot worlds of African wildlife and stunning beaches.
How to get to Mafia Island?
By Flight
The easiest way to get to Mafia Island is on a plane. Coastal Aviation and Auric Air both offer multiple daily flights from Dar es Salaam, which take approximately 30 minutes.
International flights into Tanzania arrive via Dar es Salaam (DAR) airport and Kilimanjaro airport (JRO) for visitors wondering how to get to Tanzania. DAR airport is located 18km south of Dar Es Salaam and a Tanzania visa and certain vaccinations may be required to enter the country.
By Boat
Budget travelers can also opt to travel to Mafia by local ferry (MV Bacara) costing USD $8 for a one way ticket).
The ferry to Mafia leaves from the mainland at Nyamasati. Visitors can catch a bus here from Dar es Salaam Bagala bus station, taking approximately 4 hours.
Tariffs & Regulations
Entrance fee
Upon arrival, visitors will be required to pay the daily entry fee of $23.60 per day per person for the Marine Park and 50% less for children under 15 years old.
Carrying a small amount of Tanzanian currency, the Tanzania Shilling (TZS) is recommended as back-up when paying for items where credit card facilities are unavailable. Visitors can also review further details on overall Tanzania safari prices here.
Regulations
Visitors must respect the rules of the park including the flora and fauna. Details will be provided at the park entrance gate.
Accommodation at Mafia Island
There are 2 areas to stay on Mafia Island: Killindoni or Utende. Killindoni is the capital of the Island and Utende is in the Marine Park.
Visitors and guests to Mafia Island Marine Park will need to pay a fee of $23.60 per person per day at the entrance gate, with payment by card only.
Lodges and hotels
Chole Mnjini Lodge is a touch of luxury, an incredibly special eco lodge with tree-houses built around huge beautiful Bao trees. The sides are open, meaning guests can look out from their bed (with a mosquito net) over the tropical trees and the sea view from this platform.
A pulley system sends coffee to guests in the morning whilst dinner is served in ruins. Prices start from $160 per night plus marine fees.
Butiama is another option guests can choose from. Sat on the beach, with a spectacular restaurant/relaxation area and a pool, this hotel offers it all.
This is also a nice area of the beach to go for a walk and unlike Utende, this side of the island has all the sunsets. Guests have their own Bungalow and terrace. The hotel also has a yoga shala and spa.
Pole Pole Bungalows is another option guests can consider, one of the most exclusive eco-lodges in the world.
Newlyweds may also indulge on a Tanzania honeymoon safari or a luxury safari where they'll receive a lot of extra pampering and top notch service, ensuring they feel all the love of a Tanzania safari.
Inns
Whale Shark Lodge charges from USD $30 per night including breakfast with guests staying in traditional bungalows.
Rooms are very large and with en-suite bathrooms whilst the hangout area consists of beautiful gardens and a nearby mangrove beach.
Another option includes the Ibizza Inn with clean and comfortable rooms, king size bed with mosquito net, an en-suite and air conditioning.
Bars/restaurants/amenities: Lodges will typically have all meals and drinks included in the lodge package.
Useful information
Geography: Located on the east coast of Tanzania, southeast of Dar es Salaam, guests often combine trips to Mafia Island with the equally stunning island of Zanzibar.
Weather: Day-time high temperatures range from 25C/77F to 28C/82F.
Best time to visit: Mafia Island is a beautiful part of Tanzania, regardless of the season. The islands are a special, tranquil place to visit, particularly popular with divers.

The best time to visit Mafia Island at the beach is in the dry season from July – October when the weather is dry and sunny and the rainy season is over.
Understanding the best time to visit Tanzania is useful as this impacts flight prices and availability.

Health: Travel through malaria areas may be required in order to reach Mafia Island. Visitors are advised to seek medical advice from their doctor and consider antimalarial medication.
FAQs
How much is the Mafia Island Marine Park entrance fee?
Visitors will be required to pay the daily entry fee of $23.60 per day per person and 50% less for children under 15 years old 
What is the best time to visit Mafia Island? 
The best time to visit Mafia Island at the beach is in the dry season from July – October when the weather is dry and sunny and the rainy season is over.