Pemba Island in Tanzania is the 2nd largest island in the Zanzibar archipelago at 381 sq. miles, located north of the island of Zanzibar and the coastal city of Dar es Salaam in Tanzania.
Most islands lying within the Swahili Coast typically offer palm-lined beaches and azure waters however Pemba island is known as the green island and instead offers a seaside escape set against a lush, hilly landscape that's teeming with life.
Although its thickly vegetated hills are home to a densely-populated farming community, Pemba is still vastly undiscovered by tourists.
Visitors looking for authentic tropical islands will find not only a green wonderland to be explored but also an underwater world that makes for some of the world's best diving and snorkelling.
The best time to visit Pemba Island is during the cool-dry months, from July to October.
Why visit Pemba Island
Forming a green wonderland, the lush landscape of the island is interspersed with thriving clove plantations. The diversity of the island is truly captivating, attracting visitors to its thickly vegetated hills and dense mangrove forests to its white sand beaches and secret coves.
Dating as far back as 600 AD, Pemba Island formed an integral part of the Swahili Coastal trade route. The island's arable land yields a significant percentage of the world's cloves and continues to play an integral part in the global farming community.
An underwater paradise also lies in store for visitors with incredible coral reefs. On the west coast, the land plunges into the depths of the ocean and opens up a diving haven. Pemba is home to several dive sites, with steep drop-offs, untouched coral, and abundant marine life.
This is known as the Pemba Channel – a porthole that feeds the surrounding waters with life and invites sea creatures like turtles, game fish, reef sharks, and Napoleon wrasse.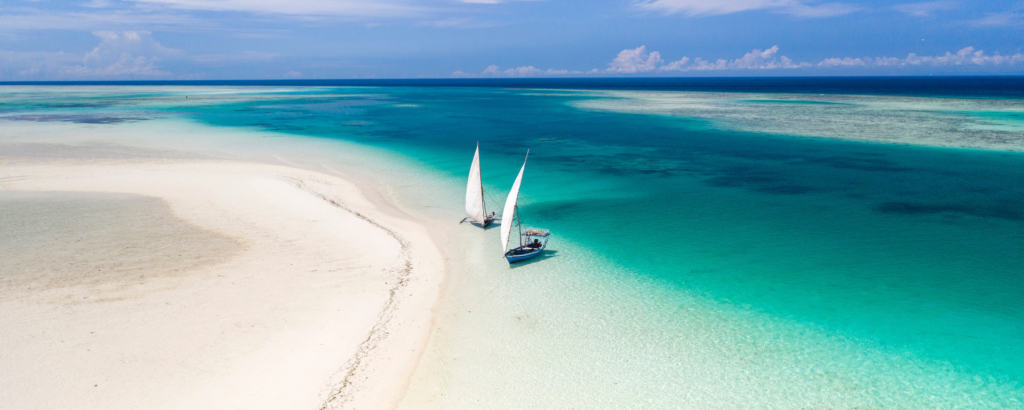 Top attractions visitors can expect on the Pemba Island archipelago include:
Wildlife
Due to Pemba's isolation from the African Continent for several million years, it is home to a number of animals which are found nowhere else in the world.
Vervet monkeys are commonly found throughout Pemba Island, miniature antelopes and Mozambique cobras, however the most renowned attraction of Pemba is a bird, the endangered Pemba flying fox, considered the largest bat species in the world.
It is the only true endemic mammal species found on the island. Its large size, wingspan of over one meter and reddish colouration make it distinctive from the 13 other bat species found on Pemba.
Marine life
Other species on the island include fish which are brimming in abundance around Pemba including bush crabs, red eyed doves, mangrove king fishers, turtles and many different birds.
Numerous tropical fish can be found attracting scuba divers from the world over and other fish species including the Black Marlin, Blue Marlin, Striped Marlin, Broadbill Swordfish, Sailfish and Spearfish!
Huge sharks can also be found including the Mako, Tiger, Thresher and Hammerhead to name a few.
The coral reefs and immaculate ivory beaches make for the most stunning of locations, attracting marine life from all around the area.
Birdlife
At the southern corner of the main Island Pemba there is an Island called Kwata. This Island is a home to thousands of different types of birds as well as being a touchdown point for immigrating birds from across the World.
The Ngezi-Vumawimbi Nature Forest Reserve is an important habitat for the flying fox and the ongoing conservation efforts have significantly reduced the declining numbers, with the species now listed as Vulnerable by IUCN.
Also found are Zanzibar's three endemic bird species, the Pemba scops owl, Pemba white-eye and Pemba violet-breasted sunbird.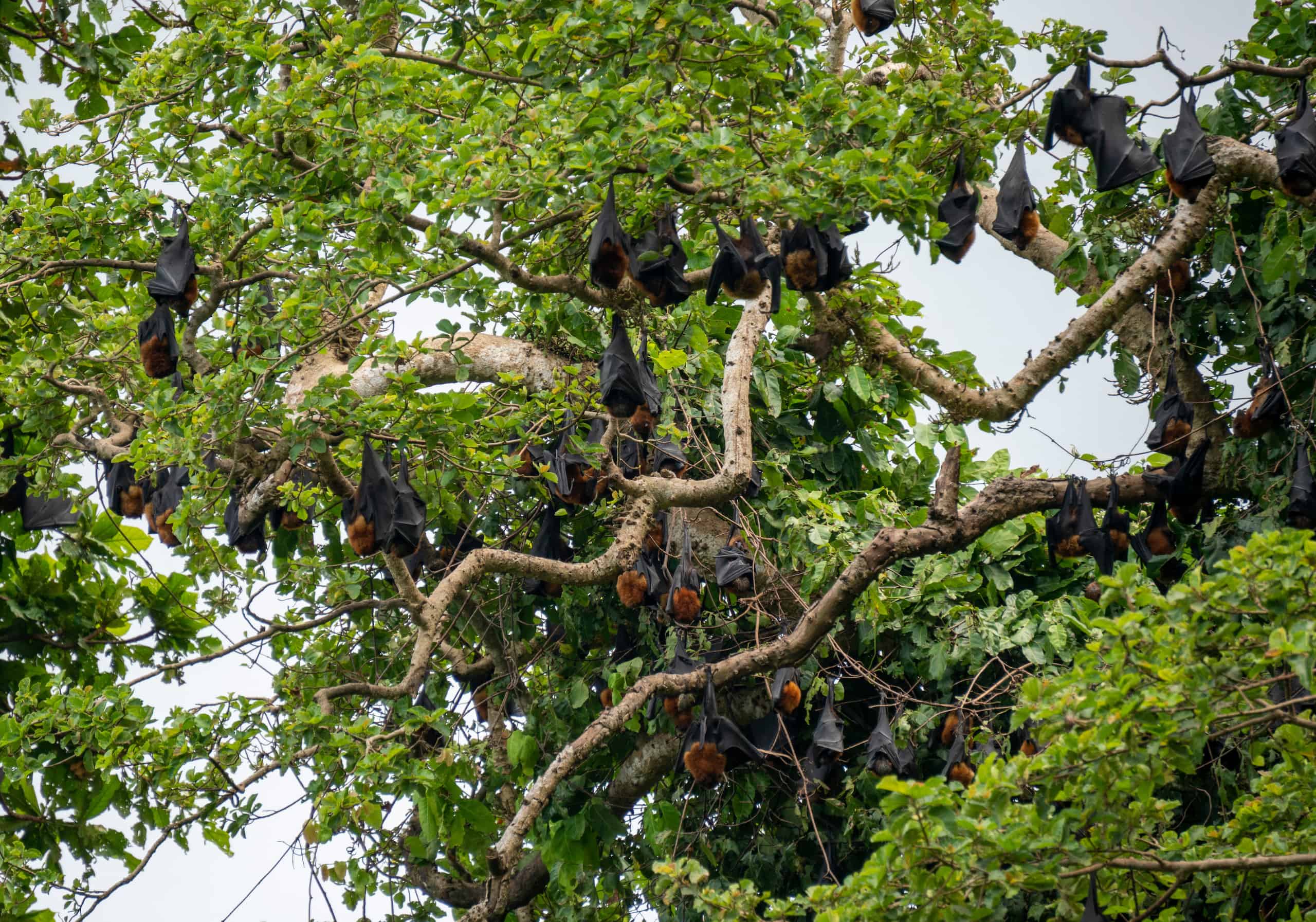 Cities
The most important towns in Pemba are Chake-Chake (the capital), Mkoani and Wete.
Of particular note amongst the cities includes:
Chake Chake, the largest town on Pemba. It is located on the southern half of the island and has a small airport from which bush planes run daily flights to Zanzibar (Unguja) and Dar es Salaam as well as to several small hotels and guest houses.
Wete is a town located on the northern half of Pemba Island, a smaller town than Chake Chake by a considerable margin, but still a large town by Pemban standards with few hotels and guest houses.
Other activities at Pemba Island
Here are some other activities which visitors can consider during their visit:
Misali Island diving: The perfect destination for divers and snorkelers to experience the breath-taking coral reef marine life. The crystal clear water is perfect for scenic photography or stay onshore and enjoy the captivating beauty of this island.
Ngezi Forest Reserve walk: Ngezi is a densely packed forest with beautiful, double canopy trees with extended wines where the monkeys swing, a popular attraction for newlyweds on a Zanzibar honeymoon. Visitors can choose between two forest tunnel trails or walk off-trail.
Kidike Flying Fox Sanctuary: The Kidike Sanctuary is the perfect place to witness this rare species. According to estimates, approximately 4,000 bats can be found hanging from the trees.
Mkame Ndume Ruins: The Mkame Ndume Ruins is a historic landmark that now consists of a stone staircase that connects the ocean site. The staircase is one kilometre in length and is a unique piece of Pemba's history.
Vumawimbi Beach: A quiet, scenic and exotic beach that ranges from the Kigomasha Peninsula to the Ngezi Forest Reserve. Vumawimbi Beach is the perfect spot to catch your breath after travelling the long trails and dusty roads.
Explore Ras Mkumbuu: This long narrow peninsula on the central west coast of Pemba Island was an important site in Pemba's history, being the site one of the island's most important early settlements.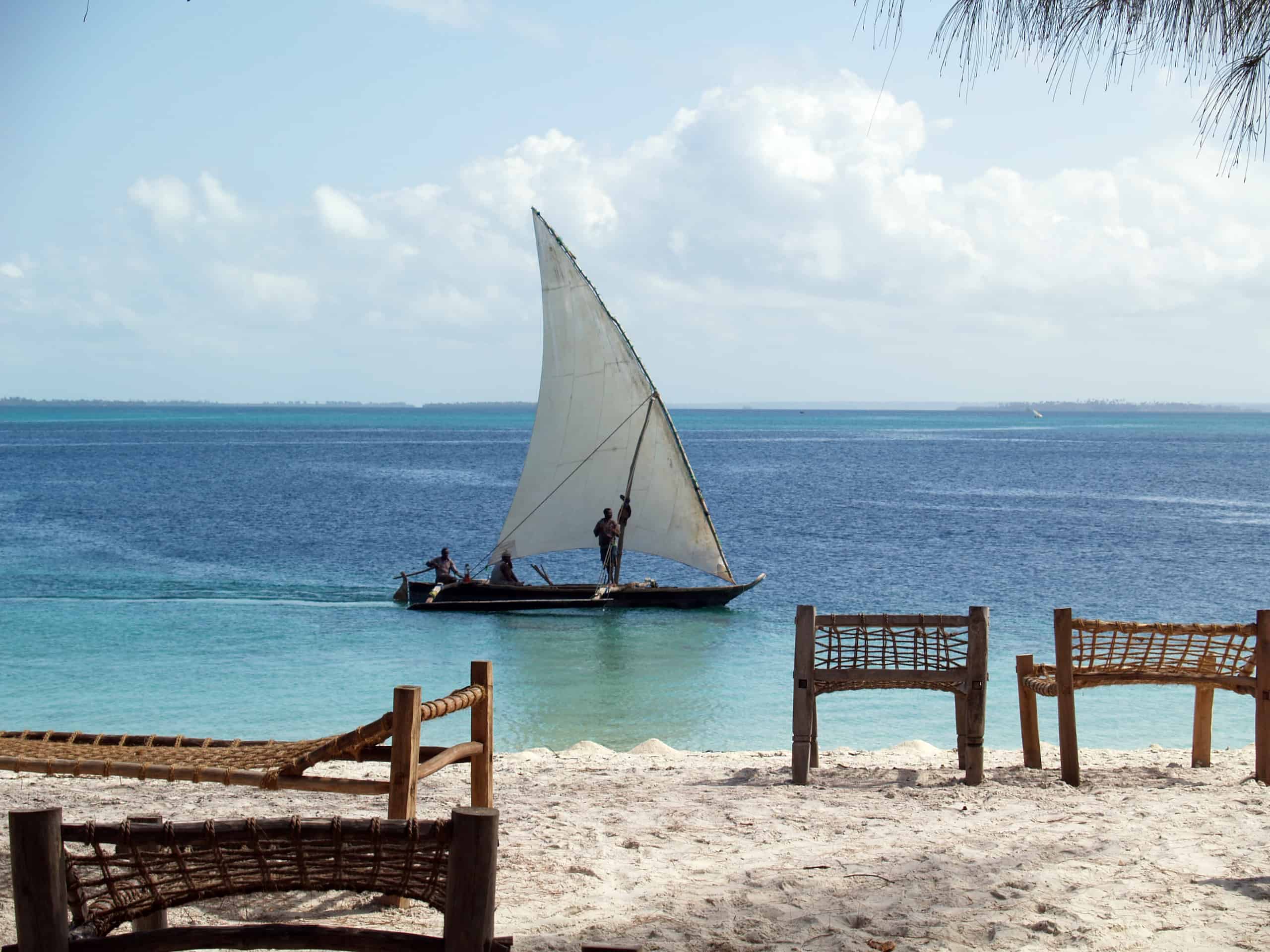 How to get to Pemba Island?
By Flight
Pemba Island is accessed via most airports in East Africa via Zanzibar or Dar es Salaam. Direct local flights with several charter airlines that operate smaller aircrafts also serve the island. The most frequent route is Zanzibar – Pemba and is serviced by these airlines: Coastal Air, Auric Air.
Travellers can fly to Zanzibar via the island's main airport (ZNZ) for visitors wondering how to get to Zanzibar. ZNZ airport is located 3.1 miles south of Stone Town, the main city on the island and a Zanzibar visa and certain vaccinations may be required to enter the country.
By Boat
Visitors can also travel to Pemba by ferry, taking up to four hours from Zanzibar. The main port in Pemba is called Mkoani and is located at the southern tip of the island.
All ferries from Dar es Salaam and Zanzibar dock at Mkoani and the most popular boat to sail in is the Seal Link chain operated by Azam Marine.
Regulations
Visitors should respect the rules of the island including the protection of the coral reef, wildlife and landscape.
Accommodation at Pemba Island
There are a number of different areas to stay on Pemba Island with different options including luxury hotels catering to visitors.
Luxury lodges and hotels
The Aiyana Resort on Pemba Island is pure chic, and blends perfectly with the natural splendour of this island paradise offering 4 categories of rooms, all beach front.
All 30 villas enjoy wonderful views over the crystal-clear waters of the lagoon, the coral reef and the Indian Ocean beyond.
Dinner is set up in a different, private setting each night… from the resort's restaurant to a beach setting under a makuti umbrella… or even on the island in front of the resort.
Similar luxury can be found at the Fundu Lagoon and at the Manta Resort.
Bars/restaurants/amenities: Lodges will typically have all meals and drinks included in the lodge package.
Useful information
Geography: Located on the east coast of Tanzania, north of Dar es Salaam and Zanzibar, guests often combine trips to Pemba Island with the equally stunning island of Zanzibar and safari trips to the Serengeti National Park and Ngorongoro Crater.
Weather: Pemba Island has high temperatures all year round ranging between 28°C (82°F) and 32°C (89°F).
Best time to visit: The best time to visit Pemba Island is during the cool-dry months, from July to October.

From January to February, is also an excellent time to visit Pemba. It is around the time of the peak winters in America and Europe.
Understanding the best time to visit Zanzibar is useful as this can impact flight prices and availability.

Health: Travel through malaria areas may be required in order to reach Pemba Island. Visitors are advised to seek medical advice from their doctor and consider antimalarial medication.
Money: Carrying a small amount of Zanzibar currency, the Tanzania Shilling (TZS) is recommended as back-up when paying for items where credit card facilities are unavailable.
FAQs
How can I get to Pemba Island?
Pemba Island is accessed via most airports in East Africa via Zanzibar or Dar es Salaam. Direct local flights with several charter airlines that operate smaller aircrafts also serve the island.
What is the best time to visit Pemba Island?
The best time to visit Pemba Island is during the cool-dry months, from July to October.