The Ngorongoro Crater in the Great Rift Valley in northern Tanzania is unique as it is the world's largest intact volcanic caldera, a cauldron-like hollow formed in the volcano with a crater floor covering over 100 sq. miles and 0.4 miles deep.
This incredible crater, a UNESCO world heritage site in the Ngorongoro Conservation Area, is often referred to as 'Africa's garden of Eden', due to the sheer volumes of animals and wildlife found there.
It is also one of the best places to spot critically endangered animals like black rhinos, golden cats, wild hunting dogs and see the amazing colours, abundance of wildlife and huge variety of flora makes the crater a natural wonder.
Why visit the Ngorongoro Crater?
Safari in Ngorongoro
One of the Seven Natural Wonders of Africa, a safari at Ngorongoro is a must-do on a trip to Tanzania due to the incredible landscape and wildlife on display.
The crater was formed when a large volcano erupted and collapsed on itself with this explosion creating a caldera. Thousands of animals are attracted to the crater to feed on the abundant green grass and water with birds also attracted in their droves to the lush vegetation along the lakesides.
There are few places that have wildlife variety on this level and it is not so unusual to see the Big Five in one day at Ngorongoro with over 25,000 large animals found in the crater. The crater floor is also home to old elephant bulls that boast some of Africa's largest tusks. The giant creatures are often found flaunting their ivory tusks near the Lerai Forest.
In addition, the accommodation here is excellent with numerous options from tented camps, luxury lodges to camping grounds.
Animals
Visitors will be amazed by the variety and numbers of animals they will encounter including the big five namely the African bush elephant, the lion, rhinoceros, leopard and the African buffalo.
Over 20,000 large animals can be found here including 7,000 wildebeest, 6,000 black spotted hyenas, 4,000 zebras, 300 Elephants and 55 Lions and many more wildlife.
The crater is one of the few places where visitors can easily see black rhinos in close proximity in their natural habitat.
Animals are free to enter or leave the crater, but many of them stay for plentiful water and grazing on the crater floor. Also on the crater floor are swamps, providing water and habitat for elephants and hippos as well as numerous smaller creatures such as frogs, snakes, and serval cats.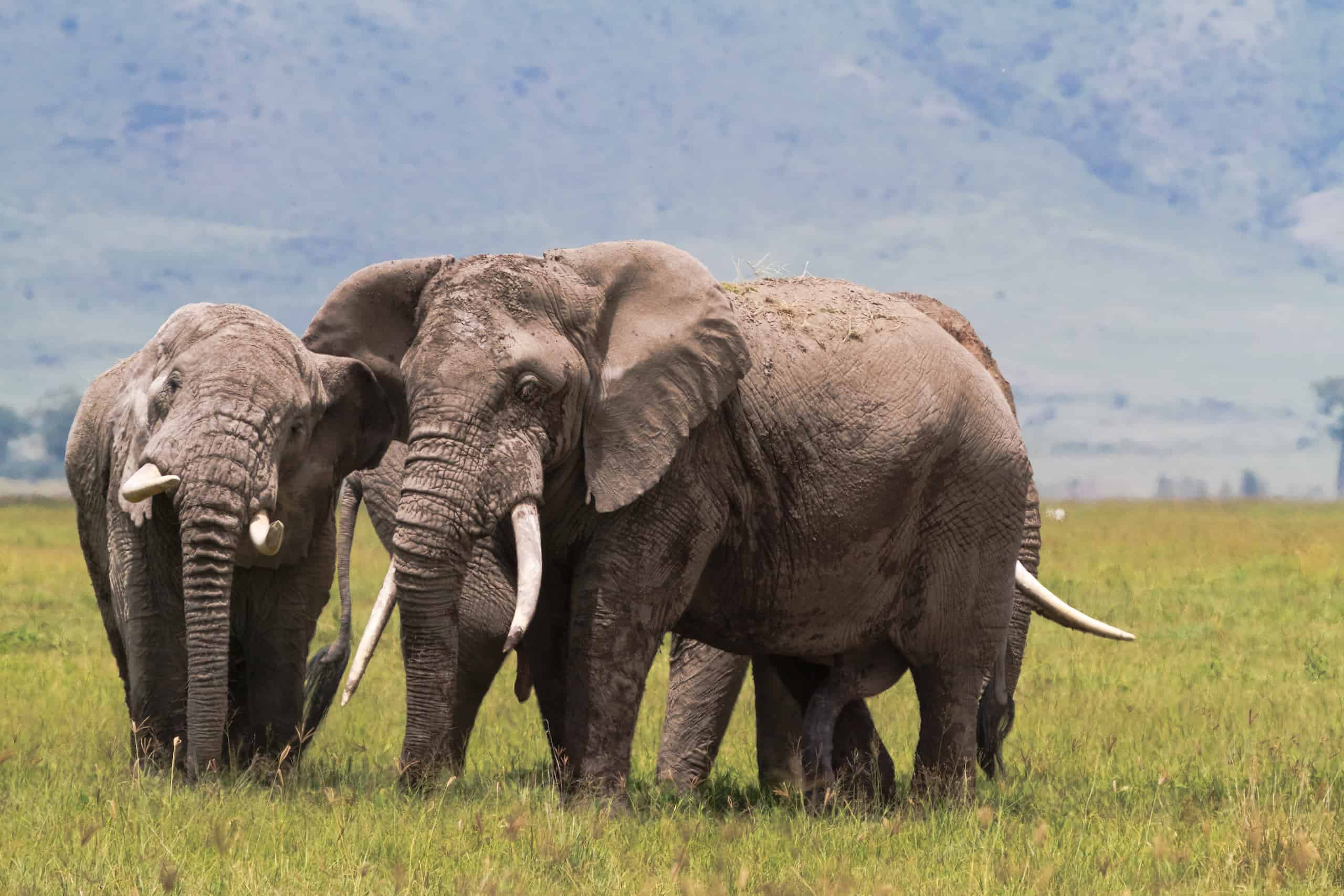 Birds
Over 500 bird species can be found here including the black kite, black-winged lapwing, Hildebrandt's spurfowl, lesser flamingo and the Kenya rufous sparrow.
Open grassland covers most of the crater floor, turning yellow with wild flowers in June. The Makat soda lake is a great attraction for flamingos and other water birds.
Trees
Visitors can find long grasslands, high open moorland and the remains of dense evergreen montane forests covering the steep slopes. Highland trees include peacock flower Albizzia gummifera and yellowwood.
Elephants often graze in the forest shade during midday, emerging into the open plains during the early morning.
The small forest patches on the crater floor are home to leopards, monkeys, baboons and antelopes such as waterbucks and bushbuck.
Other activities at the Ngorongoro Crater
There are multiple activities and things to do in Tanzania that can be added to your safari including walking safaris. Here are some other activities which visitors can consider during their visit:
Photo safaris: As safari destinations go, visitors on a photo safari will be in dreamland at Ngorongoro where small groups of just 3 travellers can share a luxury photography tour with like-minded individuals and enjoy big game viewing whilst capturing their favourite moments.
Meet the Maasai tribe: Discover the homes and traditions of the Maasai people and attend traditional dance performances and meet the elders.
Walking safaris: Explore wildlife and private concessions on foot, an authentic and economical means of exploring wildlife in the Ngorongoro and Lake Eyasi.
Experience Bushmen in Tanzania: Discover how bushmen live and fight for food as well as their culture and food, an authentic Tanzania safari experience.
Hike the Empakaai crater: A full day hike exploring the Empakaai crater wandering through beautiful forests and exploring incredible birdlife.
Ngorongoro luxury safari tours: With excellent game viewing, Ngorongoro also offers some of the very best luxury lodges in the world. With incredible décor, modern decorated suites, excellent views, superb service and food, these intimate safari experiences have it all.
4×4 safari: A stunning self-drive Ngorongoro journey will allow visitors to enjoy the very best wildlife at their own pace.
Hot air balloon tour: A scenic hot air balloon flight over the landscape offers a unique perspective on the incredible wildlife and crater.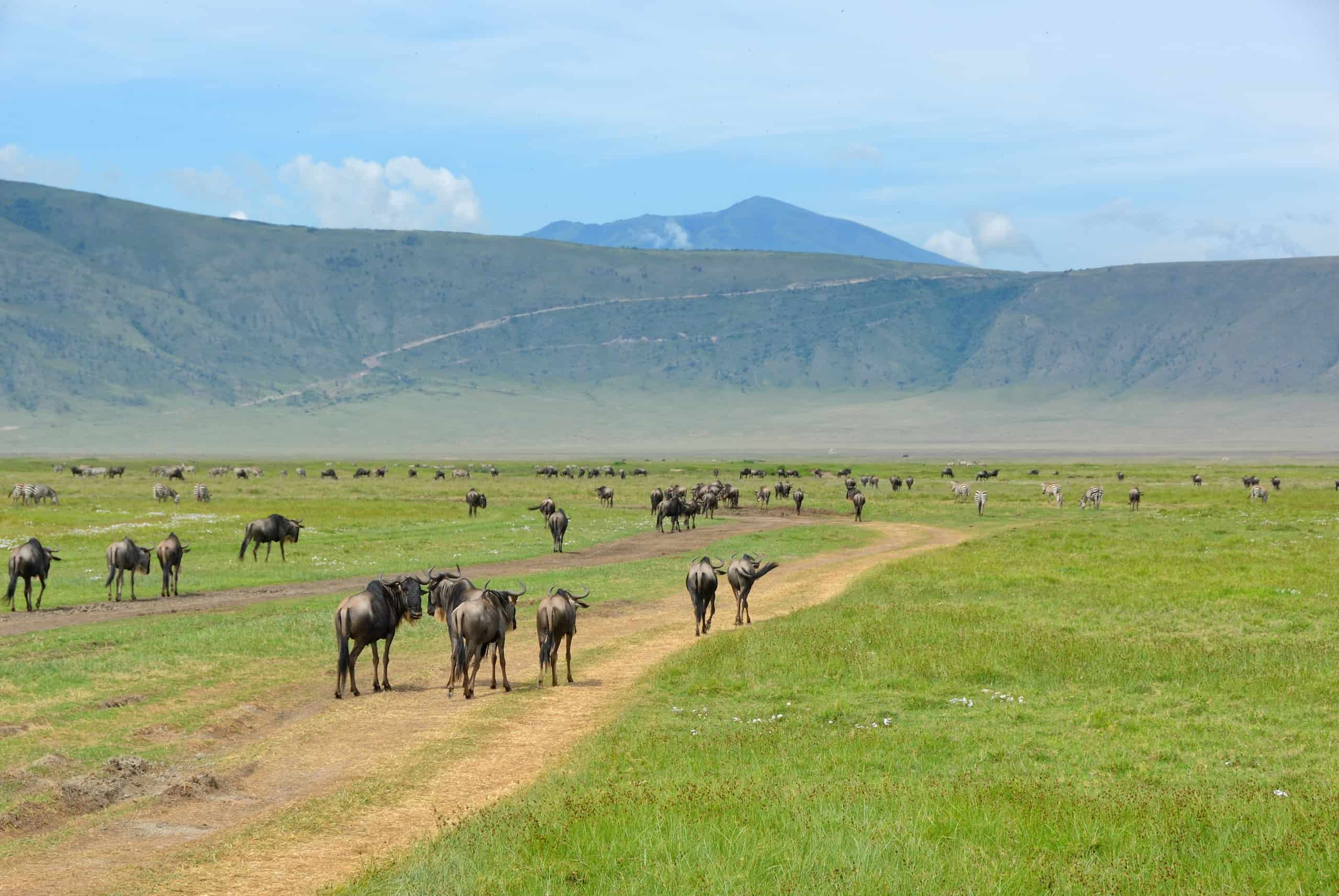 How to get to the Ngorongoro Crater?
By Plane
Access to the Ngorongoro Crater is typically made via a flight and road transfer. Typically, tourists will fly into Kilimanjaro International Airport (JRO), 29 miles from the town of Arusha. From Arusha, it is a three hour drive to Ngorongoro.
It is also possible to fly into Julius Nyerere International Airport (DAR), near Dar es Salaam and fly on to Arusha Airport (ARK) or Kilimanjaro International Airport (JRO). Visitors often combine trips to Ngorongoro with the Serengeti National Park.
International flights into the country can also be made arriving into Dar es Salaam (DAR) airport for visitors wondering how to get to Tanzania. DAR airport is located 18km south of Dar Es Salaam and a Tanzania visa and certain vaccinations may be required to enter the country.
By Road
From the capital Dodoma, the Ngorongoro Crater is 290 miles/8 hours driving, a less popular option given the time required.
Tariffs & Regulations
Entrance fee
Prices per person per day:
USD $60 per adult to enter the conservation area
USD $10 per child (aged 5 – 16)
Fixed price per vehicle weight of between $200 – $300
The gates into the Ngorongoro Conservation Area open at 6am and close at 7pm.
Carrying a small amount of Tanzanian currency, the Tanzania Shilling (TZS) is recommended as back-up when paying for items where credit card facilities are unavailable. Visitors can also review further details on overall Tanzania safari prices here.
Regulations
To visit the Ngorongoro Crater as well as the Olduvai Gorges, it is mandatory to be accompanied by an official guide and approved by the NCAA.
Visits to the crater are limited to a max duration of 6 hours.
Accommodation at the Ngorongoro Crater
Staying inside the Ngorongoro Conservation Area is possible, but the cost of accommodation can vary in price significantly. Rates mainly depend on the season and type of accommodation from lodges, manor houses, hotels and tented sites.
Typical accommodation rates range from $200 to $1,000 per person a night.
Luxury lodges
Lodges are set on the rim of the crater are exclusive and luxurious with views amongst the most spectacular in the world along with world-class service, incredible food, all luxury amenities, simply ideal for the perfect luxury safari or Ngorongoro honeymoon.
Pricing from $400 to several thousand dollars per night.

Hotels
The Ngorongoro Crater Area hotels offer the perfect pillow for every person. From historic properties to boutique hotels, Ngorongoro has a wide selection for visitors to choose from.
Pricing starts from $420 dollars per night.
Tented camps
These sophisticated structures are large luxury tents on raised wooden floors with excellent guest services and meals provided, often found overlooking a wildlife-rich lagoon.
Pricing from $835 per person per night.
Manor houses
Visitors can step back in time at manor houses including Elewana The Manor at Ngorongoro with 9 luxurious cottages and the magnificent main Manor House, blending East African hospitality with old-world Afro-European architecture and decor.
Campervan
Guests on a self-drive safari with a campervan can make significant savings by sleeping in their vehicle.
Pricing starts from $80 per day.
Campsites
There are a number of affordable camping sites offering cheaper camping options for travellers on a budget including the Ngorongoro Simba Campsite.
Pricing starts from $20 per person per night.
Bars/restaurants/amenities: Lodges will typically have all meals and drinks included in the lodge package.
Useful information
Geography: Located in the north of Tanzania, a trip to Ngorongoro Crater is often combined with a trip to the Serengeti National Park.
Weather: Day-time temperatures range from 21C/69F to 25C/77F with the last of the rain falling in May.
Best time to visit Ngorongoro: Wildlife game viewing inside the Ngorongoro Crater is superb at all times. Grass on the crater floor is shorter in the Dry season (June through September) making animal viewing easier. The scenery is lush and spectacular in the Wet season months (from November to May).
Health: Ngorongoro lies in a lower risk area however visitors pass through areas where malaria is prevalent in order to get there. Antimalarials may be required.
FAQs
Where is the Ngorongoro Crater located?
Access to the Ngorongoro Crater is made via flight and road. Tourists will fly into Kilimanjaro International Airport (JRO), a 1 hour flight from Nairobi in Kenya. From JRO, it is 29 miles to the town of Arusha. From Arusha, it is a three hour drive to Ngorongoro. 
How much is the entrance fee to the Ngorongoro Crater?
USD $60 per adult & USD $10 per child (aged 5 – 16). Vehicles cost $200 – $300. 
What time does the entrance gate open and close at?
The gates into the Ngorongoro Conservation Area open at 6:00 a.m. and close at 7:00 p.m.
What animals will visitors see?
The big 5 as well as wildebeest, black spotted hyenas, zebras, elephants, a large population of lions and much more.