Unguja Island in Tanzania is one of the most beautiful islands in the world. Also known as Zanzibar island and located off the coast of Tanzania, Unguja's 643 sq. mile island is known for its white-sand beaches, crystal-clear waters, and lush tropical vegetation in the Zanzibar archipelago.
Visitors can enjoy a wide range of activities such as swimming, snorkelling, diving, fishing and kayaking. There are also plenty of restaurants and bars serving up local cuisine and refreshing cocktails.
Unguja Island is the perfect destination for those looking to relax and escape the hustle and bustle of everyday life.
The best time to visit Unguja Island is during the dry season, which lasts from June to October.
Why visit Unguja Island
Also known as Spice Island, Unguja is rich and cultured, full of historical sites dating back to its slave trade past and experiences, guests can get lost in its ancient ruins and vibrant markets.
Some of the top reasons to visit Unguja include the world-famous beaches, a popular leisure activity with Zanzibar honeymooners. Unguja is home to some of the most beautiful and secluded beaches in the world, including Zanzibar's Prison Island.
Visitors will also be amazed by the stunning landscapes from rolling hills to pristine coral reefs, offering something for everyone who loves nature.
Although visitors won't find the big 5 on Unguja, they will find the island has its own unique ecology. The coral reefs and mangrove forests are home to whales, dolphins, sea turtles, manta rays, colobus monkeys, dik-diks, Mozambique cobras, and Pemba flying foxes.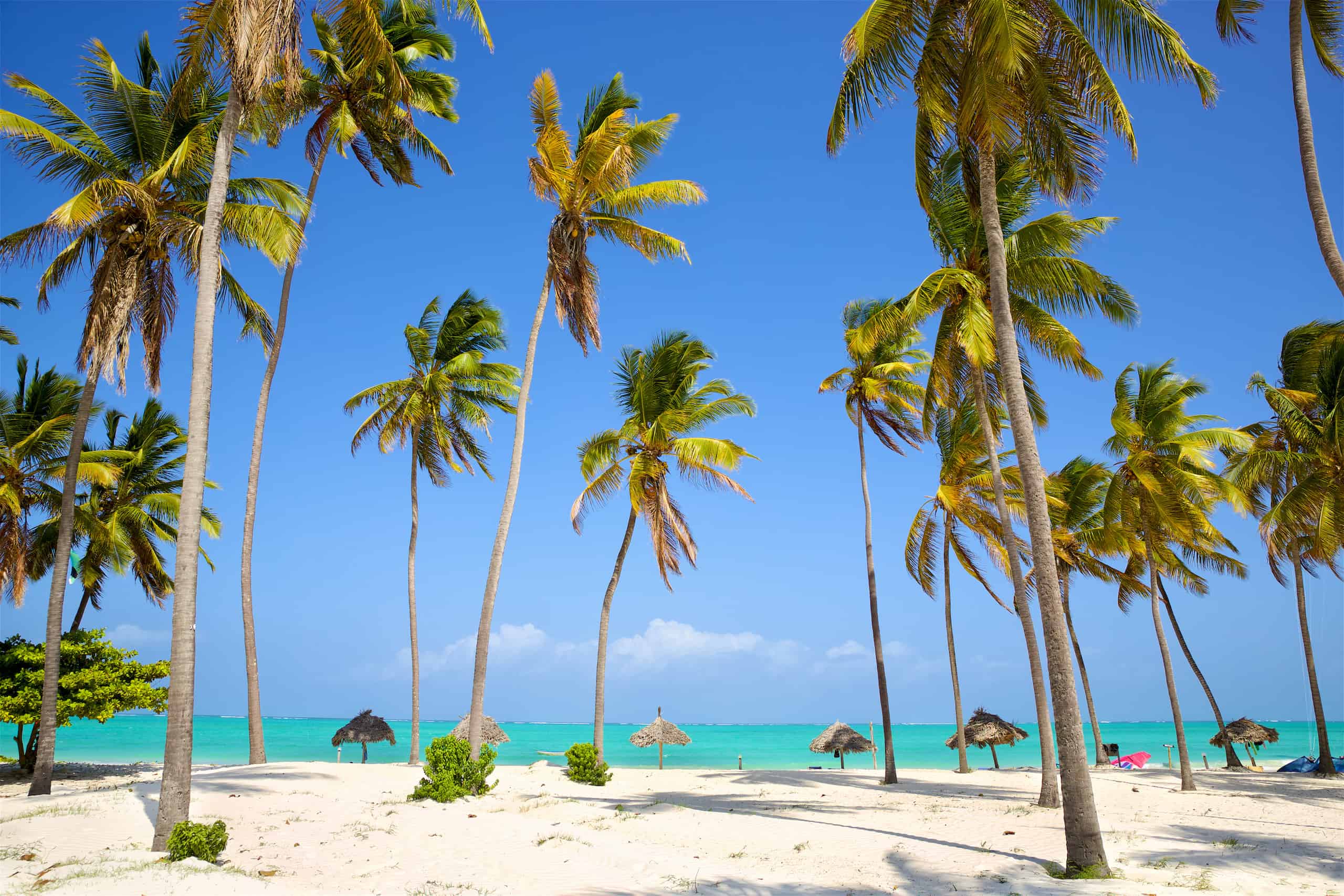 Top attractions visitors can expect on the Unguja Island include:
Wildlife
Zanzibar is home to the red colobus monkey, the Zanzibar servaline genet, and the Zanzibar leopard. The red colobus monkey is an endangered species, and its population is still decreasing.
These amazing primates can usually be found in the Jozani Forest, unlike another of Zanzibar's critically endangered animals – the Zanzibar leopard.
It is unclear whether there are any Zanzibar leopards left on the island, and experts have previously stated that they are extinct, but potential sightings in recent years have renewed hope that the population is surviving.
Another rare animal that resides in Unguja is the Zanzibar servaline genet. These cat-like animals were first discovered in the 1990s, and first photographed in 2003. The genet is distinct in appearance, with black spots on tan-coloured fur and its long tails are ringed with black and light-coloured bands.
There are no lions, elephants, or giraffes in Zanzibar. Whilst these animals can be seen on safari in mainland Tanzania, the beauty of Zanzibar's wildlife can mostly be found in the water, with some beautiful coral and amazing snorkelling opportunities.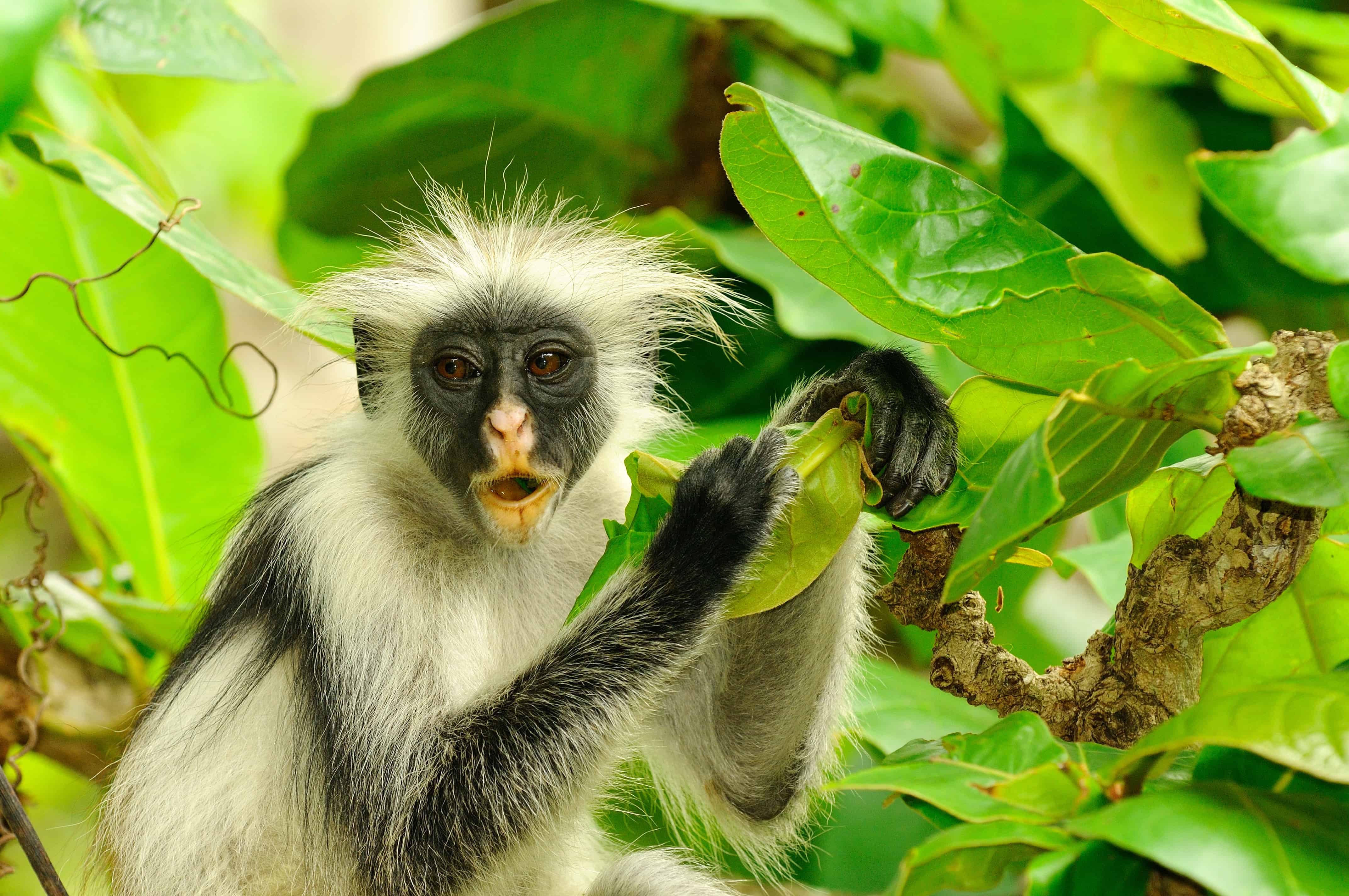 Marine life
Some of the more interesting creatures that can be seen here include dolphins, manta rays, sharks, and sea turtles. Unguja is also a great place to see coral reefs in all their glory; the healthy coral reef systems make for some of the best diving in Africa.
Guests looking for an idyllic tropical paradise to relax and enjoy some unforgettable scuba diving experiences will be in their element here amongst the crystal clear sea levels.
Birdlife
Birds can be found all over the island of Zanzibar. There are a variety of different species, including parrots, hornbills, and kingfishers. The best time to see the birds is early in the morning or late in the afternoon when they are most active.
Some of the more common birds that can be seen on Zanzibar include the red-headed barbet, African gray parrot, blue-tailed bee-eater, and white-throated robin. The vibrant colors and interesting shapes of these birds make them a popular tourist attraction.
Visitors often enjoy bird watching tours where they can learn about the different species and their habits.
Cities
Stone Town is the historical town in Zanzibar city. It's a UNESCO World Heritage Site and it's full of old buildings, markets, and mosques. There are also lots of souvenir shops where you can buy traditional Zanzibari items like spices, carpets, and clothes.
Another popular town on Zanzibar is Nungwi. It's a great place for swimming, sunbathing, and snorkeling. There are also many excellent restaurants serving seafood dishes fresh from the Indian Ocean.
Visitors looking for a more rural setting can consider checking out Pemba Island. It's home to some beautiful villages with traditional houses made from coral stone.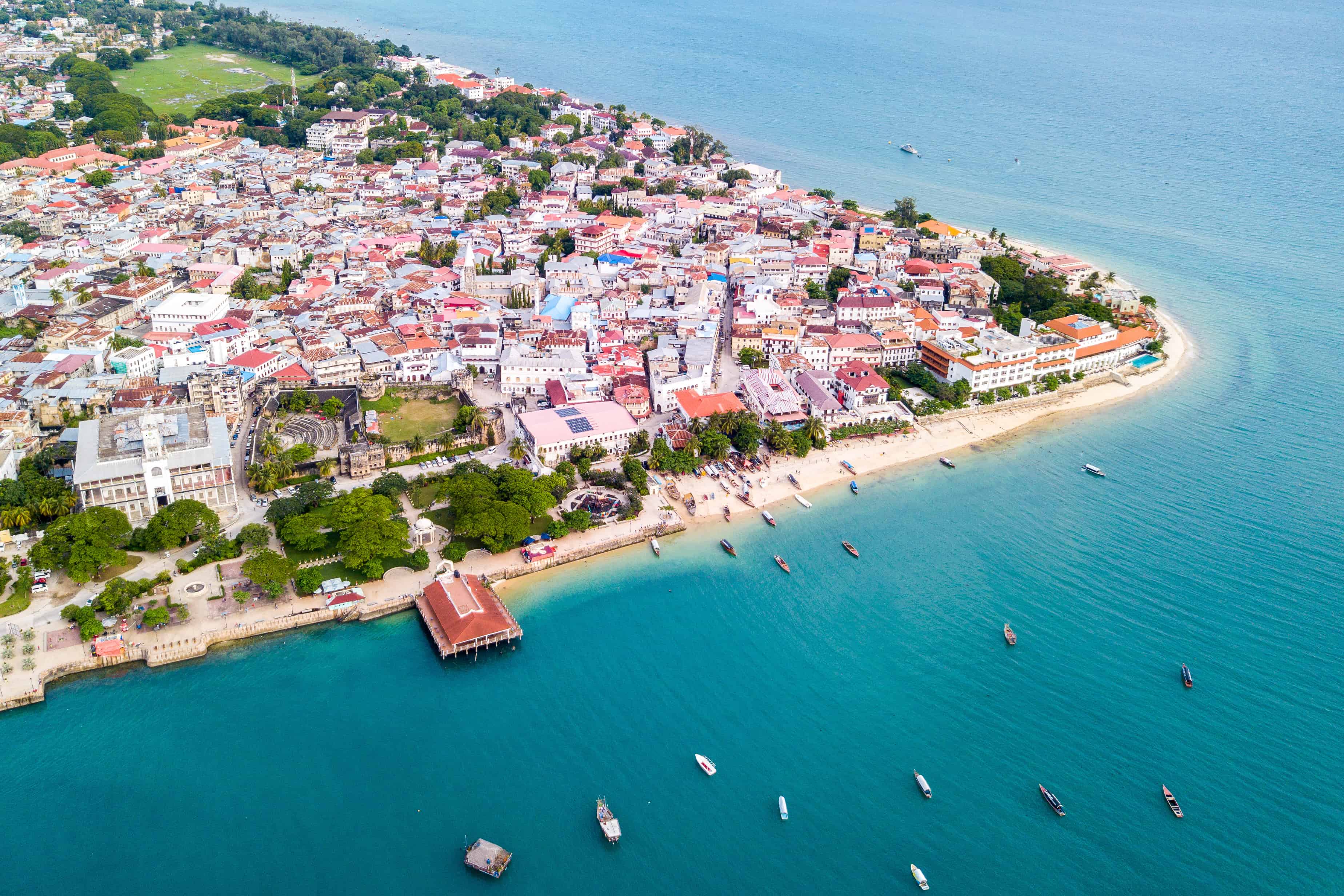 Other activities at Unguja Island
Here are some other activities which visitors can consider during their visit:
Diving: The perfect destination for divers and snorkelers to experience the breath-taking coral reef marine life. The crystal clear water is perfect for scenic photography or to stay onshore and enjoy the captivating beauty of this island.
Jozani Forest National Park: With trees older than 100 years, this is the only national park in Zanzibar and is home to the unique Zanzibar red colobus monkey.
Safari: Visitors can make the short trip to mainland Tanzania and experience the big 5 and other incredible wildlife in the Serengeti or Ngorongoro Crater.
Beach day: Sunbathing on any of the best beaches in Zanzibar is a treat with their pristine sand and turquoise waters including Nungwi and Kendwa. Visitors can also explore the nearby islands of Pamunda, Pemba island, Chumbe and Unguja Island.
Windsurfing and kitesurfing: Paje is known as the "Pearl of Zanzibar" and is one of the very best kitesurfing destinations. Vast white sandy beaches and beautiful turquoise water, it is home to perfect winds and one of the most beautiful beaches in the world.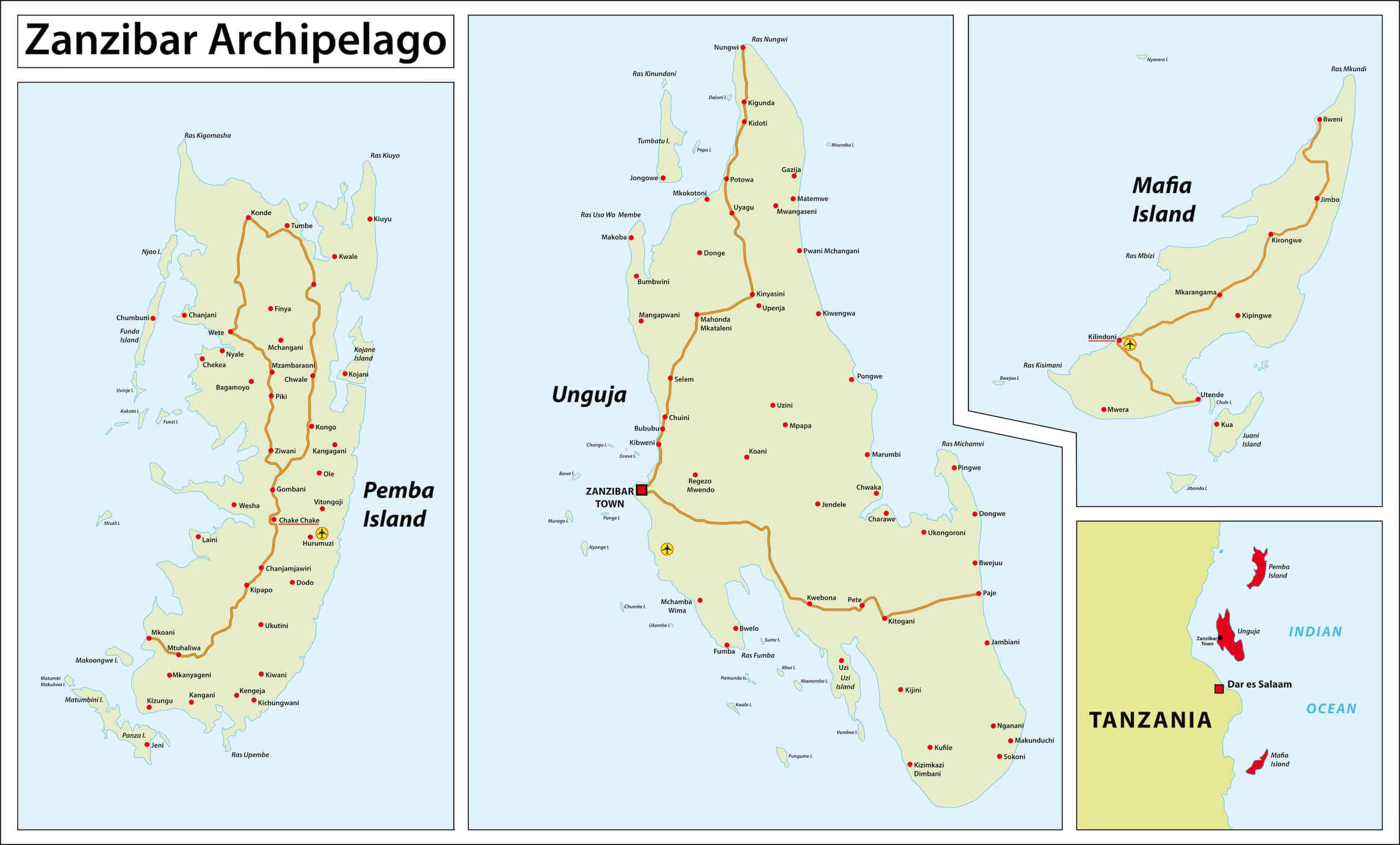 How to get to Unguja Island?
By Flight
Unguja Island is accessed via many airports in eastern Africa. The island's main airport (ZNZ) is most popular for visitors wondering how to get to Zanzibar. ZNZ airport is located 3.1 miles south of Stone Town and a Zanzibar visa and certain vaccinations may be required to enter the country.
Visitors also arrive from Dar es Salaam, popular with travellers from the United States and beyond arriving via connected flights. Direct local flights with several charter airlines also operate with smaller aircrafts serving the island.
By Boat
There are a few different ways to get to Zanzibar by boat. The most popular way is to take a ferry from Dar es Salaam, which takes about two hours. There are also ferries from Mombasa and Stone Town.
Visitors looking for a more luxurious option can choose from one of the various cruises, offering beautiful views en route to Zanzibar.
Regulations
Regulations
Visitors should respect the rules of the island including the protection of the coral reef, wildlife and landscape.
Accommodation at Unguja Island
There are a number of different areas to stay on Unguja Island with different options including luxury hotels catering to visitors.
Luxury lodges and hotels
When it comes to luxury lodges and resorts, Zanzibar offers some of the best in the world. From secluded beachfront getaways to intimate bush camps, guests have many options to choose from.
Palms Resort Zanzibar is an exquisite resort located on a quiet stretch of white sand beach on the east coast. Amenities include a swimming pool, spa, fitness center, and several restaurants and bars. The lodge also offers guided nature walks and excursions to local villages.
Residence Zanzibar is an exclusive villa resort located on the secluded Pink Sands Beach on the south coast of Zanzibar. It features just six villas, each with its own private pool, garden, and butler service.
Guests can enjoy fishing, snorkelling, diving, or simply relaxing on the beach.
Bars/restaurants/amenities: Lodges will typically have all meals and drinks included in the lodge package.
Useful information
Geography: Located on the east African coast of Tanzania, north of Dar es Salaam, guests often combine trips to the Serengeti National Park, Mafia Island and Chumbe Island.
Weather: Unguja Island has high temperatures all year round ranging between 28°C (82°F) and 32°C (89°F).
Best time to visit: The best time to visit Unguja Island is during the cool-dry months, from June to October.
Health: Travel through malaria areas may be required in order to reach Unguja Island. Visitors are advised to seek medical advice from their doctor and consider antimalarial medication.
Money: Carrying a small amount of Zanzibar currency, the Tanzania Shilling (TZS) is recommended as back-up when paying for items where credit card facilities are unavailable in Stone Town and beyond.
FAQs
How can I get to Unguja Island?
Unguja Island aka Zanzibar is accessed via Zanzibar airport with direct flights from Dar es Salaam and multiple international locations. Guests can also take a ferry to the island.
What is the best time to visit Unguja Island?
The best time to visit Unguja Island is during the dry months from June to October.