Couples looking to savour their special wedding day romances on a Zanzibar honeymoon will be in heaven on this Tanzanian archipelago in east Africa.
This picturesque island is the perfect romantic beach setting for newlyweds with its white sandy beaches, luxury beach resorts, idyllic palm trees and postcard sunsets.
Why honeymoon in Zanzibar?
Zanzibar island is where every couple will be spoilt for choice with its allure of magic, romance and blissful beauty.
A honeymoon in Zanzibar allows newlyweds to feel like royalty with candlelit dinners, luxury spa resorts, five-star service and immaculate cocktails by the beach overlooking the crystal-clear Indian Ocean waters.
Here guests will not only find secluded beaches and elegant modern villas, but also sundowner dhow cruises, private pools, Arabian-styled beach hotels and incredible local seafood restaurants in the UNESCO world heritage Stone Town, a romantic old quarter in Zanzibar City.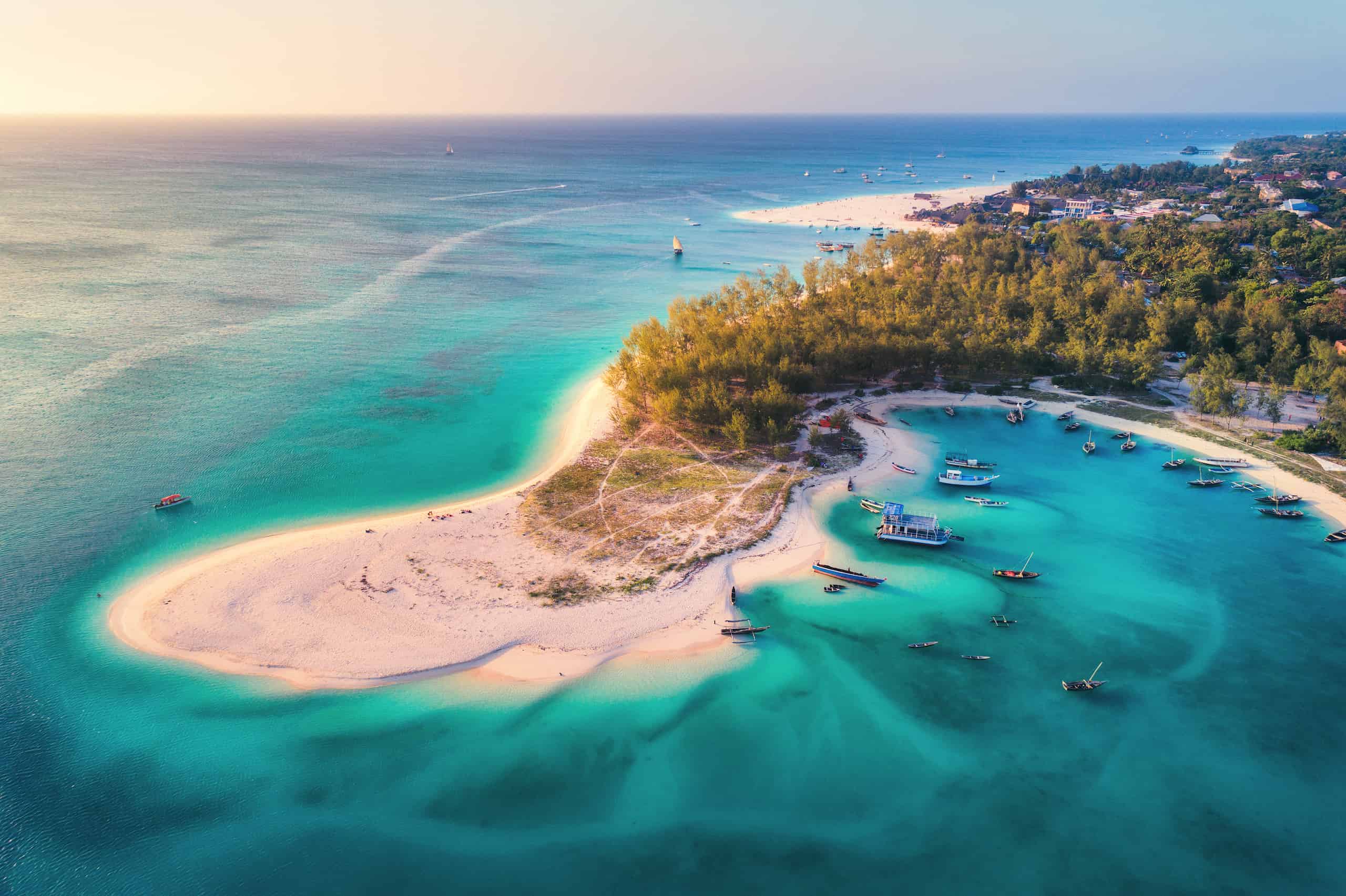 What activities can honeymooners do in Zanzibar?
Zanzibar (Unguja Island) is one of four islands in the Zanzibar Archipelago and enjoying the incredible beaches and surrounding pristine waters are a must. Nungwi Beach is a perfect place for honeymooners, a rustic beach in the quaint village of Nungwi surrounded by palm trees.
The crystal clear waters make it an ideal place for trying scuba diving, snorkelling and other water sports or swim with dolphins at Kizimkazi. Couples can also bathe in the beautiful turquoise waters and sip G&T's with their toes in the sea.
At Stone Town, the old town's maze of narrow streets and alleys have attracted adventurous couples for years, and new cosy restaurants and intimate hotels have only added to the quarter's charm.
The twisting passageways are also home to an increasing number of speciality shops and boutiques, stocking high-quality, made-in-Zanzibar jewellery, clothing and accessories.
Carrying a small amount of Zanzibar currency, the Tanzania Shilling (TZS) is recommended as back-up when paying for items where credit card facilities are unavailable.
High above the streets, rooftop restaurants serve intriguing cocktails and delicious seafood, with glorious sunset views across the palm trees and over the bay.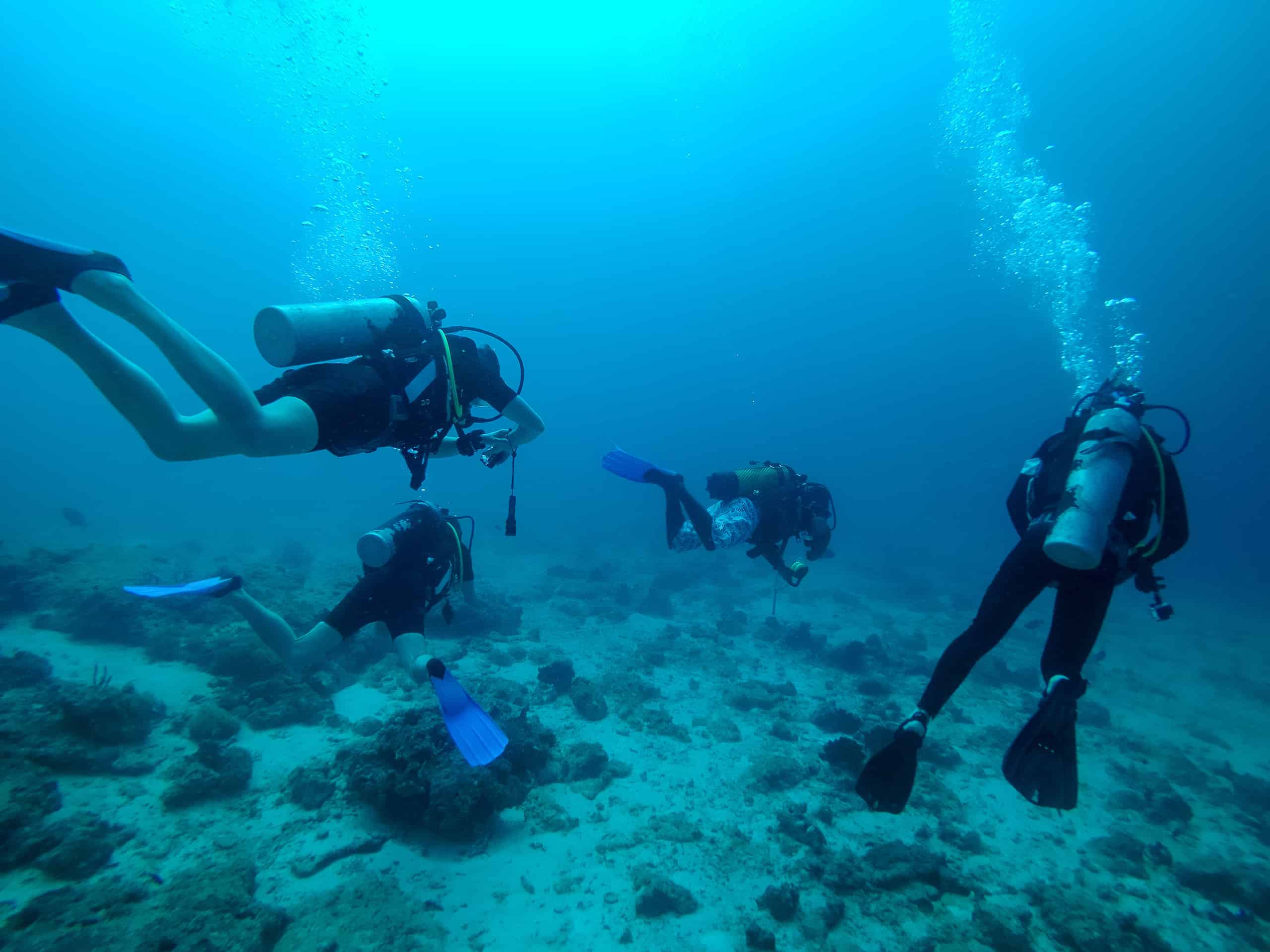 Safaris
Those looking for an authentic slice of Africa are in luck as couples can easily add on wildlife safaris to mainland Tanzania to their beach trips, viewing the most incredible large animals including elephants, giraffes, lions and leopards in their natural habitat.
Honeymoon beach and safari tours can be adapted per the honeymoon couple's preferences and budget, with combinations of luxury lodges, tented camps on raised timber floors to camping in the bush with internal plane transfers between camps and professional tour guides.
Unmissable safari park destinations include:
Apart from the sea and safari, a Zanzibar honeymoon can also include many other activities.
This can include visits to Cheetah's Rock conservation centre, Nakupenda Beach Nature Reserve, Prison Island or day trips to the other archipelago island charms of Mafia Island, Pamunda Island, Mnemba Island and Jozani forest.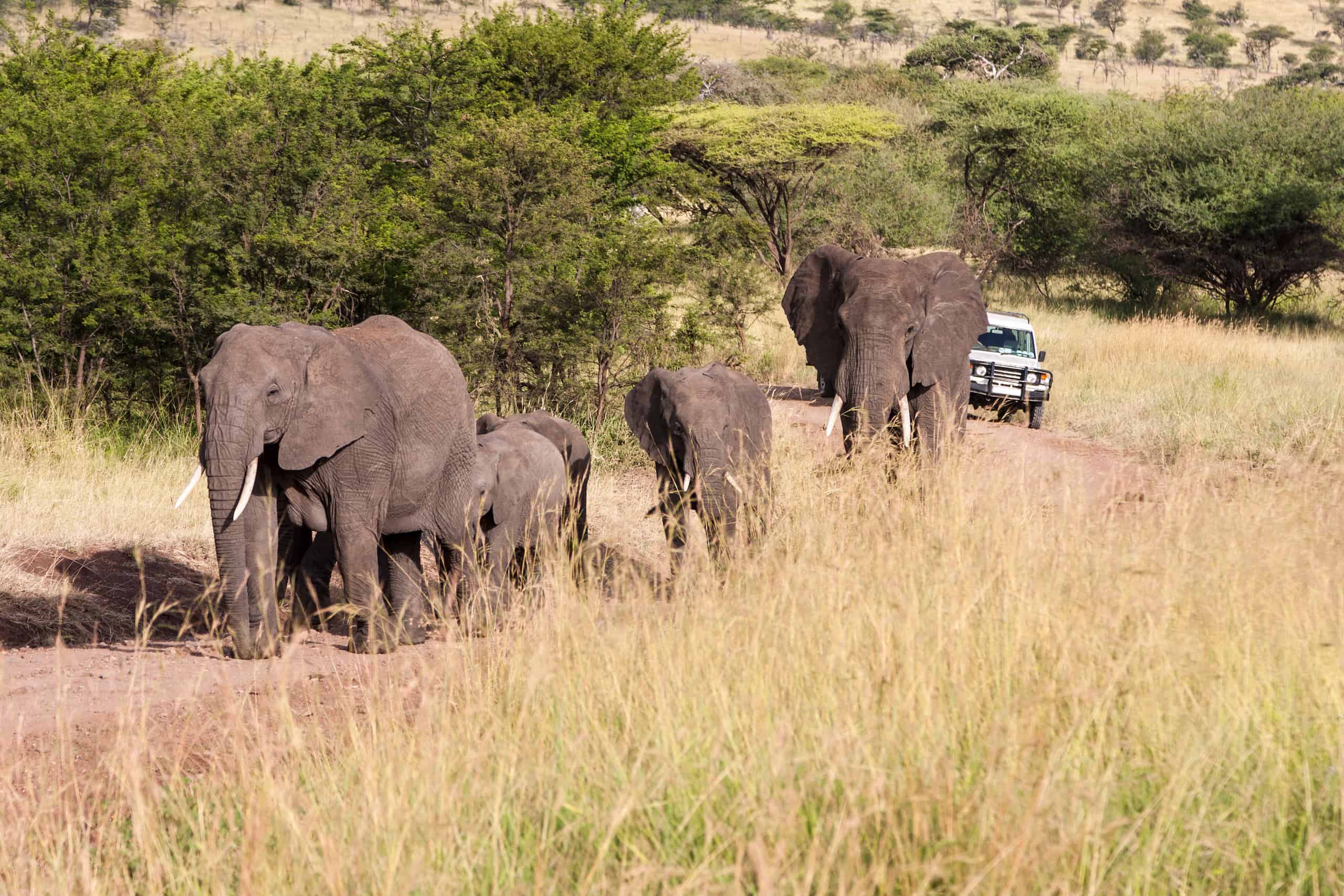 When to go on a honeymoon in Zanzibar?
Zanzibar is very pleasant from June to October as these are the cool and dry months of spring. December to February is also perfect as the island is warm and dry, perfect for those incredible sunsets.
Heavy rains tend to fall in Zanzibar from mid-March to late May. Understanding the best time to visit Zanzibar is useful as this can impact flight prices and availability.
Cost of a honeymoon package in Zanzibar?
The price of a Zanzibar honeymoon is difficult to estimate given the cost can depend on so many factors including the selection of accommodation options, flights, transport, meals, duration of stay and more.
A more 'affordable' Tanzania honeymoon cost estimate can start from £3,000/$4,050 to £4,000/$5,500 for two people.
A more luxury Tanzania honeymoon cost estimate can start from £11,700/$15,800 for two people with 5-star lodges, transportation and private guides and activities included.
Zanzibar honeymoon locations
Zanzibar honeymoons typically involve spending most time on the main Zanzibar island of Unguja where guests can dive in the turquoise water, chill on some of the best Zanzibar beaches with their inviting white sand and toast the incredible sunsets.
After a day of adventure or relaxation by the beach, guests can relax in the most incredible luxury accommodation with all mod cons as well as swimming pools and cocktail lounges or take a boat trip to the nearby stunning islands of Pamunda, Pemba island, Chumbe and Unguja Island.
Travellers can fly to Zanzibar via the island's main airport (ZNZ) for visitors wondering how to get to Zanzibar. ZNZ airport is located 3.1 miles south of Stone Town, the main city on the island and a Zanzibar visa and certain vaccinations may be required to enter the country.
Zanzibar honeymoon safari package itineraries
The following is a sample 6-day Zanzibar honeymoon safari tour:
| | | |
| --- | --- | --- |
| Days | Trip Details | Stay |
| Day 1 | Arrive to Zanzibar, check-in & dinner | Luxury villa |
| Day 2 | Nungwi beach day & spa resort | Luxury villa |
| Day 3 | Kendwa beach and snorkelling | Luxury villa |
| Day 4 | Spice island tour and Stone Town tour | Hotel |
| Day 5 | Paje beach & Cheetah's Rock conservation centre | Hotel |
| Day 6 | Transfer to Zanzibar/Dar es Salaam airport | Hotel |
Combined Zanzibar beach & Tanzania safari honeymoon
For those who would like to experience the adventure of a safari in Tanzania and enjoy some beach downtime by the Indian ocean, a 16-day Tanzania Zanzibar honeymoon is just the ticket:
| | | |
| --- | --- | --- |
| Days | Trip Details | Stay |
| Day 1 | Arrival in Kilimanjaro airport (JRO) | Hotel |
| Days 2 – 4 | Pick up and fly to Tarangire National Park, day safari, full meals included | Luxury tents |
| Days 5 – 6 | Transfer to the Ngorongoro Crater, safari game drive in Lake Manyara | Luxury tents |
| Days 7 – 8 | 2 nights in the Serengeti National Park with drive safari in 4×4 | Classic safari tent |
| Days 9 – 10 | 2 nights at Sanctuary Kusini Camp in the Serengeti | Classic safari tent |
| Days 11 – 15 | Fly to Zanzibar beach, soaking in the sun on incredible turquoise coloured waters | Luxury garden villa |
| Day 16 | Transfer to Zanzibar/Dar es Salaam airport for home departure | |
Zanzibar honeymoon lodges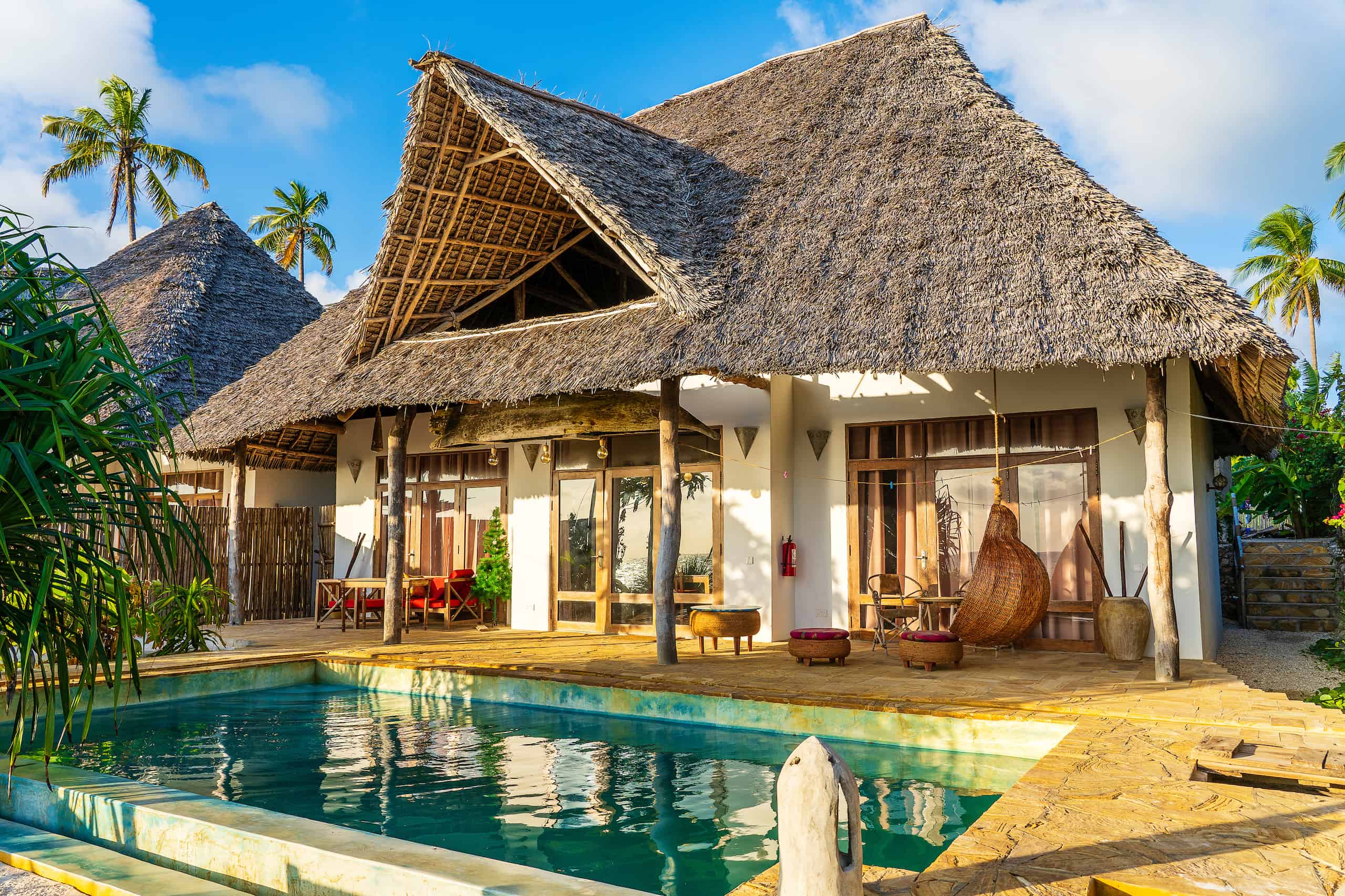 A number of honeymoon lodges with excellent reviews have caught our eye. Below, we've summarised the top picks couples can choose from:
Baraza Resort & Spa
This stunning hotel, that sits on the east coast of Zanzibar, is infused with Zanzibari and Arabic designs, bringing you back to the era of the Sultans. Located in Paje beach, Baraza Resort & Spa is a 5-star all-inclusive hotel that is particularly adored by honeymooners.
Although there are about 45 rooms, the villas are well located around the manicured gardens, offering a spacious and private feel. Their interior has been hand designed and built to the highest specifications, using marble and dark woods throughout.
Kilindi
As far as luxury accommodation goes in Zanzibar, Kilindi has raised the bar of what is to be expected at the top end of the market. The accommodation at Kilindi is unique, with rounded pavilion suites spread along the hill overlooking the Indian Ocean.
Each pavilion is set on its own tropical garden, and with its own private plunge pool and dedicated butler, privacy is most definitely guaranteed.
Away from your private suite, the main pavilion offers a 25-metre infinity pool overlooking the waters of the Indian Ocean, and a waterfall bar, alfresco dining and a relaxing spa are just a few of the other facilities to make a visit to.
White Sands Villas
The 5-star villas that form White Sands are situated on the eastern coast of Zanzibar and are ideal for couples looking for spacious accommodation in a private retreat.
The villas (a choice of one, two or five bedroom villas), are set amongst tropical gardens and a white sand beach, with access to the communal facilities such as a rooftop lounge, a restaurant, bar, pool and spa.
The villas are the height of luxury – with modern and sleek architecture and the villas features including outdoor staircases, private rooftops and relaxing daybeds.
Boutique Hotel Matlai
Boutique Hotel Matlai is located on the south east coast of Zanzibar hidden amongst beautiful tropical gardens, and when it comes to the level of service and attention to detail, we would argue it is the best on the island!
Without fail, the head chef will ask guests on a daily basis what they would like to eat and where. Lobster on the beach? Not a problem.
On top of their luxury accommodation and open air bathrooms, romantic extras such as candlelit dinners, cocktails on arrival, rose petal decorations, private open-air cinemas and breakfasts in bed are offered to newlyweds in their honeymoon packages which makes a stay even more memorable!
The Z Hotel
In the heart of Nungwi, the Z Hotel has a wide choice of accommodation to choose from, including deluxe sea view rooms, rooftop suites, ocean front cottages and its 'Kidoti' villas that sit on a small cliff that overlooks the Indian Ocean.
Honeymoon couples that stay a minimum of 4 nights receive, free of charge, a fresh fruit platter and a bottle of sparkling wine upon arrival, and a lobster dinner for two on any night of their choice.
Extend your stay to 6 nights and the newlyweds will receive an additional 30 minute luxurious couples massage on top.
FAQs
Is Zanzibar a good honeymoon destination?
Zanzibar is a perfect honeymoon destination with crystal clear water, pristine beaches, luxury villas, top class service and romantic sunsets.
When to go on honeymoon in Zanzibar?
A Tanzania honeymoon safari can be done all year round. Zanzibar is very pleasant from June to October as these are the cool and dry months of spring. December to February is also perfect.